People used to think that ramen was just for college students. It was labeled "cheap" and "unhealthy," so home chefs ignored it, thinking it couldn't be used to make a truly nutritious meal. Well, ramen is still one of the most inexpensive noodles out there, but it doesn't have to be unhealthy, and it can be plenty filling! All you have to do is ditch the seasoning packet, add some mix-ins and a good sauce, and you have a delicious ramen dinner ready to go! Check out these 15 Ridiculously Delicious Ramen Recipes!
15 Ridiculously Delicious Ramen Recipes
Quick Meal! What I really love most about ramen is how quick it is! Of course, some of the following recipes will only be super quick if you have some already cooked chicken or beef on hand. I like to cook extra proteins when I have extra time, and I also freeze leftover meat. That way I always have some chicken and beef ready to throw into a recipe on a busy day.
Ramen is easy to store. I have a big bag of gluten-free, organic ramen that I keep for busy nights when I want to make one of these quick ramen recipes. You could also stock up on the individual ramen packets when you catch them on sale!
Create your own. Make your own yummy recipes with a base of ramen and whatever you have in your fridge. Ramen is a great base since it has little taste and can go with so many different ingredients.
1. Sriracha Ramen Noodle Soup
Disclosure: This post may contain affiliate links to Amazon and/or Etsy, which means that I may earn a small commission from some of the links in this post. Please see our Disclosure Page for more information.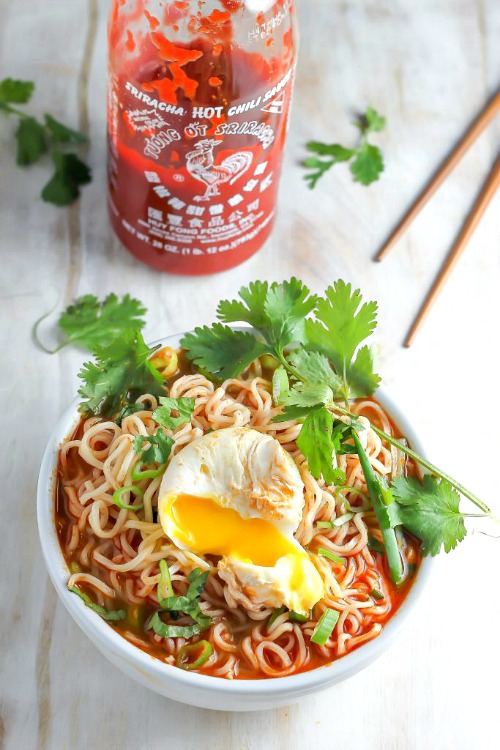 This sriracha ramen soup from Baker by Nature is a quick and tasty ramen dish!
2. Spicy Korean Beef Ramen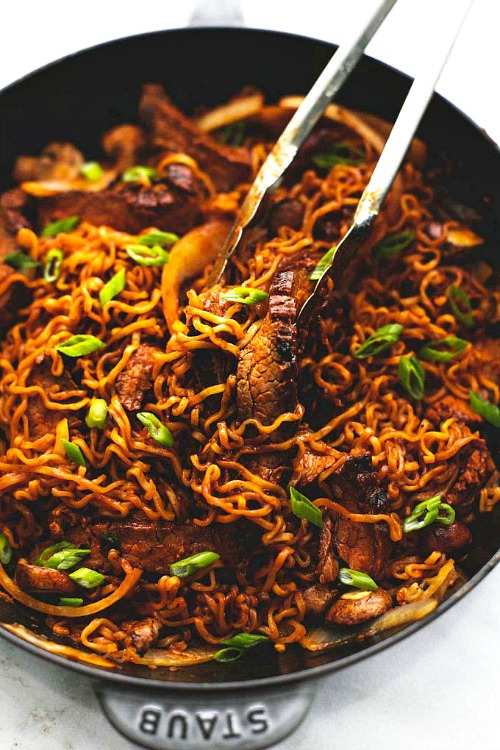 Are you a fan of spicy food? You have to try Creme de La Cumb's spicy Korean beef ramen recipe!
3. Ramen Vegetable Stir Fry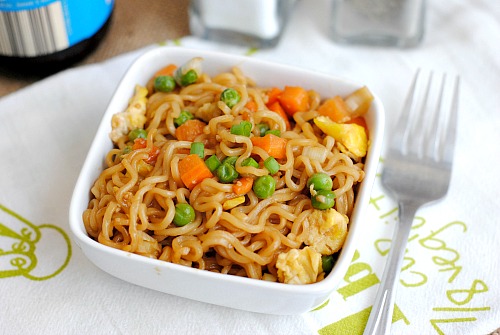 My vegetable ramen stir fry is an easy vegetarian lunch or dinner!
4. Cheesy Ramen Noodle Bowls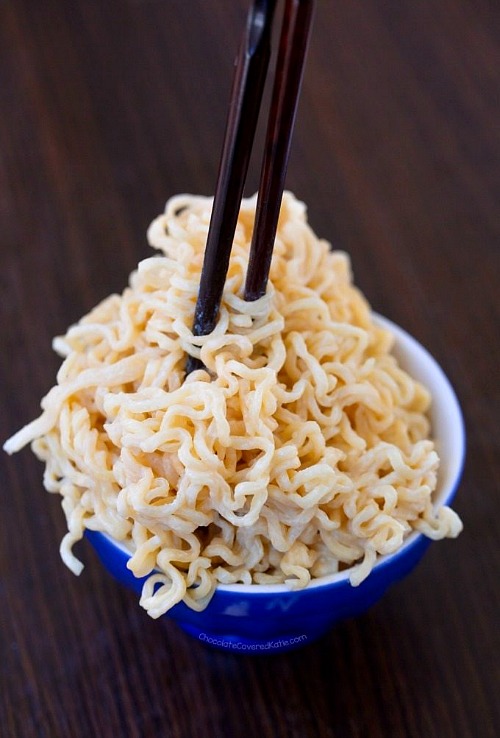 This one is sure to be loved by the kids (or by anyone who loves mac and cheese)! Check out how Chocolate Covered Katie makes this delicious cheesy ramen noodle bowl!
5. Asian Ramen Noodle Salad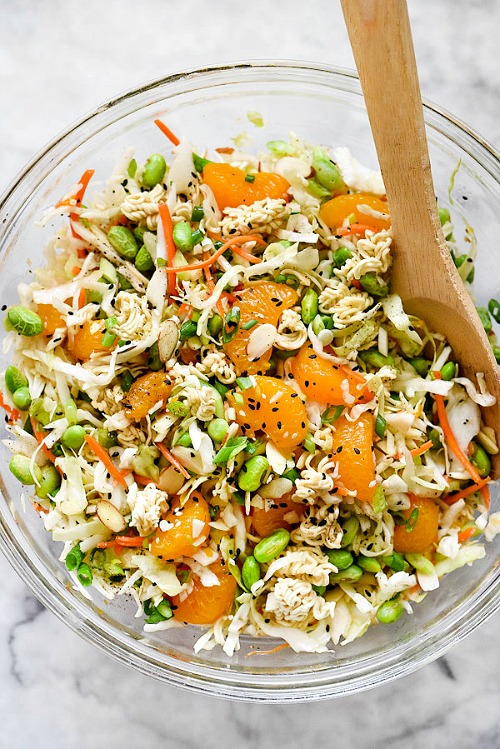 Fun fact: you don't have to boil your ramen noodles before you eat them. Ramen can also be used uncooked and crunchy! For a great cruchy ramen recipe, try Foodie Crush's Asian ramen noodle salad!
6. Spicy Shrimp Ramen Bowls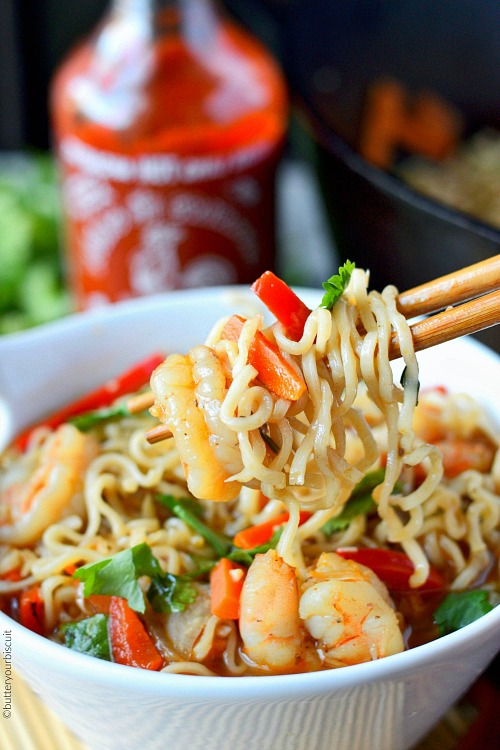 This recipe combines two of my favorite quick ingredients- shrimp and ramen! Take a look at how Butter Your Biscuit makes these yummy (and spicy!) shrimp ramen bowls!
7. Garlic Beef and Veggie Ramen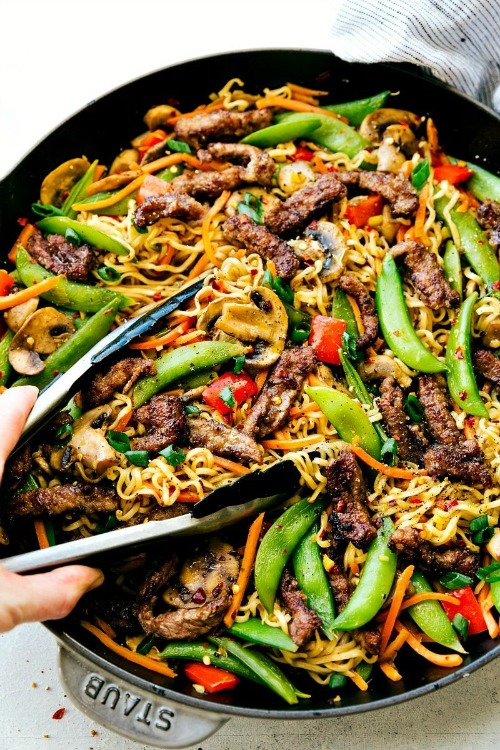 Who needs takeout when you have this garlic beef and veggie ramen recipe from Chelsea's Messy Apron!
8. Vegetarian Noodle Bowl
Enjoy veggies and ramen with this simple vegetarian ramen bowl from A Couple Cooks. Simple to make, takes little time, and is healthy and filling for a meal.
9. Asian Ramen Salad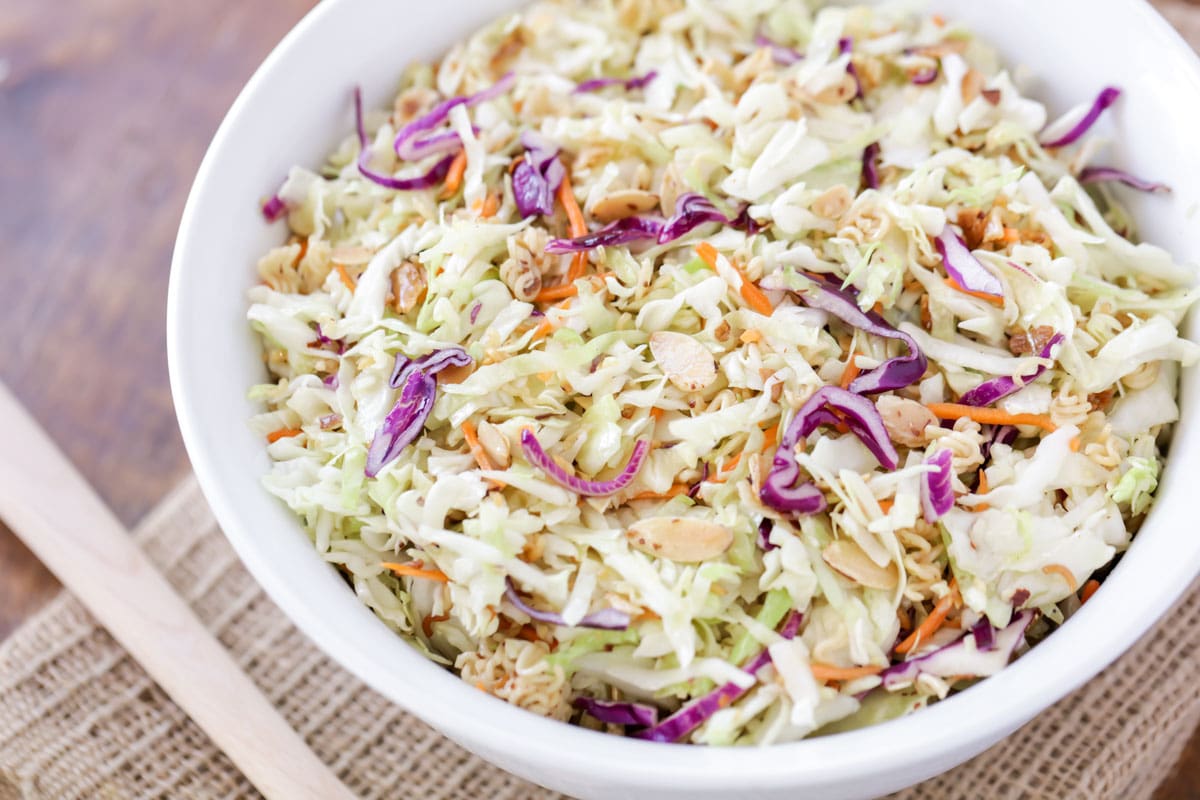 This cold Asian ramen salad is so yummy and perfect for a healthy meal or a quick side dish. Grab the recipe from Lil Luna.
10. Chinese Chicken Salad
Creations by Kara makes a yummy Chinese chicken salad; perfect for a light lunch that is filling and nutritious.
11. Ramen Stir Fry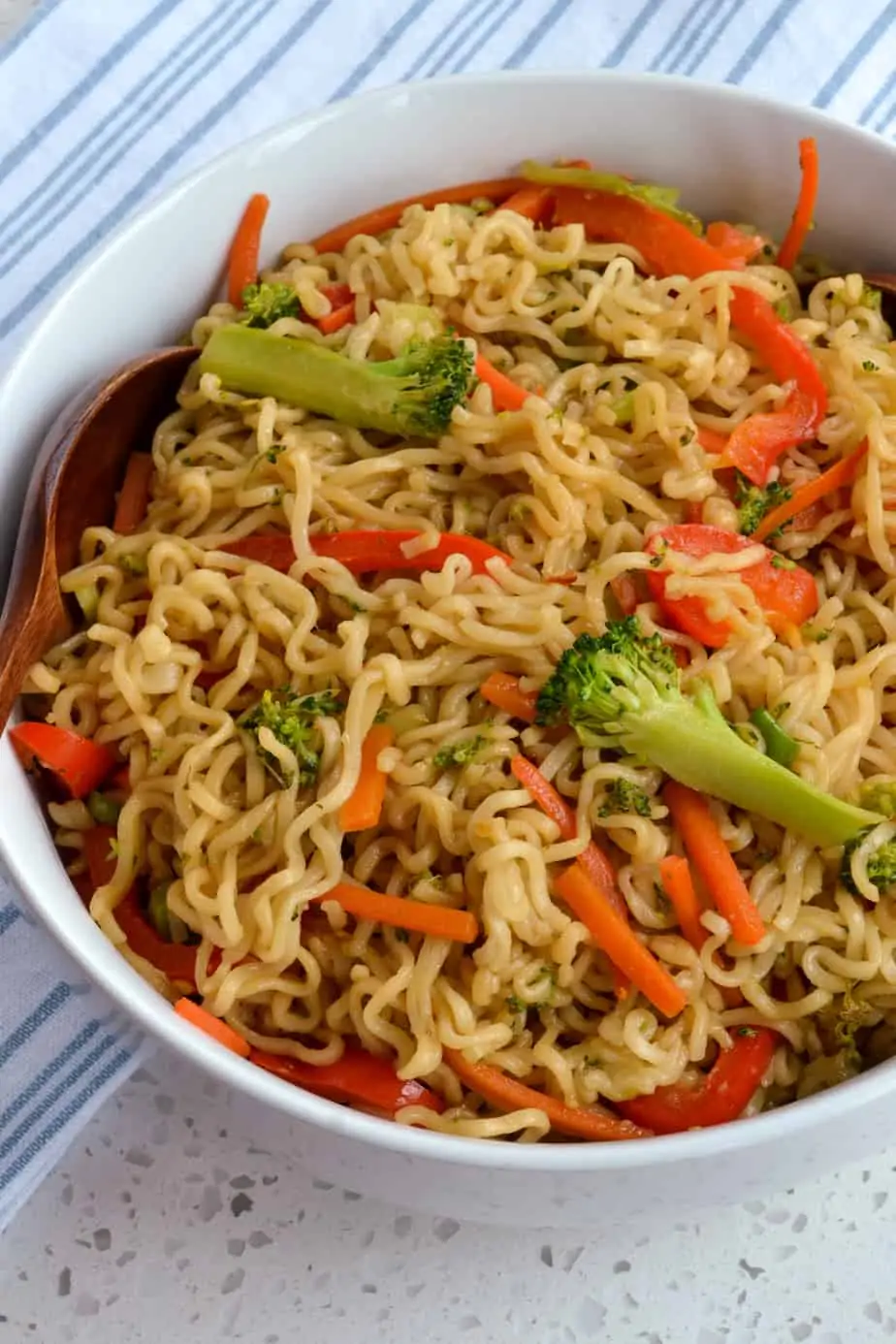 This ramen stir fry will make your mouth water and fill your tummy. Check out how to make it from Small Town Woman.
12. Chicken Yakisoba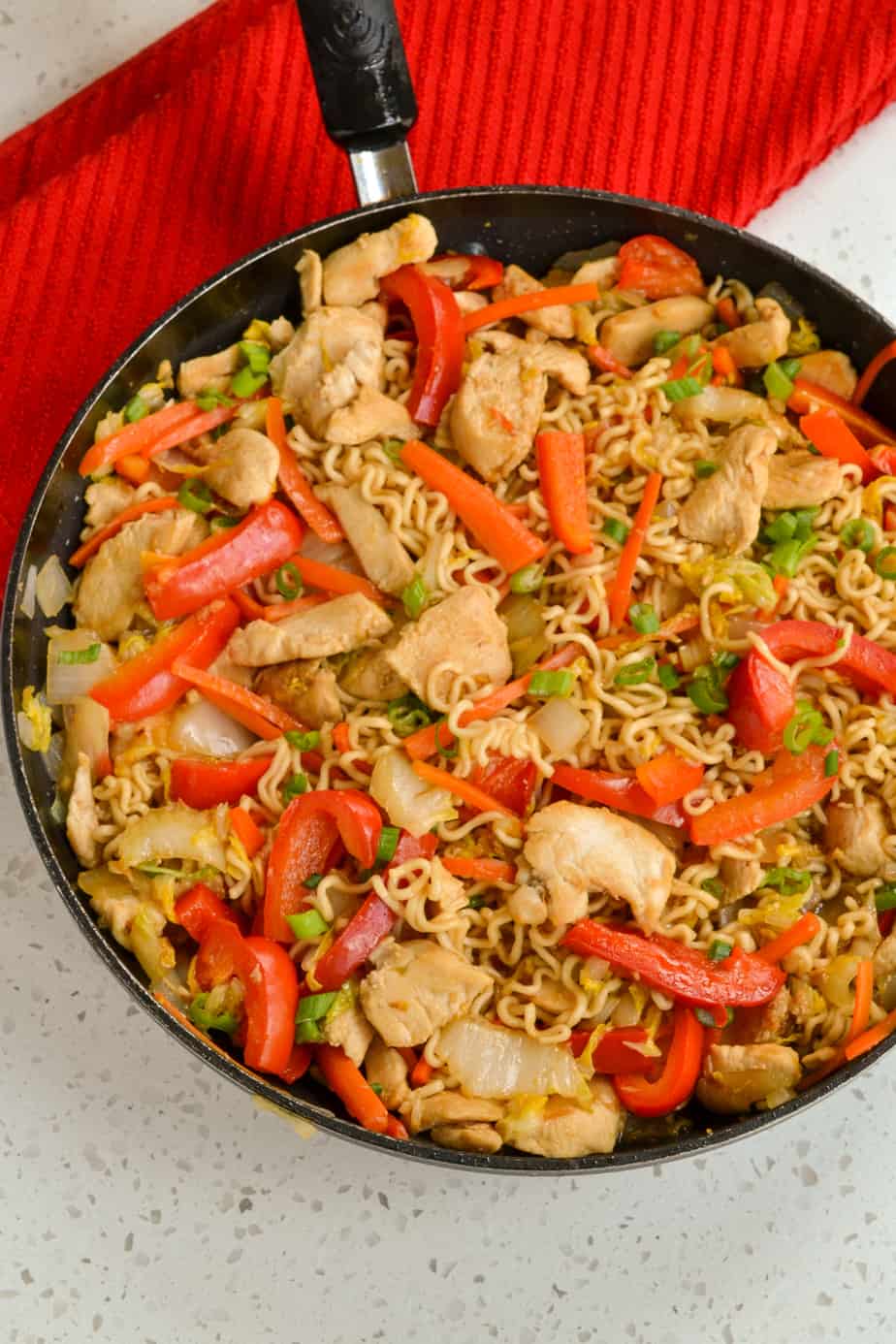 Make this one-pot meal called Chicken Yakisoba from Small Town Woman to have a quick and delicious meal.
13. Dashi Broth with Ramen
Make a traditional dashi broth to cook your ramen in. This will make a more traditional Japanese dish from Where is my Spoon.
14. Slow Cooker Pork Ramen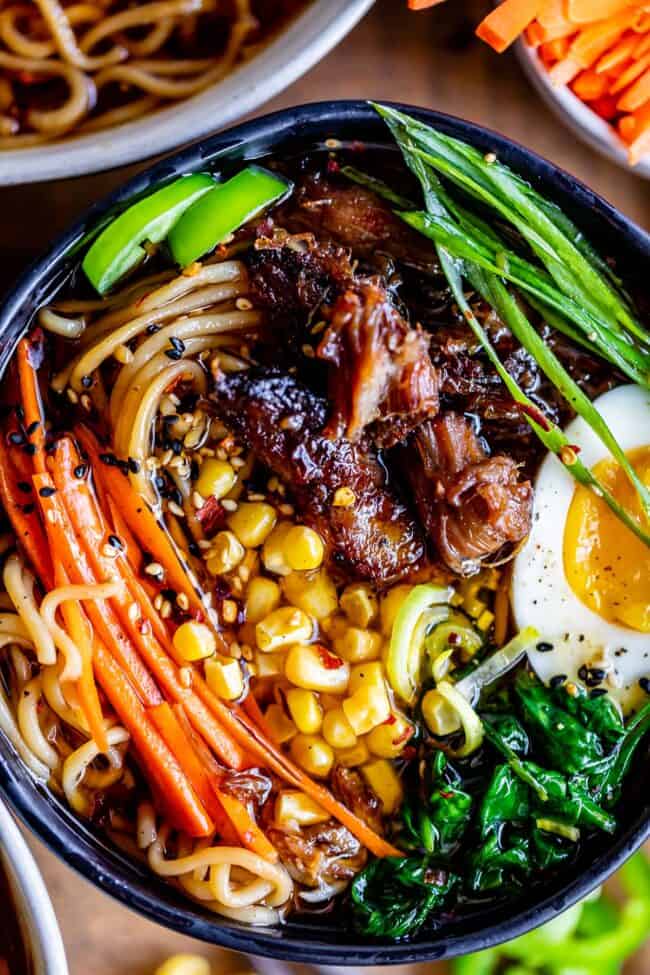 Make this meal in a the slow cooker and enjoy this pork ramen recipe from The Food Charlatan.
15. One Pan Garlic Parmesan Noodles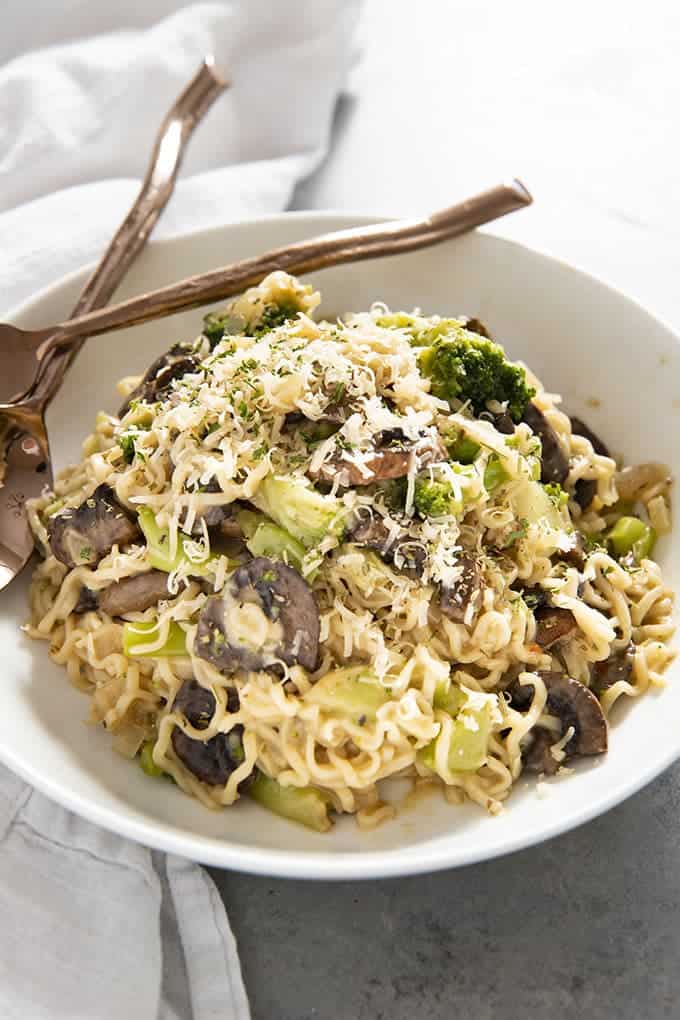 Make this one-pot wonder for a complete meal for your family. Parmesan, garlic, mushrooms, and more are just some of the delicious ingredients to make these garlic parmesan noodles from The Salty Marshmallow.
As you can see, you can do a lot with a few packages of ramen noodles. And none of these recipes are "bare bones" or excessively unhealthy. They're actually quite filling, and some look very nutritious! So if you haven't had ramen since college, now's the time to change your feelings about ramen and give these delicious ramen recipes a try!
How often do you cook with ramen?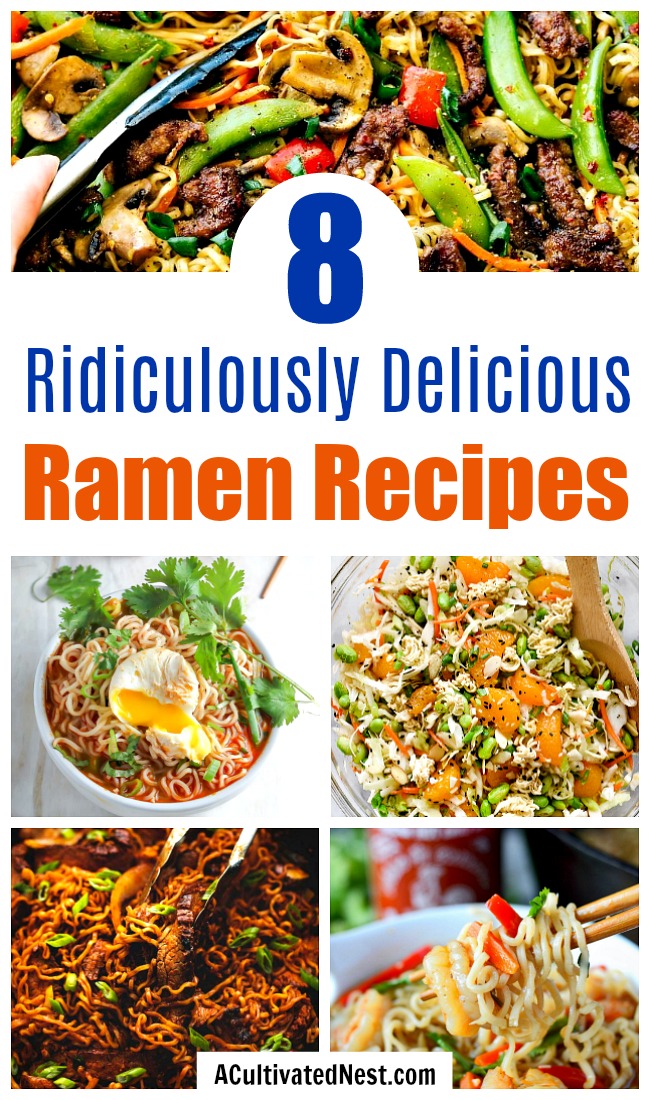 You might also be interested in: 8 Easy Meals You Can Make With Rotisserie Chicken