Make an easy "homemade" dinner for your family by using one of these recipes that uses a rotisserie chicken for its base. Rotisserie chickens are such a good deal at the grocery store (the Costco & Sams Club chickens are huge). I don't know why, but they are often less expensive than the uncooked chicken in the meat department! A store-bought rotisserie chicken will also save you time! Since these recipes use already cooked chicken, you'll be able to easily whip up dinner in no time! So stop at the store and grab a rotisserie chicken. Then choose any of these Easy Meals You Can Make With Rotisserie Chicken to make a quick dinner!
Rotisserie chicken is definitely a busy mom's secret weapon. You can make so many different types of meals with pre-cooked chicken from the grocery store!
8 Easy Meals You Can Make With Rotisserie Chicken
Disclosure: This post may contain affiliate links to Amazon and/or Etsy, which means that I may earn a small commission from some of the links in this post. Please see our Disclosure Page for more information.
You might luck into a marked down rotisserie chicken if you time your grocery shopping just right. For example, Walmart has a policy where if the cooked chicken (rotisserie and fried) is not sold within 4 hours of being cooked, it has to be thrown away (I imagine for food safety reasons). But obviously stores don't want to throw away food they spent money and time to prepare, so at about 3 hours after being cooked, the chicken goes on sale (usually 50% off). So if you can learn your store's cooking schedule (when each batch is cooked) and get there when the chickens are 3 hours old, you can get them on sale! If you don't see the chicken marked down, but you're there 3 hours after the cook time on the chicken's container, just take it to the deli counter and ask for it to be marked down since it's 3 hours old.
If you do manage to find rotisserie chickens on sale, buy at least 2 and stock your freezer. You can eat one for dinner with an easy side like bagged salad right away. Then take the meat off the second one and freeze in 2 cup portions for trying one of these easy meals later on. Don't forget to keep the bones to make chicken stock! There are so many frugal recipes you can make with rotisserie chicken!
And of course, all of the chicken recipes below can be made with chicken other than rotisserie chicken. Have leftover wings or chicken tenders? These easy dinner recipes are a great way to use up leftover chicken of any type!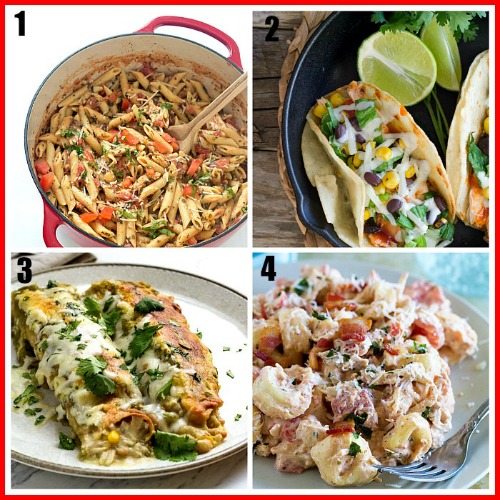 1. 20-Minute Tuscan Chicken with Penne Pasta from Gal on a Mission
2. BBQ Chicken Tacos from Lovely Little Kitchen
3. Green Chile Chicken Enchiladas from Kevin is Cooking
4. Creamy Tomato Tortellini with Chicken and Bacon from Taste and Tell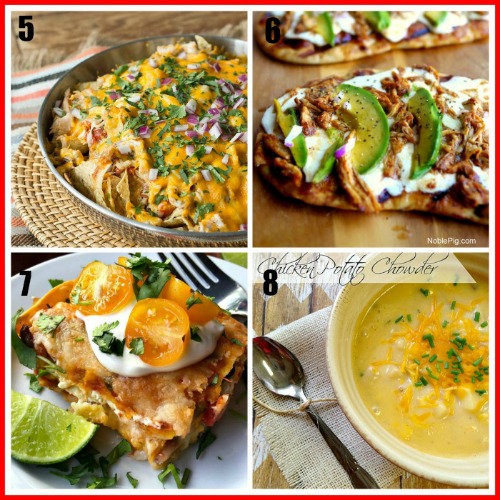 5. Rotisserie Chicken Nachos from Amanda's Cookin'
6. Grilled Avocado Barbecue Chicken Naan Pizza from Noble Pig
7. Tortilla Chicken Pie from Reluctant Entertainer
8. Creamy Chicken Potato Soup from A Cultivated Nest
It's great how many different meals you can make with a rotisserie chicken! Having one in the freezer can be such a lifesaver on busy days!
What are your favorite ways to use a rotisserie chicken?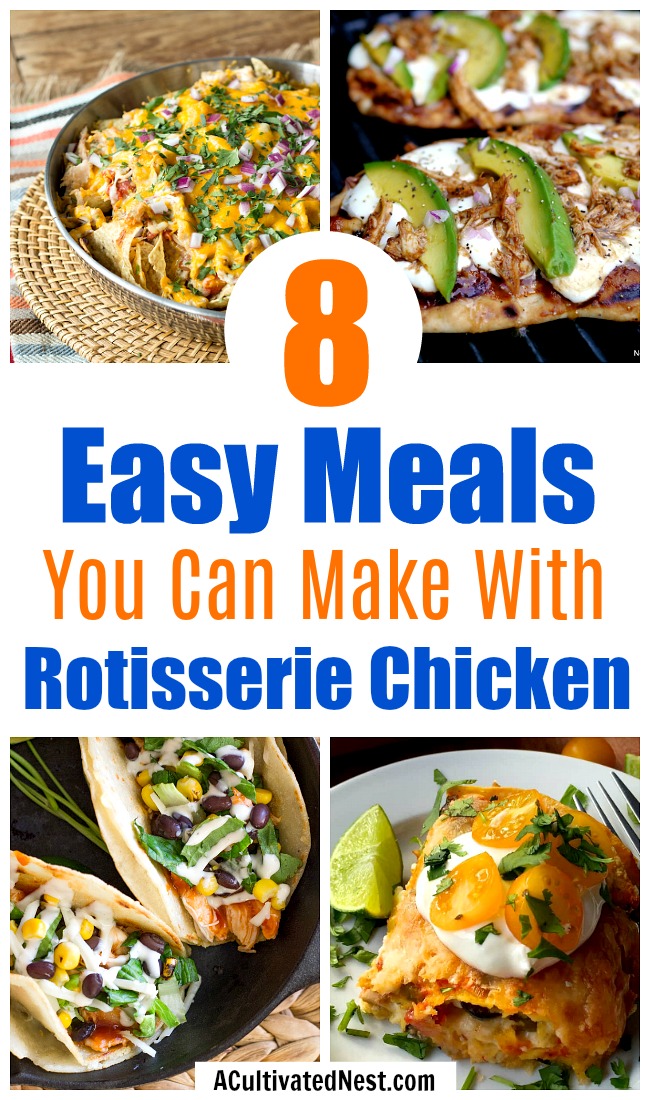 You might also be interested in: I'm Just A Dump Cook – Freezer Meals