Moving to a greener lifestyle often means giving up some things we have become accustomed to and while that can often be scary, it can also be really amazing if we give it a try. One thing that I first did when I decided to live a greener lifestyle was to get rid of as many chemicals as I could. I started with my cleaning supplies. I was worried that switching to a greener DIY approach would mean my homemade cleaners wouldn't be as effective as store bought cleaners. I'm happy to report that I was wrong (although I've found they do take a bit more elbow grease or time to soak).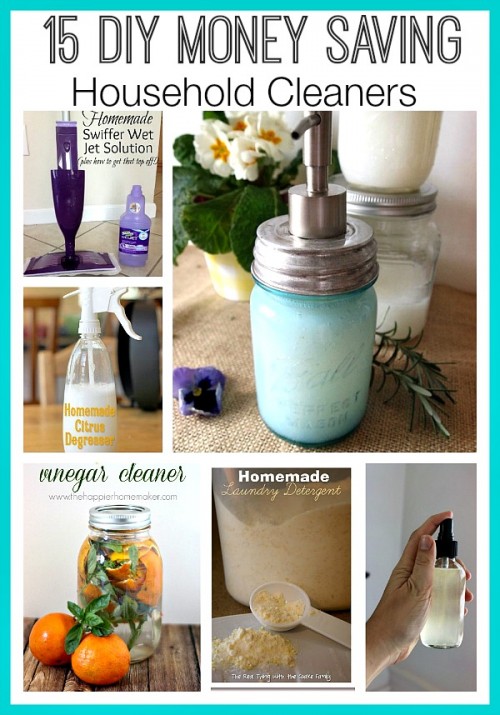 So if you are getting started on making your own cleaners whether out of a desire to be more eco-friendly or just because you want to save some money, here are 15 great DIY Money Saving Household Products to get you started!
15 DIY Money Saving Household Cleaners
Disclosure: This post may contain affiliate links to Amazon and/or Etsy, which means that I may earn a small commission from some of the links in this post. Please see our Disclosure Page for more information.
1. Homemade  Cleaning Wipes from Organized Home
2. Homemade Powdered Laundry Detergent from The Frugal Girls
3. Homemade Carpet Powder By Crunchy Frugalista
4. DIY Hardwood Floor Cleaner by Clean Mama
5. DIY Soft Scrub Abrasive Cleaner by Saved By Grace
6. DIY Orange Basil Vinegar Cleaner by The Happier Homemaker
7. DIY Stain Remover for Clothing by The Complete Guide to Imperfect Homemaking
8. DIY Glass & Window Cleaner by The Dabblist
9. Homemade Swiffer Wetjet Refills by Surviving the Stores
10. DIY Miracle Deep Cleaning Spray (For stuck on food, grease and soap scum) by Saved by Grace
11. Make Your Own Liquid Laundry Detergent by One Good Thing By Jillee
12. Screen Cleaner (for Tvs, Computer Screens, ipads etc) by Brown Thumb Mama
13. Homemade Reusable Dryer Sheets by Clarks Condensed
14. Homemade Citrus Cleanser by One Good Thing By Jillee
15.  DIY Liquid Soap from A Cultivated Nest
These are all easy to make, eco-friendly and frugal!