Most people know there are ways to save money on organic fruits and vegetables, but if you are trying to go as organic as you can in your diet, you will notice the sticker shock when you go to purchase organic meat!  Here are some tips on saving money on organic meat that have worked for me.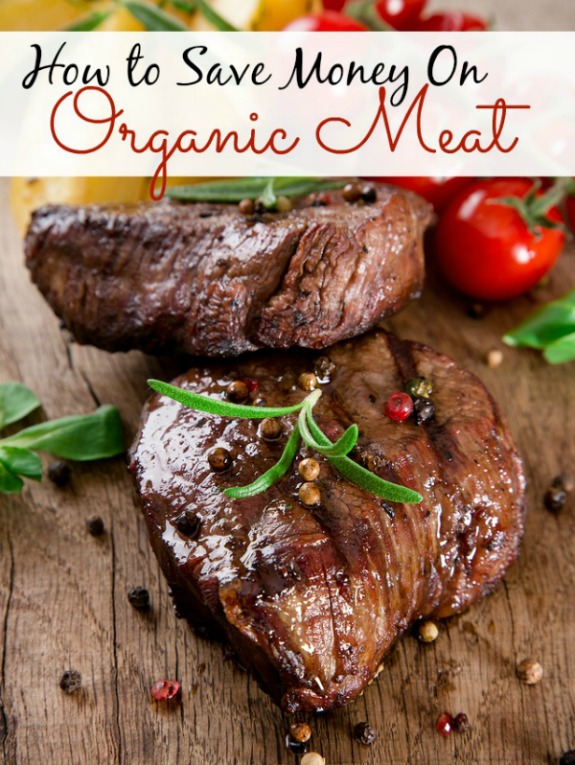 You will often find that the price is double or more what you are used to paying! Even when it's not organic, meat is hard to save money on. Here are some tips for saving as much as you can on organic meat.
How To Save Money on Organic Meat
Buy a whole or half of an animal and split the cost. Get some friends or family members together and directly buy from the farmer. Many times, this is the cheapest way. Each of you can split the cost and the meat. Just make sure you have the freezer room!
Be aware of portion size. The recommended size for meat is about as big as the palm of your hand, typically about 3 ounces.  Use less meat and round out your meals with more vegetables or grains
Look for wholesaler sales (like Zaycon) in your area. There are some great wholesale companies popping up that directly sell to the public via "events". They ask you to pay for and reserve a large portion of meat (usually entire cases) and you come to the event, mostly held in business or church parking lots, and pick up your order at a later date. Many times, these wholesalers deal with farms that do not practice factory farming techniques such as corn feeding and often the food is natural and cage free.
Buy from farmer's markets. If you are lucky enough to have an expanded one held in your area, you can often get organic or grass fed beef and other meat at these events. Since they come directly from the farmer, you can ask questions and they are often cheaper. This is a great way to go if you don't have the space for a whole or half of an animal.
Check out wholesale clubs. These big box stores like Costco are starting to meet the demand from consumers to bring in more organic choices and one of them is meat. You can often find it much cheaper when bought in bulk at these low-cost buying markets.
Disclosure: This post may contain affiliate links to Amazon and/or Etsy, which means that I may earn a small commission from some of the links in this post. Please see our Disclosure Page for more information.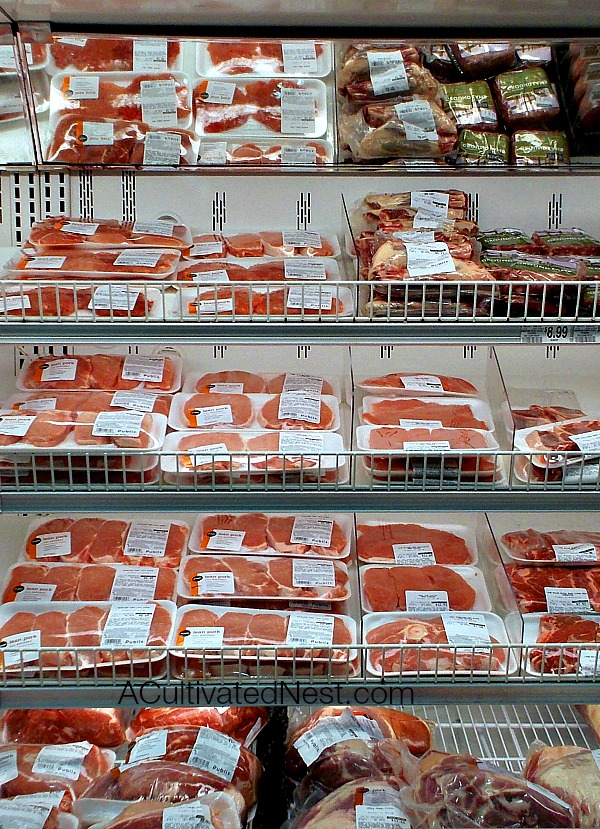 Just like with meat that is not organic, the less desired cuts are often cheaper when they are organic as well. While these may take longer to cook, they are perfect for crock pot recipes!
Check to see if your community offers a food CO-OP. This is kind of like a members only way to shop where it is run by volunteers (usually the members, so it might mean you will have to do some volunteer work as well) and collaborates with local farmers and producers to contract with them for a low price that is desired by the co-op community. Sometimes you can get organic and natural meat at 20-30% off store prices!
Visit your local old fashioned butcher shop. He or she may have some great tips for you and insider places to buy from and they may even have some great sales themselves.
Stretch your organic/grass fed ground beef with beans.
Check the closeout section of your normal grocery store. I often find grass fed beef and organic chickens reduced because they go a new shipment in. When you find organic meat at a great price stock up!
Follow these tips and buying organic meat will be much more affordable!
How do you save on organic meat?
You May Also Be Interested In: How To Save Money On Milk