We stopped drinking soda years ago. Well….I usually have one soda a week (Friday Movie Night). Otherwise we drink different types of drinks you can make yourself. One of them is infused water. If you are looking for a great substitute for juice or soda for summer, infused water is a great choice.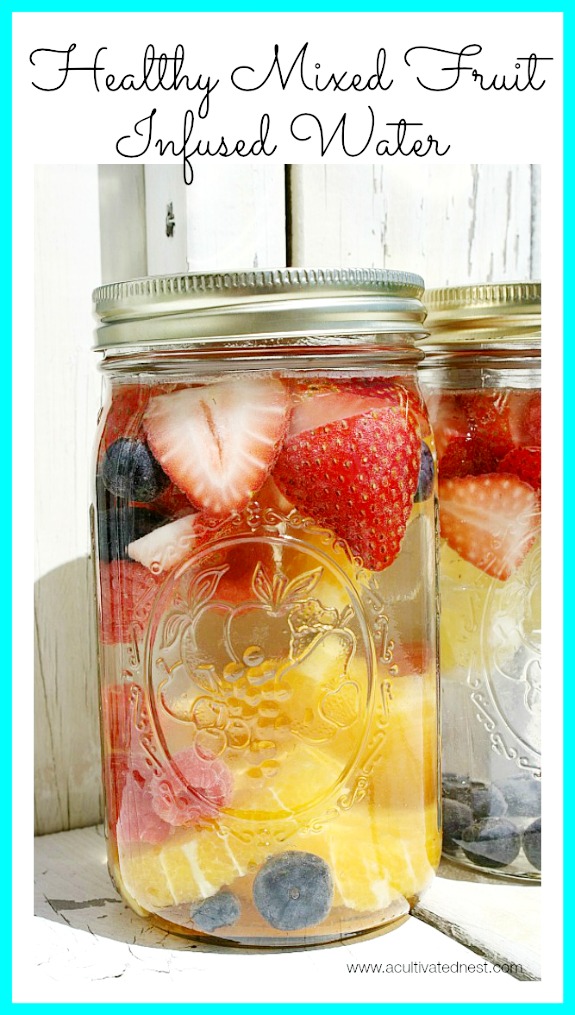 Disclosure: This post may contain affiliate links to Amazon and/or Etsy, which means that I may earn a small commission from some of the links in this post. Please see our Disclosure Page for more information.
Infused water doesn't have the high sugar content found in soda and juice, and is very easy to customize to your tastes. Just use what you have on hand from fruit to herbs and even some vegetables.
The prep time is short, but infused water needs time to steep to become fully flavorful.When preparing for every day use, I like to use a  quart size mason jar. There are a couple servings per jar and you can put a slightly different twist on the recipe in each jar to give yourself some variety to choose from each time you drink.
Citrus-Berry Infused Water
(1 quart)
1 Orange (you can also use lemons)
3 Large Strawberries
5-7 Raspberries (use frozen if fresh is not available)
5-7 Blueberries (use frozen if fresh is not available)
Directions:
Remove the rind from the orange to avoid the bitterness it would create and slice the orange into three or four pieces. Slice the strawberries, but leave the raspberries and blueberries whole. Add all fruits to the mason jar and fill with water, then allow to steep and chill for at least  1-2 hours (it's even better if you can leave it to steep overnight).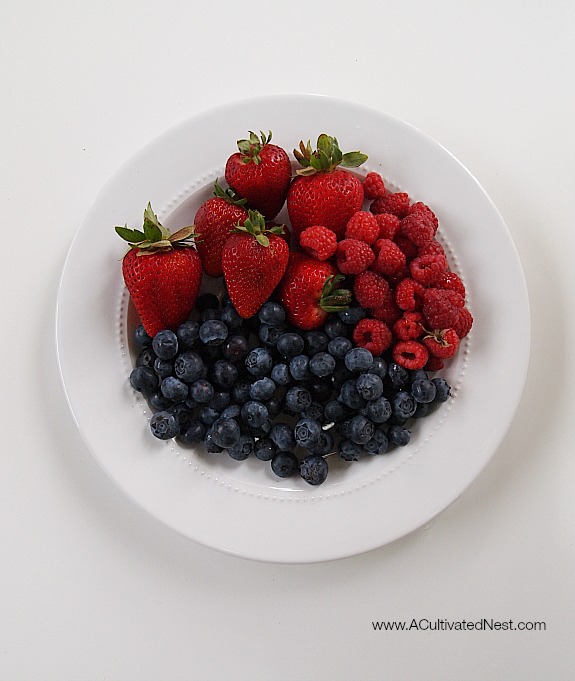 Infused Water Tips:
I use filtered water but tap is ok
Typically one refill of water is okay before needing to refresh the ingredients when using a quart jar.
If the flavor is stronger than you prefer, you can add more water to dilute it. If it's too weak, refresh or add more ingredients.
If you are trying to figure out quantities for smaller or larger amounts, remember that a quart mason jar is 32 oz and divide or multiply accordingly.
We have a special water bottle that is made for infusing water that I use sometimes. The center core is like a basket for the fruit and vegetables and then outside of that is where you put the water. So the fruit doesn't actually float around in the water.  Not sure where my husband got this. But I imagine they're pretty easy to find.
This will keep for about 2-3 days in the fridge depending on what type of fruit you use.
Even if you hate water you might like to try fruit infused water!