14 Beautiful Thrift Store DIY Projects.
The saying "One man's trash is another man's treasure" couldn't be more true, especially when it comes to thrift store finds! You can find a lot of great furniture and decor items that are ready for use as soon as you get them home! Others may need some work to update them to fit into your decor. But for the amount you save by doing a simple DIY, it's worth it! Check out these 14 Inspiring Thrift Store Makeover Ideas to help you figure out what to do with your great thrift store finds!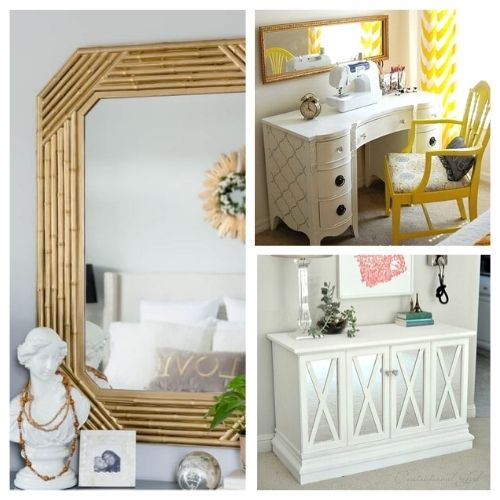 14 Inspiring Thrift Store Makeover Ideas
Disclosure: This post may contain affiliate links to Amazon and/or Etsy, which means that I may earn a small commission from some of the links in this post. Please see our Disclosure Page for more information.
I get so excited when I head to a thrift store and find all sorts of goodies to bring home and work on. There are so many possibilities and all you need is some time and a little bit of imagination to make your new treasures. Let's take a look at some tips to consider before getting started:
Look at all sorts of items. I know many of us gravitate towards pieces of furniture, however, you can do a lot with lamps, mirrors, photo frames, old dishes, and other things too. Look at all of it and imagine what you can do to make it beautiful again.
Clean items properly. Be sure to clean everything before you get started. Wipe your purchase down with a soft cloth and don't use cleaners that would harm it. Making sure you have a clean surface is important to ensure paint and other things adhere to the surface well.
Don't forget about yard sales and consignment stores too. They aren't technically thrift stores, but in many cases, they offer the same type of items. You will be amazed at what you can find for super cheap.
1. French Vanity Thrift Store Makeover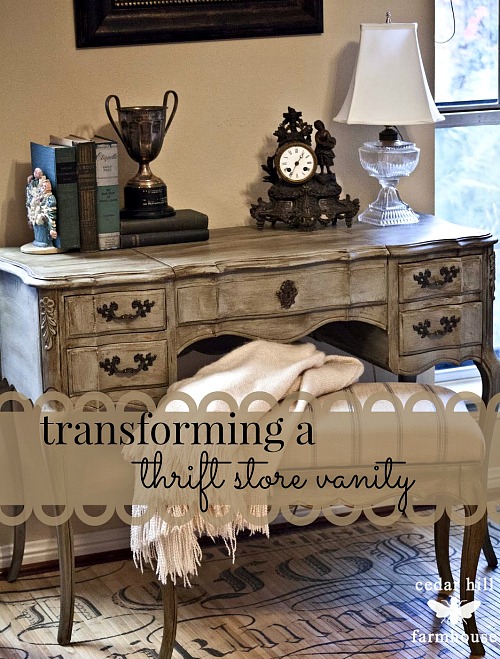 What a great makeover! The vanity and bench look amazing with the new fabric and paint! Cedar Hill Farmhouse explains how she turned a brown thrift store vanity into a beautiful French vanity!
2. Thrift Store Picnic Basket Planter Makeover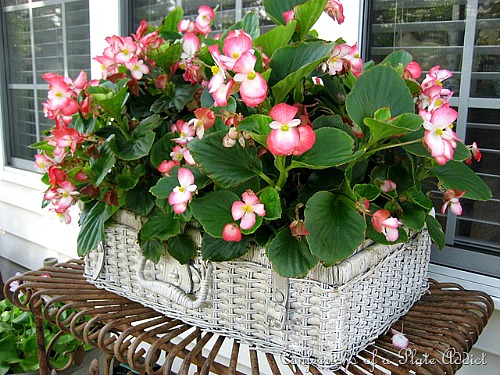 This is so pretty! And it's made from a Goodwill picnic basket that cost less than $4! Confessions of a Plate Addict explains how she made this repurposed picnic basket planter!
3. Outdoor Dining Set Thrift Store Makeover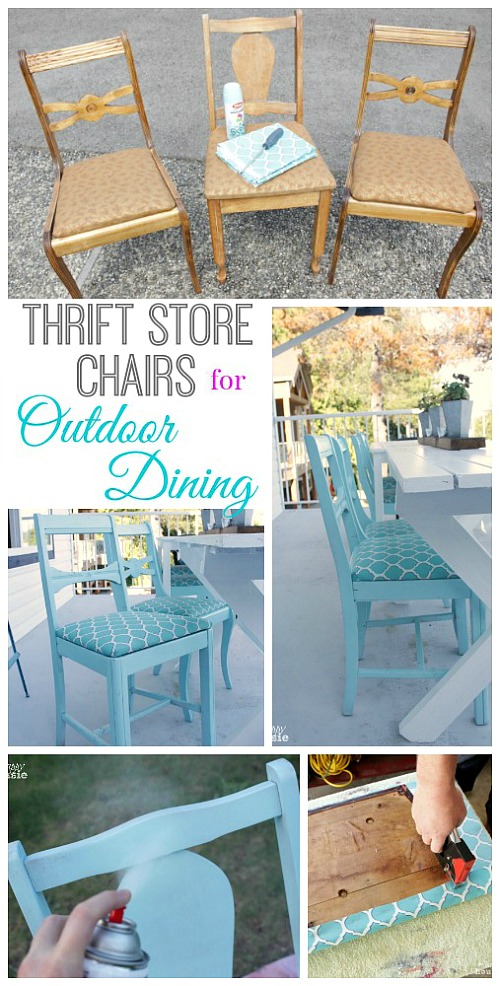 Don't these chairs look amazing! Just a little bit of work and they look brand new! The Happy Housie explains how to turn old thrift store chairs into a beautiful outdoor dining set!
4. Goodwill Lamp Makeover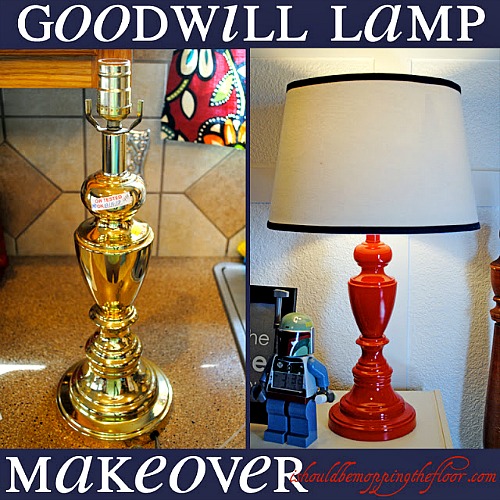 There are always dozens of lamps at Goodwill, but not many that probably fit your home's decor. Luckily, all it takes is a little paint to make a thrift store lamp perfect! Follow I Should Be Mopping the Floor's tutorial on how to turn a brass lamp into a pretty red lamp!
5. Chalkboard from Old Thrift Store Print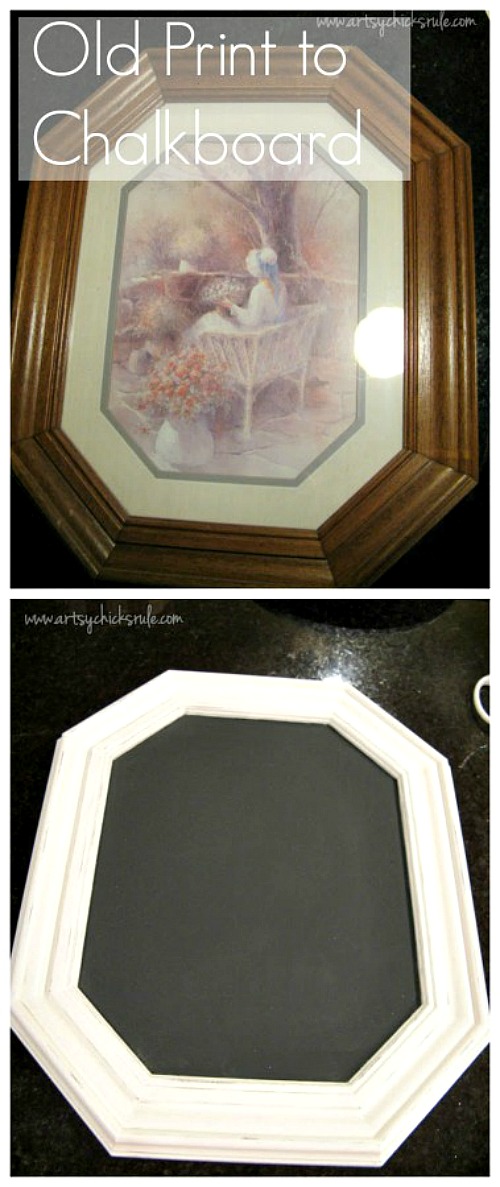 Thrift stores are full of old art prints. Some are beautiful, and some . . . not so much. Luckily, these artworks, regardless of beauty, tend to be inside awesome frames! Artsy Chicks Rule shows how to take an old framed art print and make a chalkboard out of it! And don't worry art lovers, the art print is still preserved.
6. Thrift Store Cabinet Makeover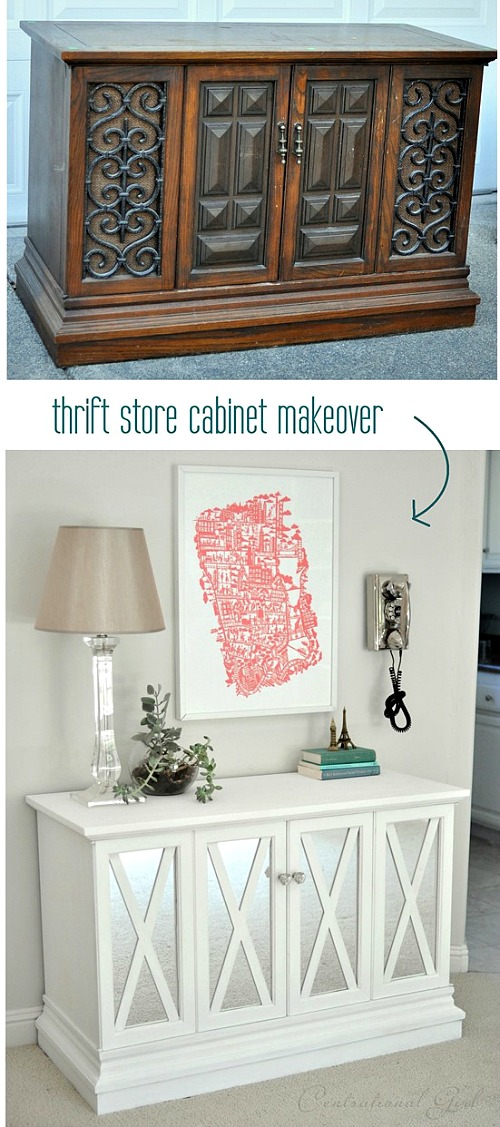 Isn't this an amazing makeover! The before and after pictures look like night and day! And the cabinet was only $10 at Goodwill! Follow Centsational Girl's tutorial on how to completely makeover an old cabinet!
7. Stylish Thrift Store Octagon Tray Makeover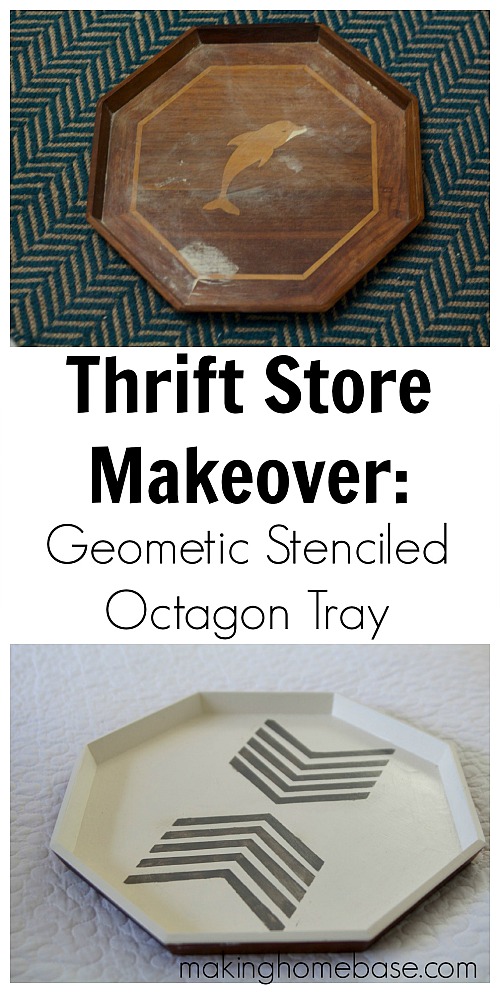 It's amazing what just some paint can do! It can completely change the feel and style of an item! Follow Making Home Base's tutorial on how to makeover an old wood tray into a pretty geometric stenciled octagon tray!
8. Goodwill Candlestick Turned Bird Bath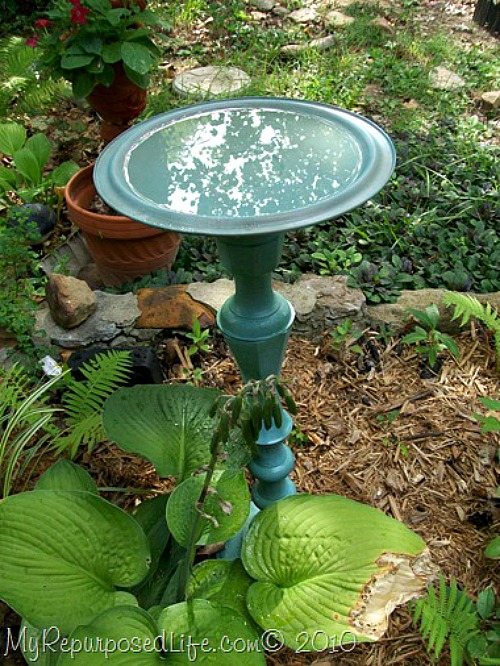 Now this is creative, using two thrift store items to make a pretty new one! My Repurposed Life shows how she took a Goodwill candlestick and pot lid and combined them to make a pretty bird bath!
9. Thrifted DIY Headboard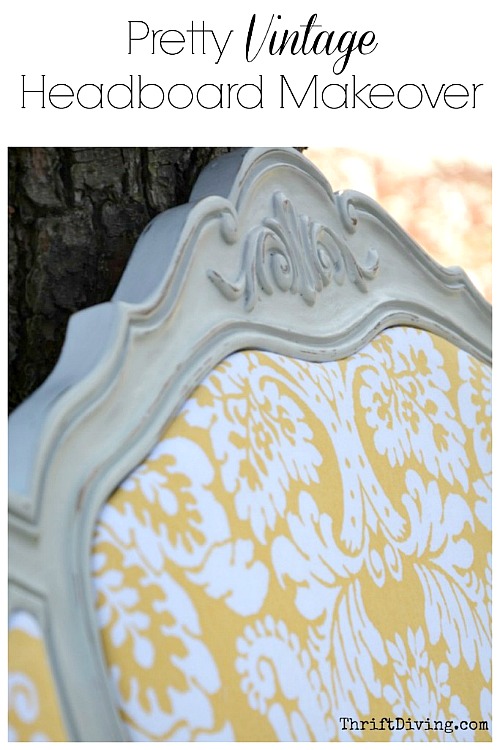 Have you seen the prices on the headboards in the mattress stores? They' can be pretty high, and sometimes look rather plain. Save yourself money and get a beautiful headboard by making over one you find in a thrift store! Thrift Diving shows how she took a thrift store headboard and made it into a beautiful damask headboard!
10. Thrift Store Desk Makeover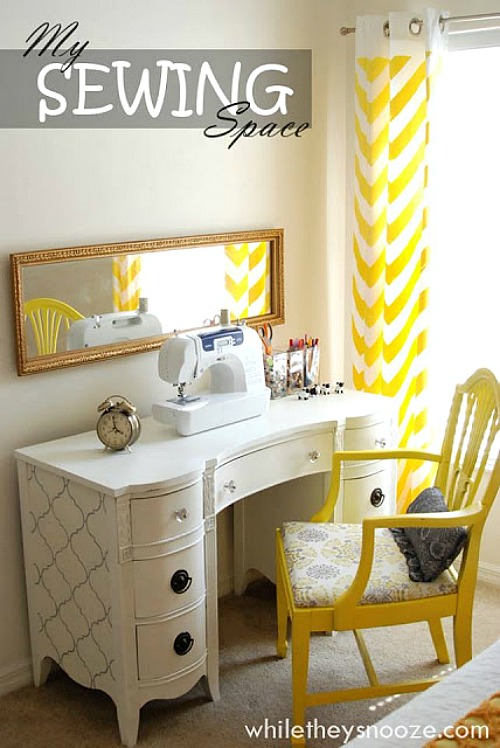 This came out beautiful! While They Snooze explains how she took an old thrift store desk and made it into a pretty white sewing desk!
11. Faux Bamboo Mirror Makeover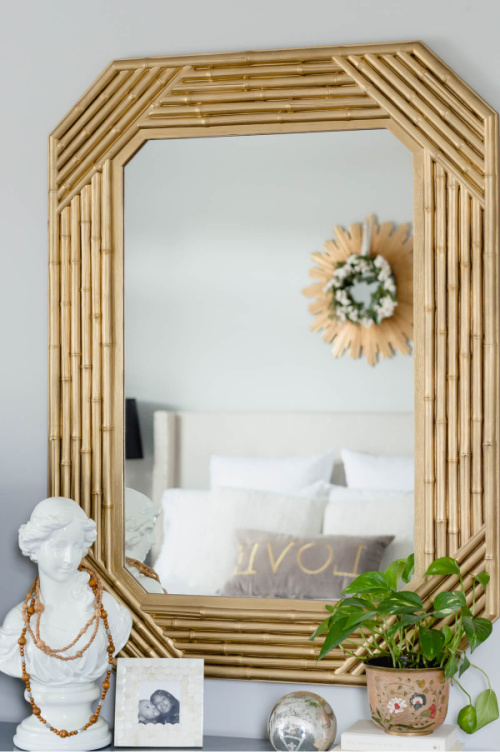 Home I Create found a super cheap mirror and gave it a makeover. This gorgeous faux bamboo mirror makeover was simple and turned out beautiful.
12. Jewelry Box Into A Writing Box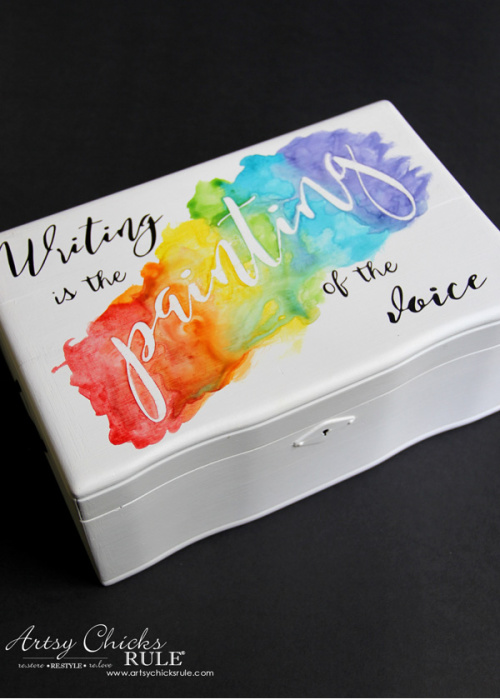 I love the way this repurposed jewelry box turned out! Artsy Chicks Rule did a fabulous job making a bright-colored writing box with it. So creative and easy to replicate.
13. Perpetual Calendar Message Board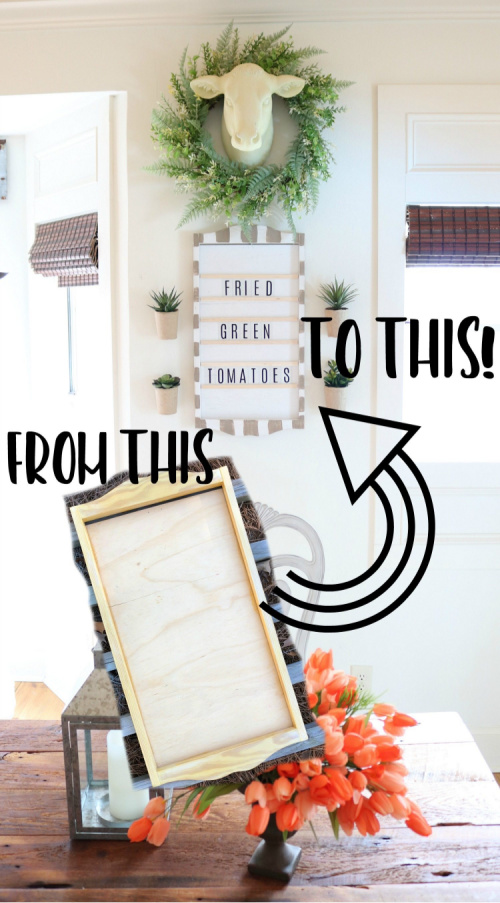 Refresh Restyle found an inexpensive Lang calendar holder and with some paint and a little bit of work was able to transform it into a perpetual calendar message board. It's so gorgeous and would go with all sorts of styles and decor.
14. Painted and Upholstered Stool Idea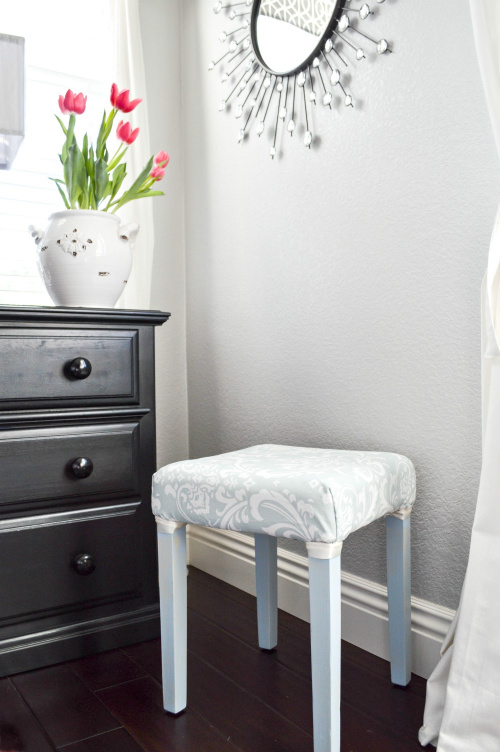 The sophisticated look and style of this painted and upholstered stool is breathtaking. I love how My Uncommon Slice of Suburbia took a plain stool and transformed it into something gorgeous.
Have you ever made over a thrift store item?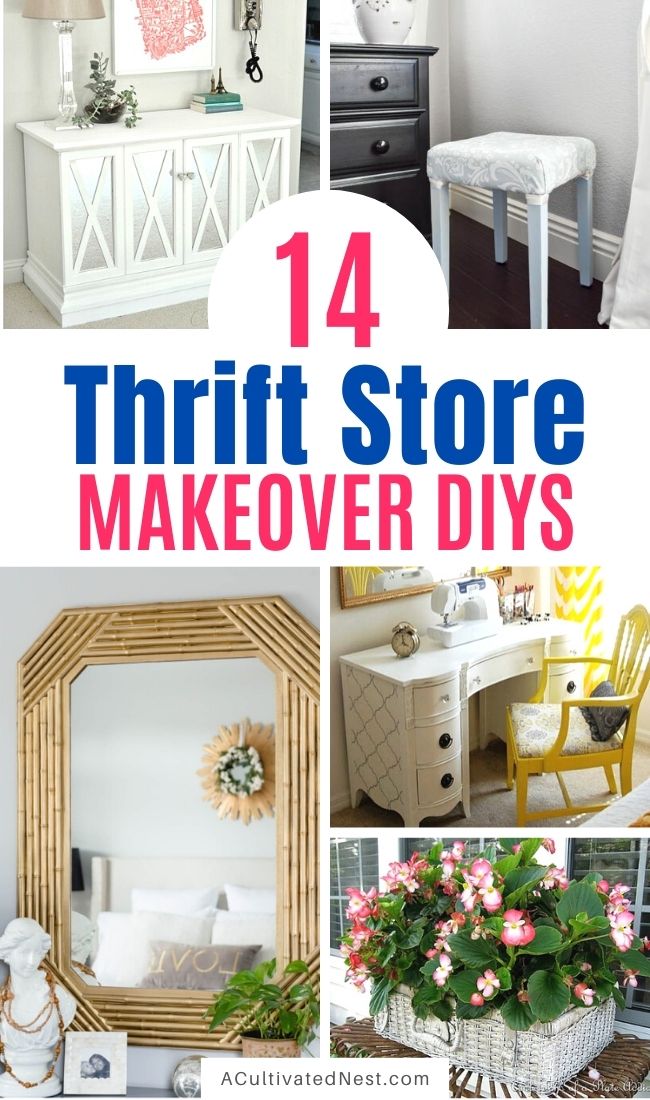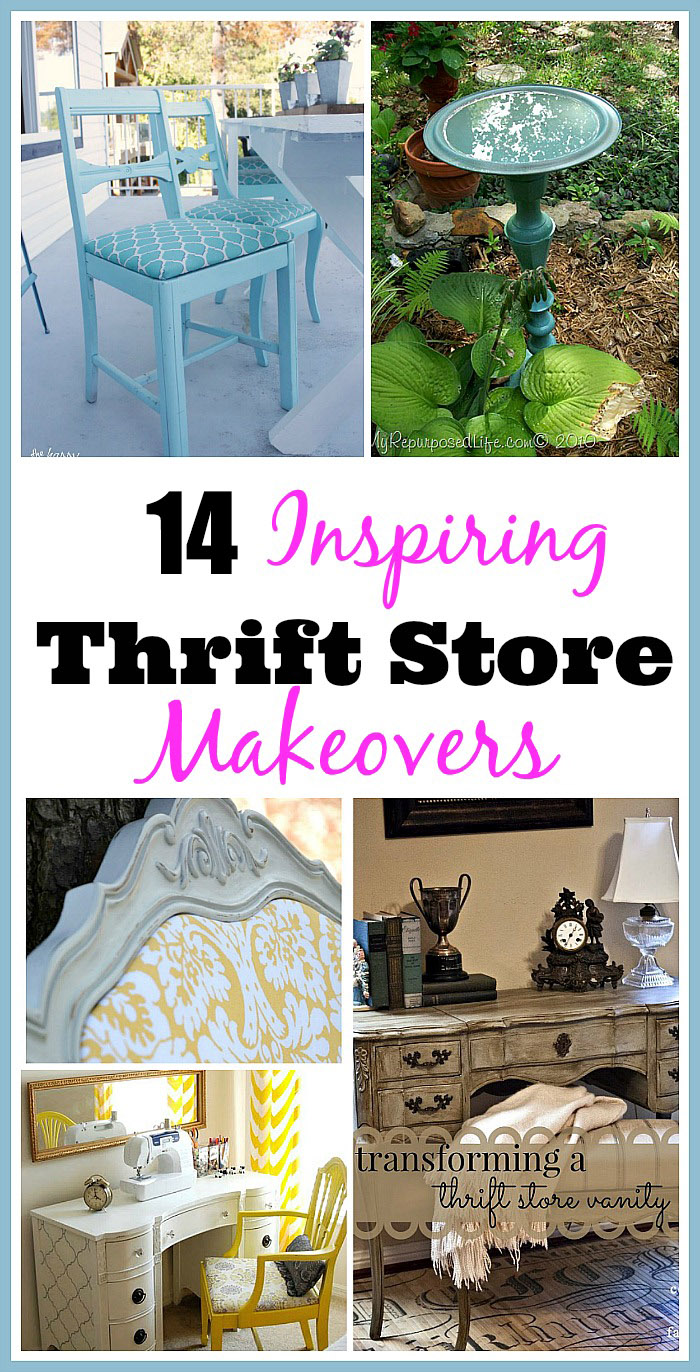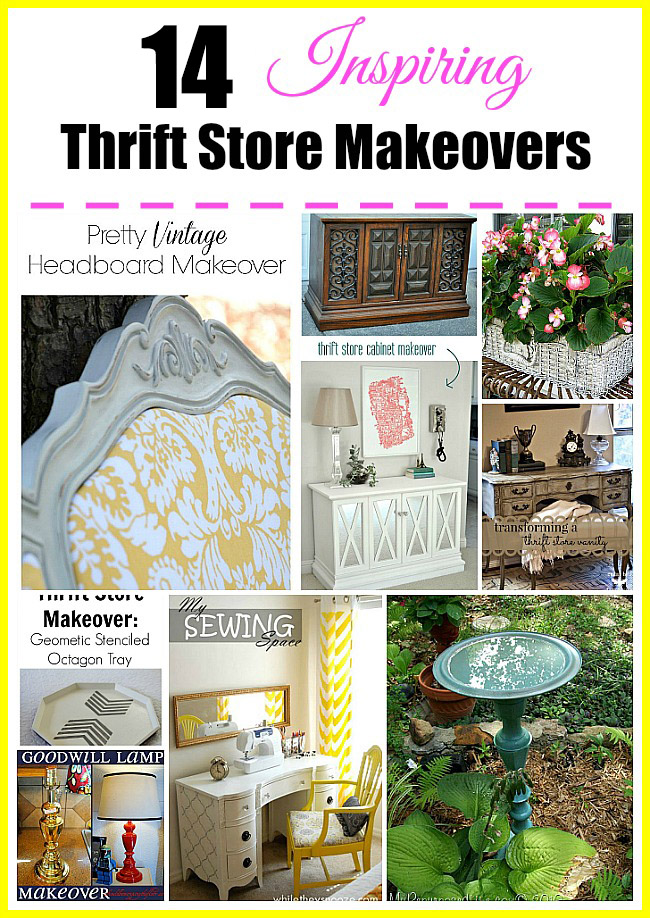 You might also be interested in: 20 Fantastic Thrift Store Decor Makeovers