Beautiful DIY Repurpose Door Projects.
Don't you love upcycle DIY projects? There's nothing better than taking something old that someone else would consider trash, and turning it into something beautiful and useful! One great example is upcycling old doors! House doors, cupboard doors, doors of all shapes and sizes can continue to be useful for years as headboards, benches, tables, and more! Whether you've got an old door left over from a home renovation, or you just found a great one at the thrift store, these 15 Creative Upcycled Door DIY Projects are sure to inspire you!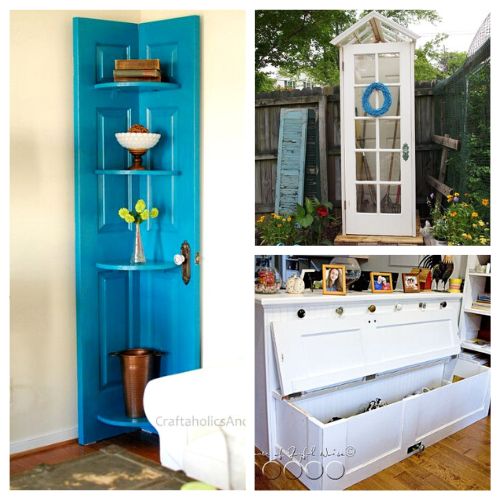 Disclosure: This post may contain affiliate links to Amazon and/or Etsy, which means that I may earn a small commission from some of the links in this post. Please see our Disclosure Page for more information.
Turn trash into treasure with these clever upcycled door DIY ideas! There are so many ways to use old doors!
15 Creative Upcycled Door DIY Projects
Here are some tips to help you get the most form your old door:
Leave the old paint. Depending on the door that you have, you may have very little that you need to do to it to repurpose it into your dream item! Consider leaving the distressed paint on antique doors.
Leave the old details. Work with the grooves and molding on cupboard doors. Sometimes it's better to work with the inherent details of an upcycle item than to try to sand them all away. It can make your project easier and give the final result more charm!
Check for lead-based paint. If you believe your antique door was painted with lead-based paint, be sure to dispose of it and keep your family safe. Lead paint wasn't banned until 1978 in the US, so if your door is from an older source, be careful.
1. Upcycled Door Corner Shelf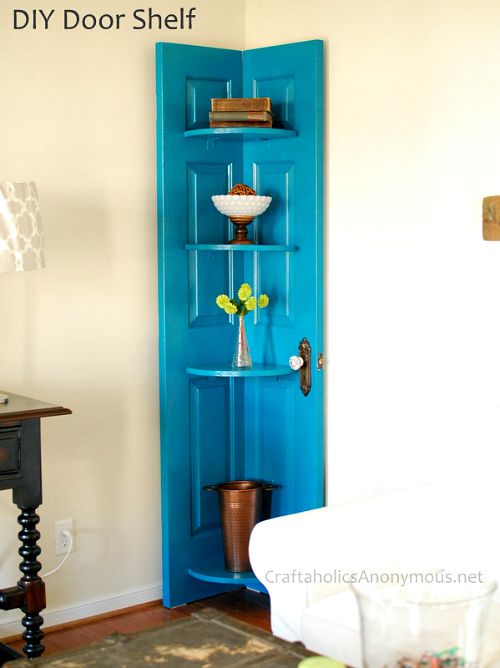 This is so pretty, both because of the blue color and because of the extra detail from the door! Craftaholics Anonymous explains how you can make your own DIY upcycled door corner shelf from an ordinary old door!
2. Upcycled Door Headboard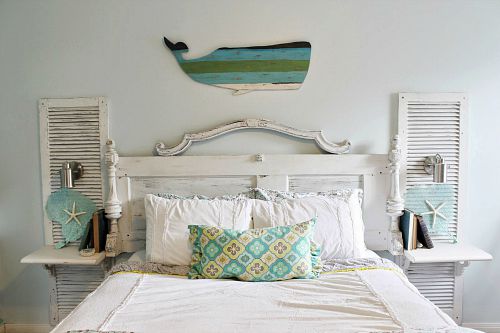 This is such a pretty upcycle project! And all you need is a normal old door! The Ragged Wren explains how she made this pretty upcycled door headboard!
3. Upcycled Door Kitchen Island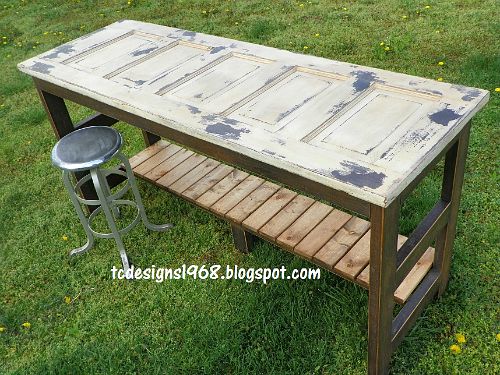 I love the look of this kitchen island! Can you believe it just used to be an ordinary door? T. C's Designs explains how to upcycle a door into a beautiful kitchen island!
4. Upcycled Door Coffee Table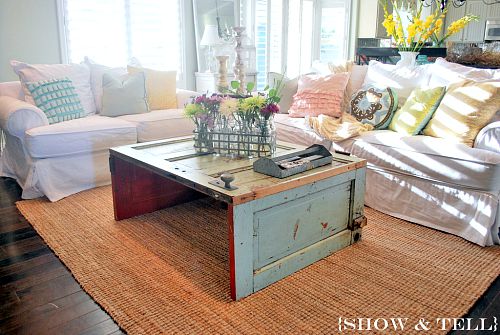 If you cut up your door, you'll have even more project possibilities! And if you leave the hardware on, the new furniture can look even cuter! Check out the cute upcycled door coffee table that Sweet Pickins made!
5. Upcycled Cupboard Door Serving Tray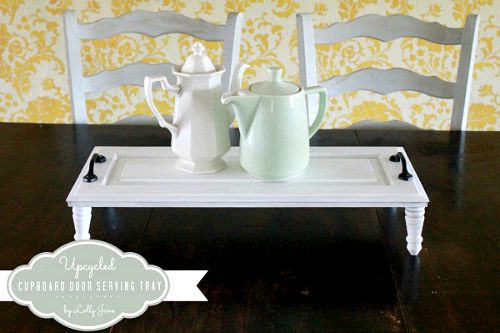 Maybe you don't have any full-size house doors that you can repurpose. Consider using a small cupboard door instead! A smaller door gives you the chance to make smaller DIY projects! Lolly Jane explains how to make this cute upcycled cupboard door serving tray!
6. Upcycled Door Bench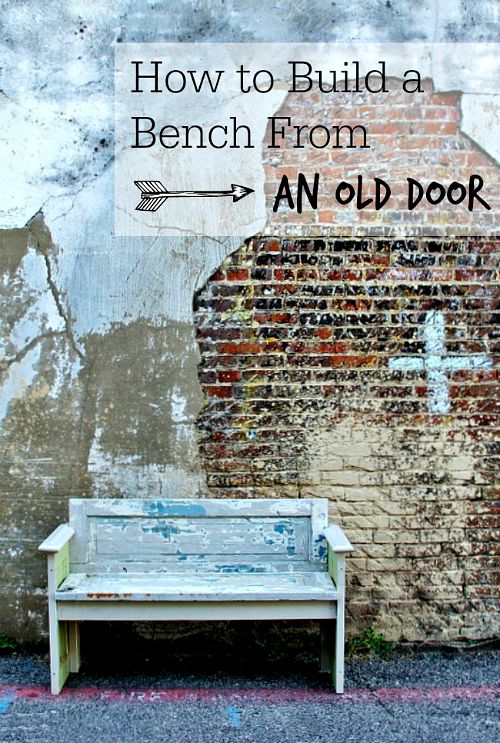 This would look great in a garden! Thistlewood Farms explains how to turn an ordinary old door into a cute upcycled door bench!
7. Upcycled Door Storage Bench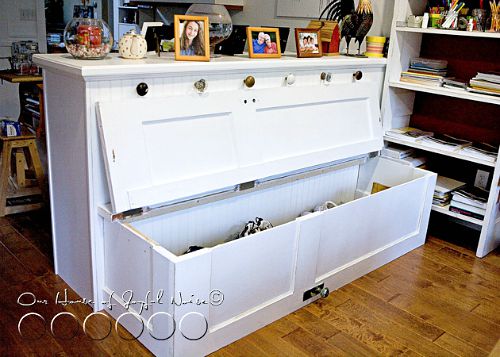 Maybe you want a bench, but you'd rather have it inside? But wouldn't it be even better if it was a storage bench? You can make that from doors, too! Check out how House of Joyful Noise made this pretty upcycled door storage bench!
8. Upcycled Cabinet Doors Planter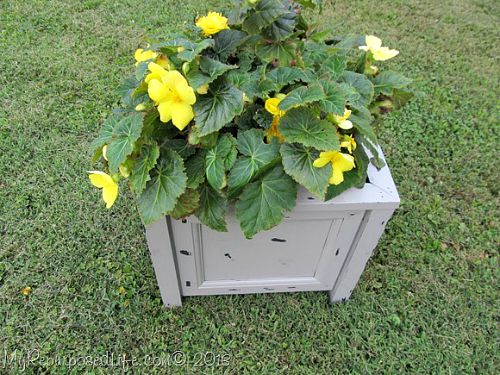 Cabinet doors make great materials for upcycle projects! Check out how My Repurposed Life made an adorable upcycled planter from cabinet doors!
9. Upcycled Door Garden Shed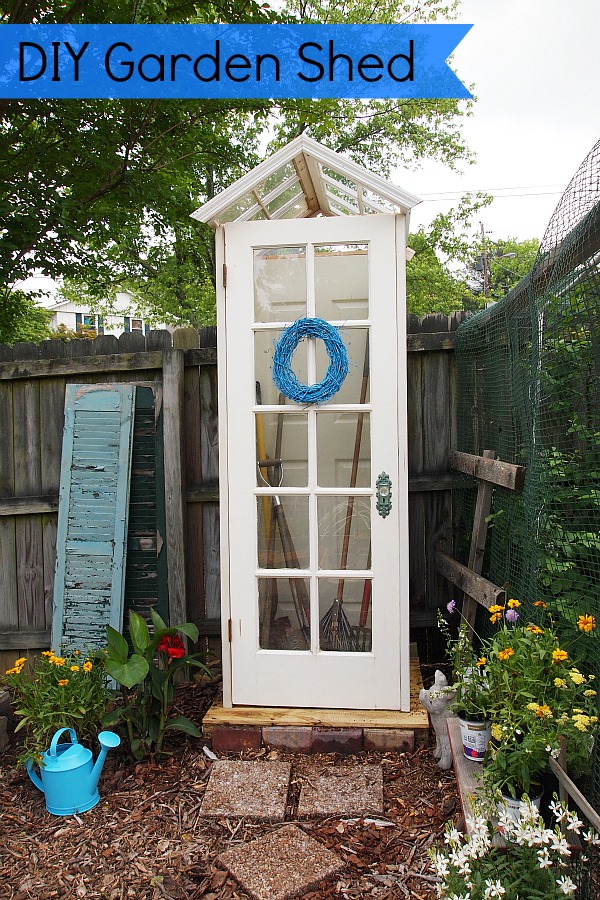 Some of you may remember the adorable upcycled DIY garden shed my husband and daughter made for me! We had to leave it when we moved, but it was always very useful (and so cute!). It's a very easy upcycle project, too!
10. Upcycled Chalkboard Door
Create a chalkboard out of an old door to create a great place for drawings, inspirational sayings, and other fun family time. Cottage in the Oaks has the details.
11. Upcycled Cabinet Door Decor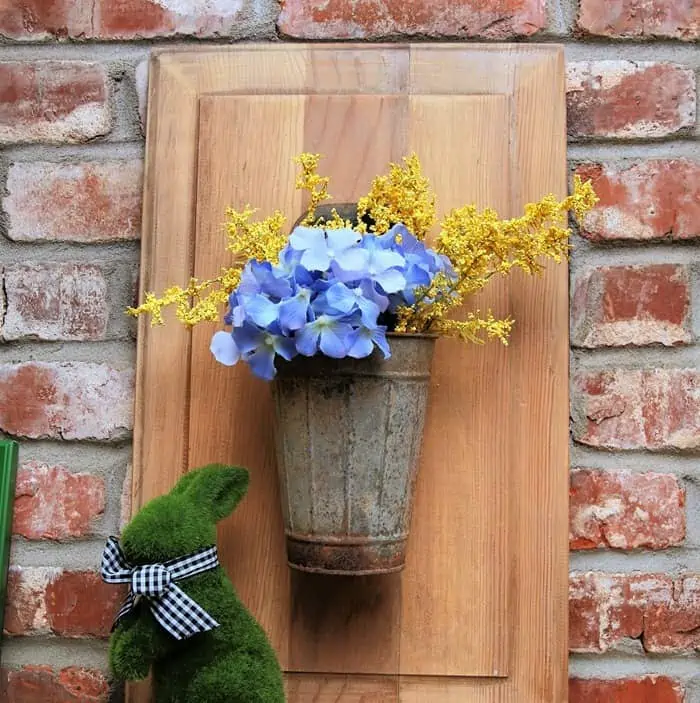 Use an old cabinet door to create a cute flower hanging decor item. Petticoat Junktion has the steps to create this fun upcycled project.
12. Upcycled Cabinet Door Shelf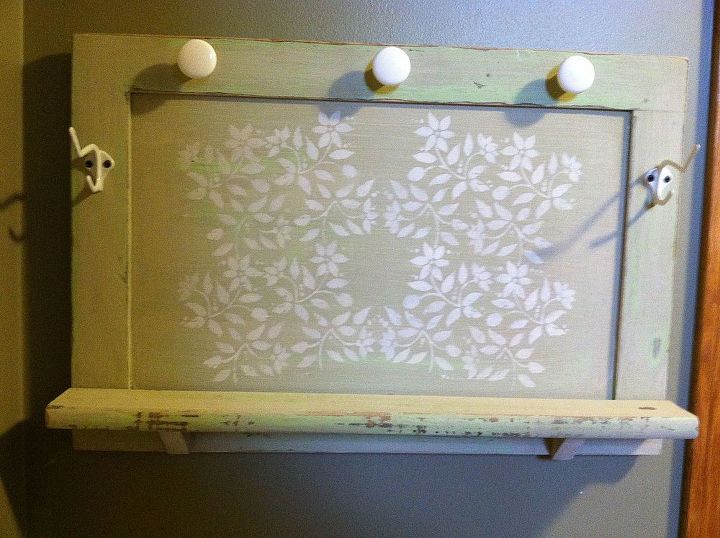 Create a small shelf with an old cabinet door. This would be perfect in a bathroom, hallway, or bedroom. Home Talk is the original poster of this idea.
13. Upcycled Door Headboard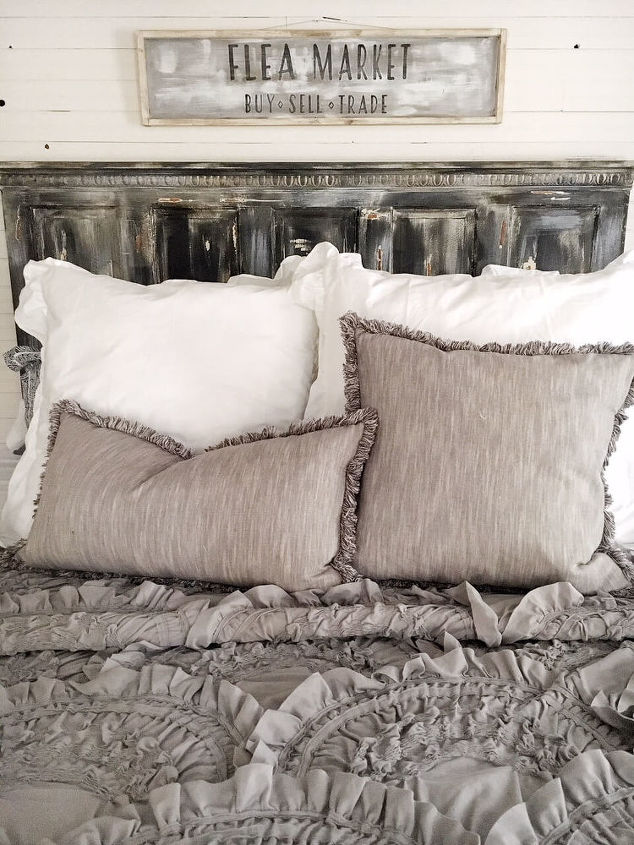 Create an adorable headboard out of an old door! I like the paint and finish that she uses to create this upcycled project. Home Talk has the ideas.
14. Upcycled Door Shutters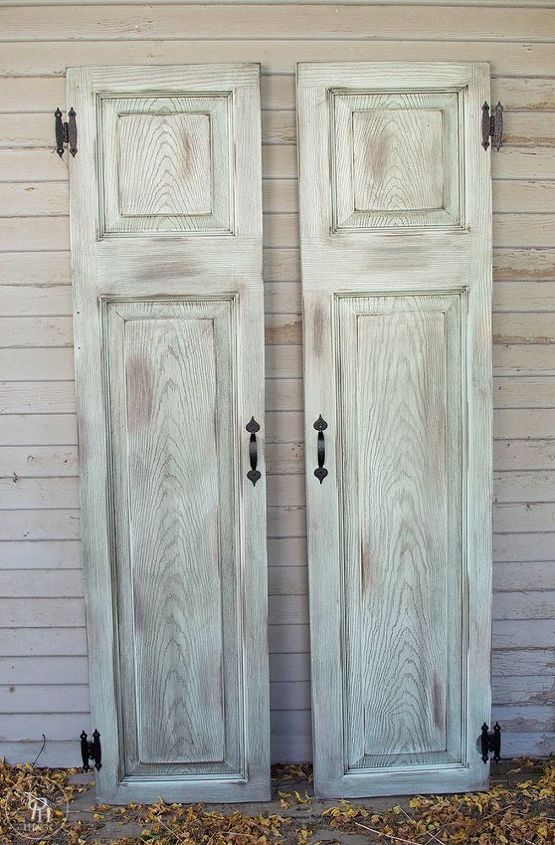 Create some shutter decor items out of an old door with the directions from Home Talk.
15. Upcycled Door Privacy Fence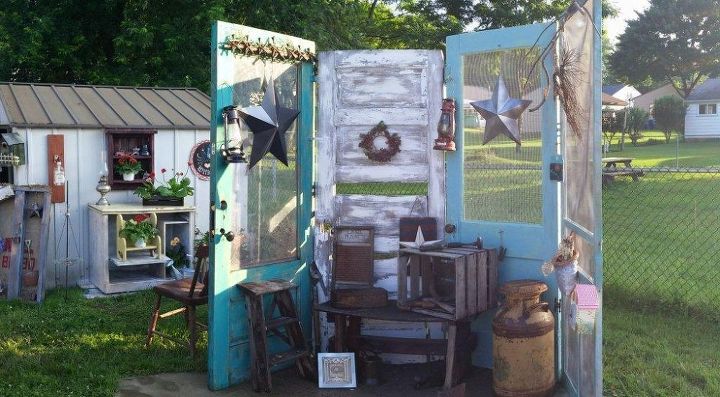 Create a privacy fence out of old doors and get entertaining! I love this idea and can't wait to add it to my backyard area! Go to Home Talk to get the directions.
What do you do with old doors?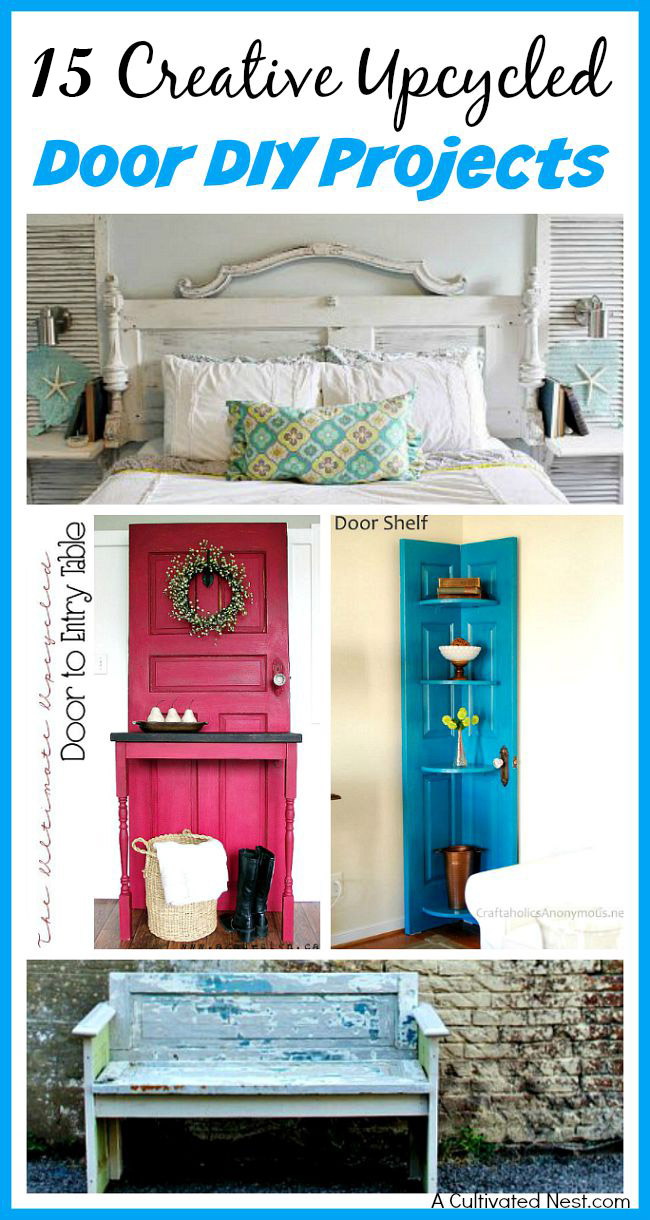 You may also be interested in: Inspired Ways to Use Old Windows