Beautiful DIY Ways to Upcycle Windows.
I mentioned a while ago that my husband had brought home a few old windows that a neighbor had put in the garbage when they got new ones.  So I've been looking around the web trying to find some new ideas on how to upcycle or repurpose old windows and found a few that I really like. First I'll share a few ways I've already used windows in my home and then I'll share some Ways to Use Old Windows that I found on Pinterest.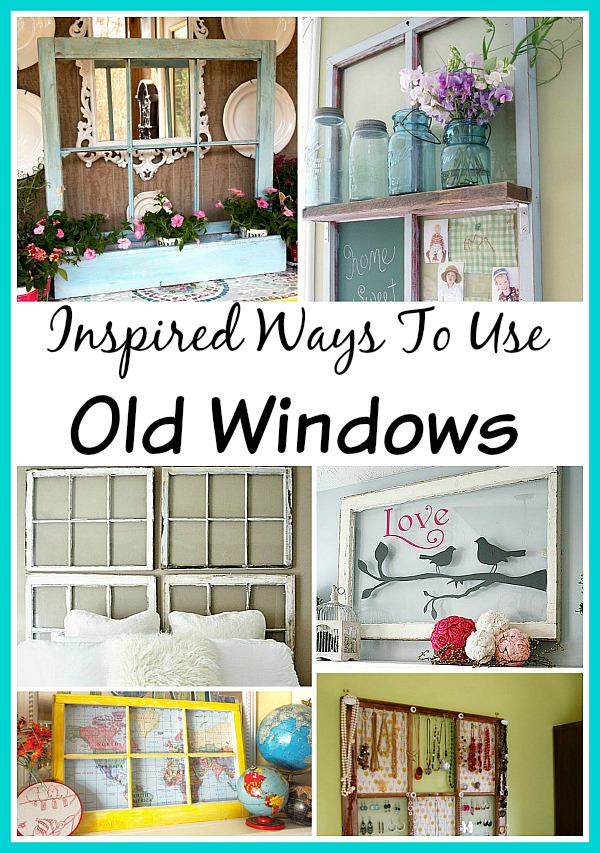 Disclosure: This post may contain affiliate links to Amazon and/or Etsy, which means that I may earn a small commission from some of the links in this post. Please see our Disclosure Page for more information.
But first I thought I'd show you how I've already used them in my home and garden.
Using Old Windows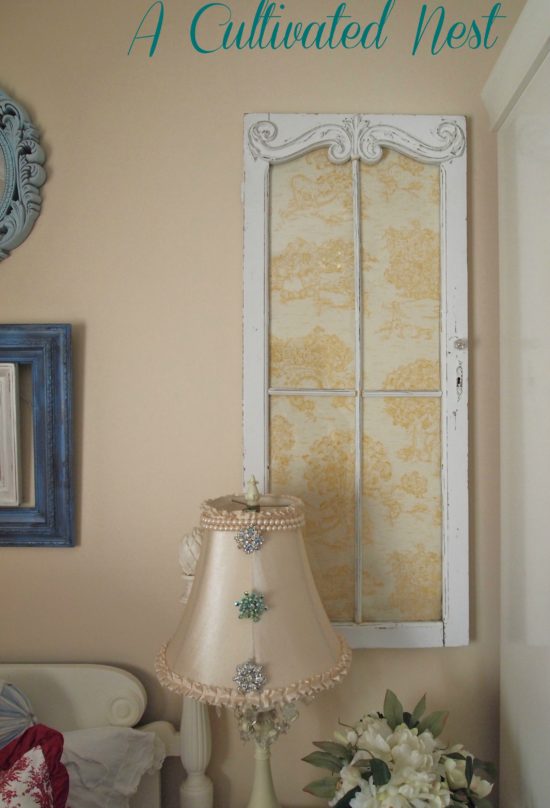 This one is in the guest bedroom and I attached some pretty yellow and white toile fabric to the back.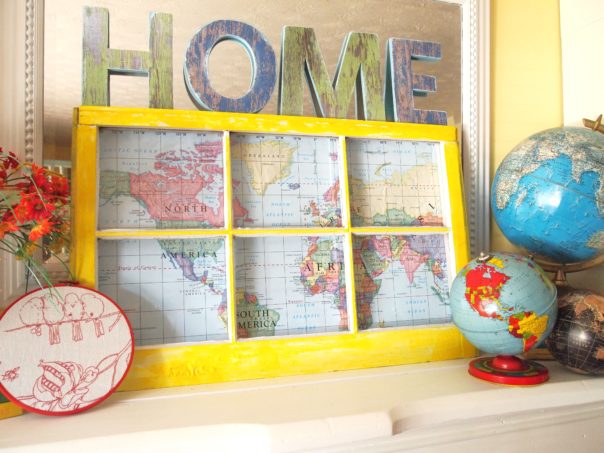 Then there's this one that I painted yellow and I taped a map to the back of  as part of a Pretty and Frugal Mantel Makeover.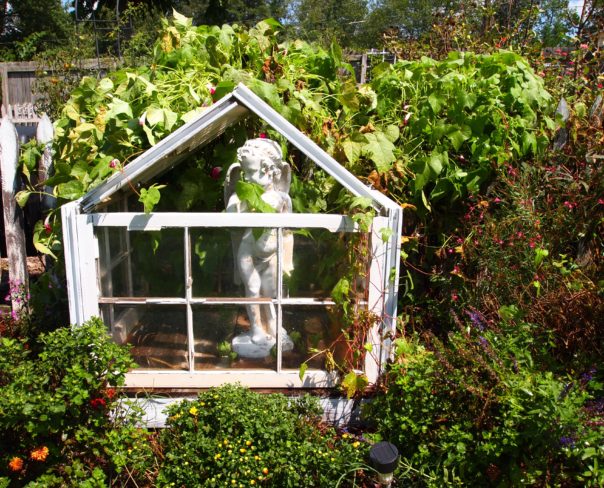 This is the garden conservatory that my husband made for me out of windows.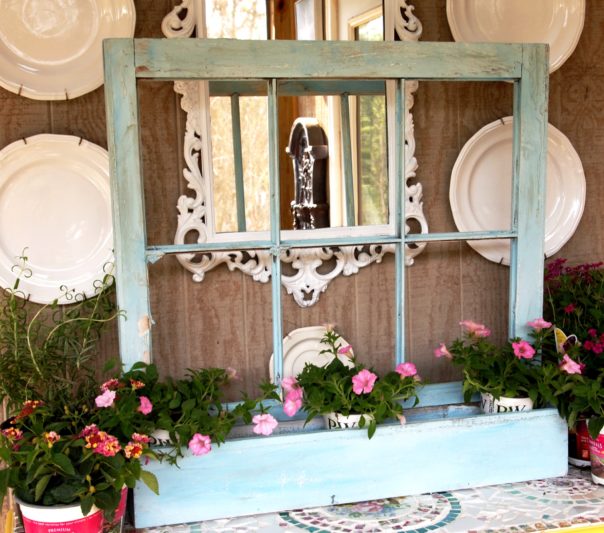 And this is the window box that he made for me with just the frame of a window.
So as you can see – I've used old windows in many ways!
Here are some other ideas that I like for repurposing windows.
Once you get your hands on some old windows you can create such gorgeous and rustic styles. If you aren't sure where to look for old windows, don't worry! I have some great ideas to get you started. Check out any of these places to find old windows:
Dumpster Diving: I know it sounds crazy, but if you drive around town, you will be surprised by the things people throw out. You can find all sorts of projects…including old windows.
Yard Sales: Go to some yard sales and see what you can come up with. It's especially fun if you can hit some city-wide yard sales. People practically give away stuff just to get rid of it.
Antique Stores:  If you love going antiquing you are in for a real treat. You can find some great deals on some stylish old windows.
Construction Sites:  Oftentimes, you can find construction sites that have windows they no longer need. Call around locally and see what you can come up with.
1. DIY Window Headboard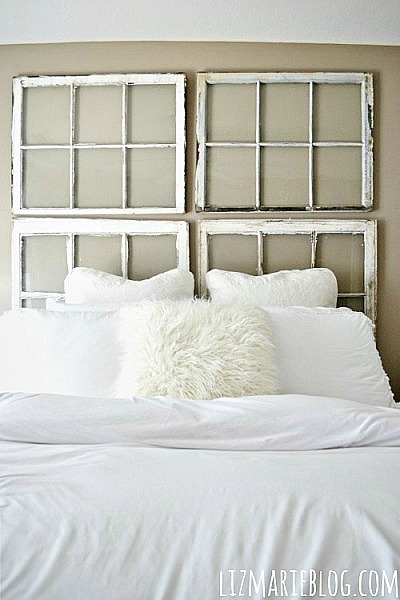 How about making a headboard with some old windows like these from Liz Marie Blog.
2. Wall Art Idea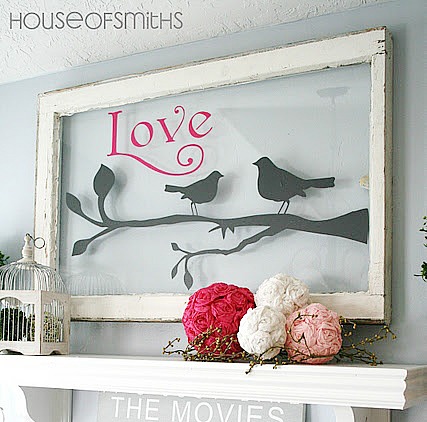 This window has been repurposed into a wall art with the addition of a peel and stick decal by House of Smiths.
3. Chalkboard and Memo Board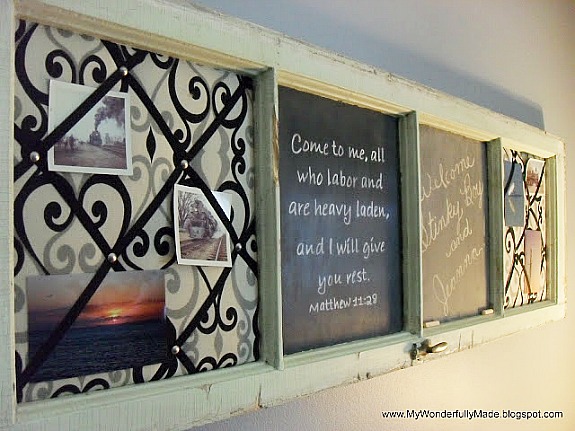 This old window is now both a chalkboard and memo board! What a great idea that Wonderfully Made came up with.
4. Jewelry Display Board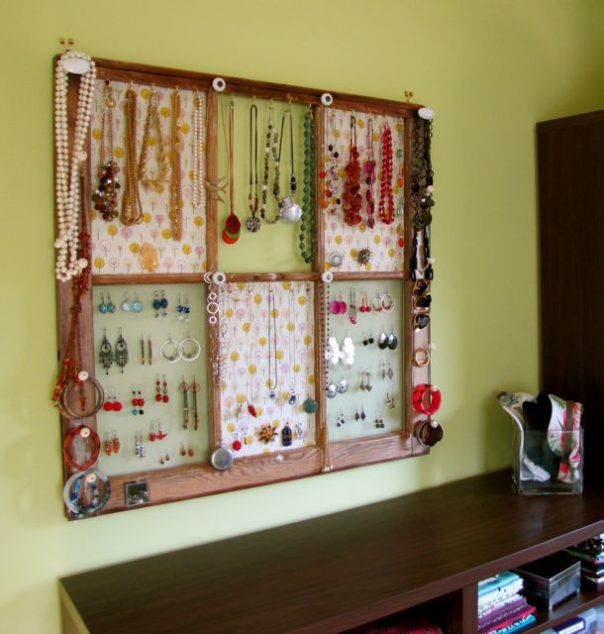 I need something like this for my earrings! Jewelry display from The Borrowed Abode. She has a great tutorial on how to make one.
5. DIY Rustic Window Table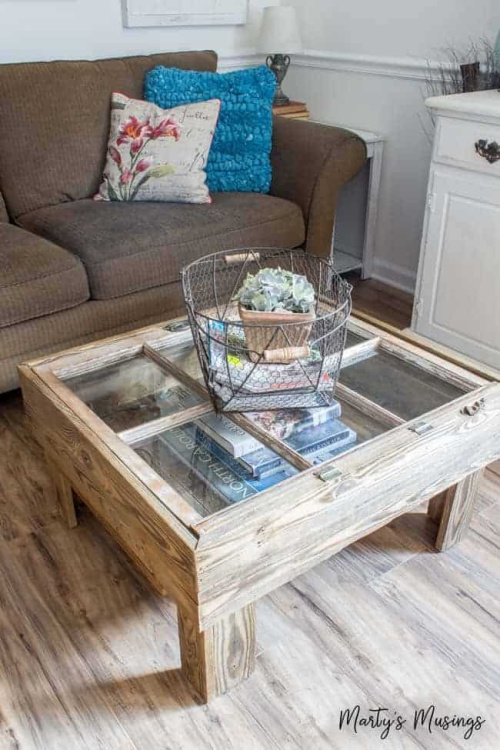 Talk about a gorgeous centerpiece for your space! This rustic window table made by Marty's Musings is beyond gorgeous. Plus, it's really creative too.
6. DIY Bathroom Cabinet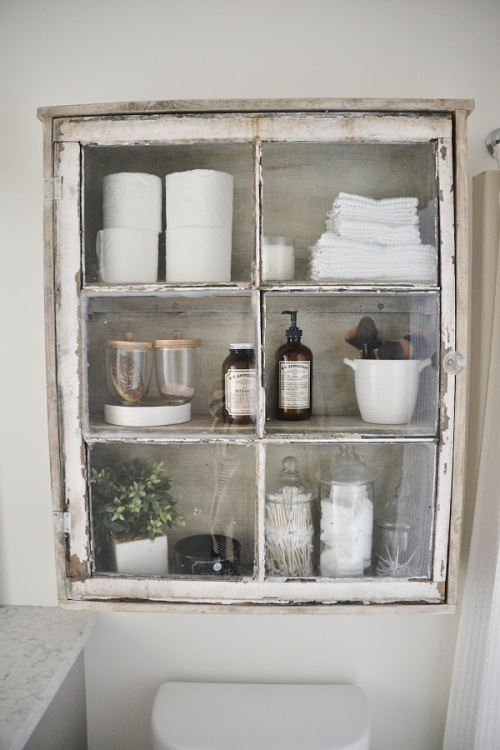 Add some style and charm to your bathroom by making a bathroom cabinet with old windows. At the Liz Marie Blog, she gives you all the details on how to replicate this look.
7. Wedding Photo Frame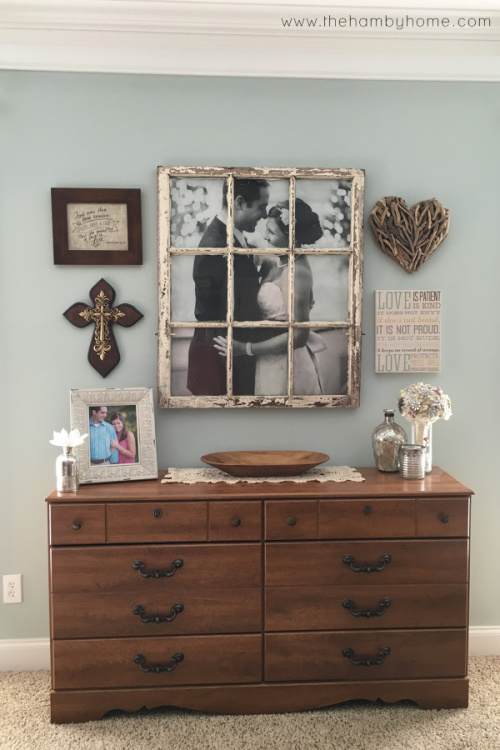 The Hamby Home got super creative and took a photo from their wedding and added to an old window. This beautiful wedding photo frame is perfect!
8. DIY Dry Erase Board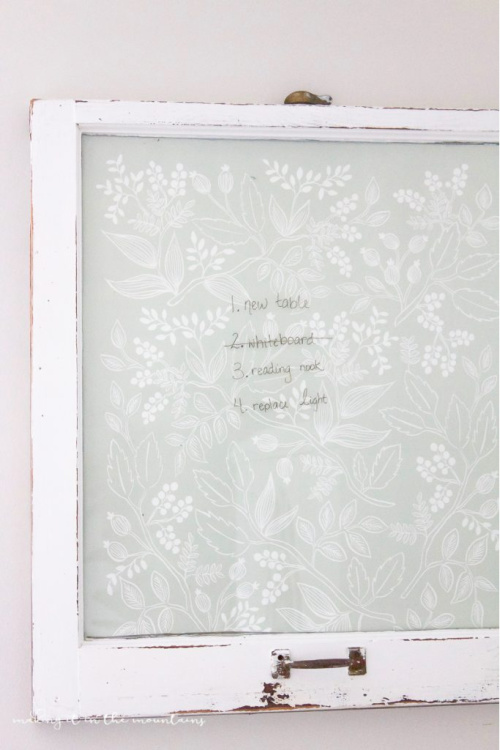 Lolly Jane created a stunning DIY dry erase board. It's such a simple idea but makes a huge impact on your space. Don't you love how vintage it looks? I sure do!
9. Window Pot Rack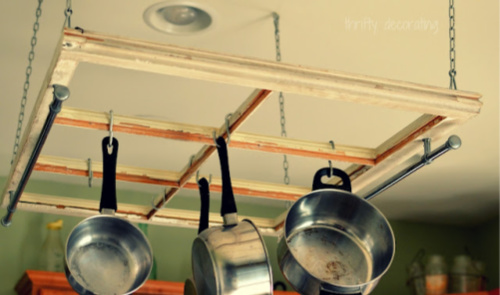 I am so excited about this DIY window pot rack made by The 36th Avenue! It can transform your kitchen and add a fun, vintage feel.
10. Farmhouse Wall Decor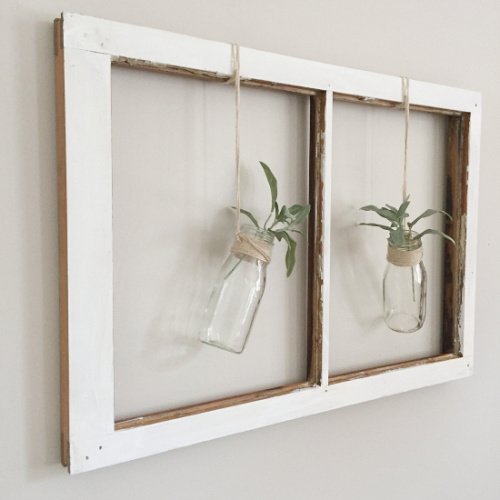 Lemons, Lavender, and Laundry created the most beautiful and unique farmhouse wall decor from using an old window. Check it out!
There are tons of ideas out there for upcycling old windows so be sure to hang onto yours if your getting new ones or pick them up when you see them for free!
For more repurposing ideas be sure to check out my  Upcycle/Repupose Pinterest Board
You may also be interested in: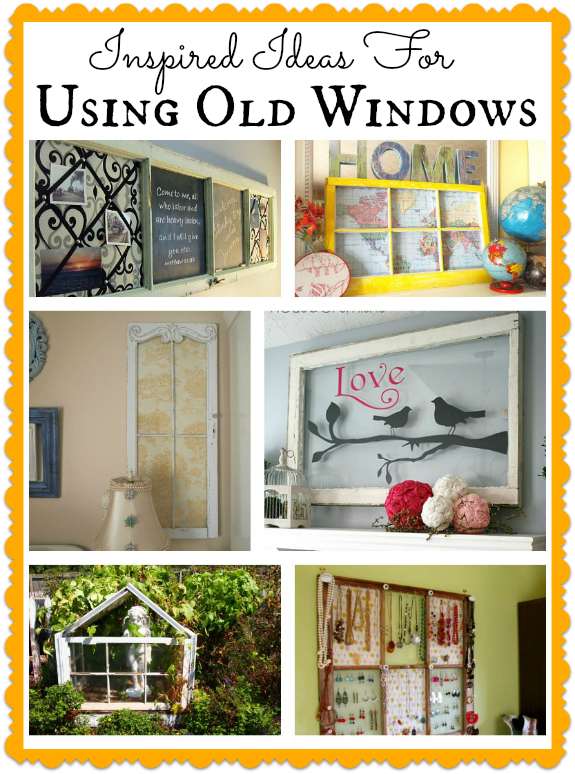 You may also like: