No one likes to talk about it when it happens, but it does happen. Sometimes there is just not enough money to cover the rest of the month. Maybe you panic, maybe you don't. Maybe you do not know where to turn or what to even begin doing! Here's what to do when you run out of money for the month.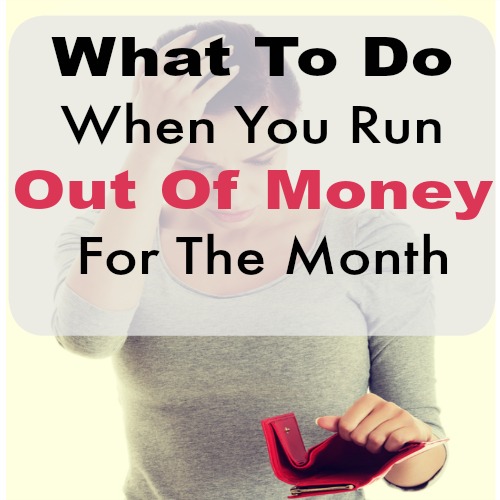 Disclosure: This post may contain affiliate links to Amazon and/or Etsy, which means that I may earn a small commission from some of the links in this post. Please see our Disclosure Page for more information.
Hopefully these strategies will help you get through this rough patch.
What to do When You Run Out of Money for the Month
1. Use what resources you currently have.
Although you may be out of money, it does not mean you are out of resources. The first thing you should do is use what you have. Use the food in your fridge and in the cupboards. Use up anything and everything you have in your house before thinking of resorting to anything else.
2. Call in a few favors.
Surely you have helped someone else in their time of need. If you need a little extra help with buying something, ask a friend to help you out. This works out wonderful if you aren't the type of person who is always mooching off of others. Asking for help, when you really need it, is one thing to do when you run out of money for the month.
3. Make things from scratch.
Thanks to Pinterest, you can make everything yourself these days. Short of making yourself toilet paper, you can make anything you need. Shampoo, lotions, toothpaste and any other body product can basically be made in your kitchen. If you need help making something, call in a friend that is great at doing this sort of thing. You can even make extra for others in need.
4. Start selling items you no longer need.
Unless you have been "broke" for a while, everyone has something that they no longer need. If you run out of money for the month, start selling those items. Sure, it can be hard to part with the items, but this is better than not being able to buy groceries or pay the bills.
5. Learn from your mistakes
Everyone makes mistakes with their money. Sometimes it costs them and sometimes it doesn't. When it does cost you, it can be a painful reminder. When you run out of money for the month, remember why you ran out and try to do better next time. Granted, it's not always your fault, life does happen!
6. Keep an emergency fund in place.
Emergency funds are great for this sort of thing. Like I said, life happens and you cannot always predict what it will throw your way. Hopefully, you have an emergency fund or you start one after reading this article. An emergency fund is a sum of money that you have put aside for emergencies. An emergency fund should be put somewhere that is not easily obtainable, but close enough that you can get to it when needed.
7. Do without.
Running out of money is a very unpleasant thing, but it is not the end of the world.  You can trade, barter, or go without, but you can still survive. Lots of people around the world go without having money in their bank account and survive.
8. Seek help
There are some times in life that calls for you to ask for help. Food banks and emergency services exist for a reason. Maybe you had a medical emergency and can't pay your rent, usually towns have services to help those in need. Emergencies are just that – emergencies (as long as you're not asking for help all of the time, these programs are designed to help people in a pinch). Contact your city's town hall or ask for resources from the Family Services in your town. Remember that things like food stamps and welfare are there as resources as well. Although some people want to use that as a last resort, do not feel bad about using it when you need it.
When you run out of money for the month, this is your time to get creative. Don't panic! Like I said, use what you have on hand and gather resources for what you need. You can always make what you need yourself, barter, or just seek help.
I would love to hear your most creative stories of running out of money. It has happened to "the best of us"— so don't be shy! Maybe someone can learn something from your situation.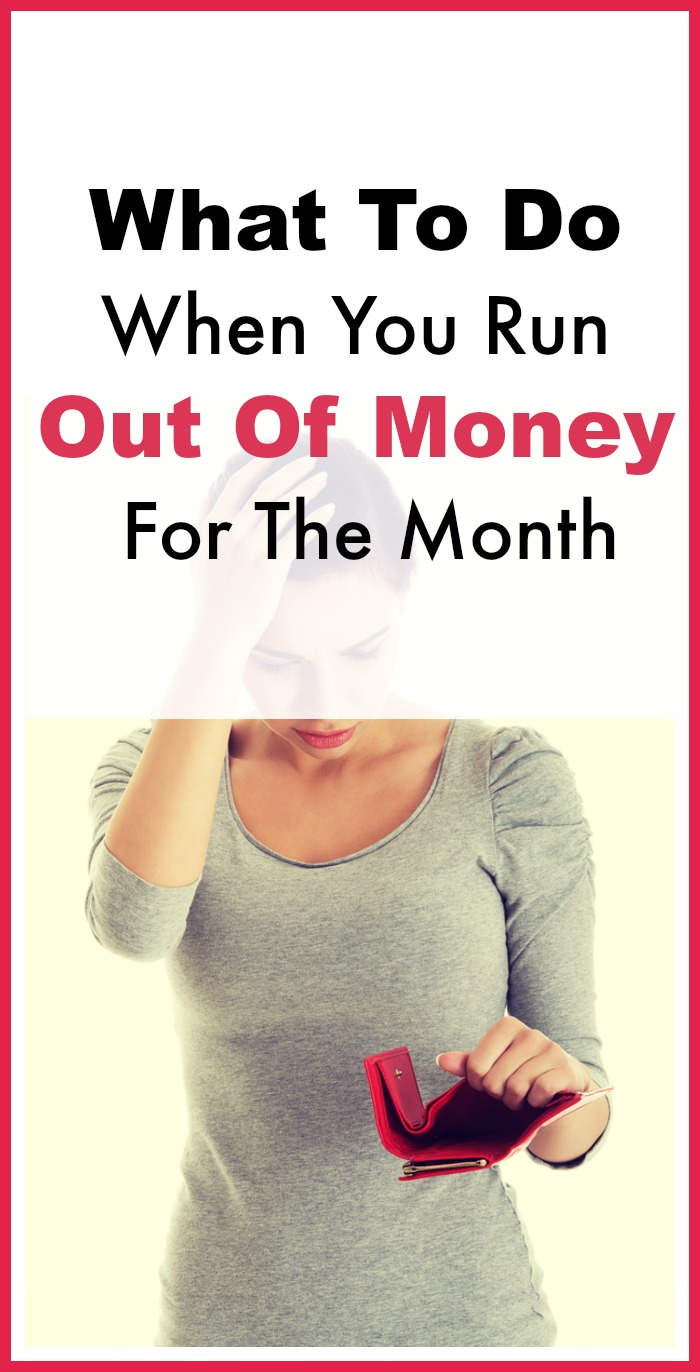 You may also be interested in: