Once upon a time homemaking was all about "Use it up, wear it out, make it do or do without."  Back in those days homemakers needed to have a very extensive skill set in order for their homes to run smoothly and their families to thrive. Yes, our lives have become quite a bit easier with innovation and technology (I'm happy to have a washing machine and vacuum), but old-fashioned homemaking skills are still important in maintaining a frugal home. Regardless of technology and the busy lives that have accompanied it, let's bring back some of the old ways.  There are some vintage skills frugal homemakers still need to have in order for them to navigate the art of frugal homemaking today.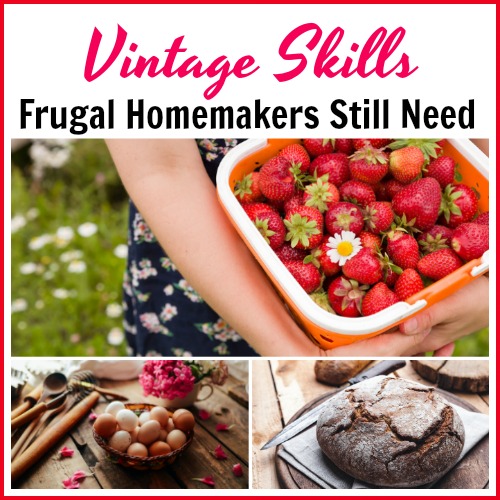 Disclosure: This post may contain affiliate links to Amazon and/or Etsy, which means that I may earn a small commission from some of the links in this post. Please see our Disclosure Page for more information.
Some of these skills from homemakers from the past may be new to you. Some you may already be doing. For many of us implementing these things will be a lifestyle change. So don't be discouraged if it takes you a while to get comfortable with them. Maybe try one new thing at a time.
Vintage Skills Frugal Homemakers Still Need
1. Using tea towels and rags
Reduce your dependence on disposal paper towels, paper napkins and other "cleaning wipe" type products. Use dish towels, cloth napkins, and rags instead. I have tons of kitchen towels. Some I've had for more than 10 years even! I buy them on clearance at TJX, Target etc. They don't have to match my kitchen decor since these are towels for every day use. I do have paper towels on hand for certain things like draining bacon or cleaning up something nasty (throw up). But we rarely use the paper towels anymore.
We also use cloth napkins. I buy stacks of them when I see them on clearance and unless we have something messy to eat, we use them for breakfast lunch and dinner. Some people like to use wash cloths as napkins. Napkins are super easy to make if you sew. Rags for cleaning are old towels, old t shirts, old socks, cheap microfiber cloths etc. Crochet dishcloths work really well too. Here's how to make your own Homemade All Purpose Cleaning Wipes
RELATED: Disposable Products You Can Replace With Reusable Ones
2. Breadmaking.
Bread is a staple in so many households and a truly frugal homemaker should be able to bake loaves of bread at home.  A homemade loaf of bread costs very little to bake compared to $1-$2 to purchase in the store. Closer to $4-$5 if you need a specialty bread like sprouted wheat or gluten free. If bread is a big part of your family's diet, the ability to make bread from home will save you a significant amount of money throughout the years.  Besides, fresh bread tastes so much better than the stuff that you grab off the shelves (and it's healthier). In the long run, even if you invest in a breadmaker or KitchenAid mixer to help you in this task, you'll still come out ahead. We have the Zojirushi 2 lb Bread Maker, but breadmakers can be found at thrift stores very inexpensively or on sale. Or do it the really old fashioned way and knead by hand, or make no-knead bread!
3. Sewing.
Frugal homemakers should be able to at least mend clothing. It used to be that pretty much everyone knew how to sew to some degree. That is no longer true but needs to be for any homemaker that considers themselves frugal. If someone gets a rip in their clothes, the ability to sew it or patch it up quickly is far superior to having to toss it out or pay someone else to fix a small rip. If you're able to do just straight line sewing you'll be able to make pillows, curtains, placemats and many other things. Here are 15 Easy Sewing Projects for Beginners to get you started.
4. Line drying laundry.
The convenience of the dryer is second to none, I will give you that.  That being said, line drying laundry is one of the most frugal household chores that you can do.  The benefits to line drying your clothing includes saving money on your electric bill and more.  Here's a article I wrote about How A Clothesline Can Save You Money & Tips For Line Drying.  Plus line-dried clothing smells great!
5. Cooking from scratch
Preparing meals and desserts from scratch as opposed to buying processed meals is a skill that is essential for homemakers that want to be frugal. Cooking from scratch is also a way for homemakers to ensure that their family is eating a healthier diet. Scratch cooking is better tasting too!
RELATED: 24 Foods To Make And Not Buy
6. Gardening.  Gardening is key for a truly frugal home.  As far as skill sets go, it doesn't get much more vintage than being able to grow your own food on your own land.  If you want to save as much as possible on your food bills throughout the year, make growing your own food a priority during the warmer months.  The average small home garden can yield quite a bit of produce! It's still a savings even if all you have room for is a few pots of tomatoes or pepper plants!
7. Canning.  While canning has been making its way into becoming more mainstream, it is still considered to be more of a vintage homemaking skill.  Homemakers used to always can foods, no questions asked.  The ability to can your fruits, veggies and some meats allows you to stretch your garden haul. Also turn a great deal on meat or fish into a stockpile to last you much longer than it would in the freezer.
8. Home Improvement Projects.  These days we often see people call a professional whenever things don't work or when they need something done around the house.  That never used to be the case and that still is the case for many, frugal minded people.  If you are able to do small home improvement projects such as painting a room, installing a light fixture, fixing a small leak, you will be able to save thousands of dollars over the years. There are so many resources available these days to learn how to do things.
RELATED:  How To Make Money With Your Homemaker Skills
What vintage homemaking skills have you found to be helpful in your journey to becoming a frugal homemaker?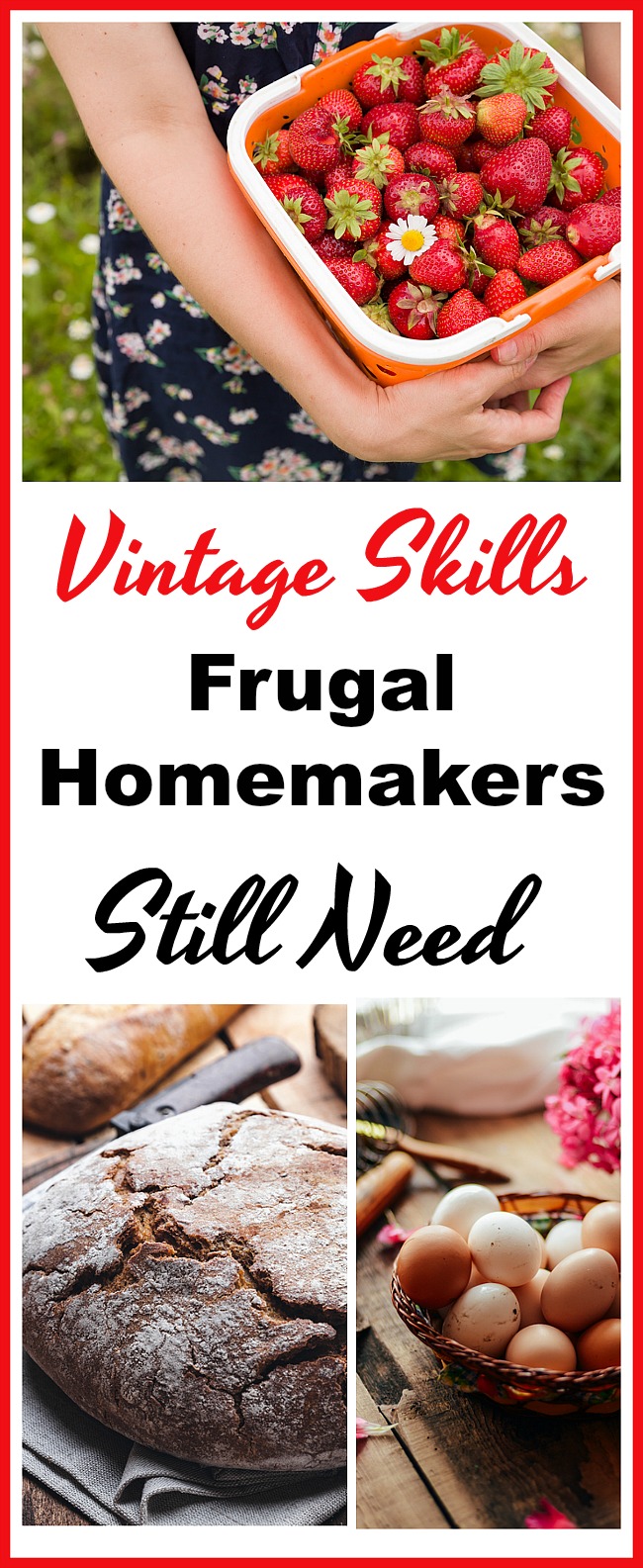 This post contains affiliate links to Amazon. Please see our Disclosure Page for more information, and thanks for supporting this site!