Things you can clean in the dishwasher.
I thought I'd share a quick household hack today! Did you know that you can use your dishwasher for so much more than just cleaning your dishes? Yes, that magical box in your kitchen that you use everyday has the power to help you stay on top of your cleaning tasks. Check out this list of things you can clean in the dishwasher!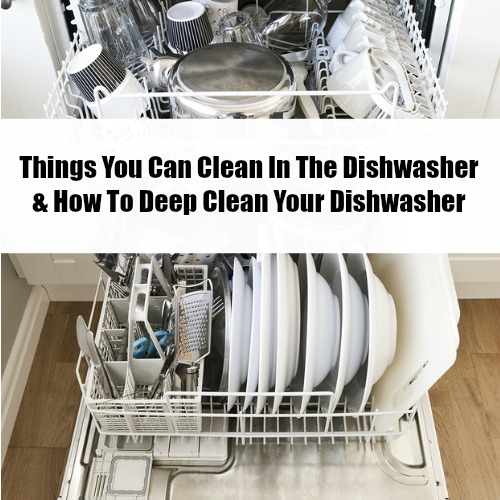 Disclosure: This post may contain affiliate links to Amazon and/or Etsy, which means that I may earn a small commission from some of the links in this post. Please see our Disclosure Page for more information.
Some things I would not put in the dishwasher are wooden items, copper or brass items, cutlery with wooden handles, cast iron, crystal and fine china.
I really don't like to run my dishwasher unless it's fairly full. So whenever my dishwasher load is light, I walk around and grab things that might need more than a light dusting to help fill it up. Like my utensil trays, the globe covers on my ceiling fans (especially the ones in the kitchen), drawer organizers, large fillers for apothecary jars like my plastic lemons, and the soup tureens that I display on top of my kitchen cabinets.
Things that can be cleaned in the dishwasher:
I have lots of dishes hanging on walls that I can grab to add to my load. I put in anything decorative that can be washed with the things that we eat off of. Also, the  sponge we use for the kitchen counter, the sponge we use for the dishes, kitchen sink strainer/plug, my glass microwave tray.  I used to put in my burner drip pans when I had a stove that used them.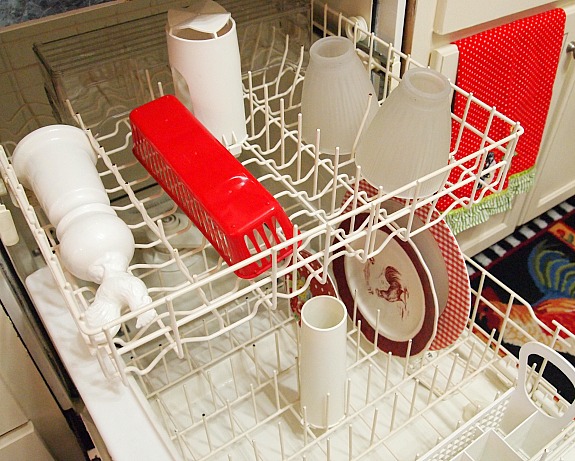 Then once every 3 months or so I do a load of things that are easier to run through the dishwasher than to clean by hand.  (I do not  do dishes we eat off of or utensils we use in this load).  I do put in things that are time consuming to wash by hand or things I might want to sanitize such as  storage containers from the craft room, storage containers from the bathroom, vent covers, the exhaust fan grille, light switch covers and the trays I use in the fridge.
Things that can be cleaned in the dishwasher:
In addition to the items listed above, here are some other things I've recently discovered that can be cleaned in the dishwasher – Remember, your dishwasher is designed to clean and sanitize things – your mileage may vary as to whether or not you feel comfortable using your dishwasher for these things:
Plastic hair brushes & combs  (remove all the hair first of course)
Baseball hats & visors (do not use dishwasher detergent in this load & no heat)
Plastic toys (use a mesh bag to keep little things together)
Shower heads
Dust pans & broom ends (with visible dust removed)
Flip flops
Refrigerator shelves if they fit
Soap dishes, toothbrush holders, cotton ball holders etc.
Trash can lids and small trash cans
Disinfect toothbrushes in the dishwasher
Rain boots with the liners removed
Desk accessories (pencil holders, sticky note trays, etc)
Wash potatoes for a big group!  (use no detergent)
Silicone mitts and mats
Kitchen hardware ( those dirty/greasy knobs and pulls can be placed in a mesh bag and put on the top shelf of the dishwasher
Plastic drawer organizers
Hard plastic pet toys
Every couple of weeks I run a cycle with just a cup of white vinegar because detergent residue and other things can build up on the inside of your dishwasher. I know it seems strange that you have to clean your dishwasher but this is what an appliance repair person told me to do (I also have to do this with my HE washing machine which I also find ridiculous!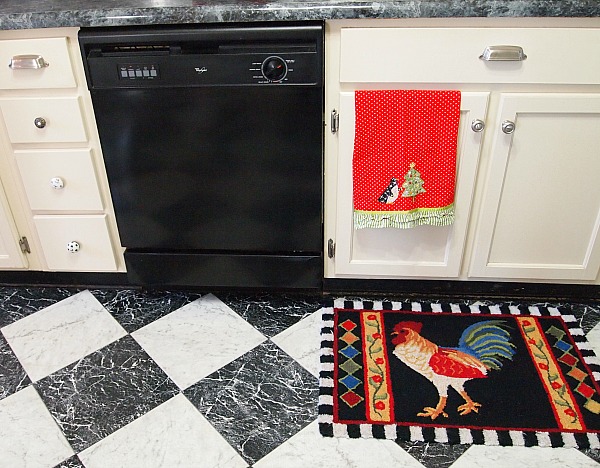 How to deep clean your dishwasher
Step 1:
This is something I do once or twice a year. Before you can start cleaning your dishwasher, you need to remove as much as you can from it. This includes any dishes, filters, and anything else that can be removed. Google your dishwasher if you don't know where to find your filter.
Step 2:
While you have the filter out of the dishwasher, take the time to really wipe it down and give it a good clean. If you're not one to regularly clean this filter, it's probably disgusting.
Step 3:
Take a spray bottle and combine a few drops of citrus oil, water, and some vinegar to clean your dishwasher. You want to aim for about 70% vinegar and 30% water.
Step 4:
Using the cleaning solution you just created, spray down your dishwasher from top to bottom. Cover every single tray, wall, and even the parts. Allow your cleaning spray to sit for 15 minutes.
Step 5:
Wash your dishwasher by using a hot cycle. Once finished, pour baking soda on the bottom of your dishwasher and allow it to sit overnight.
Step 6:
In the morning, wash your dishwasher using another hot cycle.
You should notice a huge difference in both the odor and the overall cleanliness of your dishwasher. Remember, your dishwasher does a lot of heavy lifting to keep things clean. Do it a favor and give it a deep clean too.
What do think? Do you use your dishwasher for more than just washing dishes?