Clever Pot and Pan Organization Solutions.
Well… we are house hunting again and the house we're most interested in has a very small old galley style kitchen. So I'm trying to think of ways to make it work (the whole house is much smaller than anything we've ever lived in before). I've been looking at kitchen organizing ideas on Pinterest and thought I'd share a few ideas with you. Today I have 10 Tips for Organizing Pots and Pans!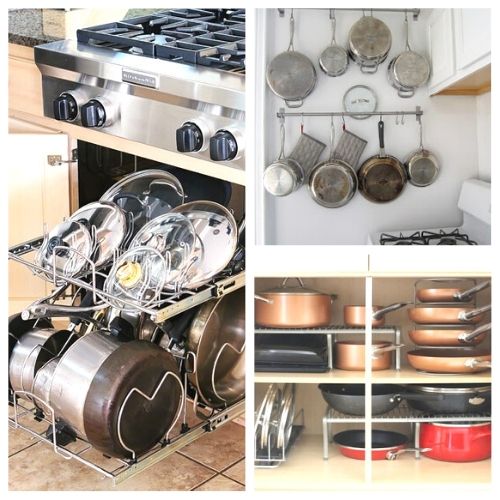 Disclosure: This post may contain affiliate links to Amazon and/or Etsy, which means that I may earn a small commission from some of the links in this post. Please see our Disclosure Page for more information.
Does your pots and pans cabinet drive you crazy? Hopefully these ideas will inspire you to organize it!
10 Awesome Tips for Organizing Pots and Pans
We all know how much pots and pans can take over our kitchen cabinets. Because of their sheer size, they can take up a lot of space rather quickly. But, I am thankful that there are actually of plenty of ways you can make adjustments so they fit better. Take a look at these tips so you can have your kitchen in perfect order in no time.
Get creative. You don't have to strictly stick pots and pans in one cabinet. You could hang them, use an island or baker's rack, put them in your pantry, or transform a drawer into the perfect spot to house them. Be creative and think outside the box a little bit to come up with ideas for your space.
Donate or throw out items you don't use. If you have a bunch of pots and pans that you haven't used for years, are they really worth keeping around? It's not worth it spending time organizing pots and pans you won't use. If you don't want to get rid of them, you could at least box them up and put them in a room where they are out of the way. Then your cabinet will be full of pans you use on a regular basis.
Keep it organized. If you just toss the pans in and don't keep any type of organization the cabinets are going to fill up quickly. This will cause a lot of frustration when you are trying to grab something you need while cooking. Save your sanity and keep it organized all the time.
1. Kitchen Cabinet Organization System.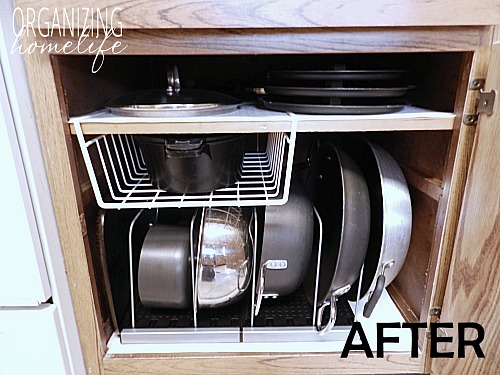 Organizing Home Life took an expensive organizational product found on Amazon and made her own version for far less!
2. Cookware Organization

This is a beautiful way to organize your pots and pans if you have the space! Simple Life of A Fire Wife show you how she did it.
3. Cookie Sheet Organization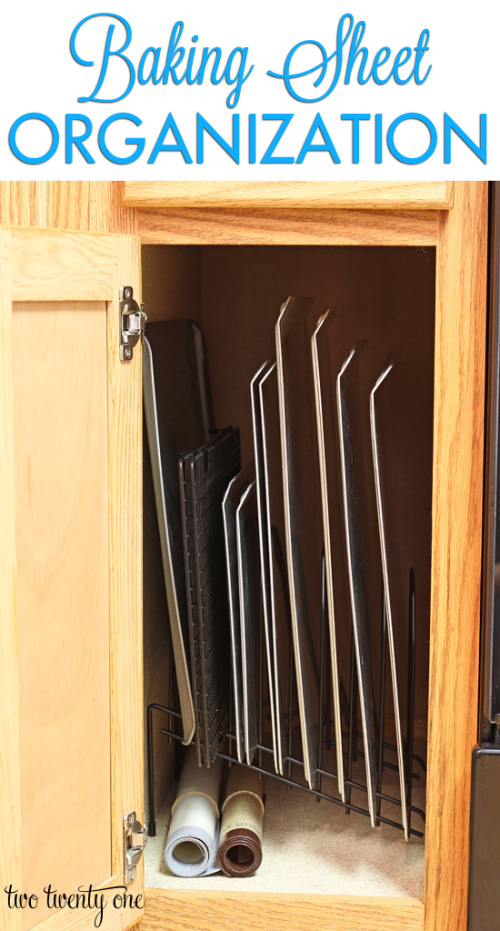 Organize your cookie sheets and muffin tins like Two Twenty One did and you'll be so glad you did.
4. Pots And Pans Drawer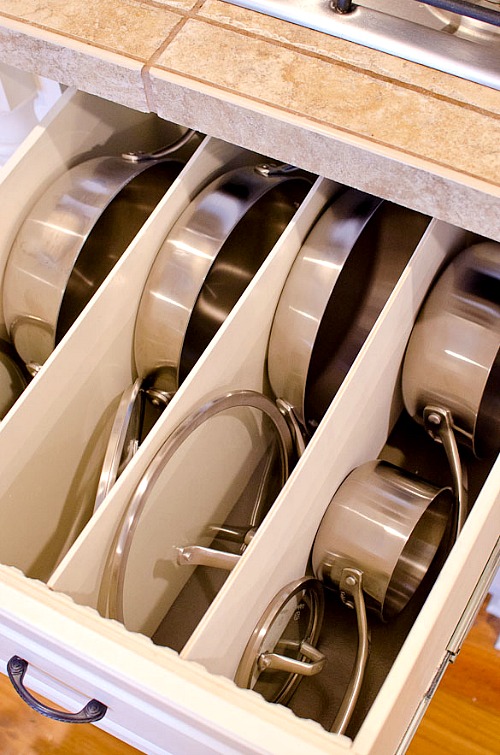 If your kitchen has drawers for your pots and pan then this is a great way to keep them organized. Seeded At The Table shows you how to make these dividers.
5. Kitchen Organization Challenge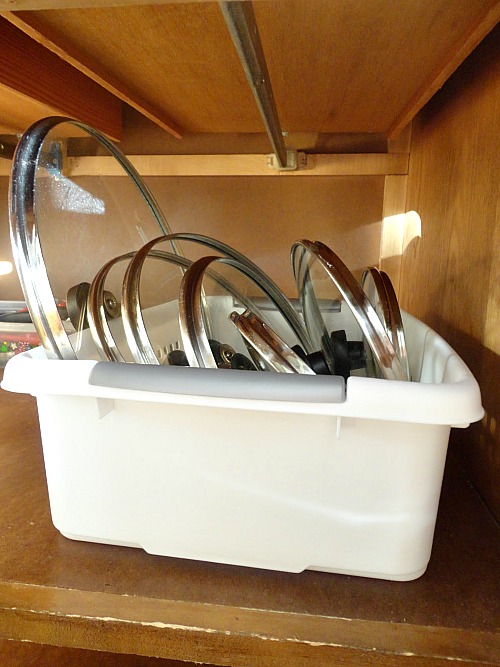 Here's another really easy idea for organizing those lids from The Hamman Family Blog.
6. Kitchen Cabinet Organization Idea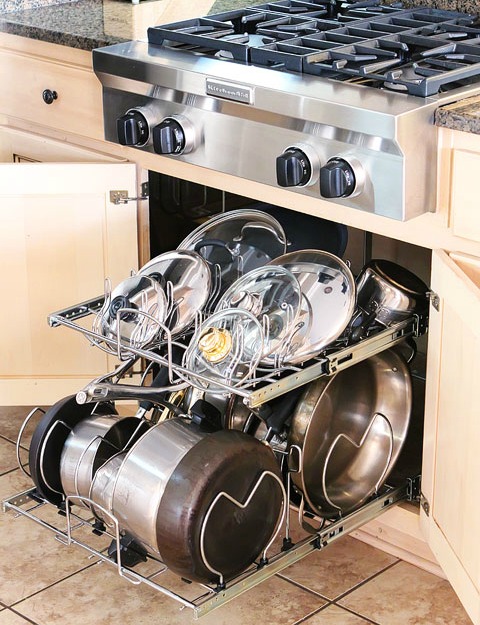 Organizing pots and pans is easy if you have a well-utilized space! Kevin and Amanda installed this amazing kitchen cabinet organizer into their existing cabinets. Isn't it wonderful. It pulls out like a dishwasher and you can get it at Lowe's (I'm sure Home Depot sells something similar as well). You can also find a similar organizer on Amazon here.
7. DIY Pot Rack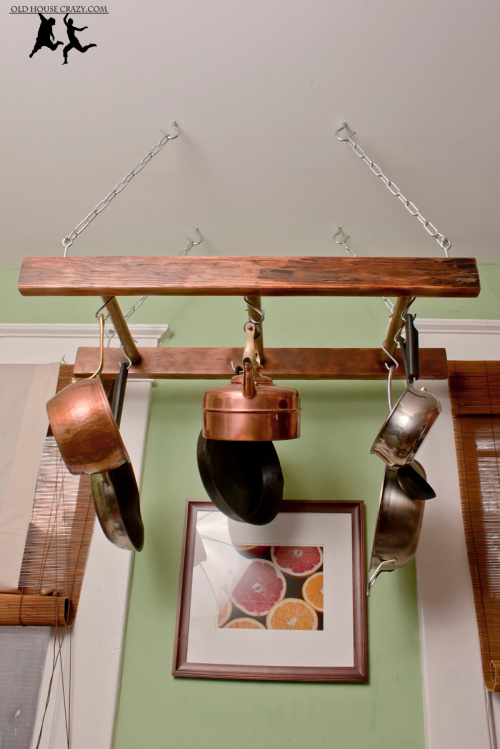 Take a look at this incredible DIY Pot Rack made by Old House Crazy. It's a lovely way to add organization while adding character too.
8. Cabinet Shelving Ideas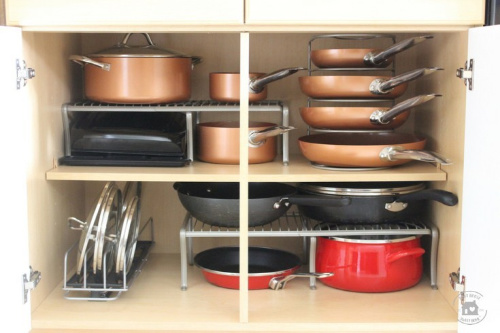 I love how Neat House Sweet Home organized the cabinet space to give so much more room for pots and pans. Now it's neat, orderly, and keeps it so you can see exactly what you have.
9. Utilize All Available Space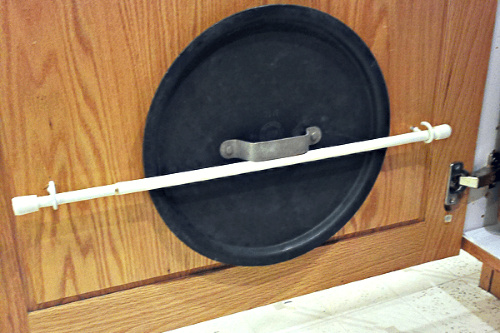 Over at One Good Thing, she shows you how to make the most out of your space and store all your pots and pans easily. Great ideas!
10. Wall Storage Solution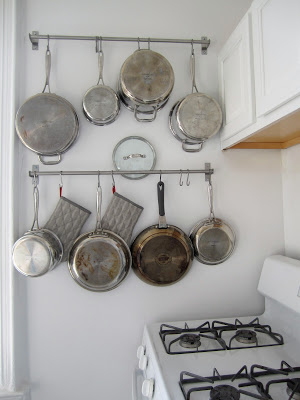 If you have extra wall space, why not use it to hang pots and pans so they are easily accessible like The Order Obsessed did? Such a fabulous solution!
How do you organize your pots and pans?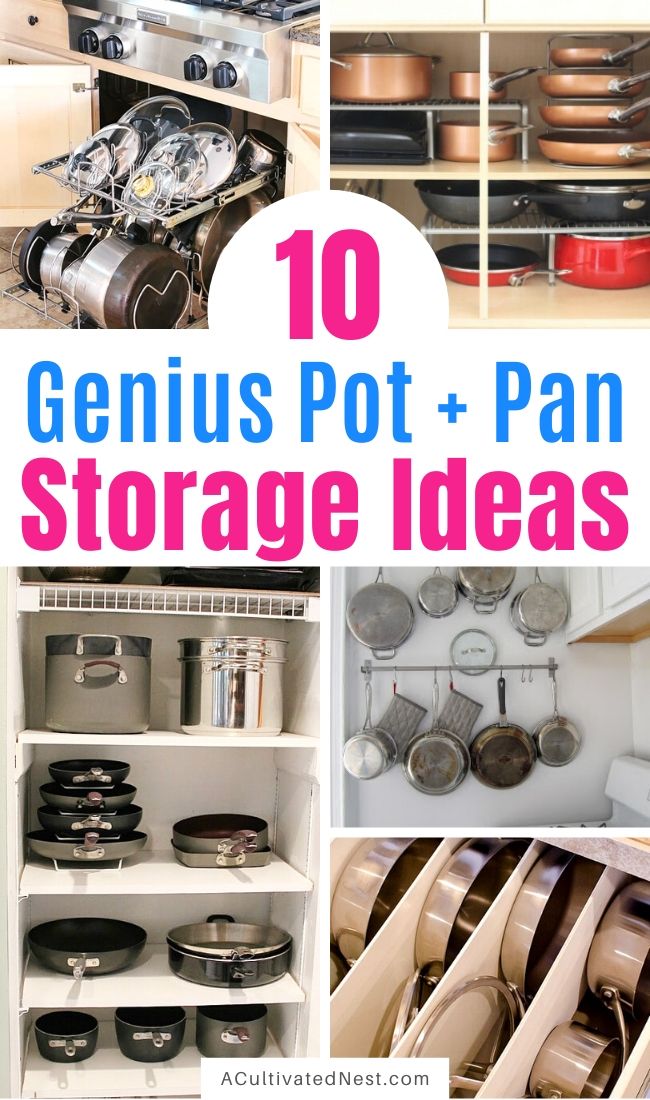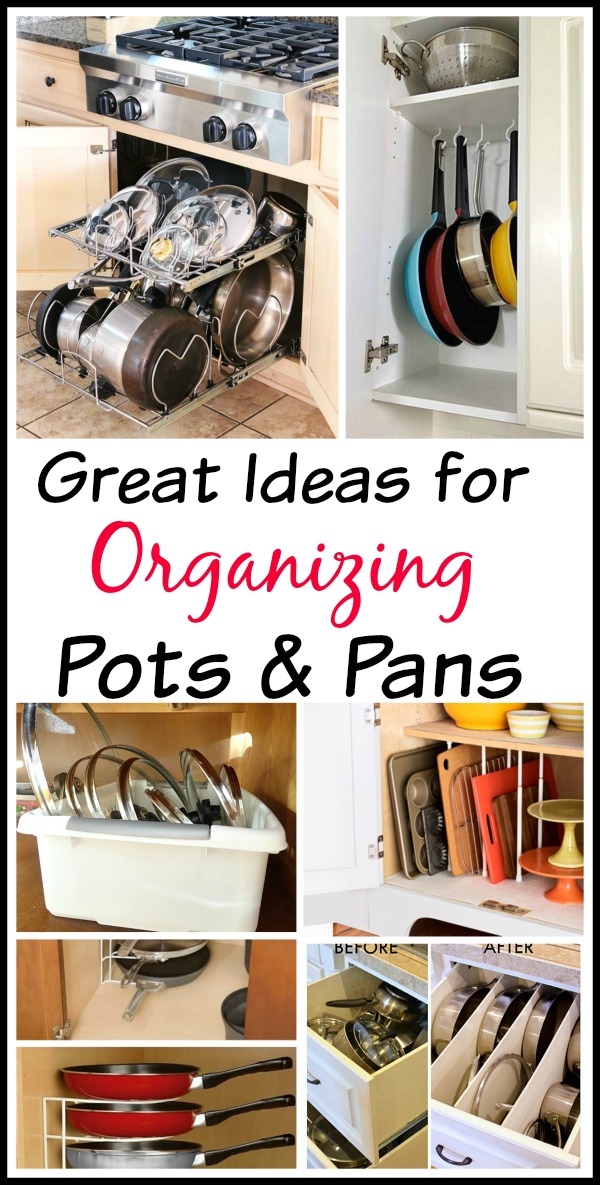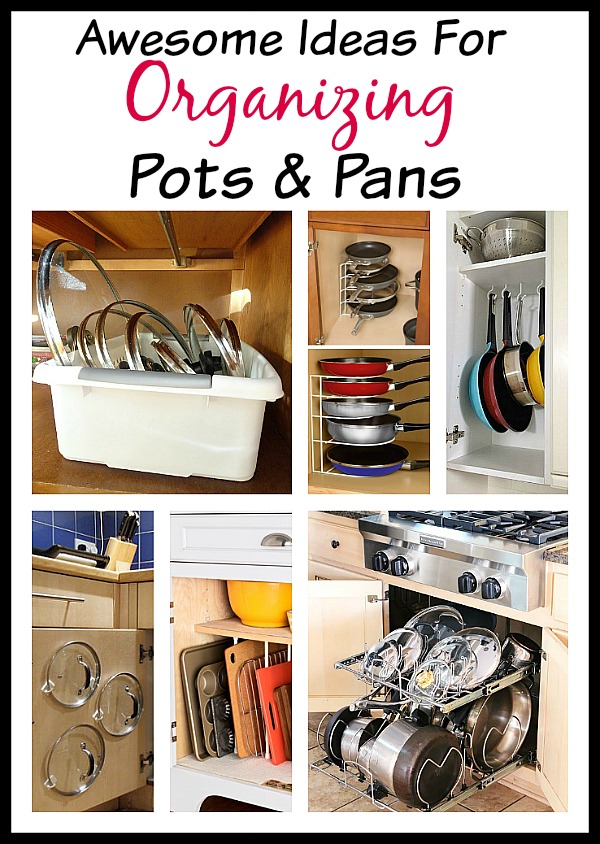 You might also be interested in: 20 Unique DIY Kitchen Storage Racks