This is a super easy and quick spring wreath that I made to use  on my newly painted china cabinet. I'm going to decorate it for  Easter next week and wanted a wreath to hang on the glass door. It literally took me about 20 minutes to make this wreath!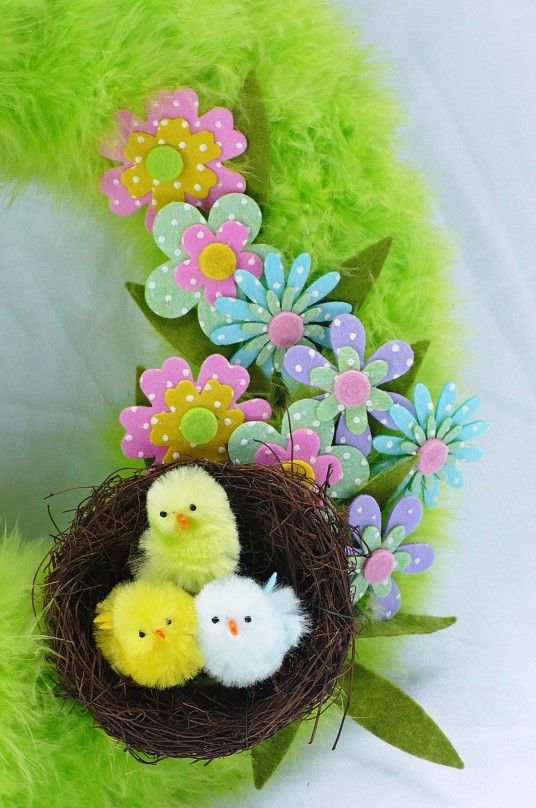 You will need the following to make this wreath: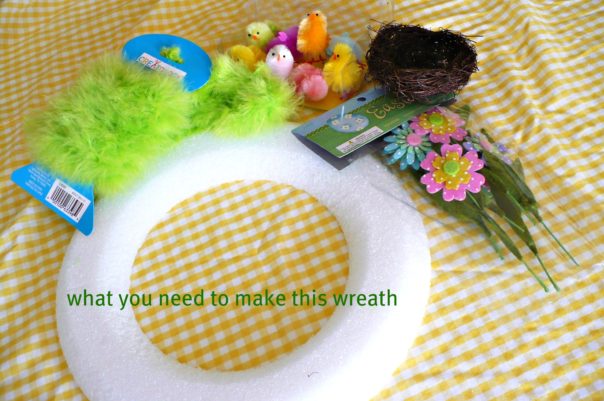 1. wreath form
Disclosure: This post may contain affiliate links to Amazon and/or Etsy, which means that I may earn a small commission from some of the links in this post. Please see our Disclosure Page for more information.
I actually bought a 6″ styrofoam wreath. Which is amazing because the last few wreaths I've made I used either cardboard, posterboard or cereal box for my wreath shape. Which you most certainly can do instead of buying a wreath form. Don't let not having a wreath form stop you from making a wreath! I wanted a styrofoam one because I  planned on sticking things in it but gluing is an option too.
2.  5 packages of Creatology  Feather Boas in lime green  (each  pkg. gives you 6 ft of boa)
I looked all over Michael's and Hobby Lobby for something that would give me a spring grass look/feel. I found  some Haute Fur/Fun Fur yarn or I think it's also called eyelash yarn that has fuzzy ends that would look like grass. But it's very thin and was $6.99 for a skein.  But if you can get it on a good sale that might be another  good option. There were also grassy looking plastic vines in the faux flower section that would be good to use especially if you were going to hang it outside on your front door.
3. 1 package of  multi-colored Easter chicks
4. 1 package of Easter flower picks
5. a nest (I have plenty of nests so had one on hand to use)
Most places have their Easter stuff on sale. At Hobby Lobby things were 40% off plus I used a coupon for the wreath.
How to Make This Super Easy Spring Wreath
Wind the green boa around and through your wreath.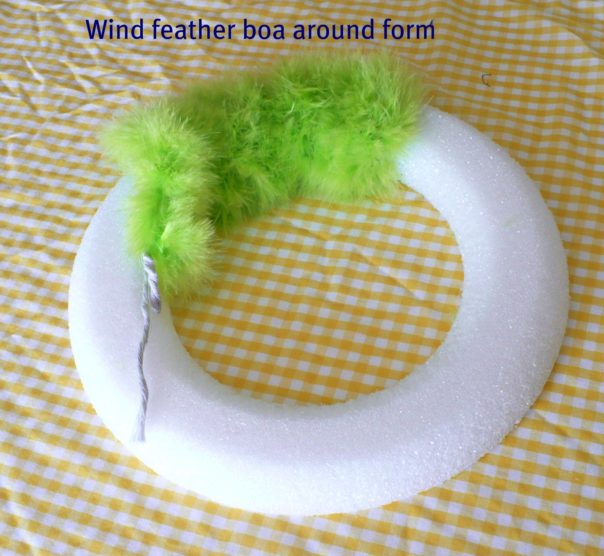 I just tucked the ends in the back because I have every intention of using this wreath form over (and probably over and over) again cause I'm just frugal like that.  I want to be able to remove the boas. But you can of course use a bit of glue  to secure things.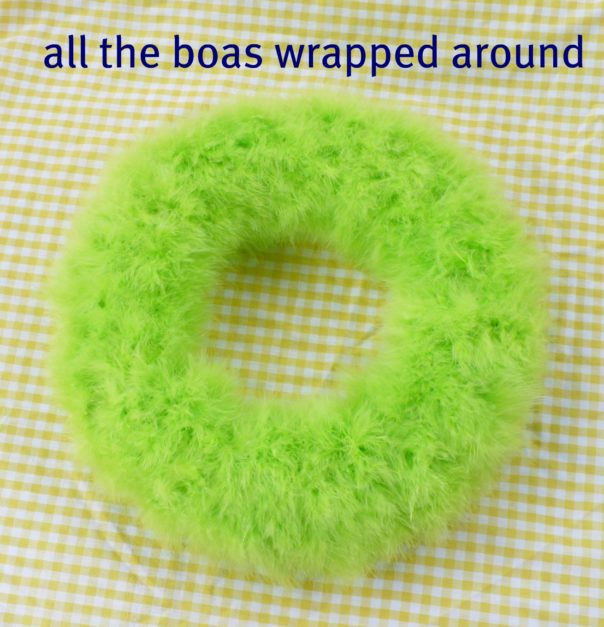 It actually looks very nice and spring like just like this.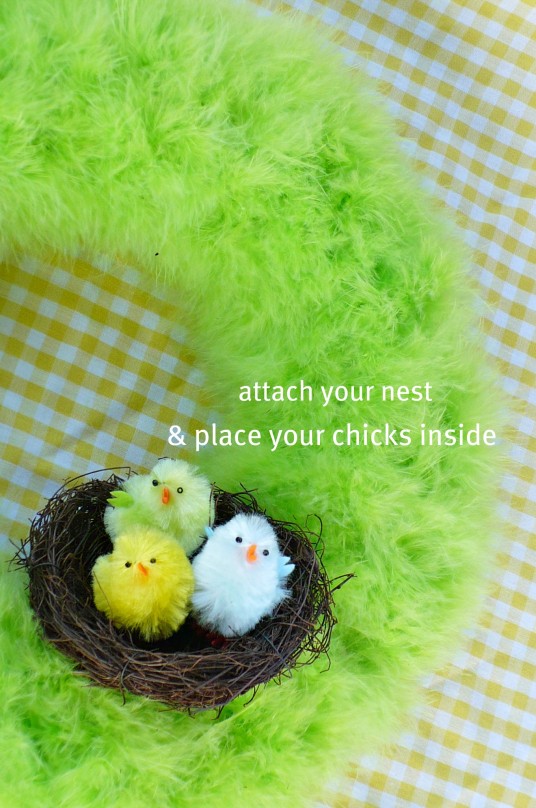 Place your nest where you want it. I secured mine by poking a paper clip through the nest into the Styrofoam. Then I placed my chicks in the nest. They have plastic feet that naturally  hook into the nest material (or use a dab of hot glue).  So far I've used no glue!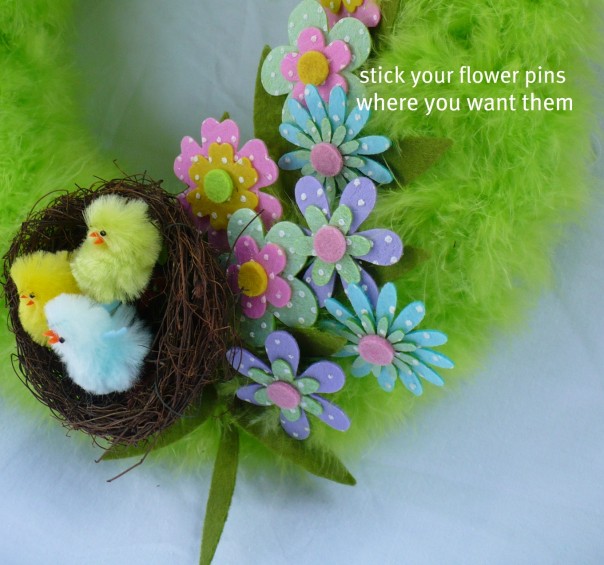 The last step is to decide where you want your flowers. I decided to group them all together on one side. Those you just poke into the foam. The great thing about using the foam wreath & picks is that it's easy to move things around.
That's it!  You're done!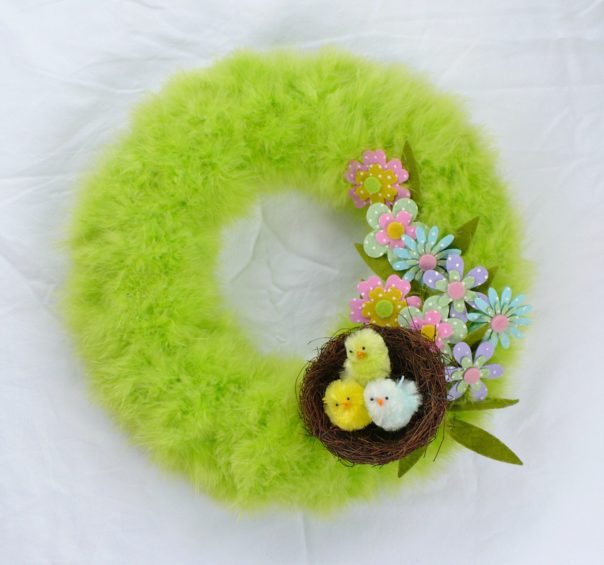 I'll hang it from a pretty ribbon on my china cabinet next week.
This THE easiest Spring Wreath I ever made!
You might like to see my 2013 spring wreath Easy DIY Felt Flower & Yarn Spring Wreath