I painted my china cabinet!  I totally forgot to take a picture of it before but here's one from Easter 2009.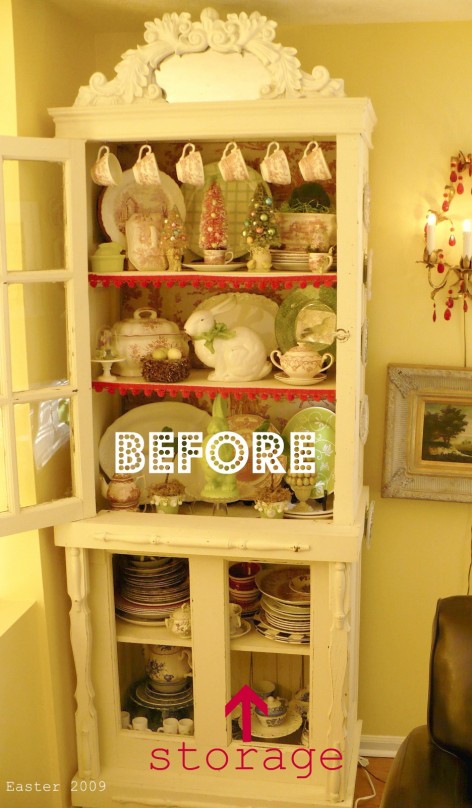 Out of all the china cabinet inspiration photos I shared with you the other day, the ones I like the best were the two toned ones.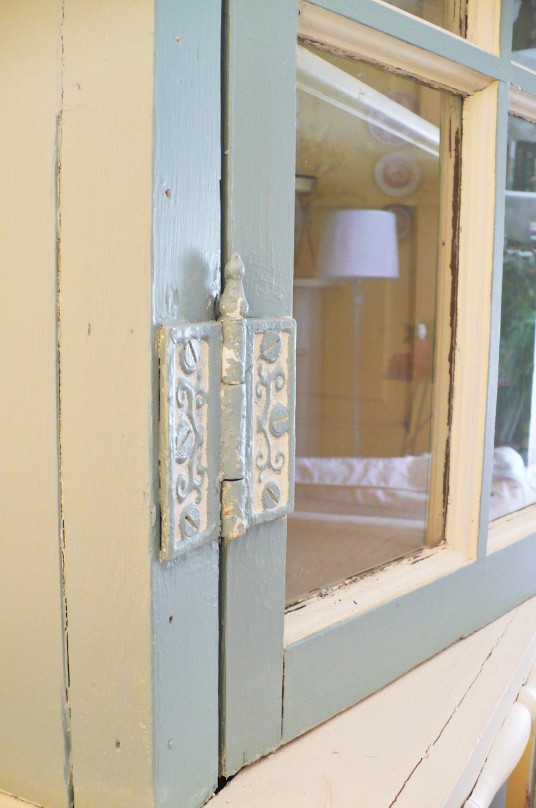 Disclosure: This post may contain affiliate links to Amazon and/or Etsy, which means that I may earn a small commission from some of the links in this post. Please see our Disclosure Page for more information.
The paint I used is Sherwin Williams Halcyon Green. It's a strange color. It totally looks green in the can but when you put it on it's a grayed down robin's egg blue (which is exactly what I wanted). I didn't want a bright robin's egg blue – I wanted a dirty robin's egg blue.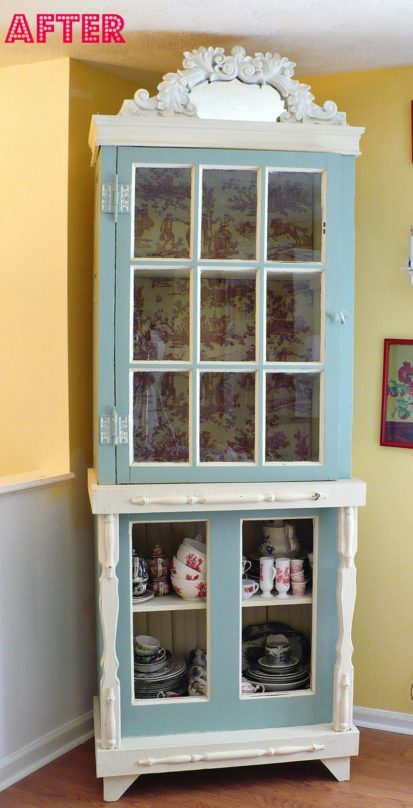 For this makeover I bought a quart of the paint (Halcyon Green)  in an eggshell finish ( and still have plenty left). No priming or sanding was needed since it was painted with a flat white paint to begin with. I just got all the dirt and dust off. Then  I applied the paint with a foam roller and good brush. I don't think I'm going to put a top coat of glaze or distress it anymore than it already is. I like it the way it is – it looks very Swedish Country to me.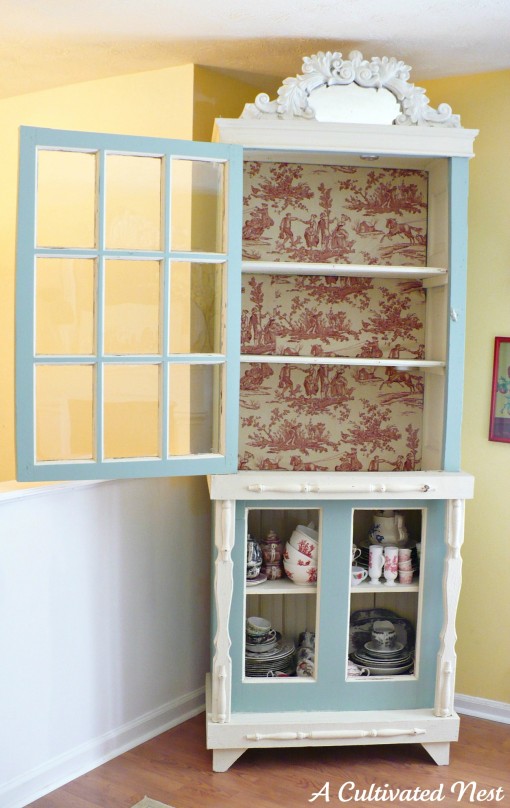 I really l-0-v-e  how the red toile looks with this color! This may just be my new favorite color combination.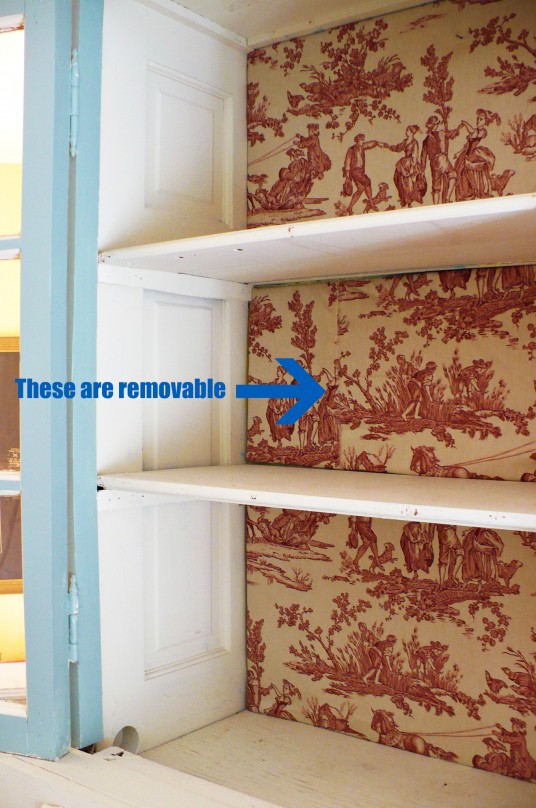 The back is cardboard wrapped in toile fabric for easy removal. Behind the toile is the original beadboard. Just makes it easier to change out the look without damage to the cabinet.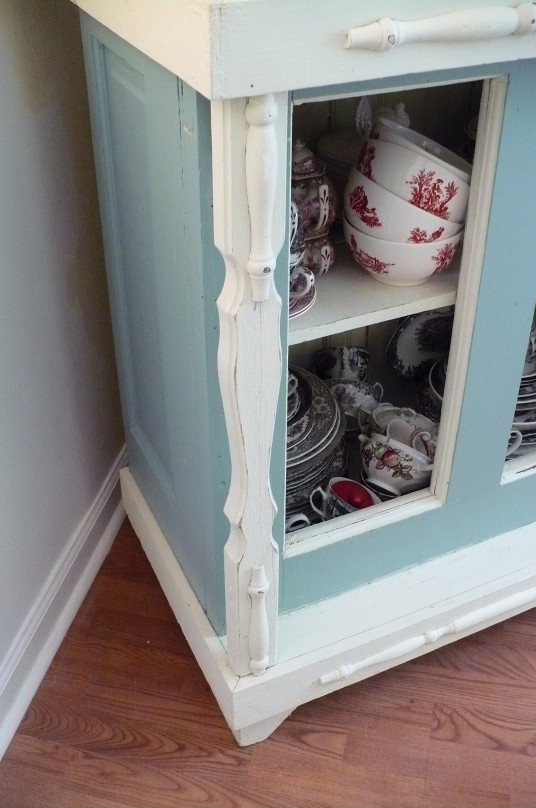 I think keeping some areas white highlights the architectural pieces on this cabinet. Although, there's usually a chair or a couch in front of it so you don't normally see the bottom (that's where I store my china I'm not using).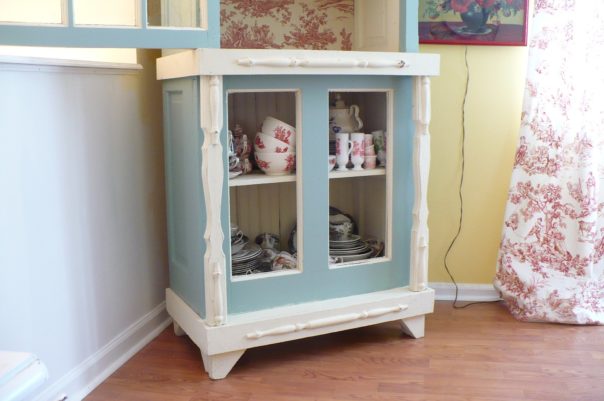 I just really love it this color! As you can see, I haven't gotten around to painting that new wall. Like I said earlier, I'd much rather paint  furniture than walls :)!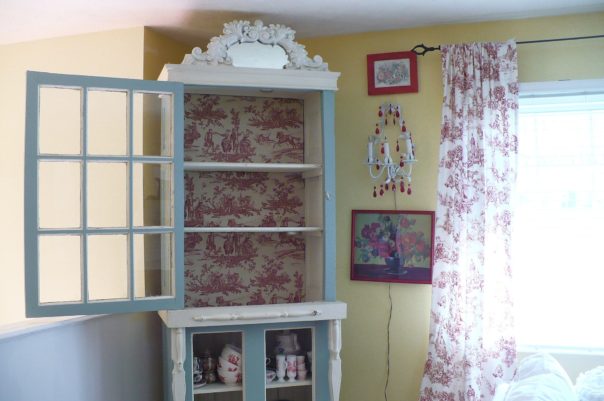 The power of paint! Give it a try if you haven't already. You'll be hooked on how easy and inexpensive it is to transform a piece you're tired of !