Easy Money Saving Tips
Looking for ways to save money on a tight budget? I thought I'd share a few of the small things that we do to save money and share a recent thrift haul too! Remember that small things add up! I'd love to hear what easy things you do to save money so be sure to share your tips in the comment section (be sure to check out the comments for more tips).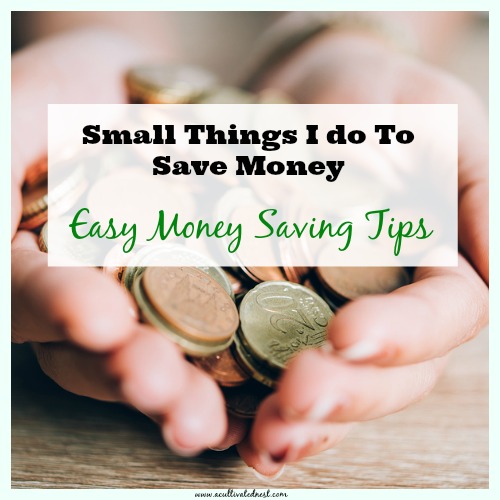 Small Things I do To Save Money
Disclosure: This post may contain affiliate links to Amazon and/or Etsy, which means that I may earn a small commission from some of the links in this post. Please see our Disclosure Page for more information.
1. I wash and reuse foil & plastic bags.
We haven't had to buy a new roll of foil in quite some time. I also wash and reuse plastic baggies. I personally don't do this with anything that's held meat or was messy like stuck on cheese from lasagna, but I know others who still wash those and reuse them. Whatever you're comfortable with! This definitely helps you stretch out those purchases. You might also be interested in this post How To Replace Disposable Products With Reusable
2. We drink mostly water.
We invested in a Brita water filter and we drink water throughout the day instead of soda, juice, bottled water, store bought drinks. It's so much healthier for you and it saves money. Sometimes we put slices of lime, or lemon or cucumber or even some fruit like berries in our water to add a different flavor.
3. I had my husband install one of those retractable clotheslines under our deck we also have this drying rack that we can use inside if weather is to bad to line dry outside. You could install one in your bathroom if you don't have outdoor space.
We now hang most things to dry. This saves on our water and electric bill. We did three loads of laundry today (energy/water saving front loader) and we only dried one. That was towels and sheets. We tried using line dried towels and it's like using a loofah! Also my daughter does her own laundry once a week and she uses the dryer (heh I'm just glad she does her own laundry!).
4. I keep a bowl in the sink and a bucket on the floor next to it. When we wash our hands, rinse veggies & fruit, when I drain pasta water, when I rinse out the coffee pot etc the water gets collected in the bowl. When that gets full it gets dumped in the bucket. I use the bucket water mainly to water my flowers in the front yard (we have watering restrictions anyway with the hose).

This is how we are charged for water in my town which will explain our motivation for doing this. First you get charged for water usage on a tier system. The more water you use after the base tier the more expensive it is. THEN for sewage they charge you double whatever your water usage was. So you get charged three times for the water you use. You could be watering your yard or filling your pool and it still gets charged as sewer also! So we are very motivated to keep our water usage as low as possible.
5. I also use every bit of food.
We eat leftovers for lunch or repackage into something else for dinner. I just don't waste any food anymore. I haven't thrown any food in the garbage in a long time. It takes a bit of doing staying on top of what's in the fridge, what's about to go bad, what going to expire etc. But I consider it a part of my job as a homemaker.
6. I (of course) have a grocery budget.
We keep a running grocery shopping list. But before I go grocery shopping I separate my list into needs & wants. Things that I need to buy (pantry staples, specific items for meals) and things that I would like to buy (say like ice cream or snacks). That helps me decide what to buy to stay in budget.
7. I go through our mail daily.
I know this may seem like an odd money saving tip! But….some people let their mail pile up. Out of sight, out of mind. If you don't stay on top of it, you could be not noticing renewal notices or even bills. You don't want late fees or surprise bills.
8. Decorate with thrift store finds.
You know I love my thrift stores! Shopping thrift stores is another great way that I save money. Especially on home decor items!  Can you believe I got this toile lampshade (and it looks brand new) for $3!!
It's toile – I couldn't believe it was at the thrift store.  I just made a pillow with some yellow and red toile!
I also found this frame for $1 brand new from Kirklands. I'm going to spray paint it since that gold isn't going to work for me.
Those are just some of the small things we do to control costs in our household. What small or easy money saving things do you do?
You may also be interested in this post: 21 Frugal Living Tips To Try This Year