Scarecrow Fall Popsicle Stick Kids Craft.
I don't know about you, but I always have fun with popsicle stick crafts, and my kids are the same way! Lucky for us, my daughter came across a big box of craft sticks at Goodwill the other day! They were obviously old, and probably all 1,000 of them weren't still in the box, but there were way more than enough for us to do a bunch of fun popsicle stick crafts with! Since it's fall, I figured, why not start off with a fall-themed craft! So here's a Scarecrow Popsicle Stick Craft for Kids!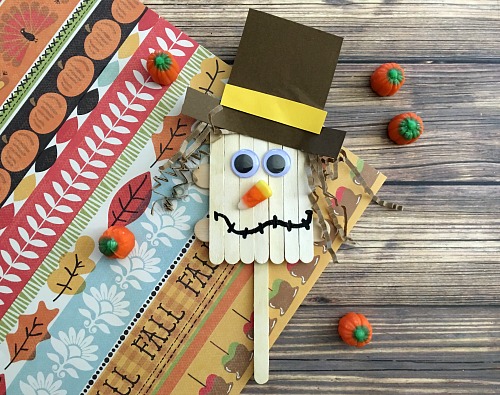 Disclosure: This post may contain affiliate links to Amazon and/or Etsy, which means that I may earn a small commission from some of the links in this post. Please see our Disclosure Page for more information.
I think that with kids crafts, most of the fun just comes from them making something with their own two hands. I know that's what makes DIY projects fun for me! But with this scarecrow craft, your kids could also have fun afterwards using the scarecrow as a kind of puppet! And maybe this craft will inspire them to make other fun fall characters, or to make the rest of the cast of the Wizard of Oz!
And of course, your kids should b encouraged to be creative with their scarecrow craft. Maybe they'll want their scarecrow to have a different facial expression, a different kind of hat, or a bow tie! It doesn't have to make sense, it just has to be fun!
Scarecrow Popsicle Stick Craft for Kids
By the way, while the sticks you would buy at a craft supply store or on Amazon are technically called craft sticks, actual Popsicle sticks (the leftover sticks from ice pops) would work too. I had a friend that one summer saved (and washed) all the Popsicle sticks from the Popsicles her kids ate. Then come fall, she had free craft sticks to use with her kids! Some of the sticks were still stained blue, red, etc., but the kids just used them to make fun, colorful designs. Obviously Popsicle eating season is essentially over, but I thought I'd share that idea for you to maybe try next year!
Materials
3 short, wide Popsicle/craft sticks (jumbo/tongue depressor size)
8 traditional Popsicle/craft sticks
Brown and yellow scrap paper
Brown crinkle paper
2 large googly eyes
1 piece of candy corn
Black sharpie or black paint with a skinny paint brush
Hot glue sticks and hot glue gun
Directions
1. Lay your three short craft stick horizontally and spaced about an inch apart.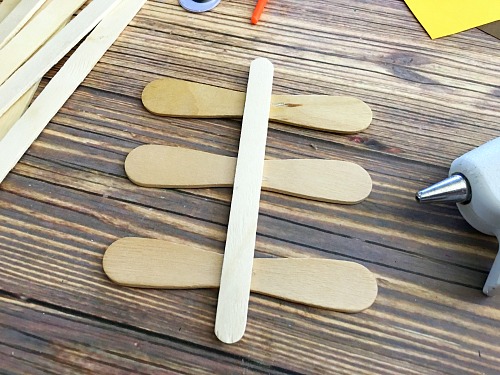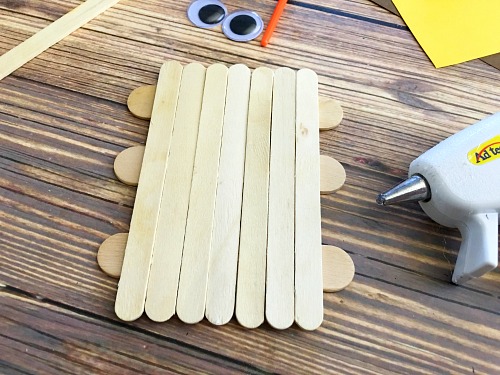 2. Hot glue your longer craft sticks vertically onto your short ones starting with one in the center and three on each side.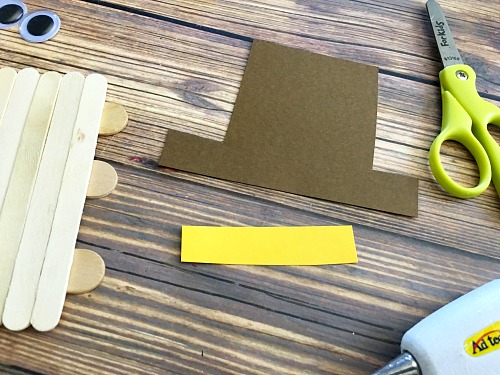 3. Cut out a top hat from your brown paper and a small rectangle from your yellow paper.
4. Hot glue your yellow rectangle of paper onto the brim of your hat.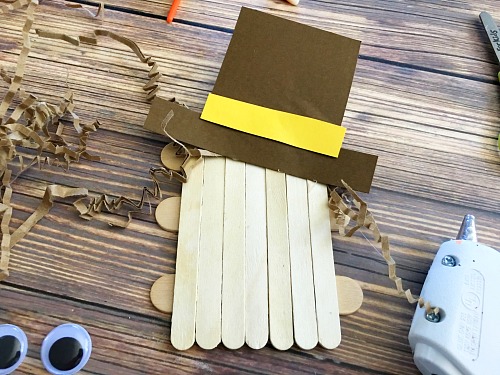 5. Hot glue about nine strands of your brown crinkle paper on the bottom of your brown hat and then glue your hat onto the top of your craft sticks.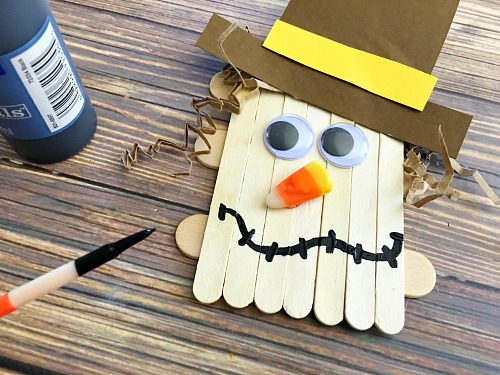 6. Glue your two googly eyes right below the hat and one piece of candy corn right below that.
7. Now draw a mouth below the nose with your black marker or paint it on with your black paint and skinny paint brush.
8. Then glue a long craft stick onto the bottom back of your scarecrow to make a place to hold.
Then have fun with your craft stick scarecrow!
Do your kids like to do popsicle stick crafts?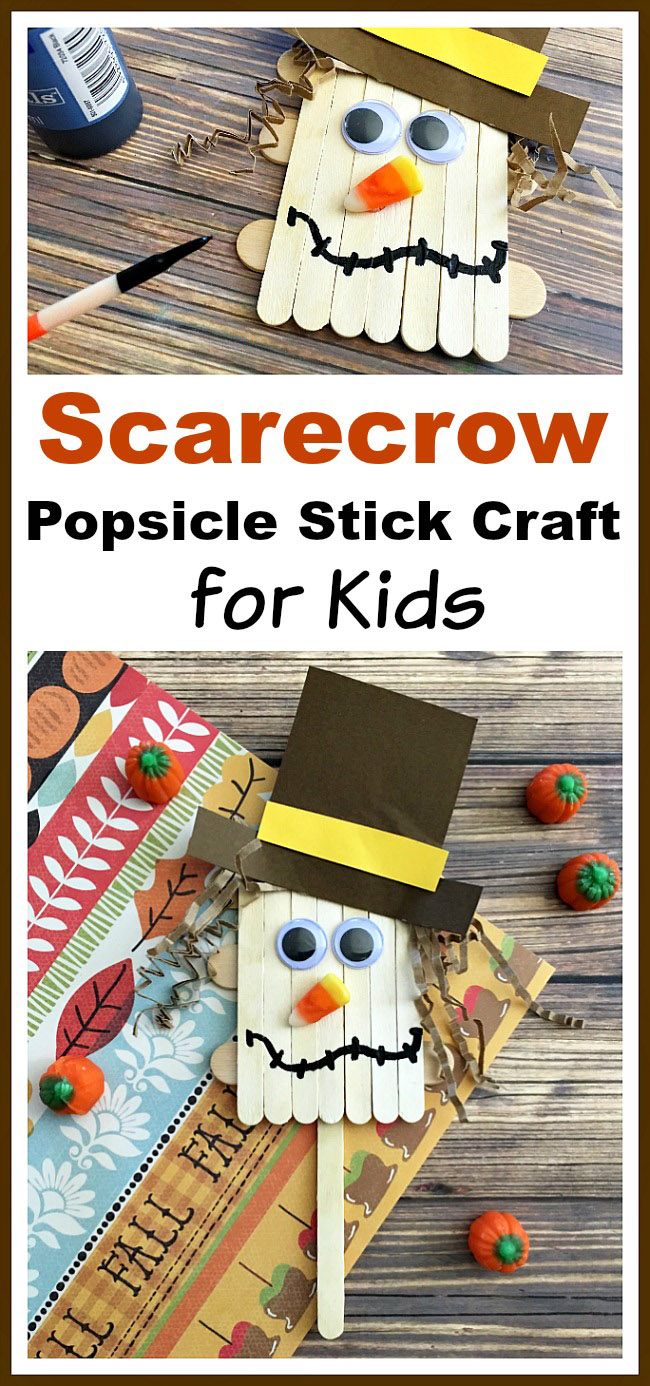 You might also be interested in: Cute Candy Corn Fall Button Craft