Festive Reindeer Wreath Dollar Store Craft.
I feel like the holiday season has just shown up out of the middle of nowhere. Where has all the time gone this year? It's crazy that we'll be celebrating Christmas and New Years in no time at all. I'm great with it because I love the holidays. The feeling of decorating, watching those feel-good movies, and cold nights. It warms my heart. You already know how I feel about crafting, but I can't wait to share with you this stunning Reindeer Wreath Dollar Store DIY!
Disclosure: This post may contain affiliate links to Amazon and/or Etsy, which means that I may earn a small commission from some of the links in this post. Please see our Disclosure Page for more information.
I love being frugal with crafting. Most of the time, if I hit discount stores and sales, I can make some gorgeous items without breaking the bank. You will need just a few supplies and some glue dots to create this mess-free holiday craft project. It takes around 5-10 minutes to make, so this would be a delightful batch project to make if you're looking for DIY holiday gifts too!
Reindeer Wreath Dollar Store DIY
Materials
10-inch foam wreath (I got mine at the dollar store)
Red snowflake ribbon – You will use 9 feet of ribbon
Reindeer ornament (I got mine at the dollar store)
Glue dots – ½ inch (alternatively, you may use a glue gun or strong bonding glue)
Directions
1. Apply two glue dots to the foam wreath, about 1 inch apart.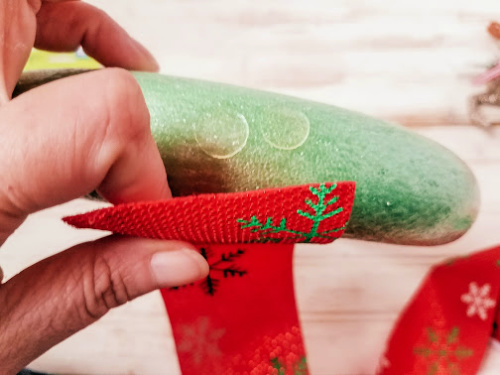 2. Stick ribbon to glue dots, and tightly wrap around the wreath form, slightly overlapping each time you pass over the ribbon.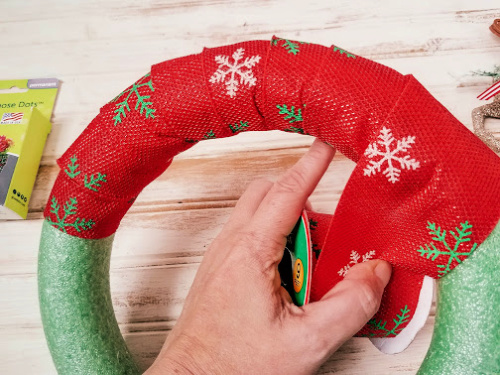 3. Continue this process until you meet the other end of the ribbon.
4. Adhere to the end of the ribbon to the other end using two more glue dots.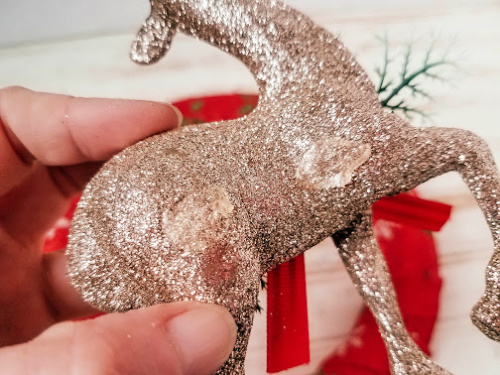 5. Apply a glue dot to the head of the reindeer, then two more to the body. Stick onto the wreath wherever you desire, pressing firmly to adhere it to the wreath. Then your reindeer wreath dollar store DIY is ready to display!
Isn't this pretty? And so inexpensive! You can easily make your own special version by using different colored ribbon and a different ornament. At this time of year it's easy to find ornaments and little figurines of snowmen, penguins, Santa, and more! So take a look at your local dollar store, Target's dollar spot, Big Lots, and other discount stores in your area and see what cute dollar store DIY wreath you can make!
What are your favorite Christmas crafts?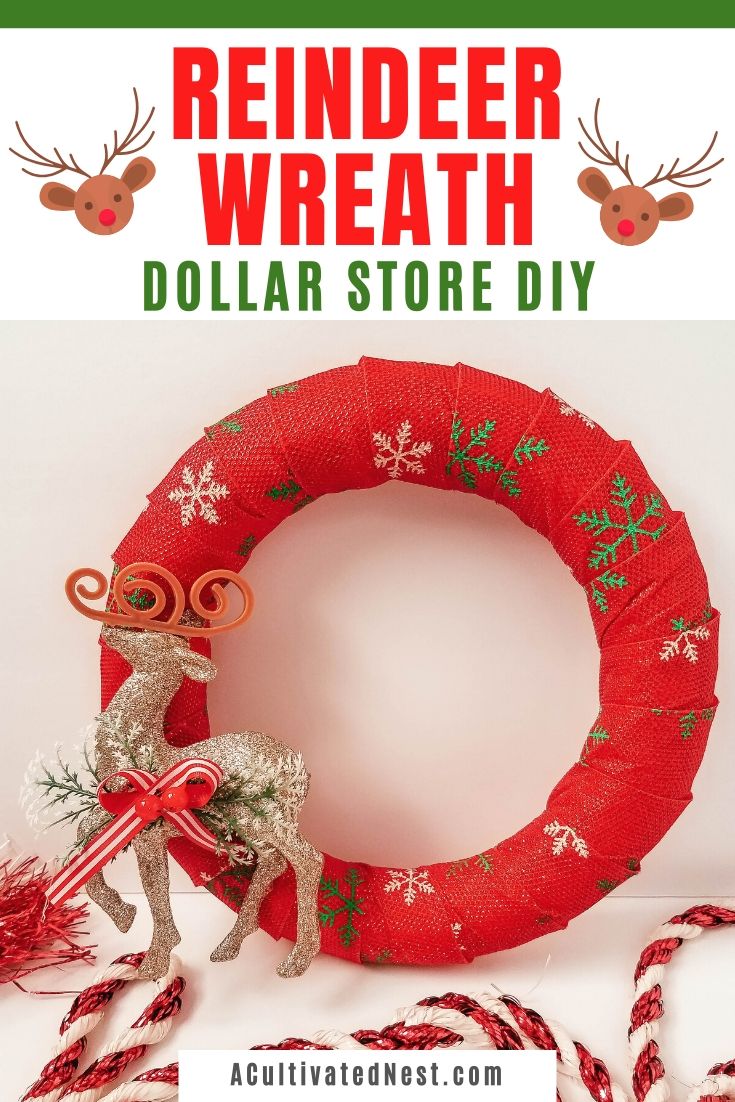 You might also be interested in: Insanely Easy DIY Mini Cake Stand