I wanted to share with you an on going project that I started way back in March.  Basically I widened the liriope circle around a clump of trees and started adding some new plants under the tree canopy. That area really needed some renovating as you can see in the before photo.  Under planting trees with plants (not ivy or grass)  can have beautiful results as long as you follow some guidelines. Here are my 5 tips for planting under mature trees.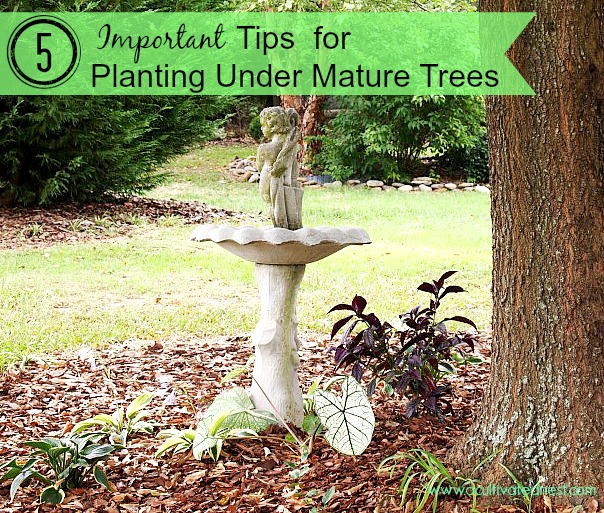 Disclosure: This post may contain affiliate links to Amazon and/or Etsy, which means that I may earn a small commission from some of the links in this post. Please see our Disclosure Page for more information.
This is an on going project because I have more hostas and daylillies to divide and plant in this area this fall. Plus I want to plant some spring blooming bulbs. If you want to save some money on landscaping projects it's always a good idea to see what you've got that can be moved or divided.

5 Important Tips For Planting Under Mature Trees That You Should Know:
1. When planting under a mature tree you really need to be careful of the roots so I find it's best to go with small plants.  It's hard looking at all the bare spots but they WILL grow and fill in!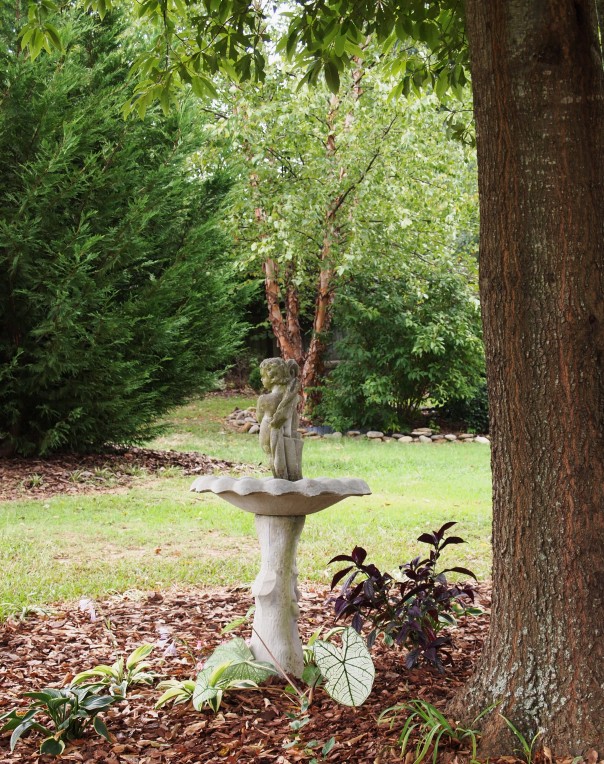 2.  Sometimes where I want to put a plant is not where I can dig a hole because of major roots. Leave any root that's about 2 inches in diameter alone and start your planting at least a foot away from the trunk of the tree. So you need to be flexible.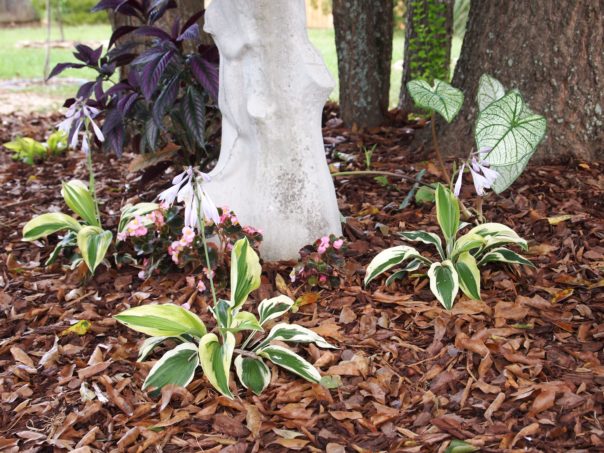 3. One thing that people forget about when they plant under a tree is that you are planting in a dry shade area.  Unless the wind blows the rain – it stays pretty dry under this tree canopy. Also your plants are competing with tree roots for water and nutrients so keep them watered until they acclimate.
4. Light requirements for plants is something that should always be considered. This particular area is in shade part of the day, get's some sun part of the day and half of it gets pretty strong sun right now until my fruit trees get bigger. So light requirement is something to definitely think about.  I planted hostas and some are better suited to light sun than others.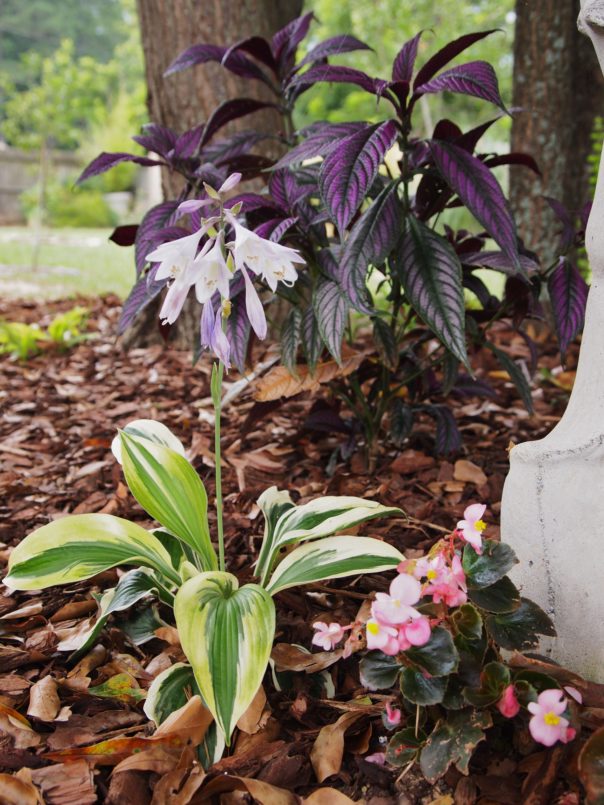 I bought one big varigated hosta (that I divided) that said partial light on the tag.  I noticed that  most of the others said shade. I've found that the  Blue hostas are more tolerant of deeper shade. I think hostas are like hydrangeas. People always want to plant them in deep shade but sometimes they do better with a bit of sun!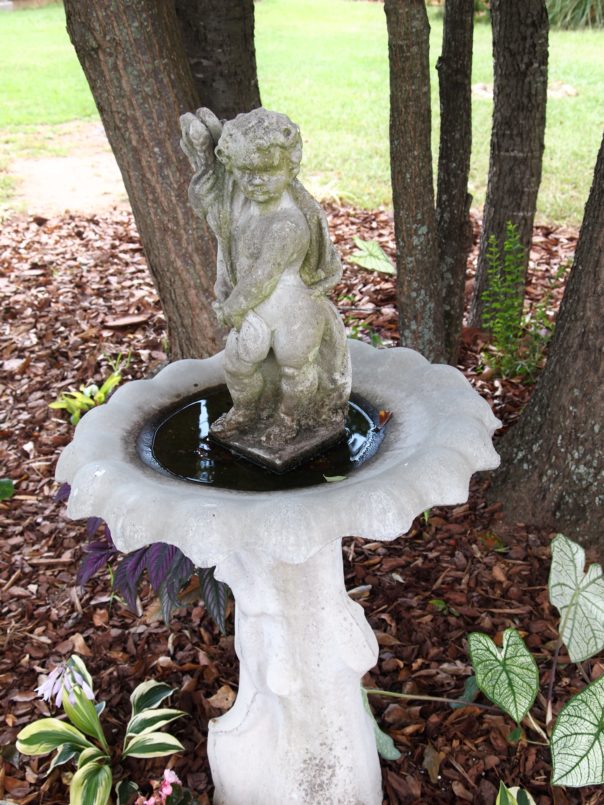 5.   It's not a good idea to spread a deep layer of soil over tree roots as you can smother them. I did spread a very thin layer of soil before planting because we had a lot of exposed roots do to erosion from heavy rain run off.  I also bought a few bags of pine bark mulch which I spread thinly knowing that in the fall I always shred the leaves and use them for mulch. Adding mulch helps to conserve moisture and adds a finishing touch.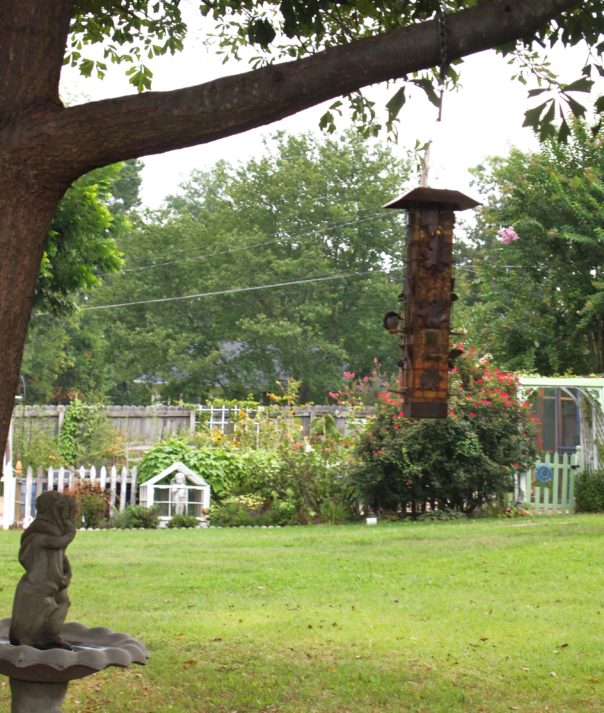 You'll increase your chances of success by using theses tips!
Here are some good articles that give more information about planting under trees if you'd like to read more about this subject:
Planting Under Trees: There's a Right Way and a Wrong Way