I recently tweaked my fireplace mantle with some really easy DIY projects and re-using items that I already had.   I think it's a cute mantel just in time for back to school!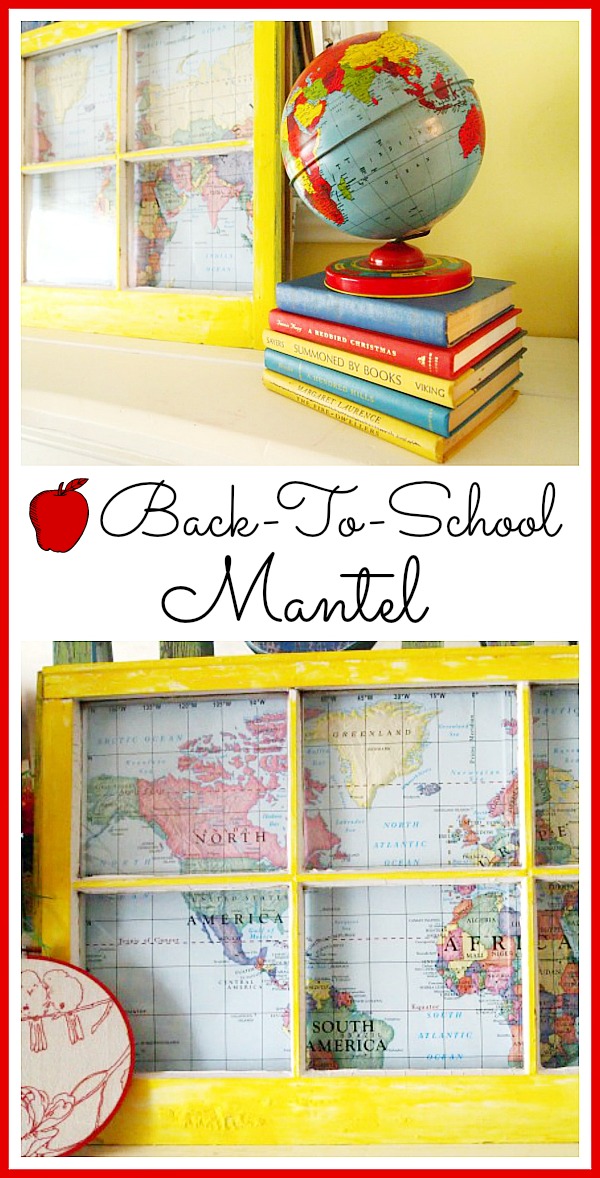 Disclosure: This post may contain affiliate links to Amazon and/or Etsy, which means that I may earn a small commission from some of the links in this post. Please see our Disclosure Page for more information.
Must say I'm really happy with it!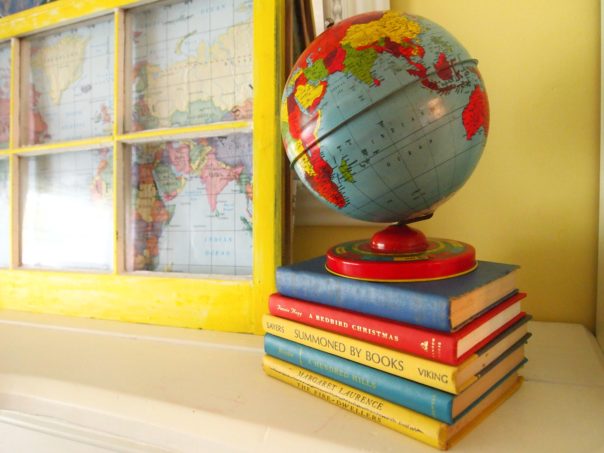 I  re-used all those colorful books that I used in July's fireplace mantle makeover. Books make great lifts for objects and of course are perfect for a back-to-school vignette! I used yellow, red and blue books since those are the colors I'm using in this mantelscape. Another school item, a  vintage globe sits on top of the books.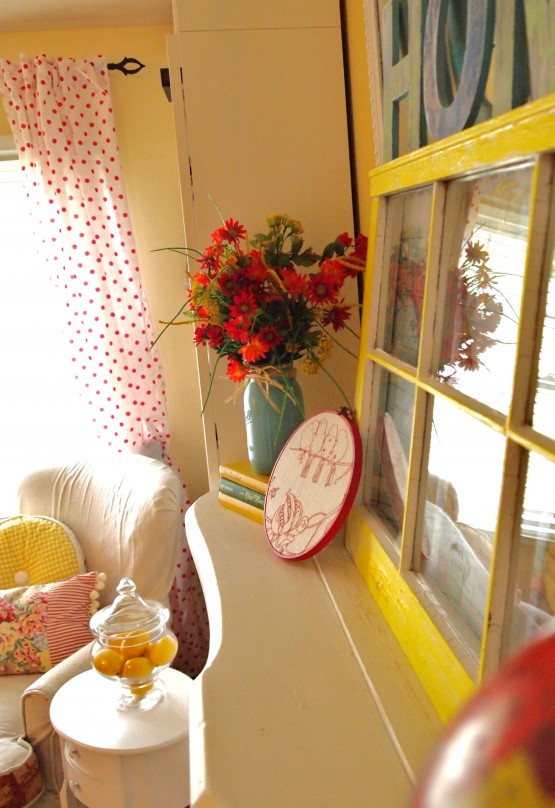 I already showed you how I made my Faux Barnwood Letters here. You could take craft letters and spell whatever you want. I just thought "Home" would be something I'd be able to use all year long.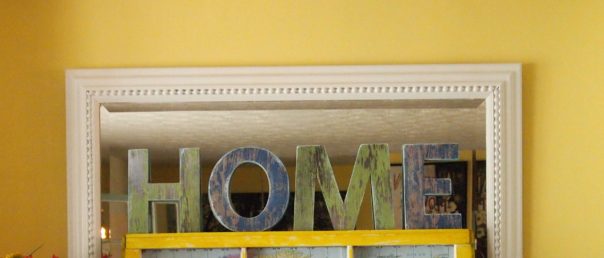 I also took an old glass jar  and spray painted the outside with some Rust-Oleum aqua spray paint in a satin finish.  This would be a cute teacher gift filled with some fresh flowers or school supplies.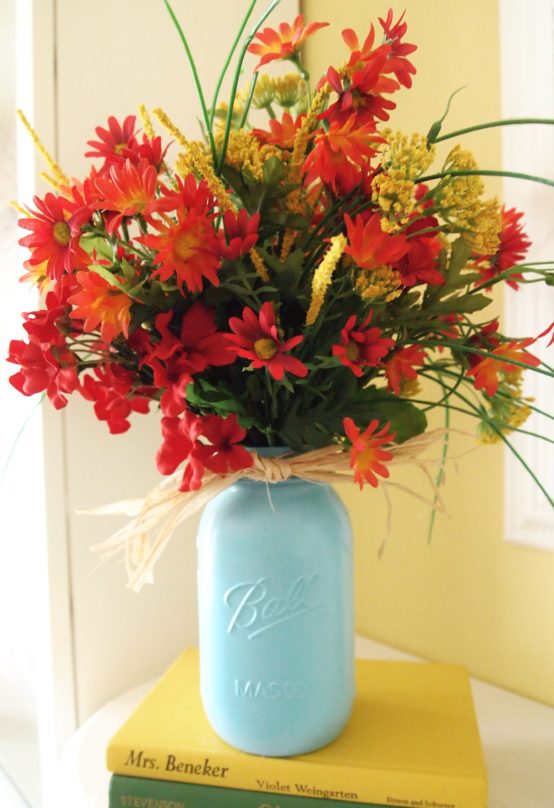 I know some people paint the inside of the jar and it does give it a different look but I just think it must be hard to get an even coat since you have to spray inside the jar mouth? Anyway, I opted to spray the outside and it was really easy – a few light coats of spray and you're done! I filled it with some fake flowers (that you've seen a million times 🙂 but they're my favorite colors).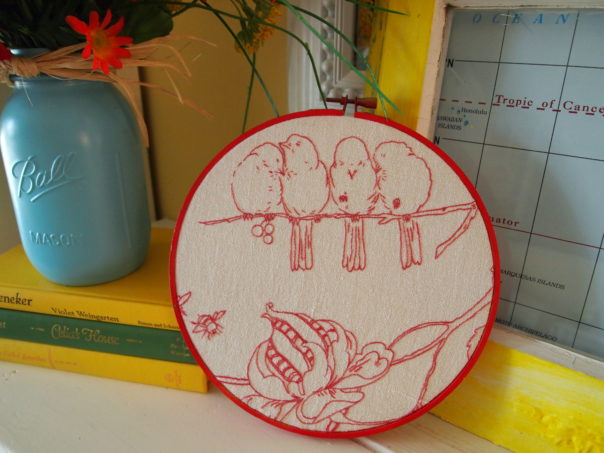 I made my own hoop art. I spray painted a wooden embroidery hoop (just the top hoop) and used a piece I cut from an old embroidered table runner. So easy and it looks like I hand embroidered it.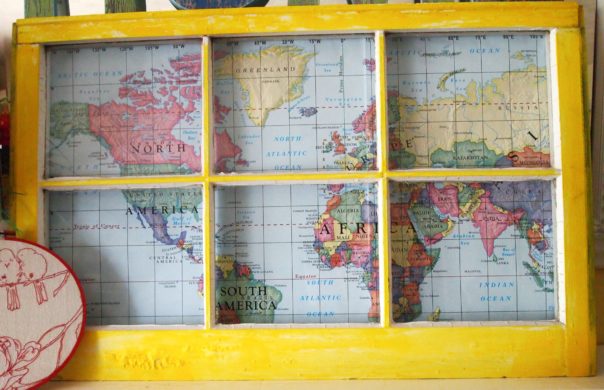 My awesome husband was driving by a house in the neighborhood a few months ago,  that was being renovated and spotted some windows at the curb. So he brought home a bunch! He didn't even come home and ask if I wanted them he just knew that I would! I painted this one with some yellow craft paint and taped a map to the back of it.
FYI the paint looks a little odd because I wanted it to have a crackle finish. I read that you could use regular Elmer's glue  to get a crackle finish – all I can say is  – it didn't work for me!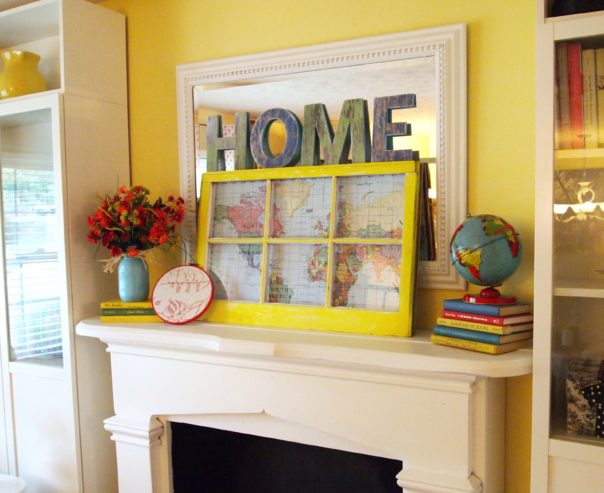 A couple of easy projects and using what I had on hand and I have a whole new look for my fireplace mantle with a nod to back to school!
Hope this has given you a few ideas for easy things that you can do in your own home!