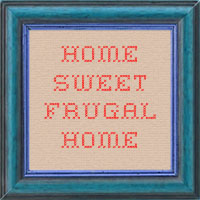 I don't know about you, but I know our dollars are not stretching as far as they used to. Grocery prices seem particularly bad and with the drought in the midwest are only going to get worse. We've also had a significant change in our healthcare costs. We used to have no deductible and only had  a co-pay to see a doctor. Since July we've had $2500 deductible (which I met when I had a $10,000 CT scan!). Oh did I mention our second car died and we've have 3 people using 1 car in a town that doesn't have mass transit? So we're also saving for another car. We want to pay cash.
Disclosure: This post may contain affiliate links to Amazon and/or Etsy, which means that I may earn a small commission from some of the links in this post. Please see our Disclosure Page for more information.
We've never been big spenders but we decided at the beginning of summer that we really needed to do better (we still have two more years of college to pay for as well after all).
So I thought I'd start sharing some frugal things that we do as a way to encourage myself and maybe give someone in a similar situation some ideas. I don't know how regular this will be but I'm shooting for twice a month.
Here are a few highlights of some recent frugal things I've done: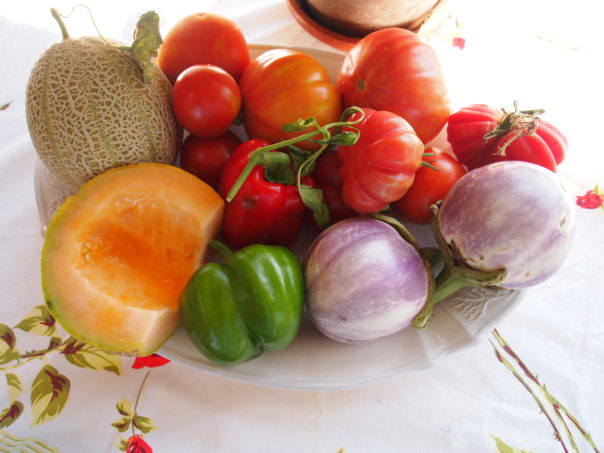 Veggie garden harvest! My bounty from one day in the garden. The temps have been cooling and we're getting some much needed rain. Me watering my veggies is not the same as a deep soaking rain water! Also harvested herbs. I have another cantaloupe on the vine!
–used white vinegar in the rinse agent container in my dishwasher. Much cheaper and works just as well.
-went through my old "painting t shirts" and cut them up to use as rags instead of paper towels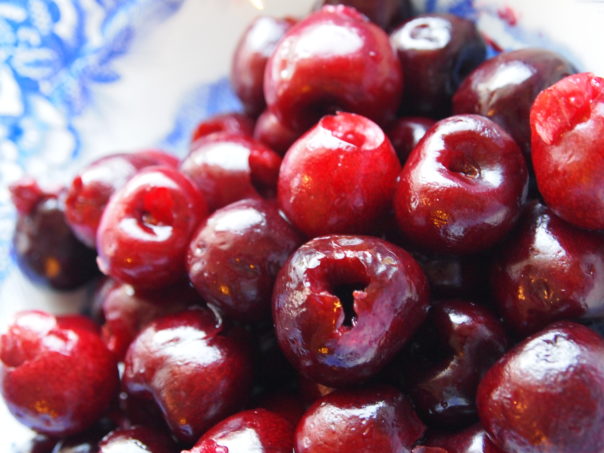 –pitted and froze some cherries my husband brought home from a business trip. He gets a meal allowance when he travels and sometimes when he doesn't use it all he brings home some things that we wouldn't ordinarily buy. Like a couple of pounds of organic cherries! I did tell him that he doesn't have to buy all the fruit in a bag – he can take some out. It was a new and novel idea to him 🙂  Anyway, I had just bought a 1/2 lb of non-organic cherries the day before and knew I wouldn't be able to eat all of them before they got soft. So I froze some to use in smoothies or maybe for a nice cherry crisp to have  in the middle of winter- won't that be a nice treat!
-we stopped eating  a lot of meat as of last November. We really only have meat two or three times a week and even then it's small amounts. I made creamy basil chicken for dinner and sliced each boneless chicken breast in half – that gives me 2 meals from 3 chicken breasts. I slice them the long way – so they're thin (like if you pounded them to make them thinner).  We try to make the veggies the bigger portion on the plate.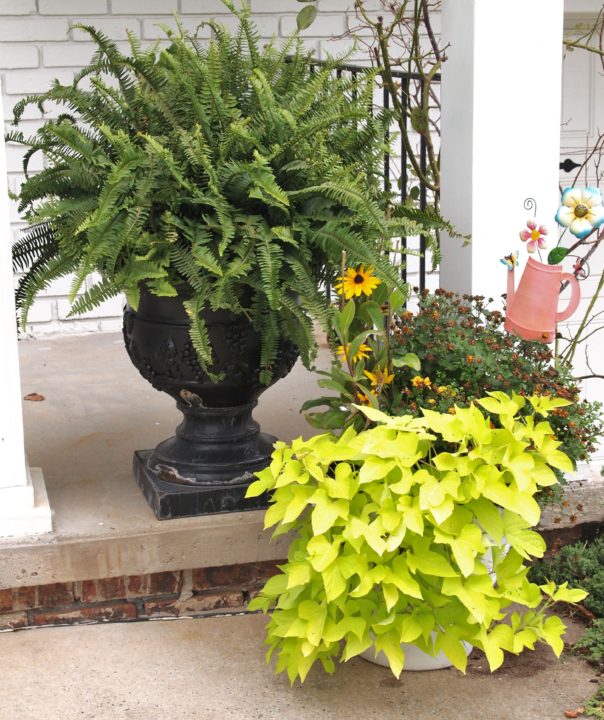 -all summer we've kept a bowl in the sink and a bucket in the kitchen. When we rinse veggies or strain pasta etc. We capture the water in the bowl then empty into the bucket. I use that water for my ferns planted by the front door and all my plants on the deck and porch.
–I watched some YouTube videos on how to dehydrate vegetable and fruits. I do freeze quite a bit of summer produce but I'm running out of room and anyway, I think it's a good idea to have canned or dehydrated food on hand since you never know when the power will be out. We had an ice storm one year where we didn't have electricity for almost two weeks!
–my amazing husband fixed our gas grill! He went to use it one day and noticed that the burner bar was totally disintegrated!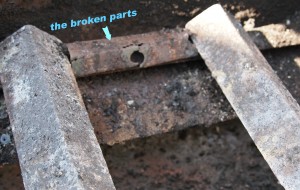 We did look at new grills  but even a good inexpensive one was more than what we really wanted to spend. So we found our manual (that grill is 5 years old but we keep all of our manuals in one place). Located the part number – did a google search for that number and found a place that sells replacement parts.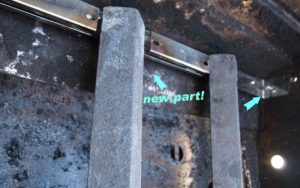 So for $27 my husband replaced the part and now the grill is good as new! Plus the grill got a good cleaning in parts that you normally don't even see! Also, it's something he's never done before, but he was at least willing to try!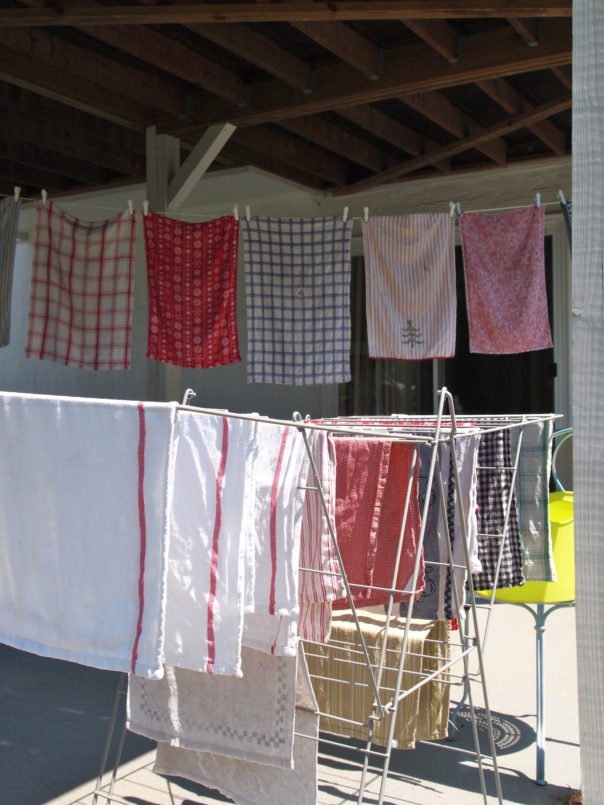 It's been so hot that the laundry we hang to dry dries quicker than it would in the dryer! Now that's hot 🙂  We always dry our kitchen towels on the line and rack. We don't always do our clothes. But I've found that putting the clothes in the dryer for about 10 minutes when they're almost dry – makes them soft and not scratchy. 10 minutes vs. the 60 minutes it usually takes is quite a savings in electricity!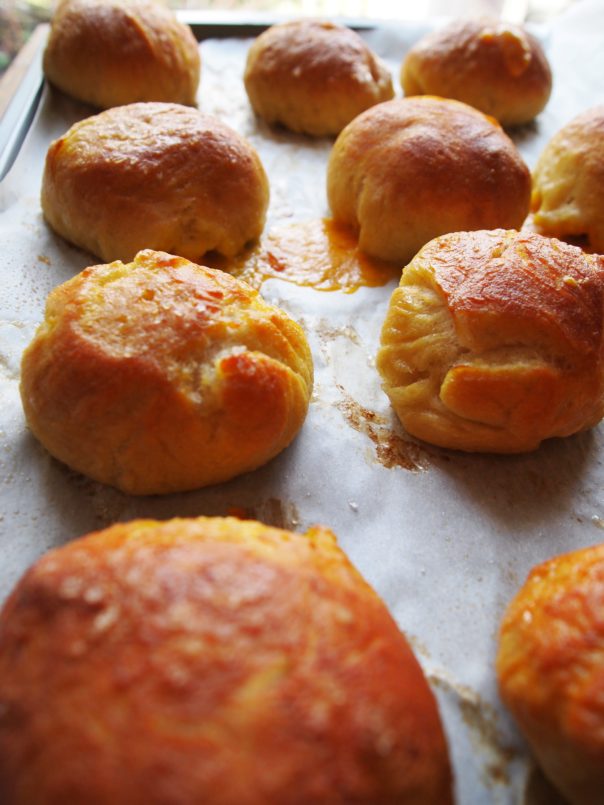 –my equally amazing daughter made some cheese stuffed pretzel rolls. They were sooo good! We had them with some salad. We froze half of the dough to make cinnamon pretzels for snacks for another time. Here's the recipe she used Ham and Cheese Stuffed Pretzels. She left out the ham.
–I also browned 2 lbs of ground beef and froze it for quick meals. We only eat grass fed beef but we eat so little of it that it doesn't matter that it's more expensive. I usually add beans when I use it for Mexican recipes and we use it more as flavoring in pasta dishes.
So that's just a bit of what I've been doing lately. What have you done lately that's frugal?