Are you in the mood for some easy holiday crafting? If so, give this cute and inexpensive to make pipe cleaner Christmas tree ornament a try. Making your own Christmas ornaments is a fun activity for the whole family and this one is definitely easy enough for kids to make!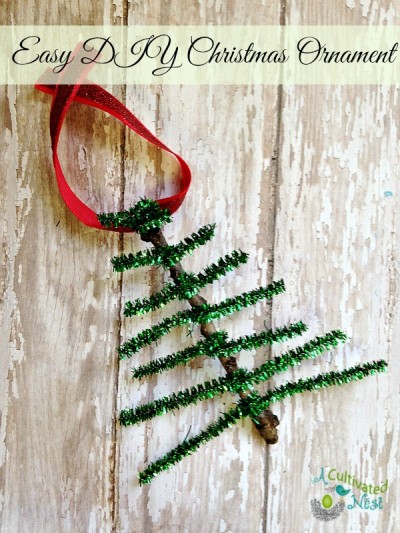 Disclosure: This post may contain affiliate links to Amazon and/or Etsy, which means that I may earn a small commission from some of the links in this post. Please see our Disclosure Page for more information.
Pipe cleaners & chenille stems are a great item to craft with because they're so flexible (and easy to find). You can bend them into candy canes, snowflakes, Christmas wreaths and more. You could even use the same pipe cleaners from this Christmas craft to make this mini mason jar lid wreath ornament  instead of pieces of pine garland!
Make your own pipe cleaner tree ornament using a just a few simple materials, and the end result is a sweet little tree ornament ready to hang on your real Christmas tree.
Here is how you can get started crafting your own pipe cleaner ornament!
Pipe Cleaner Christmas Tree Ornament
Supplies needed:
Stick (about 6 inches in length is ideal)
Assorted green pipe cleaners
Craft glue
Ribbon for hanging
Scissors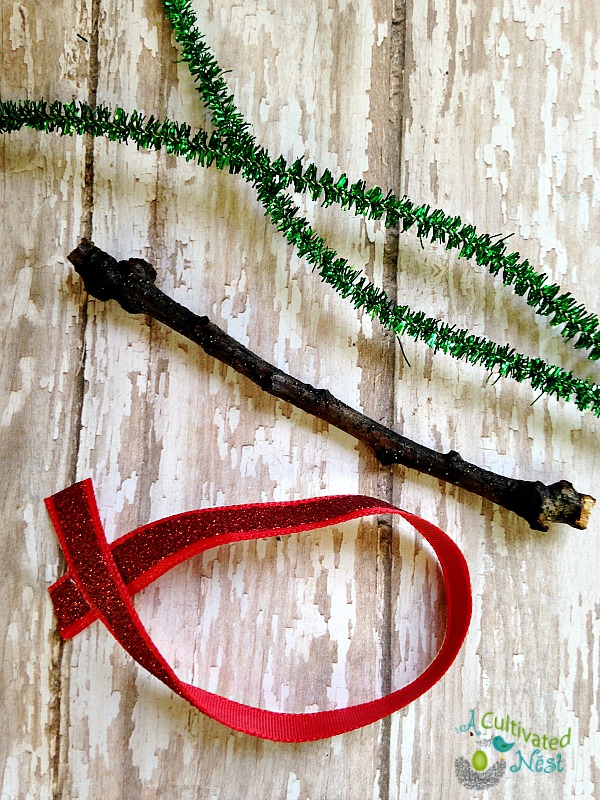 Choose the type of pipe cleaners that appeal to you for your tree. For this one, I used sparkly green one found at  my craft store. You can use plain green, neon green, sparkly, or a variety of all if you like!
Directions:
1. Begin by laying the stick flat on your work surface.
2. Cut your pipe cleaners in half. Begin twisting them around the stick evenly so there is an equal amount of pipe cleaner on each side of the stick.
3. Repeat the process until ¾ of the stick is covered with pipe cleaners. Leave the bottom bare so it looks like a tree trunk.
4. Take your scissors and start trimming the pipe cleaners so they taper and form a tree shape. Start at the bottom, trimming off a little more as you work your way upward.
5. Once the tree is the shape of your liking, you can add the ribbon for hanging. Just add a dab of glue to your ribbon and attach it to the backside of the tree. Just place it directly on the stick, press, and hold until secure.
Your pipe cleaner tree is now ready to be enjoyed. Hang it on your Christmas tree or anywhere you can use a little festive holiday décor.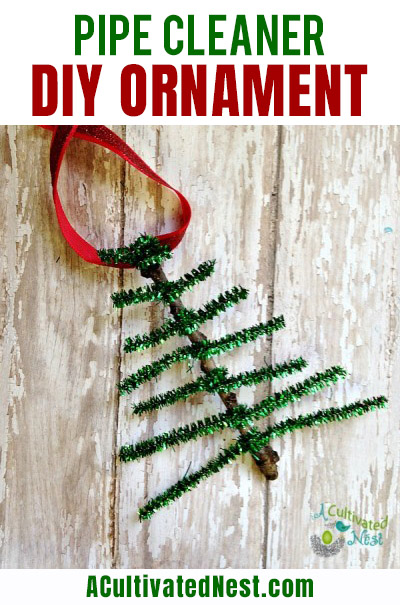 Other easy DIY Christmas Ornaments you might like: