About  17 years ago my husband and I were walking through Target and I saw a bench that was on clearance. This was my first ever clearance purchase at Target! I can still remember how excited I was that I found it because we had just purchased our first house and money was tight. But this was something I could afford, it had a little bit of storage and it was perfect for my entry way. The stars aligned that day!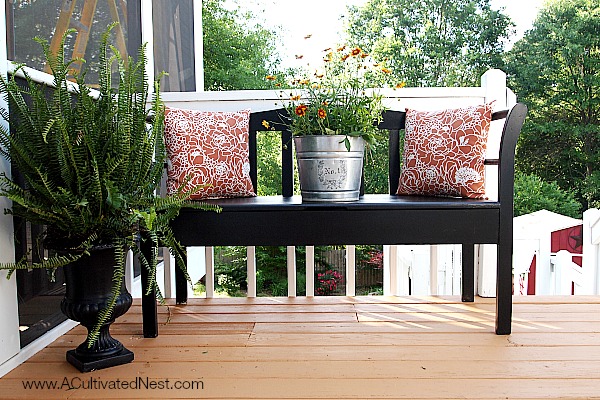 Disclosure: This post may contain affiliate links to Amazon and/or Etsy, which means that I may earn a small commission from some of the links in this post. Please see our Disclosure Page for more information.
Fast forward 3 years-we sold that house and purchased this house and I didn't have anywhere to put my bench…so it sat on my back patio….for years and years… and years. But now I spruced up my bench with a little paint and put it on my newly stained deck  and it's perfect! (I'm taking down my curtains in the screened porch to wash them and was too lazy to move the ladder out of the shot).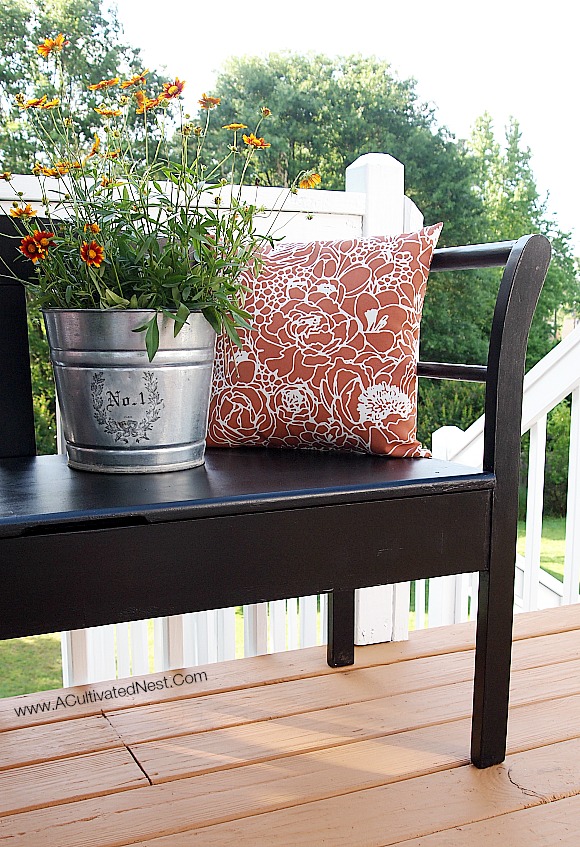 My husband needs someplace to sit when he's grilling and I used to have a little red bistro set on the deck for that purpose. But I thought this bench would be much more comfortable for him.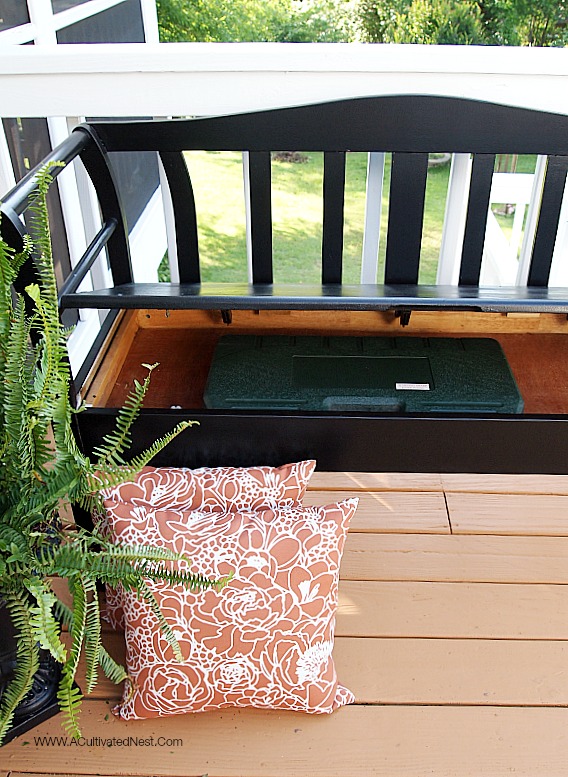 Plus the seat lifts up and it's a perfect place to stash his grilling tools (and get them out of my kitchen)!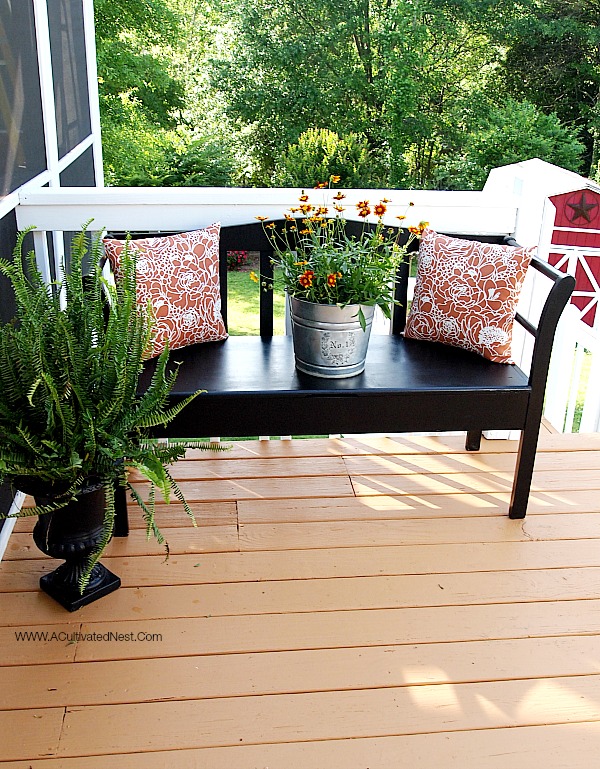 I used some black exterior paint I already had to paint it.  I decided to go with black for a variety of reasons. The deck color is called cedar but when it's wet it can look almost pumpkin? Sometimes it looks brown sometimes it looks more orange – depends on the light (my husband is not fond of it but I'm not re-doing it).  Black was a color that looked good with the deck color. Also, you see the deck from a big picture window in the kitchen and my floors are black and white and my counters are black. So it helps to tie the two spaces together.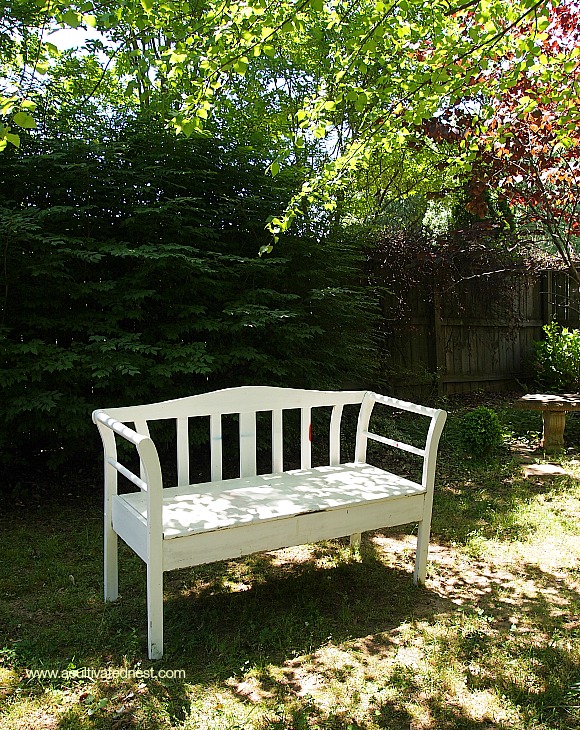 Here's the before. It originally was some type of blond wood and I painted it white when we moved to this house.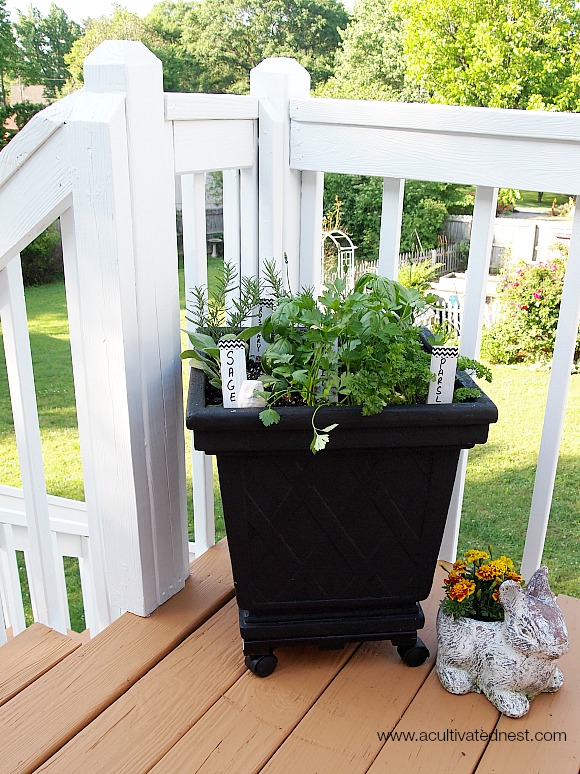 Next to the bench (on the other side of the steps leading to the backyard) is my container herb garden that I showed you how I planted here.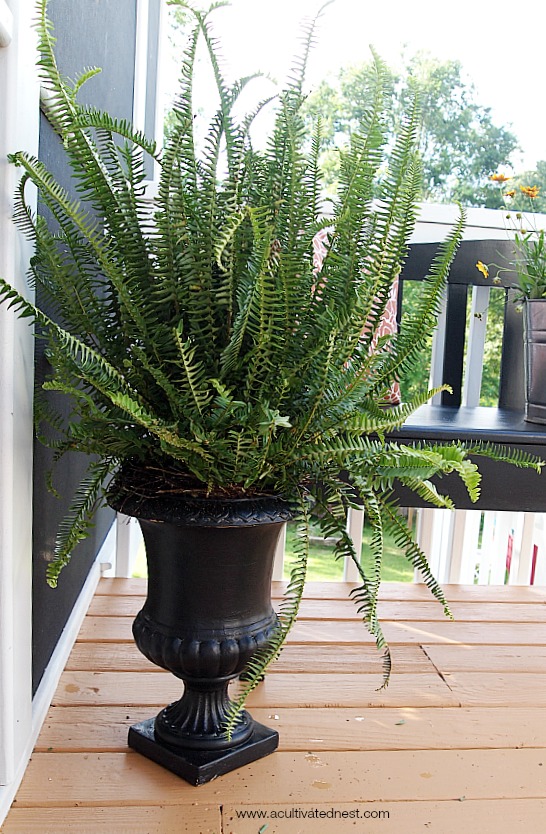 This potted fern is going to go next to the door leading into the screened in porch.
The deck is done! Yay one project is completed. Only about 20 more left to go before we can list this house! 🙂