Sometimes when people think of the "olden days" they think that all people did was work and sleep so they'd be ready to work again. But actually, people back in the time of your grandma often had just as much fun back then as we do now, even without all the conveniences and technological advances. And their fun hobbies usually didn't cost them much. Sometimes they even made money with their hobbies! Take a look at these 10 Old Fashioned Frugal Hobby Ideas from Grandma!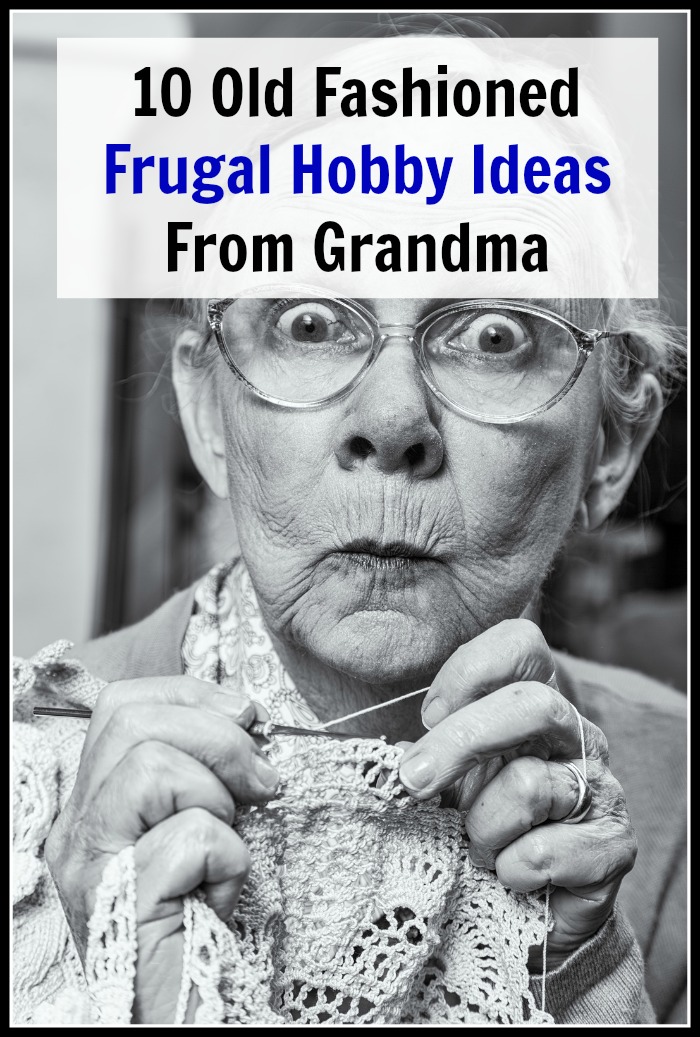 Disclosure: This post may contain affiliate links to Amazon and/or Etsy, which means that I may earn a small commission from some of the links in this post. Please see our Disclosure Page for more information.
Having a hobby is a lot of fun! Hobbies allow you to do something different from your day job, which makes your life more interesting, and allows you to connect with people you may otherwise have never met (whether online or in person). Hobbies are also a great way to relax. The ability to possibly make money from your frugal hobbies is just an added plus!
10 Old Fashioned Frugal Hobby Ideas from Grandma
1. Sewing + Knitting + Crochet
If you know how to sew, knit, and/or crochet you know some very helpful, and very frugal, skills! For centuries, people have used those skills to make clothes, kids' toys, pet toys, decor, and more for much less than it'd cost to buy those products in a store! If you know how to sew, knit, or crochet you can also repair a lot of cloth or knit items yourself, helping to make your things last longer (a very frugal thing to do!).
2. Woodworking
Woodworking is another highly useful hobby! Back before everything was readily available in stores, most people made their own furniture. And even when furniture was able to easily be purchased in-store, most people still had the woodworking skills to do minor repairs or alterations. If you have woodworking skills, you should definitely put them to use making or updating furniture for your home!
3. Crafting
If you want to try an old fashioned frugal hobby, then there's probably no better one than crafting! There are so many types of crafts out there, and many don't require much more than basic gluing and painting skills! You can craft decorative elements, upcycle old furniture, or paint something to give it a fresh new look! Crafting is a great way to get more decor for your home without spending a lot! And if you ever need some extra cash, you could sell what you make!
4. Gardening
Back in the day, most people had at least a small garden. They grew herbs, fruits, veggies, and/or flowers. Imagine always having fresh parsley available, or being able to walk outside and pick a bell pepper to use in your dinner! You can still have all of that nowadays, even if you have limited space, especially if you use container gardening!
5. Reading
In the "olden days" people didn't spend as much time in front of the TV, or even listening to the radio, and there were no computers with Internet to get distracted by. Instead, if people wanted some quiet time, they'd often read! It entertained them, and taught them many different things. Thanks to libraries, free eBooks, and inexpensive eBook rental programs like Kindle Unlimited
, reading is even more of a frugal hobby than ever before!
6. Exercising
Depending on how you like to exercise, exercising can cost you just about $10-20 dollars a month in a gym membership, or it can be completely free! While people many years ago got their exercise for free while working the fields or doing their daily jobs, nowadays you can exercise for free by walking your dog, jogging around your neighborhood, or biking to work!
7. Baking
There didn't always use to be boxed mixes of things ready to buy in the store! If you wanted to make a cake, you'd have to put all the ingredients together yourself! While baking your own desserts does take more time without a box mix, unless you're trying to make something really fancy, it actually doesn't take that much know-how. Baking your own treats will save you money, and is healthier, too!
8. Making Art
People have been making art since the beginning of time, and have been enjoying it as a relaxing, even therapeutic, hobby for centuries. The art you make can become free art to decorate your home with, or just an outlet for your creativity. If it's good enough, you could even sell it! You don't have to invest in fancy paints, either. You can just sketch with regular pens or pencils, or get inexpensive colored pencils or watercolors. Or you could make art digitally! Whatever tools you choose to use, if you're considering an old fashioned frugal hobby, you can't go wrong with making art!
9. Playing an Instrument
Playing an instrument is a wonderfully fun frugal hobby! People from the Middle Ages all the way to modern times have enjoyed music making as a way to relax, be creative, and maybe even make some cash! Learning an instrument is also great for your brain. And nowadays you can easily get a very inexpensive guitar or recorder to start your musical education with. So with all those benefits, why not give learning an instrument a try?
10. Animal Rearing
For many people in the past and present, animal rearing has been a full career. But for others, it's just been a hobby. While I wouldn't suggest dog or cat breeding as a hobby (there are already too many animals in need of homes these days), rearing chickens, goats, sheep, or mini cows can be a great old fashioned frugal hobby to take up (given you have the space, and it's legal where you live). You can take the products these animals produce (eggs, milk, wool) and keep them for your own uses, or sell them. Imagine never having to buy eggs at the store again!
Which of these old fashioned frugal hobbies sounds like the most fun to you?
This post contains an affiliate link to Amazon. Please see our Disclosure Page for more information.
You might also be interested in: