When we first moved into this home, 12 years ago, the first room I tackled was the kitchen and the second was the hall bathroom. Both were just cosmetic makeovers. In the bathroom that meant wallpaper ( the walls were in horrible shape  and couldn't  just be painted) and we put in a new light fixture.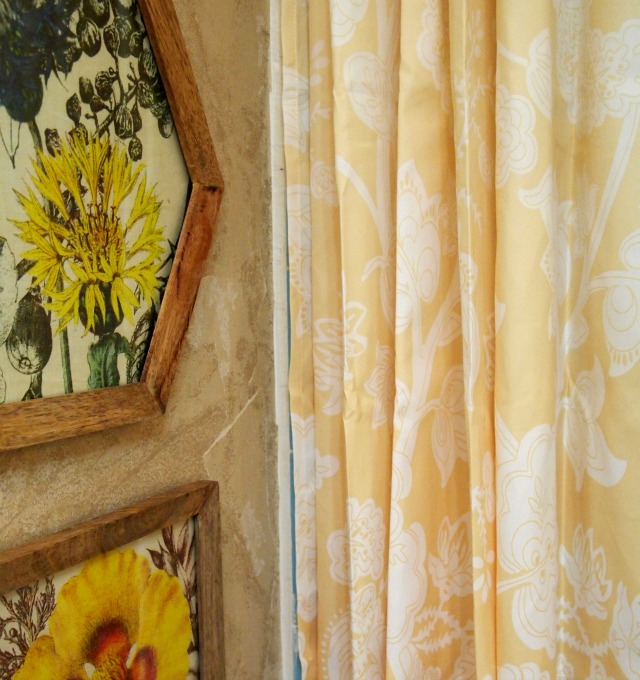 It's a room that, for many reasons, I've always felt should just be gutted. Maybe you have a room like that? That's what I've always planned. Every year for the past 6 years or so I've planned to gut that bathroom. Remove the blue tiles, replace the almost falling down cabinet, install a new countertop and sink etc.
Every year something comes up and I can't do it. You know how that goes, right?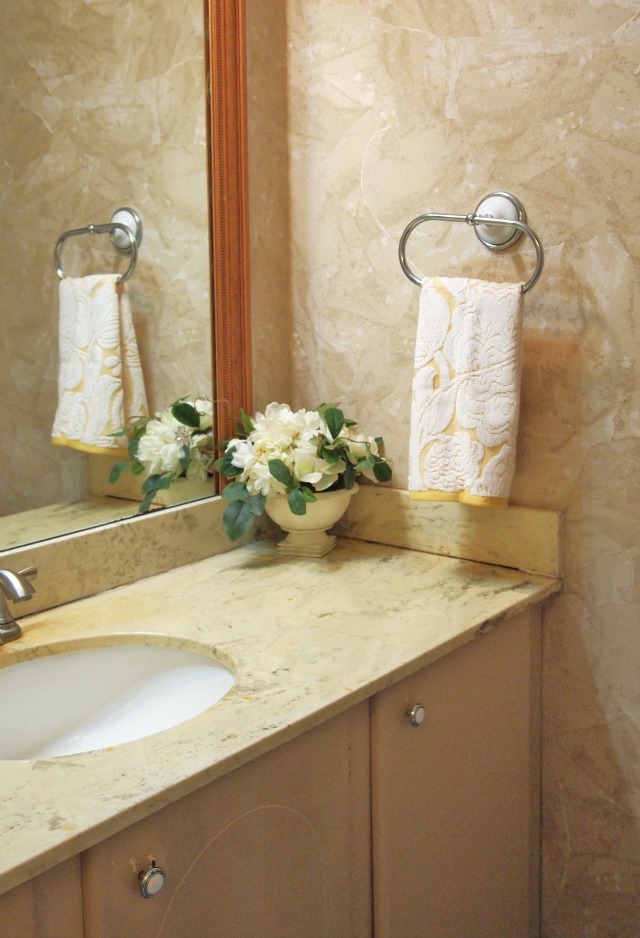 Again, this year I had planned to at least put in a new sink cabinet, countertop, sink, & faucet. I had even called a reasonably priced handyman that I know to come out and take a look, give me an estimate, we talked about dates.
But in looking over the budget recently we realized:
1) we really need to buy another car. Really! We've been a 1 car family for over two years in a suburb of Atlanta where there is no mass transit and it's just not working for us.
2) We have to do something about our driveway – it's falling to pieces (literally). More like chunks are breaking off! It's becoming a hazard.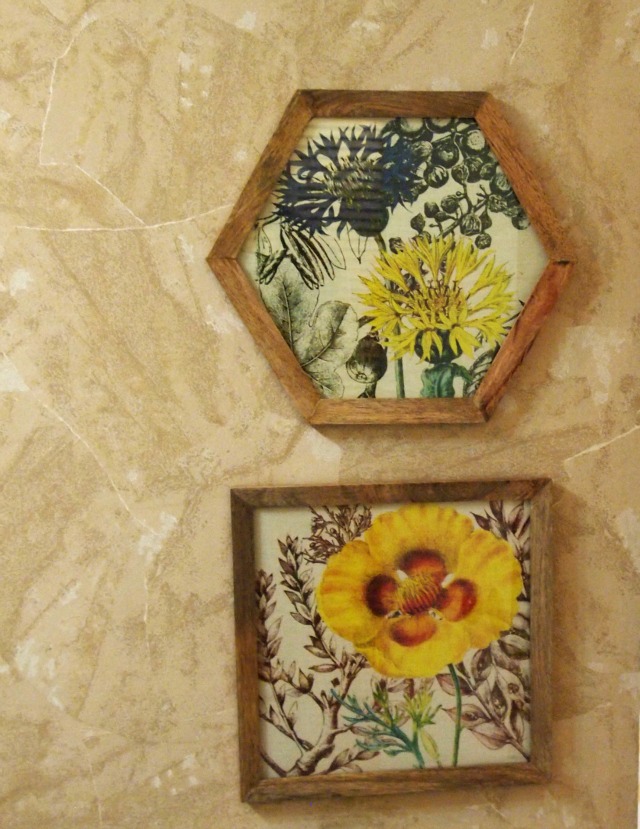 Those things are more important than the bathroom.  Can't do it all! So you know what, I'm just going to make the best of it. That room is never going to get gutted (unless we win the lottery or HGTV'd) and I'm OK with that. I've never believed that you needed boat loads of money to make a home pretty so I don't know why I was so fixated on gutting that bathroom and starting from scratch?  I made our little master bath the cutest little bathroom I could and I did the same with my daughter's bathroom downstairs which you can see here. So why I didn't have the same attitude about this room is beyond me!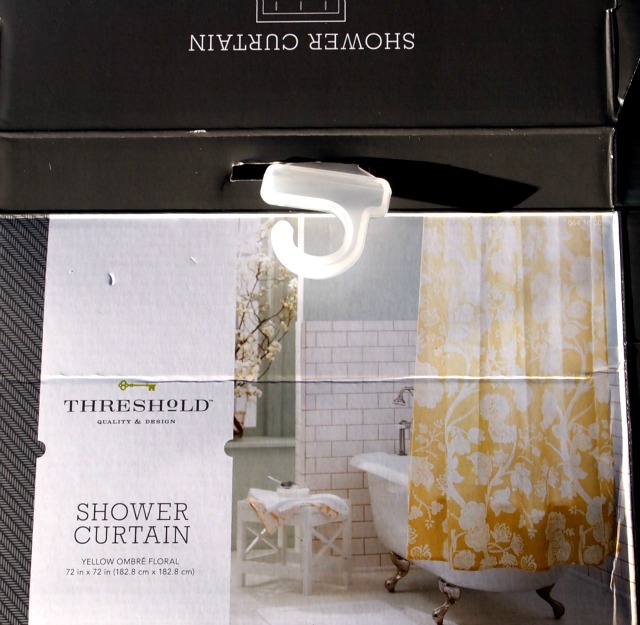 It just so happened that I had to return a few Christmas presents at Target this week, so of course I  had a look in their bath section.   I loved this yellow ombre shower curtain. I brought it home and it looks great  with the brown wallpaper.  They really had so many pretty shower curtains to chose from it was hard to make a decision! Did you know that Threshold is  a new Target home brand?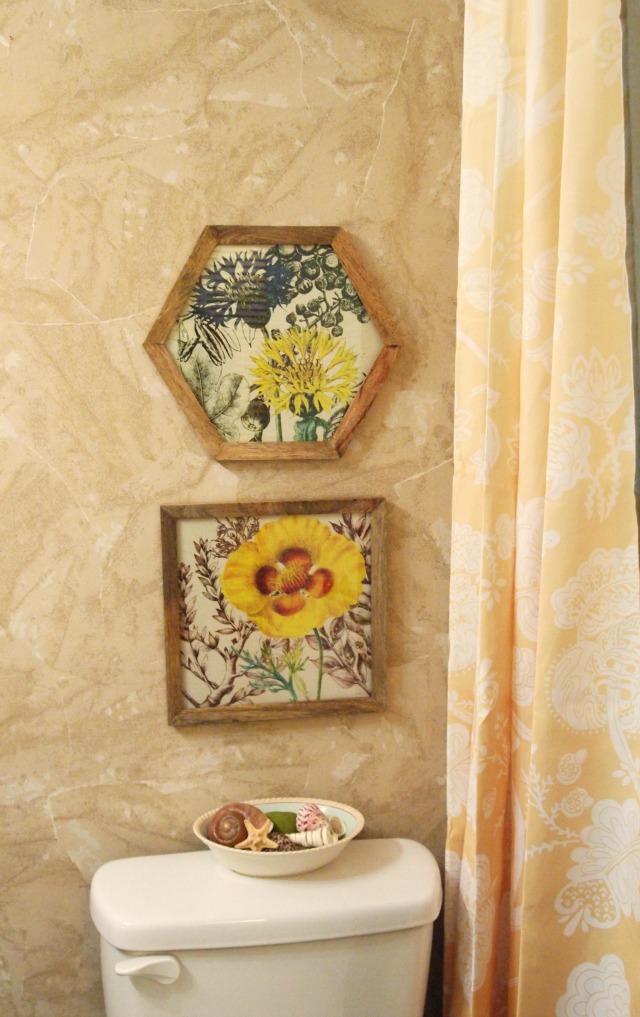 I also got some cheery fresh art work. It's a  start! Sometimes the hardest part is finding inspiration!
At some point this year I'm going to take down the brown wallpaper and do something a little more bright and light. There's a lot of re-caulking that needs to be done in there and I need to paint the sink cabinet.
All very doable and inexpensive things. All very achievable on a budget.
I already feel so much better about that room!
So my point is, instead of longing for what you don't have, make the best of what you do have and appreciate it!