Well I've finally felt well enough to tackle a few things around the house. We moved some new bookcases into the living room a while ago but I haven't had the energy to actually arrange the books and make everything nice to look at (so I've edited them out 🙂 )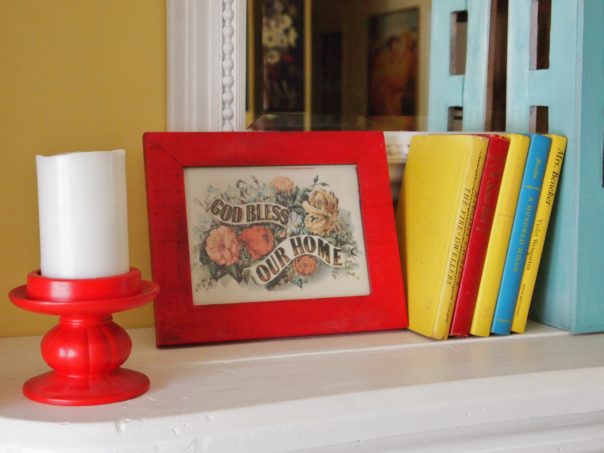 Disclosure: This post may contain affiliate links to Amazon and/or Etsy, which means that I may earn a small commission from some of the links in this post. Please see our Disclosure Page for more information.
I started with easy part of the wall -the center and that is the fireplace mantel. I got this fabulous wooden house months ago and I mean months…like 6-7 months ago on clearance at TJMax. It was a different color so I,  of course,  painted it to fit into my color scheme. I love it! It has a flat back so it's easy to prop it up against things.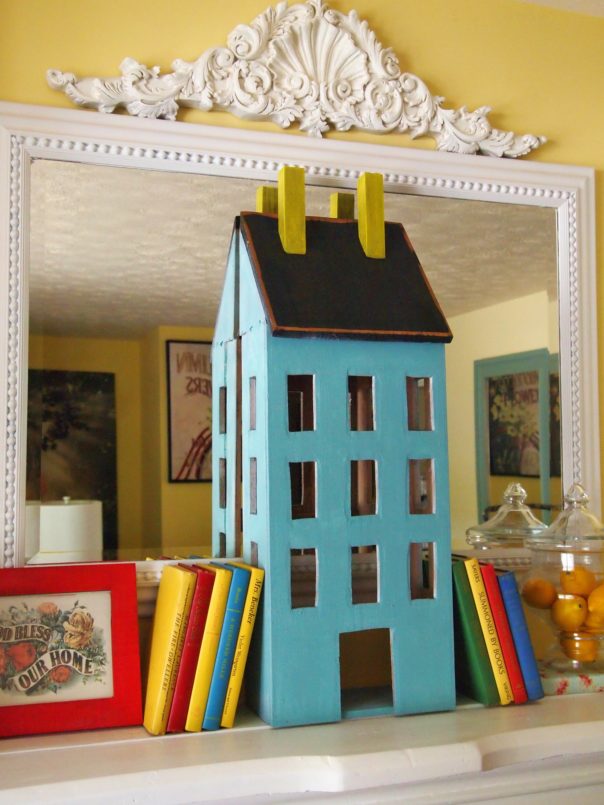 The books I've picked up at thrift stores over the years. I'm always on the look out for colorful books or ones with interesting titles – just to use for decorating.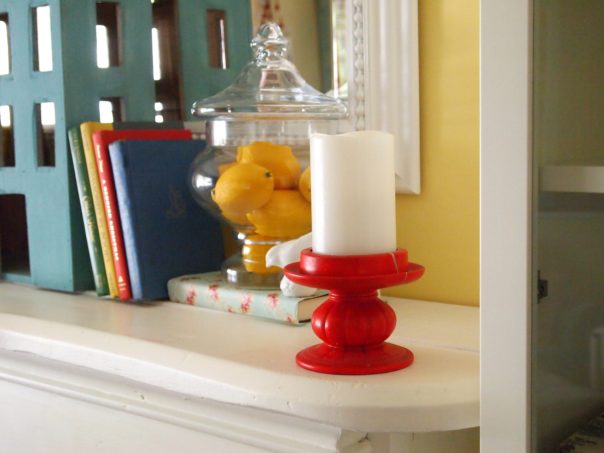 Everyone can use an apothecary jar! It's easy to find things to fill them with. This one is filled with some fake lemons I got on clearance at Target eons ago!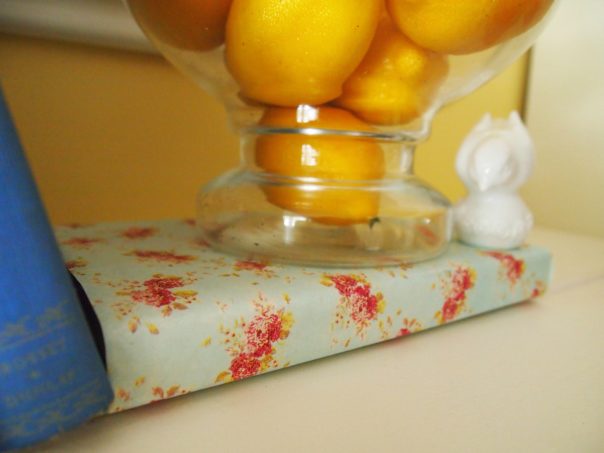 I found a bin with some papers in it in the garage (we're in a decluttering/organizing phase – at least my husband is 🙂 ).  I thought this blue paper with the roses was pretty so I covered a book with it. I think it's some old Cath Kidston wrapping paper from Target.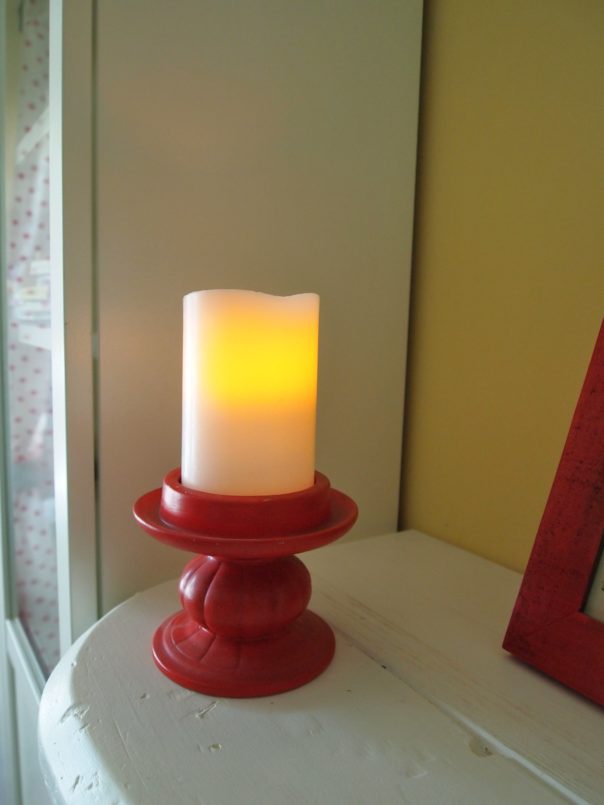 I've been wanting to try flameless candles for a while since a reader suggested them for my fireplace and I found two for 99 cents at Goodwill last week. I quite like the lovely glow they cast!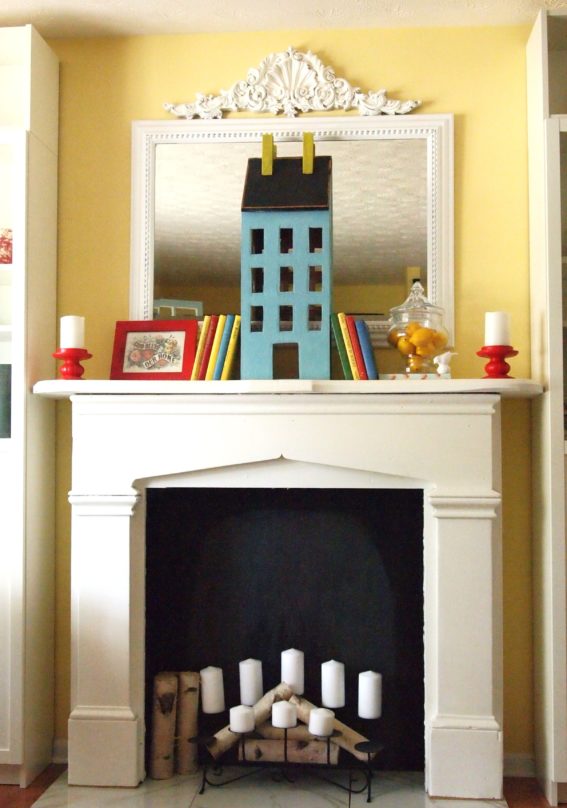 It's going to take me a while to tackle the bookcases that are on each side of the fireplace. I've been looking for some wallpaper or wrapping paper (scrapbook paper is too small) to line the backs but can't find anything I like (at least that's not super expensive). That's one of the things that's  been holding me up. I don't want to put all the books etc back and then have to take everything off again to line the  cases! But I have a few other ideas of what I could do or use that I'm going to try out.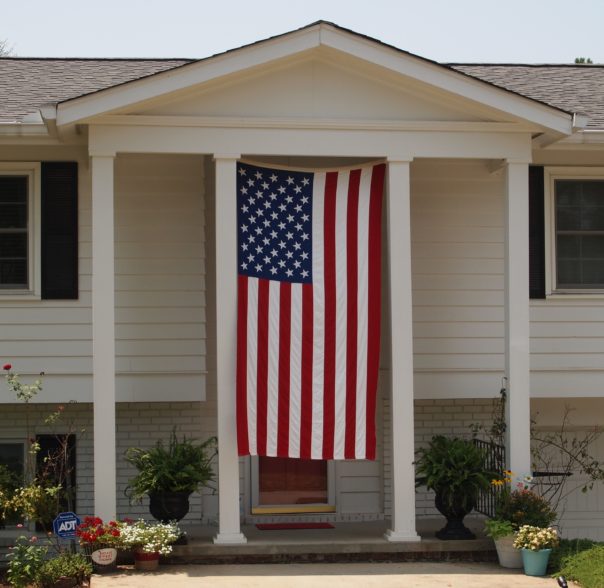 Have a wonderful Independence Day everyone!