I'm starting to get emails asking if I'm o.k. so I thought I'd better post! Yes, I'm fine and I'll give a personal update at the end of this post (I still have a few emails to respond to – thank you for your concern!).
I harvested some basil so I thought I'd share how I preserve what I don't dry.
Disclosure: This post may contain affiliate links to Amazon and/or Etsy, which means that I may earn a small commission from some of the links in this post. Please see our Disclosure Page for more information.
I freeze quite a bit of basil as the summer goes and then I use it as flavoring in soups & sauces. I also make a batch of pesto at the end of the summer using some of the frozen basil.
We use our wonderful Vitamix which is THE best thing I ever won from a blog give away! Yes I won the Vitamix!!  The Canny Homemaker gives away some wonderful items like the Vitamix/ Cuisinart/Kitchen Aid etc. Plus she has good posts about eating healthy. We use our Vitamix every morning to make smoothies and lots of other things (like ice cream).
The basil I freeze for flavoring is pureed and put into ice cube trays. The basil I  freeze to use in pesto is chopped more coarsely and frozen in a larger container.
This is my basil AFTER cutting – I leave a few leaves on because it needs some leaves to re-grow.
Although it was an unexpected expense, we had to put up a fence along the back of property after Colonial Pipeline chopped down all my trees and shrubs.
They cut the Crepe Myrtles down to 4 feet and we all thought they wouldn't leaf out again since they were cut so late in the season. But they have come back! I've started replanting the fence line but it's going to take me a while. This photo shows about 1/5 of the area!
The vegetable garden is coming along. Slower than last year. Plus we have two rabbits that have made our yard their home and either them or the chipmunks had a snack of my corn early on  (what they left alone doesn't seem to be doing well – so no homegrown corn for us the year). Last year, I already had lots of zucchini – this year not even one so far and I've already been fighting the squash bugs!
I have lots of sunflowers in my cutting garden raised bed. I haven't cut one flower! I rarely cut any in my yard except the hydrangeas. I don't know why 🙂 I guess I just enjoy seeing them  in the yard!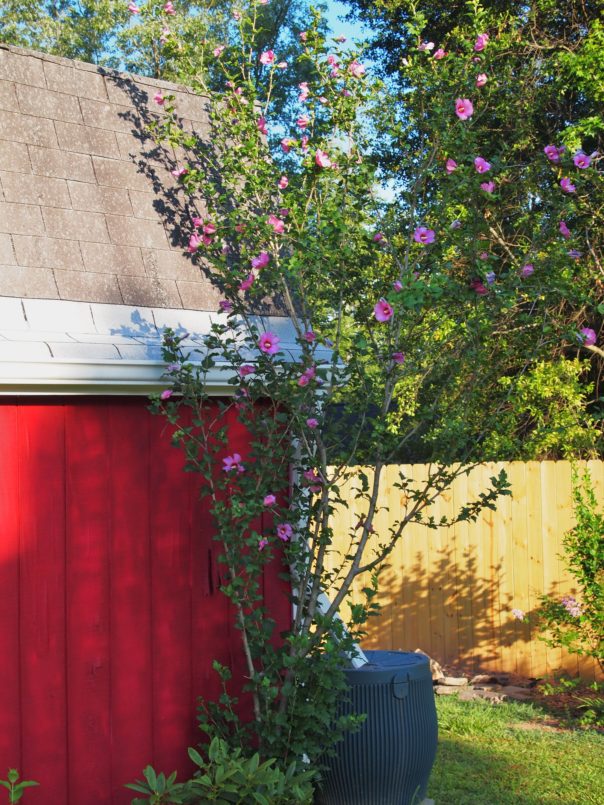 I love this tree! I got it as a tiny seedling from my daughter's piano teacher about 10 years ago.  You can see one of our rain barrels next to it (we have three and really could use more). They're almost empty. It's so hot today (over 100) and we haven't had any rain in while.
On a personal note they finally know what's wrong with me (at least I hope they're right) – I have an entrapped (pinched) lateral femoral cutaneous nerve.    Nothing much they can do at this point. I don't have any pain at the moment – it could flare up again though and I've lost some sensation in my left leg. But at least I can get on with my life and not see a new doctor every week! That in itself was very stressful.
Anyway, hope you are all  having a good weekend and staying cool!