I am done painting the kitchen!! I have to say that we all love the white walls 🙂 I admit, I had my doubts – but I love that color for that room. I'm not going to go crazy and paint every room white though – I love color too much.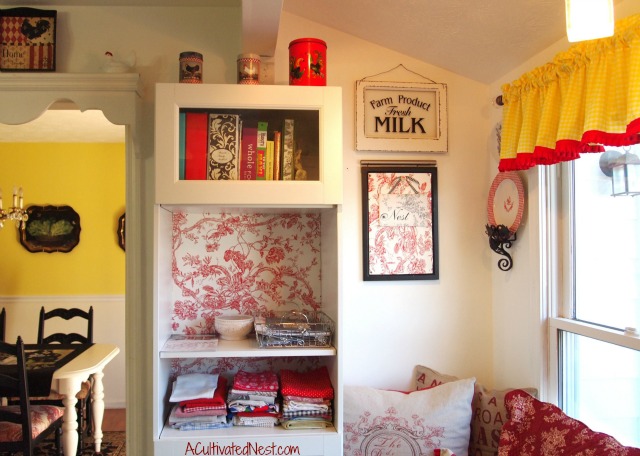 But it works in the kitchen. Between the fresh white walls and all the new lighting – it's so nice and bright now (which was one of my goals).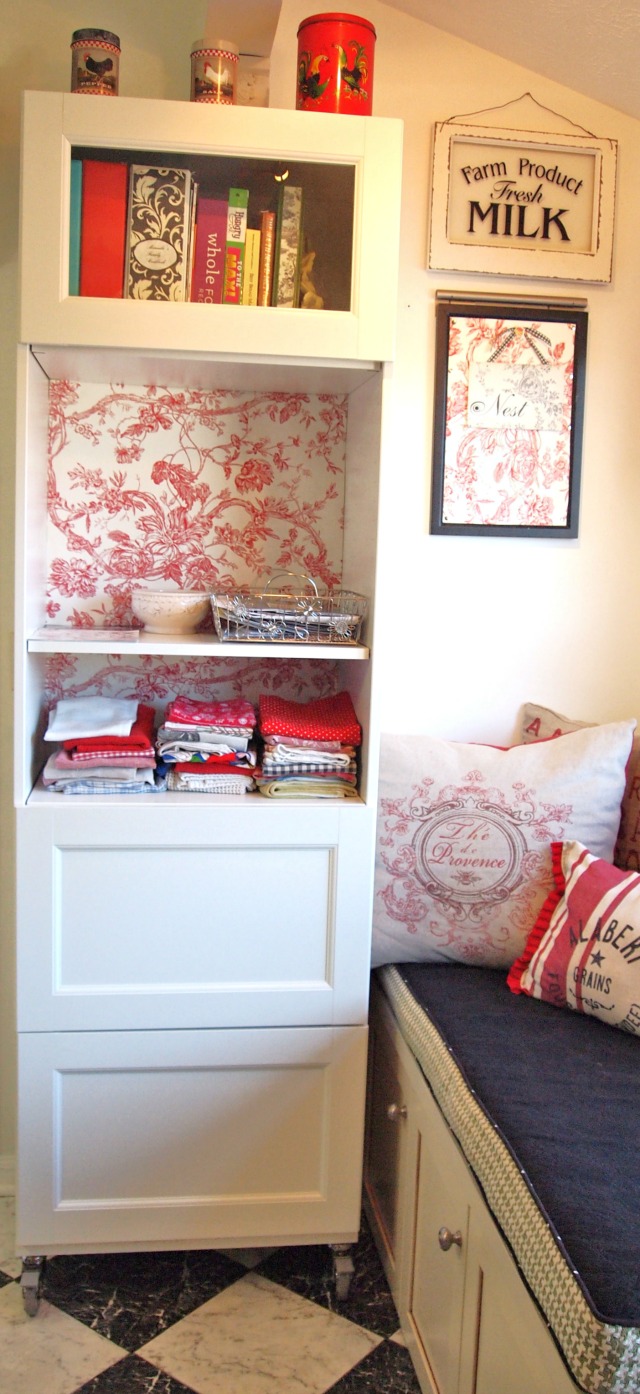 Disclosure: This post may contain affiliate links to Amazon and/or Etsy, which means that I may earn a small commission from some of the links in this post. Please see our Disclosure Page for more information.
The other goal I had was to add some more storage which we did with this Ikea unit called Besta.  It's sort of like a modular piece where you can choose different elements. Different sizes and door styles, glass shelves or solid, drawers etc. You can design what you want in the store (they have computer stations where you can just click and drag elements to make what you want). You can make it low and wide  if you need it for a tv or high like we did. We added the casters so we could roll it out of the way to get to the door of the window seat.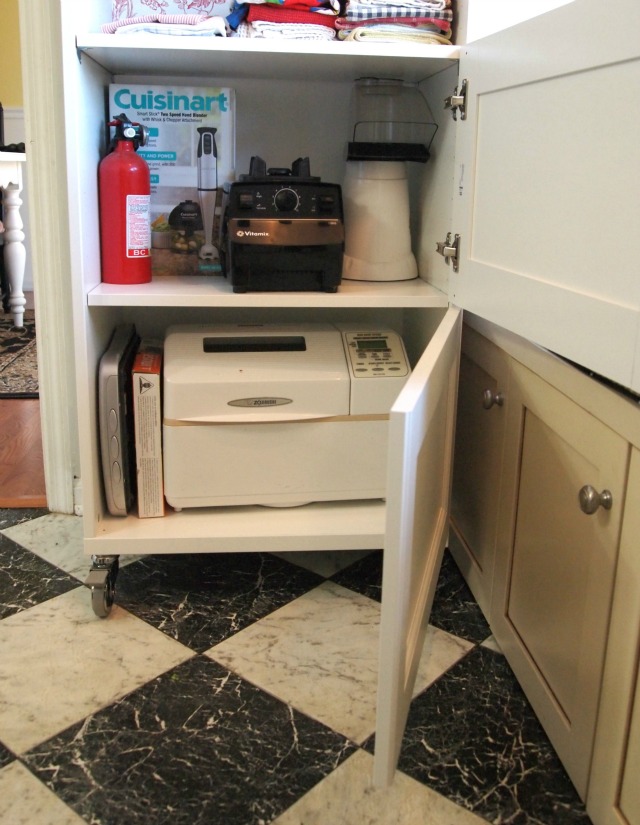 I did buy a drawer for it but I'm not sure I'm going to use it. We're going to see how this configuration works for us and then decide.  I have my bread machine, Vitamix, popcorn maker behind the solid doors. These are things we use almost every day so I needed them to be easy to get to. We don't have enough counter space to keep them out.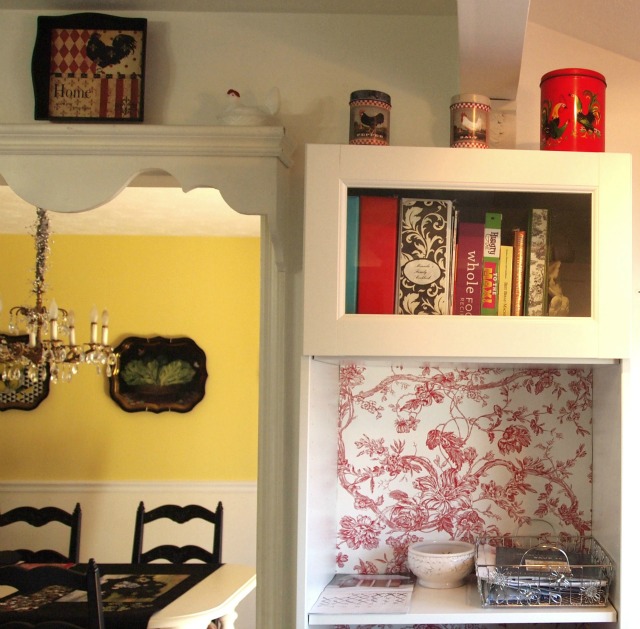 Behind the glass door on the top is my household binder and various cookbooks, that open shelf below it  is for the mail, keys, calender and maybe a phone (we have phones in 3 other rooms so I'm not sure we really need one here). Like I said, I may add the drawer that we bought (maybe I could put some of my spices in it).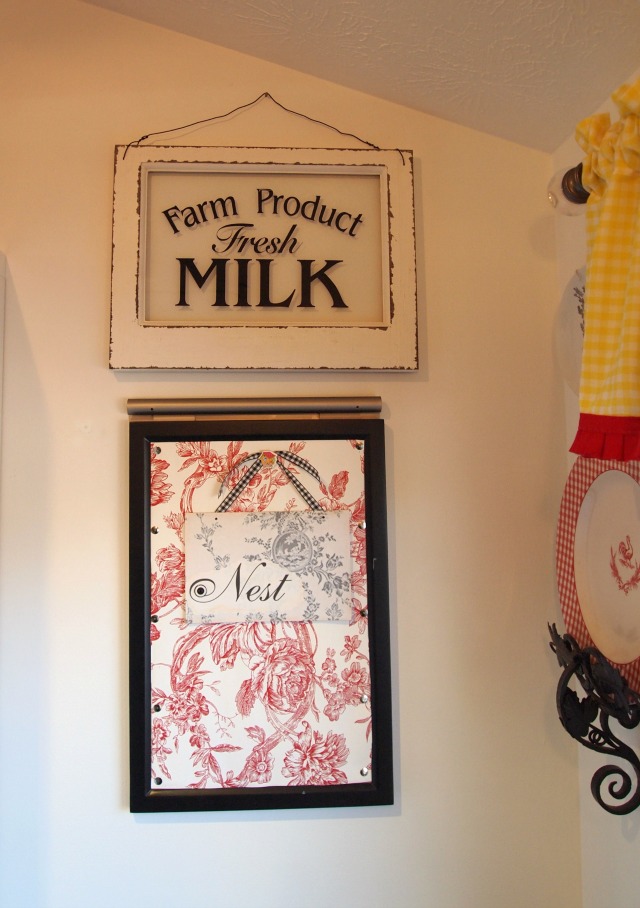 I had two message boards in this spot and now I have room for one.  I really use the huge message board in my office. This one was more for hanging fun things anyway. The Nest art is something that Vee made and  gave me many years ago. The Farm Product sign is from Cost Plus World Market.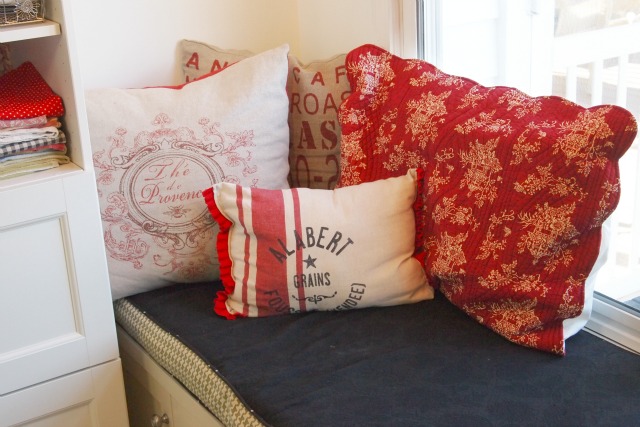 So now I just have some fun  fluffing to do with a few things I asked for and got for Christmas. At some point I'm going to make a new cover for my window seat but mainly I am going to get this kitchen as organized as I can.  I want to make the best use of the space that I have and be able to find what I'm looking for!
Here are my previous makeover posts in case you want to take a look back. I'll do one where I show the entire kitchen in one post in a week or so.
Kitchen Makeover – Window wall with new lighting