How To Build A Raised Bed
As most of you know I use raised beds (and some containers) in my vegetable garden. Like with most things, there's more than one way to make a raised vegetable bed. I'm going to show you my simple and easy method but at the bottom of this post I have links that show you other ways to DIY a raised bed. But first lets discuss why I choose this method over other gardening methods for growing vegetables.

Why make a raised bed?
Raised beds warm up faster so you can plant earlier and they stay warmer longer so you can extend your season a bit.
They also drain better which is great if you've got not so good soil like me.
They're also easier to maintain than a traditional bed. There's less weeding and the soil doesn't get compacted because you don't walk on it.
No soil erosion
You can grow plants where you normally wouldn't be able to like on top of a driveway. A raised bed is basically a big container – a very big pot!
You can make a raised bed out of concrete blocks like I did a few years ago,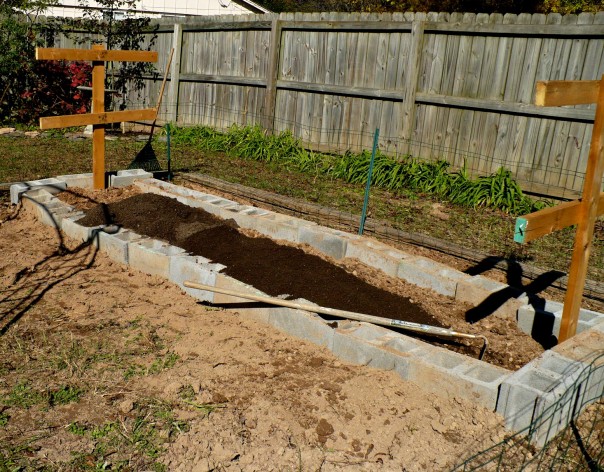 Disclosure: This post may contain affiliate links to Amazon and/or Etsy, which means that I may earn a small commission from some of the links in this post. Please see our Disclosure Page for more information.
 or brick, stone or wood. Mine are made of wood so that's what I'm going to show you how to make. It's really easy!
What Kind of Wood Should I Use?
 I use pine. It holds up for me about 6-7 years. If you are in a very wet climate like the Pacific NW you may want to use cedar. Pressure treated wood used to be a strict no no because it was treated with arsenic which could leach into your soil and thereby into your vegetables. Most pressure treated wood is now treated with copper.  Do your research on the health risks of pressure treated lumber and  make your own decision. Pine is by far the most economical.
What Size Raised Bed Should I Build?
Raised beds can be any size that works for you. If you're going to do Square Foot Gardening (SquareFootGardening.com) he recommends a basic 4 x 4 ft. bed like mine below.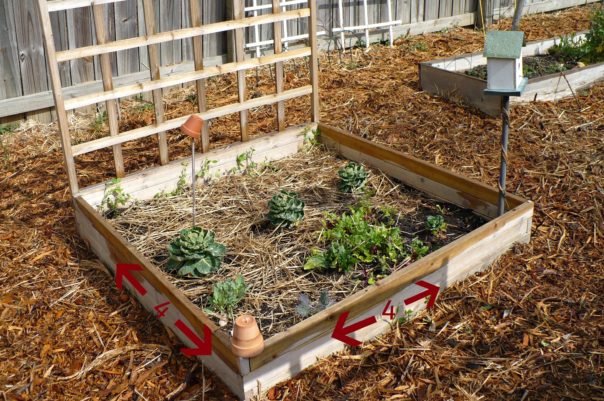 This is from a kit I bought at Lowe's last year on clearance.  I find this size awkward. It's hard for me to reach the middle. Maybe it's because I'm 5'4″. If I was taller it probably wouldn't be a problem.  I'll probably plant one of these beds (I have two) with asparagus or something perennial so I don't have to mess with it too much.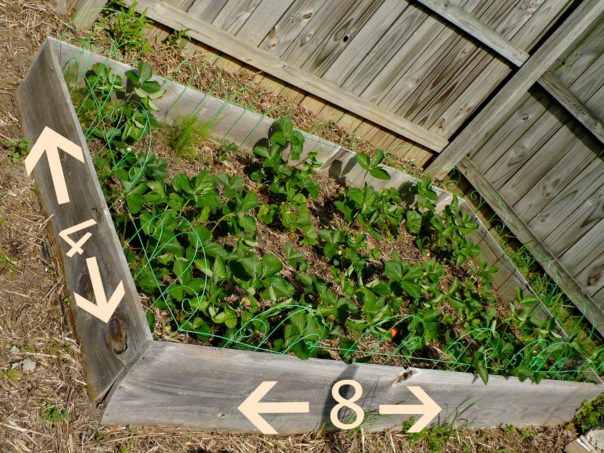 This bed is 4×8 and is one of my original beds from 7 or 8 years ago that I just use for some strawberries now. We remade some of my beds a few years ago because they didn't work for me. Again, I'm 5'4″ and it was always hard to access the center of the bed. So I took some of mine apart and built narrower beds.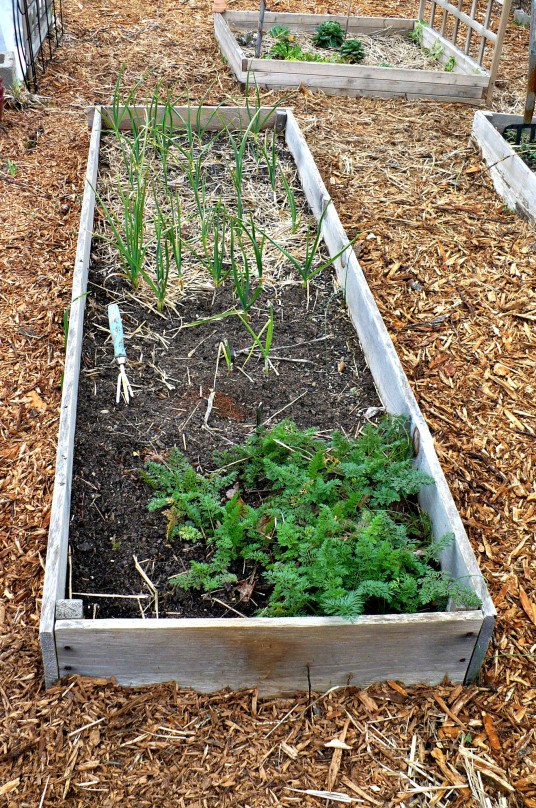 They are now 2 1/2 wide which is great except I've noticed that they dry out faster in the heat of summer. We need to make a few more beds since I enlarged my garden area, so we are going to make them in between the old and new bed size – probably 3×8. You can also make them as tall as you need. You can make them deeper if you're gardening on concrete (like the one below) or really really bad dirt.
How To Build a Raised Bed
What you need: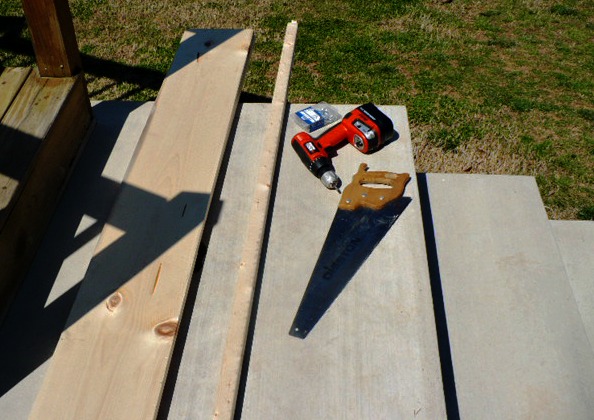 wood planks, a drill, measuring tape,  saw,  galvanized screws (like deck screws) so they don't rust, Optional – galvanized L brackets or small piece of wood for the corners (corner blocks). This is a simple design of 4 wood planks screwed together to make a box.
Step One – Cut your planks of wood to what ever size you decided to make your beds.
Step Two -Measure the depth of the wood you're using and then if you're using corner blocks like me, transfer that measurement to your corner block wood and cut 4 corner blocks for each bed.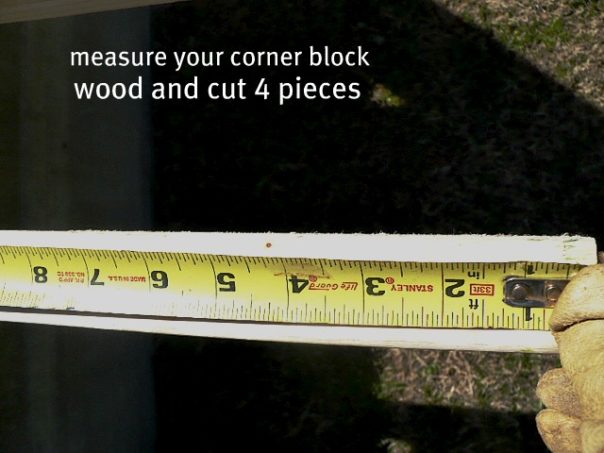 Step Three – pre-drill your the holes for the screws – believe me it makes it much easier if you take the time to do this step! 3 pilot holes is enough.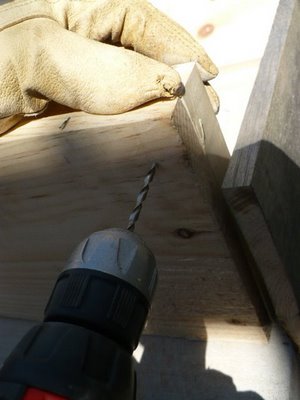 Step Four – assemble your bed by attaching the planks together by screwing them into the corner blocks (which will be on the inside of all 4 corners). Or you can just make a simple butt joint and screw the boards into each other to make a frame and skip the corner block. The corner block gives you some extra stability.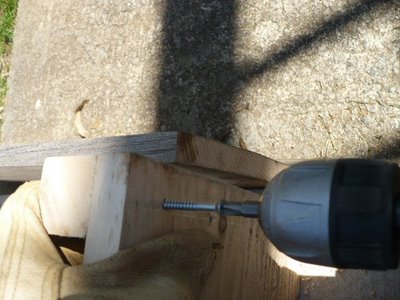 That's it!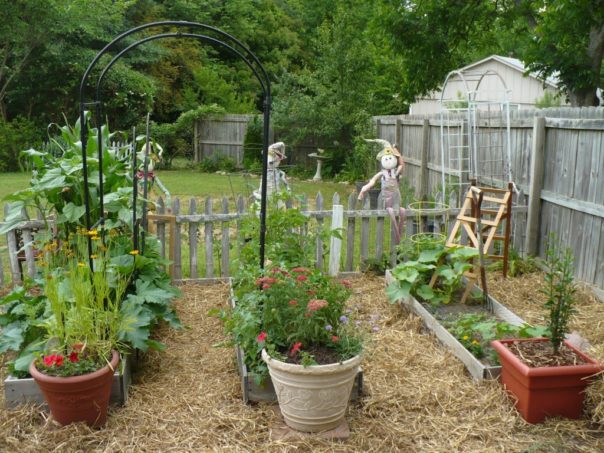 You don't have to make your own raised beds.  It's very easy to buy all kinds of kits now at any of the major big box stores. Even Wal-mart has raised bed kits as well as Amazon.
Other resources:
How To Build a 18 " Raised Bed  Video
Pioneer Woman – Build Your Own Raised Bed
How To Build A Raised Bed On Uneven Ground
How To Build A Raised Bed on Legs
Pin to Share: