As soon as spring hits my mind turns to gardening- outdoors, in containers, and yes, one of my favorite hobbies- gnome and fairy gardens! Even though I am quite the coffee drinker and could easily down a cup of coffee this big, as soon as I saw this big mug I knew it was destined for something else… and that came in the form of a simple and sweet DIY fairy garden to decorate my desk. I will build a small world in just about any container I can get my hands on and enjoyed creating this little Gnome Tea Cup Fairy Garden table decoration!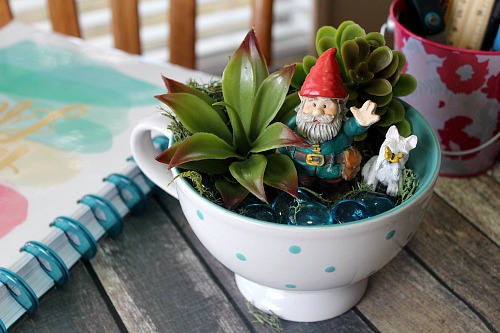 Disclosure: This post may contain affiliate links to Amazon and/or Etsy, which means that I may earn a small commission from some of the links in this post. Please see our Disclosure Page for more information.
It doesn't cost a lot to make a pretty gnome tea cup fairy garden like this! I got my oversized mugs at TJ Maxx, but have spotted similar ones in the home decor section of several similar discount stores as well. I got the moss and succulents from the Dollar Tree (they have the most amazing selection of realistic looking succulents there).
Gnome Tea Cup Fairy Garden
Materials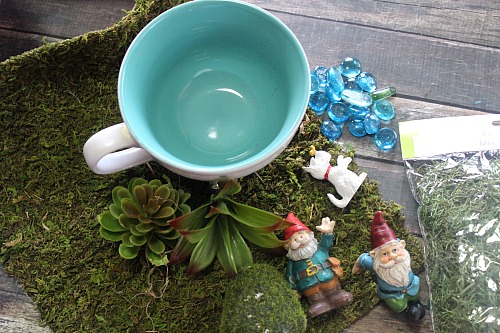 1 oversized coffee mug
Moss
1 or 2 fake succulents
A gnome or two
Miniature garden accessories (this set has a wonderful selection of accessories!)
Directions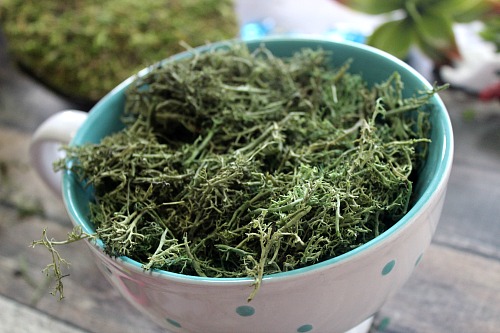 1. Fill your oversized mug to the top with moss.
2. Tuck in a couple fake succulents around the sides of your mug. You want to leave room for your other items, but remember that you can easily arrange and rearrange your display until it's to your liking.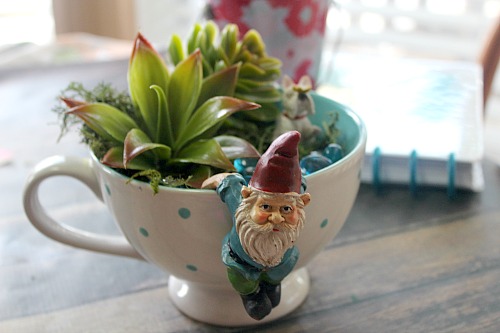 3. Add an impish gnome or playful fairy to give your mini garden some life. I decided to make a second version of this gnome tea cup fairy garden for a friend of mine, and for hers I added a fun hanging gnome! For the version I kept for myself I went with a cute waving gnome.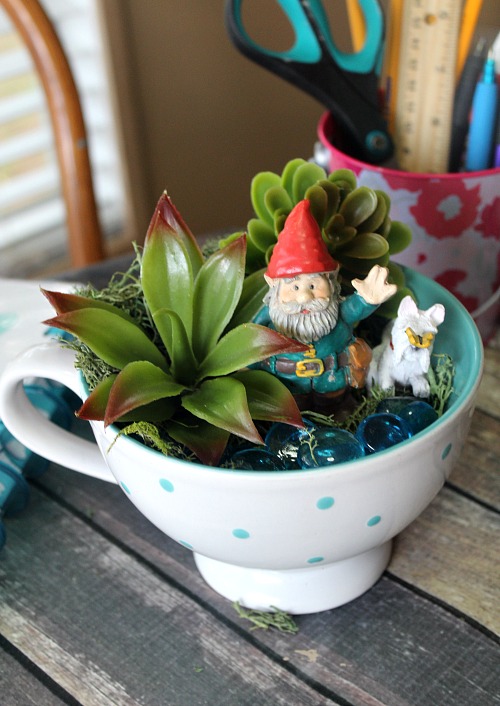 4. Add something like a mushroom, a piece of furniture, an animal, or some other item for your gnome. I gave my gnome a playful white Scottie dog as a pet! I also added a couple blue decorative stones to make a "lake" of water in the front.
Then your gnome tea cup fairy garden is finished! Put it on display, or put it in a gift box to give as a present!
Have you ever made a fairy garden?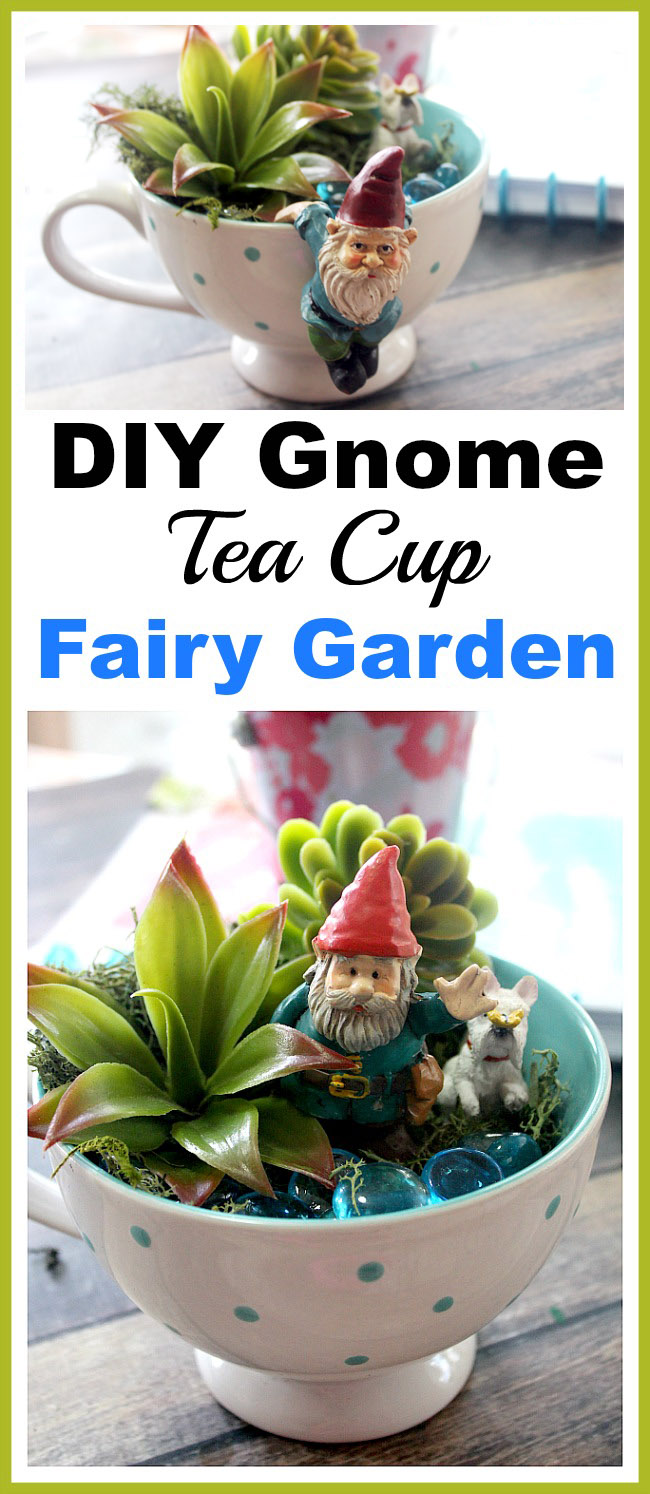 This post contains referral links to Amazon. Please see our Disclosure Page for more information, and thanks for supporting this site!
  About Jody: I am a Florida girl through and through living the semi-country, small town life.  I am making my way through it with my amazing hubby, 2 beautiful kids, 2 of the best Dachshunds to ever walk the face of the earth, massive amounts of coffee and a whole lot of Jesus. I homeschool, craft, cook, scrapbook, garden, raid the thrift shops, snap 1,000's of photos, and read when I can grab a spare minute (which is rare). You can find me blogging at Simply Southern Sunshine.
You might also be interested in: