There are tons of different commercial cleaners available nowadays to help with any kind of cleaning job. Unfortunately, most of those cleaners contain questionable chemicals. Luckily, it's possible to make your own cleaners and avoid dangerous solutions altogether. You can save money and protect your family's health by making your own cleaners using things you already have- like hydrogen peroxide! Here are 8 All Natural Hydrogen Peroxide Cleaning Recipes to clean almost everything!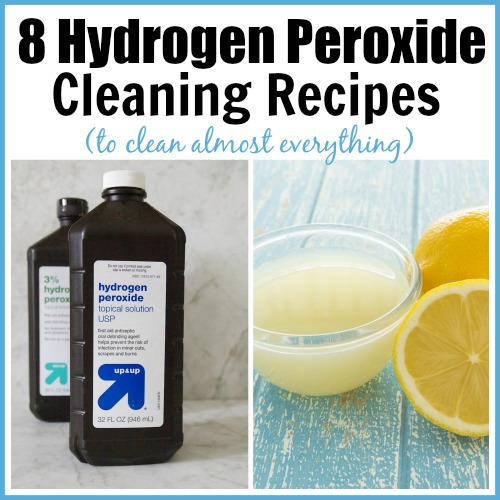 Disclosure: This post may contain affiliate links to Amazon and/or Etsy, which means that I may earn a small commission from some of the links in this post. Please see our Disclosure Page for more information.
Hydrogen peroxide is a natural disinfectant, so it's a great alternative to bleach. And it's super inexpensive, making it a wonderfully frugal natural cleaner!
8 Hydrogen Peroxide Cleaning Recipes
Remember to make these recipes as written, and don't add other things to them to try to boost them further. This can be dangerous, depending on what you add. For example, vinegar and hydrogen peroxide mixed together create peracetic acid which can create harmful vapors. And do note that all these all-natural cleaners made with hydrogen peroxide use the typical 3 percent hydrogen peroxide that you can find at the pharmacy. Food-grade hydrogen peroxide is sold at a 35 percent concentration, which is much stronger than you'll probably ever need it.
Also always store your hydrogen peroxide mixtures in dark containers or dark spray bottles in a cool location. The reason why hydrogen peroxide always comes in those dark brown containers is that if it gets heated by the sun (or anything else) it'll turn into oxygen or water (its chemical formula is just H2O2, so this happens very easily).
1. All-Purpose Cleaner
If you make any hydrogen peroxide cleaning recipes, it should be this one! Quickly make your own safe all-purpose cleaner with just a few ingredients! Get a spray bottle and pour the following into it: 1/2 cup peroxide, 1 cup water, and 2 tablespoons fresh lemon juice (or several drops of lemon essential oil). You can also use other essential oils if you prefer a different scentIf you plan to use this on porous stone (like marble), leave out the lemon juice/lemon essential oil. And even then, only use it on light colored stone, as using hydrogen peroxide on dark marble can cause the surface to become discolored.
2. Bleach Alternative
Rather than pouring bleach on your clothes to whiten them, try this all-natural cleaner! Just mix 1 cup peroxide, 1/2 cup baking soda, 1/4 cup lemon juice, 10 drops lemon essential oil, and 8 cups of water together. This will make a lot of solution, so you'll need a gallon size container. Use 1 cup of this bleach alternative with your load of laundry, with the machine set to use hot water.
3. Rinse Aid
If you try any of these hydrogen peroxide cleaning recipes, you have to try this DIY rinse aid! Just mix together 6-10 drops of lemon essential oil and 1/4 cup of hydrogen peroxide. Add that to your dishwasher's rinse aid compartment and it'll help get your dishes even cleaner!
4. Mold and Mildew Cleaner
Getting rid of mold and mildew in your home doesn't have to require harmful chemicals. All you actually need is 1 cup of peroxide and 2 cups of water mixed together in a spray bottle. Spray this solution onto the mold or mildew, let it sit for 15 minutes, then use a scrub brush to scrub it and the mold/mildew off.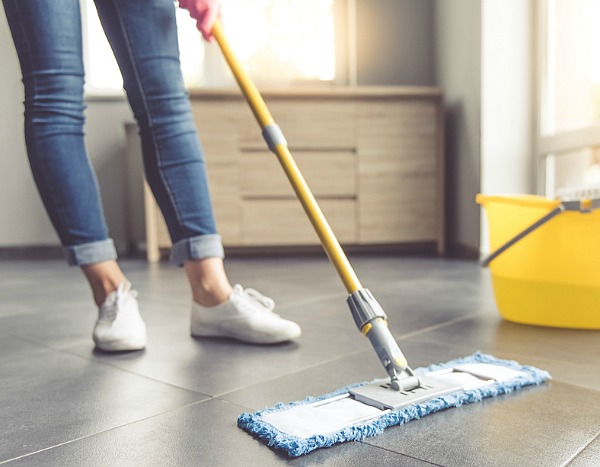 5. DIY Floor Cleaner
Another one of the all-natural cleaners made with hydrogen peroxide that you really have to try is this DIY floor cleaner! Mix peroxide and hot water in a 1:1 ratio, then spray it on your floor before mopping, or put it in a bucket and dip your mop into it. It'll make your floors clean and sanitized! Just don't use this solution on hardwood floors, as it can possibly discolor them.
6. Toilet Bowl Cleaner
Easily clean your toilet bowl by mixing hydrogen peroxide and water in a 1:1 ratio. Put this is a spray bottle, then spray it liberally into the toilet, coating the bowl. Then scrub the bowl and flush it clean. Because the peroxide dilutes in the water of your toilet, this is safe for septic systems.
7. Grout Cleaner
Hydrogen peroxide makes a great grout cleaner as well! All you have to do is combine peroxide and baking soda until you get a paste. Smear that onto your grout and let it sit for 1 hour. Then get a scrub brush or scrubby sponge and scrub at the grout. When you're done, use a damp paper towel to wipe away the peroxide paste and admire your pretty white grout!
8. Homemade Humidifier Cleaning Solution
Why pay for a cleaning solution for your humidifier when you can easily make one with peroxide! To use it, fill your humidifier 3/4 of the way full with plain water. Then add a few cups of hydrogen peroxide to the tank. Use something like a wooden spoon to stir the peroxide into the tank, then leave it to sit for an hour. When the time is up, pour out the solution, then rinse the tank with cool water and wipe down the insides (if possible, depending on the design) and let it air dry for an hour. Your humidifier will be clean and sanitized!
Do you use any hydrogen peroxide cleaners?
You may also be interested in: 25 Homemade Cleaners