NOW is the time to get yourself to the thrift store people! This and next month are probably the best months for thrifting since people are in the downsizing, decluttering, organizing set of mind with it being a New Year and all (I know I am).  I've been looking for curtains for my kitchen window since we moved into this house in October and just couldn't find what I liked (and left my old curtains at the house we sold).   Happily I found some really cute curtains at Goodwill that I made-over to fit my kitchen windows and they were only $5.65! Frugal decorating score!
Disclosure: This post may contain affiliate links to Amazon and/or Etsy, which means that I may earn a small commission from some of the links in this post. Please see our Disclosure Page for more information.
I did buy a tension rod (so I don't have to make holes) at Bed Bath & Beyond which was more expensive than buying one from Target etc but I didn't like the ones they had there. I wanted one with a brushed nickel look since that's the color of the light fixture above the window. I did use  my 40% off coupon so probably the whole set up cost me  under $11.  I already had the drapery clip rings but I know all the big discount stores sell them and they're not expensive.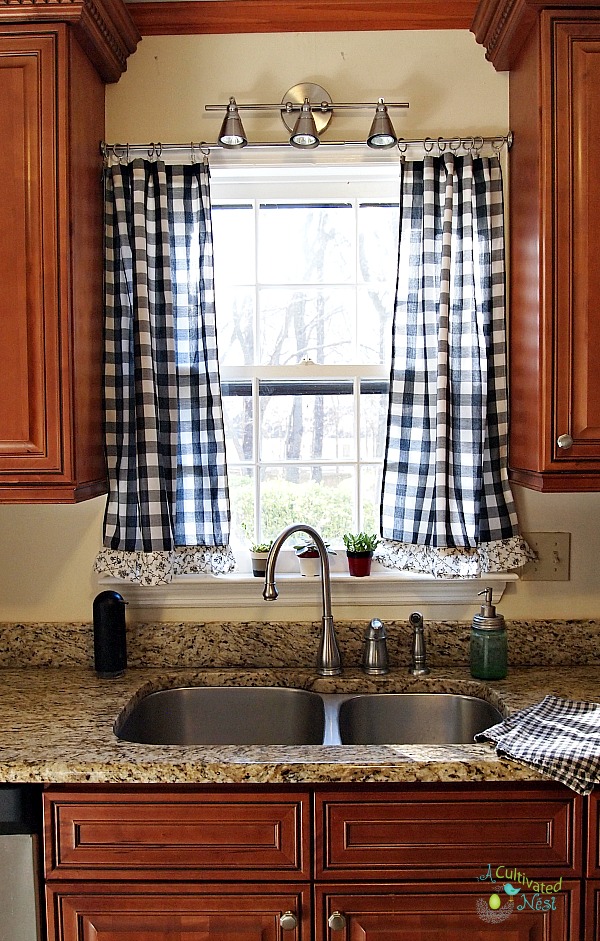 I think black buffalo check is my 2nd favorite pattern after red gingham (which btw, I have really cute red gingham curtains with white ruffles that I tried but they just didn't look good with the tone of the cabinets – bummer cause they are super cute)!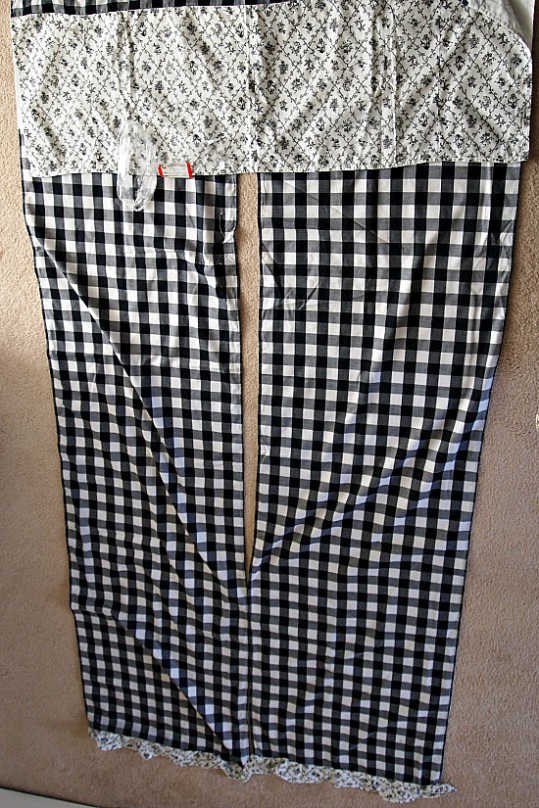 So as you can see, the set I bought at Goodwill came in 3 pieces and the panels were really long and added bonus – they're lined! So they weren't perfect for what I needed them for but that's the great thing about frugal decorating – you can find something at a good price and put a little work into it and it can become just the perfect thing that you wanted!
Here's a brief explanation of how I remade these long curtains into ones that would fit my window.
First,  I placed my curtain rod where I wanted it at the window, measured to the windowsill  and added a few inches (better to have too much material than too little). Then I cut the curtains. The scariest part! Then I folded the fabric, hung it from the drapery clip rings until I got the correct length I needed and pinned it to mark the top (using the horizontal stripes of the fabric as a guide). Then I cut off the excess fabric leaving me about an inch to work with.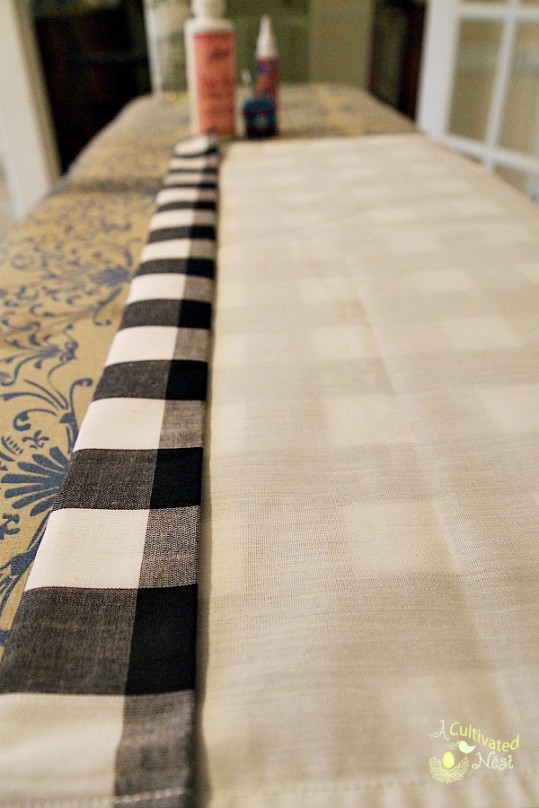 To make my top hem,  I folded over my fabric about 1/4 inch and with a steamy iron pressed a seam. Then I folded this over again to where I wanted the curtain to begin and ironed again. Then I glued this down with some fabric glue to make a finished edge. I let this dry for a hour or so before hanging my curtains.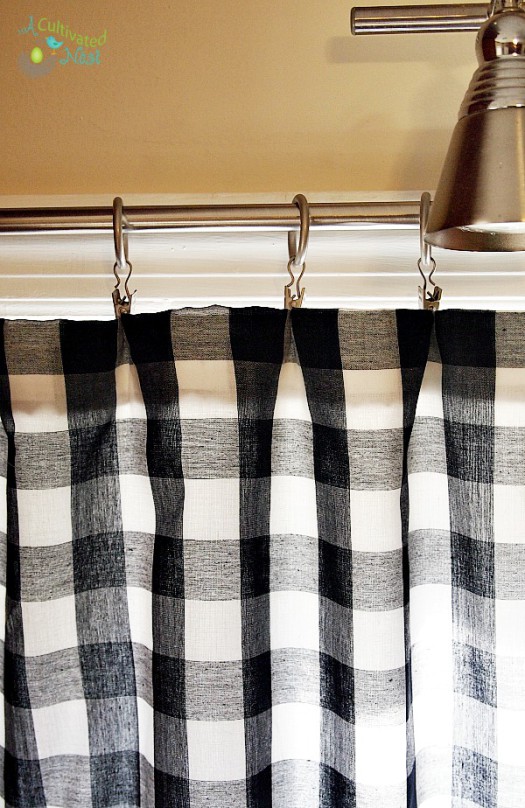 You could make a rod pocket for your curtain and that would decrease the expense but I like how curtains look hanging from clips and have used them for years so I have quite a few in different colors and sizes. Curtains on drapery clip rings slide easier on a rod.
My sewing my machine is still packed away, but it would have just be a straight line sewing – not hard. You could also use fusible fabric tape (Heat N Bond, Stitch Witchery etc)  for a no sew option. I've also used hot glue before for a no sew option but the success of that method depends on the fabric.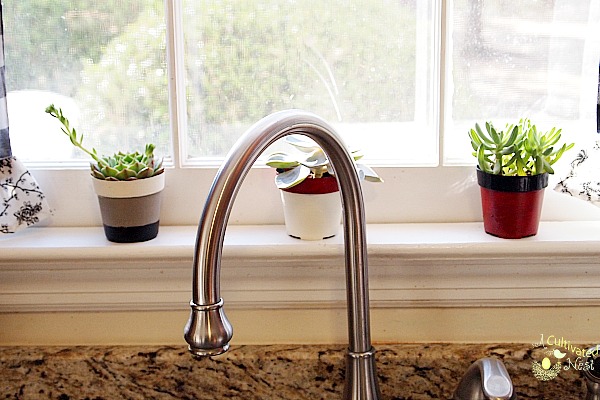 I have some little succulents in painted pots on my narrow windowsill between the curtains,  since the window gets good light.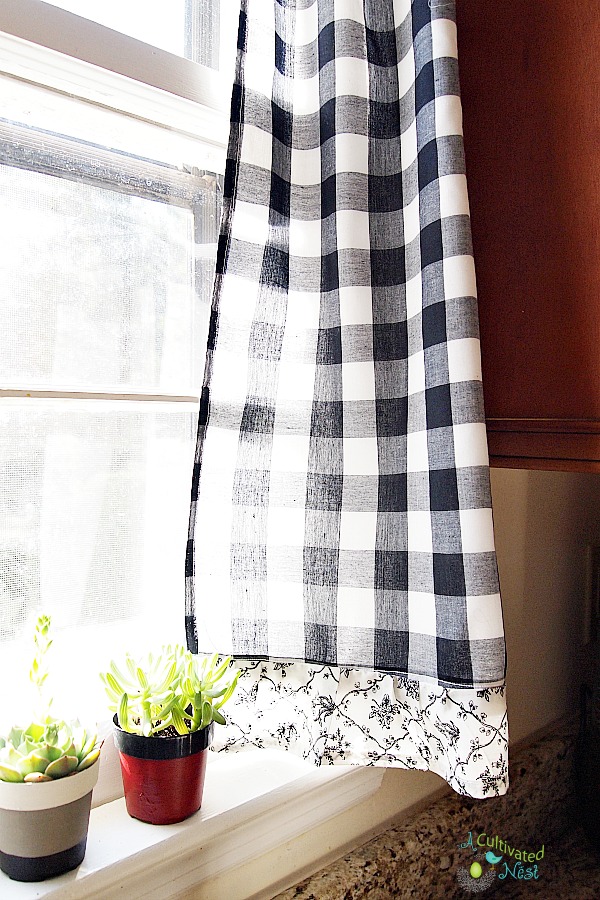 My Goodwill bags curtains, tablecloths, placemats etc while my local independent thrift store hangs them (which I prefer).  It's not uncommon for there to be curtains in bags labeled tablecloths and vice versa (not to mention wrong tablecloth sizes).  So I do carefully open the bags if the pattern looks like one I like since you can't return most items (and re-seal it if it's not what I'm looking for). My local Goodwill stores don't seem to have a problem with that as far as linens are concerned. They don't seem to want you to do it for toys or little knick knack type things though…so know the policy at your thrift store before opening bags. My small independent thrift store won't let you purchase any bag that has been opened (which is why it's great that they hang linens)!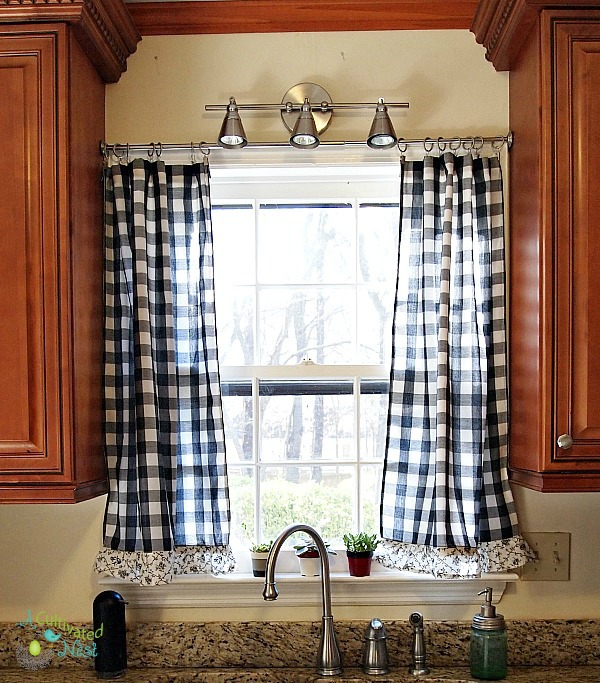 I still have the valance and some of the panels leftover so I could use them for curtains on another window or just use them as material and make pillows etc out of them!
So if you need something, go to the thrift store and see what you can find. You might be pleasantly surprised!
You might also be interested in:  7 Tips for Successful Thrifting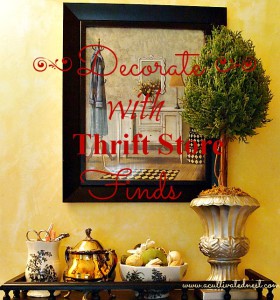 Don't miss a post! Get this blog delivered by email every time I post.  Subscribe via email here