Organization is very important, especially if you're trying to live frugally! It's critically important in the kitchen, where so much time and money is invested. We spend a lot of time organizing our kitchens with bins, baskets, jars, and labels, but we often forget one of the most important kitchen organizing tools – the kitchen binder! I find binders very helpful in organizing different aspects of my life. A kitchen binder will help you keep your meal plans, recipes, shopping lists etc all in one place.  To help you fill in your very own kitchen binder, free printable kitchen binder pages are included at the end of this post!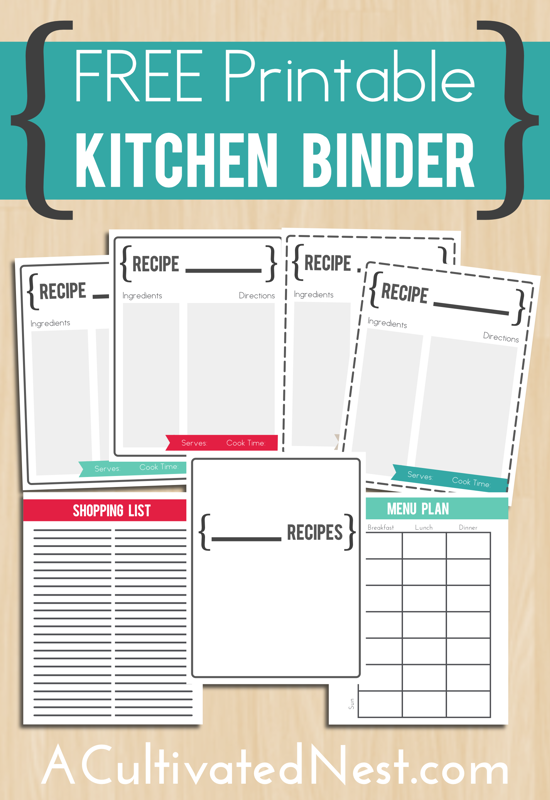 Why You Need a Kitchen Binder
Disclosure: This post may contain affiliate links to Amazon and/or Etsy, which means that I may earn a small commission from some of the links in this post. Please see our Disclosure Page for more information.
A kitchen binder is a way to minimize the time and money you spend on food preparation. It's a recipe binder with a few other important pages. A good kitchen binder will include a page for menu planning, followed by a shopping list that you can fill in, and finished off with recipe pages that you can fill in.
The Menu Plan Page
The menu plan page is very important in helping you achieve several goals. If you're on a diet, having your meals for the week planned out will help keep you from straying toward unhealthy choices because you won't have to make last-minute decisions. A menu plan also helps you look ahead and decide what you might need to buy, and gives you a chance to take advantage of any upcoming sales. Lastly, menu planning can help you save time. If you know that something you're chopping up today will be needed in a recipe tomorrow, you could chop up extra and keep it in the refrigerator, saving you time tomorrow. If you've never planned your meals like this before, I've explained how to easily meal/menu plan in a previous post.
The Shopping List Page
The shopping list page is also critically important, and so is also included in our free printable kitchen binder pages. If you're not using some sort of shopping list when you go to the store, there's a high chance that you'll both forget some things that you need to get, and also buy things that you don't really need. A shopping list helps keep you on course, which saves you time and money!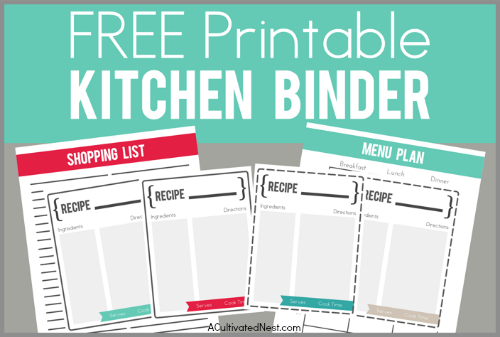 The Recipe Pages
A helpful kitchen binder also includes pages to let you write in your own recipes. This can be handy if you simply don't feel like printing/clipping a recipe page. These pages are also good if you want to transfer old recipe cards, or if you've got a family recipe that you want to write down. Our kitchen binder even includes pages devoted to our versions of homemade dog treat recipes!
Behind all these pages in your kitchen binder is where you can put your printed/clipped recipes. You can put them in sheet protectors to keep them clean, or just 3-hole punch them and stick them right in the binder.
So as you can see, a simple kitchen binder can wind up being helpful in so many ways!
****To download the free printable kitchen binder pages, click the link below!****
Free Printable Retro Style Kitchen Binder
How do you organize your recipes and meal plans? Do you use a kitchen binder?
You may also be interested in: