Unless your thing is to run around in your birthday suit, clothing is one of those pesky must-have items in life. Unfortunately, clothes can be very expensive…especially if you have kids who keep outgrowing their old outfits. Luckily, there are quite a few things you can do to help yourself save money on clothing!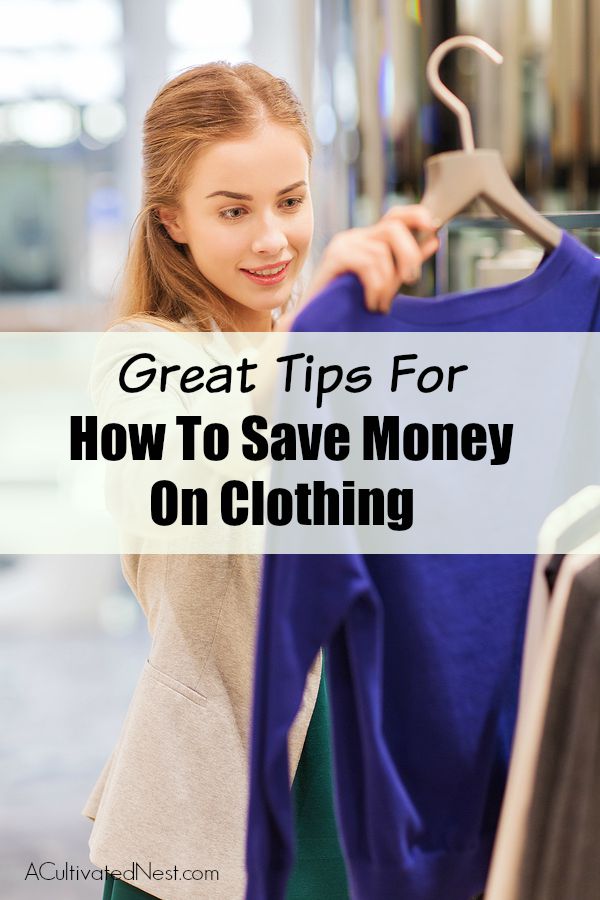 Disclosure: This post may contain affiliate links to Amazon and/or Etsy, which means that I may earn a small commission from some of the links in this post. Please see our Disclosure Page for more information.
Clothes get worn out after a while or maybe you've lost or gained weight. Dress yourself for less with these great tips!
How to Save Money on Clothing
1. Host a Clothing Swap
Gather up all the clothes your family has out-grown or no longer likes. Then get together with your friends and swap clothes piece for piece. This will help you keep everyone's costs down and score some "new" clothes for your family.
2. Shop Thrift Stores
Dark and dank secondhand shops are a thing of the past, and in their place are upscale, well lit, and well stocked stores. Use them to your advantage to clothe your family. Goodwill in particular always has a large variety of clothes available, including brand-name apparel and accessories. If you don't have any quality thrift stores in your area, it may be worth a short drive to find one.
3. Mend and Make Hand Me Downs
If the only reason you're considering replacing an item is because of a hole, a tear, or a missing button, see if you can mend it. It's much cheaper to repair your current clothes than to get new ones. And if you have older kids, you can mend their clothing and pass them down to the younger kids. If you do this though, make sure that the clothing is still in style. No one, especially kids, wants to wear clothing that is drastically dated.
4. Learn to Sew
Sewing is one of the best frugal hobbies you can have and is an excellent way to save money on clothing. Buying fabric and sewing supplies can be cheaper than buying new clothes. Repurposing clothes you already have is also easier when you have some sewing skills. And making your own clothes gives you a sense of accomplishment that you may not have had before. Also, it'll allow you to make clothes in the exact style and fit that you prefer. You don't have to sew clothes from scratch, either. To save time, you can use a thrift store outfit as a base, then change it to fit your personal style.
5. Only Shop Sales
By only shopping sales, you ensure that you're saving money on the clothing items that you do have to buy. Coupon codes are almost always available for online shopping and there are several key times per year that most retailers have massive blow out sales to help clear their merchandise. Use these sales and coupons to your advantage and really save.
6. Mix and Match
In reality, you only need a few of each clothing item in your closet. Shirts will go with more than one pair of pants or skirt and so on, so when you purchase clothing, be sure that you are figuring out exactly what outfits you can make with each item. You'll be surprised that your closet seems so full while you've spent much less money than normal.
If you follow these tips, you're sure to save money on clothing and still look like you spent hundreds of dollars!
How do you save money on clothing?
You may also be interested in: 15 Ways to Repurpose or Restyle T-Shirts