I've wanted some really big letters that spelled "Porch" for my screened porch but couldn't find any that were really big at a reasonable price (I love/want the Pottery Barn ones). So I've been thinking of how to get what I want at a reasonable price. I actually did find one huge letter at Goodwill but it was an "L" and it was the only really big letter I've seen there in years!
Disclosure: This post may contain affiliate links to Amazon and/or Etsy, which means that I may earn a small commission from some of the links in this post. Please see our Disclosure Page for more information.
Do you all have a place like this in your yards! A place where you store bits and pieces of things you don't know where else to put? This is behind our barn so it's hidden and even our neighbors don't see it as it's at the back of all our properties and they have lots of trees!
I'm keeping old windows and doors to make a greenhouse one day! But I spied two old fence boards and though they looked interesting. Then I decided to use one to make a sign for my porch.
So originally I was going to do "The Porch" but we decided on "Paradise Found" because sitting in our porch early in the morning or late at night is paradise!
How to hand paint a sign.
1. Decide how large you want your letters. These are at 400 and I used Microsoft Works Word Processor but any program you use that has fonts would be fine. To change the size you have to type in the size you want in the font size box and then hit enter. The font I used was Times New Roman but sometimes I choose a more cursive font.
2. I sanded my fence board because it was rough and dirty and then I dry brushed some white on. Usually I use a flat or matte paint underneath the wording.
3. To transfer your word(s) onto your sign use either graphite paper which is what I did here or cover the back of your words with artists charcoal or crayon. I've used all these methods and the graphite paper ($2 at Michaels) has been the easiest to work with.
4. Use a dull pencil or something that's not too pointy and trace over your printed out letters. You should have your board, graphite paper and printed out words in that order.
Now your letters should be transferred and all you have to do is fill them in! You can use a paint pen if you think your hand isn't steady enough for a paint brush. I've used them both and for me one isn't easier than the other. I've used house paint (great way to use up those little bits left in a can) and craft paint. Both work fine. I've never used a high gloss paint (don't ever really  paint with it) so I don't know if that will work as well but I imagine so.
It's really pretty easy and I'm getting better at it the more signs I make!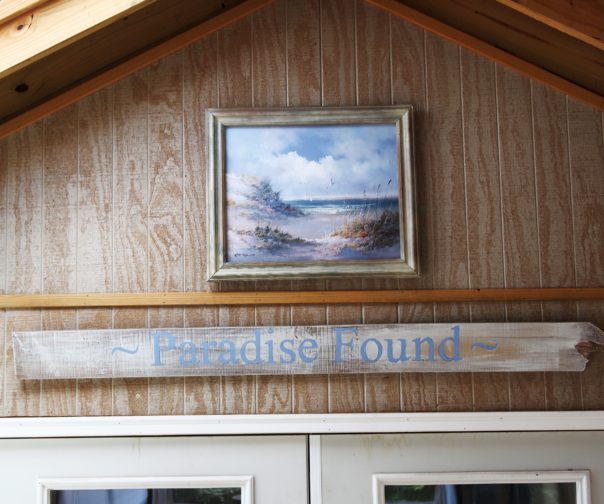 You can find some scrap lumber in lots of places – just keep an eye out for it and an open mind! Even if you had to buy a piece of lumber you could easily get at least three signs from it. I hope you try it! I think this would make a wonderful and inexpensive Christmas present that's easy to personalize!
Think of the possibilities! It's never too early to start thinking about Christmas especially if you want to give handmade things!