Pesto makes everything taste better (like bacon 🙂 ).  It really adds a flavor boost to just about any recipe! This pesto chicken salad is SO yummy and VERY easy to make! I included a recipe for homemade pesto (also super easy) but you can use store bought pesto to make it even quicker. This is a great recipe for using up leftover chicken (or turkey) in the fridge or you can use a rotisserie chicken from the store. You can serve it on the bread of your choice or simply serve over a salad for a lighter meal.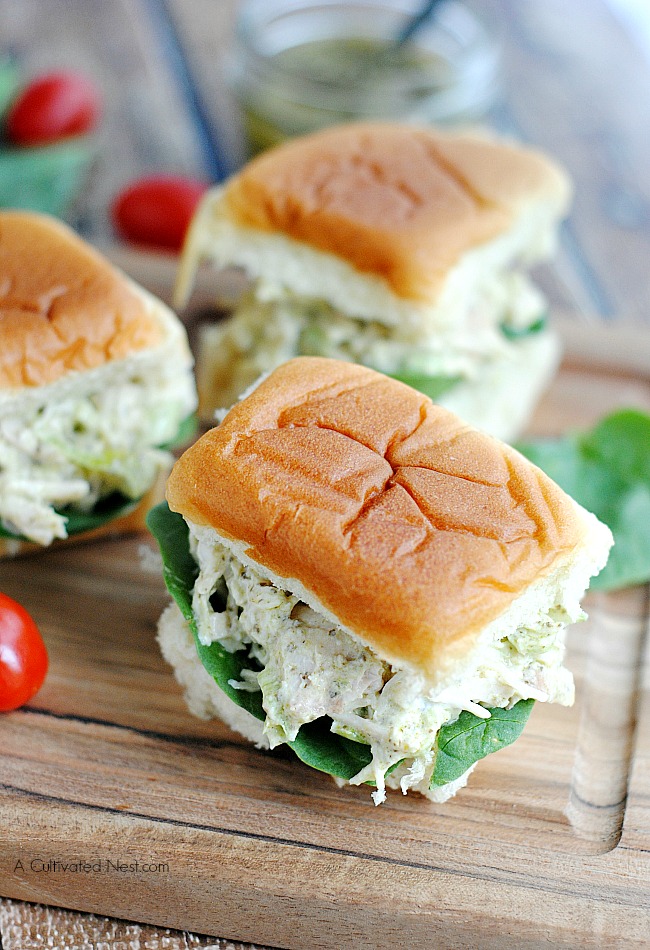 This is a really nice change from your typical chicken salad!
Pesto Chicken Salad
Ingredients:
2 C. shredded chicken (you can use the beater attachment on your Kitchen Aid to easily shred chicken)
1/4 C. mayonnaise (you could also substitute plain Greek yogurt for the mayo to lighten the recipe up)
1/8 C. green onions, diced
salt and pepper to taste
baby spinach leaves and tomatos, for serving (optional)
bread, croissant, pita pockets or rolls of your choice
*Makes 2 servings.
Dairy Free Pesto Ingredients:
2 C. fresh basil leaves
2 tsp. fresh, minced garlic
1/4-1/3 C. olive oil
2-3 tbs. pine nuts (can substitute walnuts)
Directions:
1. Combine the basil, garlic and pine nuts in a blender or food processor. Pulse until blended. Keep your blender or food processor on and add the olive oil until smooth. Store in the fridge in an airtight container up to 2 days.
2. In a bowl, combine the 2 cups of shredded chicken, mayonnaise and green onions and pesto. Mix well and add salt and pepper to taste.
Serve on bread of your choice or on top of salad.
*I have made this with a 7 ounce container of Buitoni Pesto (refrigerator case). I use almost the whole container. If you have pesto leftover you can spread it on the bread as well.
This is very simple to make and takes about 10 minutes to put together!