We are not hugely into Valentine's Day but  I do like to acknowledge the different seasons and holidays and make them special for my family. So I do a  little something for almost all the major holidays.  You may have noticed a few VDay things sprinkled here and there in various recent posts. Like these XO letters.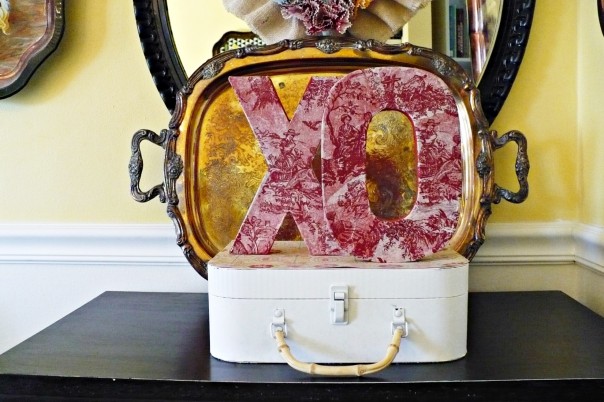 These are  cardboard letters from Michael's that I decoupaged  with toile tissue paper a few years ago. I don't have any new Valentine projects to share (other than the cupcake liner wreath)  since I'm busy moving furniture and painting 🙂
I thought I'd share a few Valentine Decor Ideas from other people that I thought were fun and easy to do.
These are projects that I'd do myself if I had the time! Please click on each photo to go to it's source.
Easy tutorial and it only cost her $4! Love it AND I could see re-working it for Christmas.
This is a FREE  8×10 download! Might do this one if I can find a frame.
These are just old paperbacks wrapped with paper that have the lyrics to a song printed on them. So romantic!
Don't you love all these gorgeous colors she used in this easy felt garland! She posted her whole Valentine's Day mantel and it's really cute  & packed with lots of ideas.
Hope this gives you some easy and inexpensive ideas to add some fun Valentine Decor to your home!
Have a super weekend!