DIY Hand Soap Recipe.
If you are someone who is always on the lookout for all-natural cleaners and body products, then you have likely noticed that most of the ones on the market are expensive, and sometimes not labeled accurately. The labels can say things like all-natural but still contain some ingredients that are anything but that! This can make buying these products very frustrating. But an easy way to avoid all of that frustration is just to make things yourself! If you want a fuss-free natural DIY hand soap, then you need to make my Sunshine Clean All-Natural Hand Soap!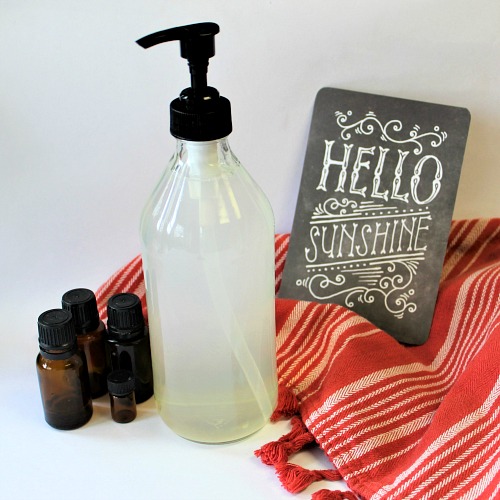 Disclosure: This post may contain affiliate links to Amazon and/or Etsy, which means that I may earn a small commission from some of the links in this post. Please see our Disclosure Page for more information.
I have found that it is so much easier to make natural products like hand soap at home. 90% of the time they end up costing far less than commercial products, and they take only a handful of ingredients, not that long list you'll see on store-bought bottles. So save money and create this frugal all-natural hand soap for your family!
DIY Sunshine Clean All-Natural Hand Soap
Hand soap is one of the easiest things to make. And after making it you may find you like it better than commercial hand soaps!
My homemade all-natural hand soap recipe uses just 2 main ingredients plus your essential oils. It is super easy to make and you can change up the scents if you like to create something that better fits your tastes or the season.
Essential oils should be the purest form when using them in this type of recipe since it's going on your body. The best is therapeutic grade and organic, but just therapeutic grade is fine, too. If you're using an essential oil topically for the first time, you may just want to make a small batch of this soap first. I used lemon and lavender essential oils in my recipe, which of course didn't bother my skin, but some people can be sensitive to them. Mint and tea tree essential oils are two other oils you'll want to be careful with, if you choose to add them.
I chose to use lemon essential oil in this recipe because not only do citrus oils smell amazing and uplifting, but they are wonderful cleaners. But they can break down some plastic containers, so it'd be best to use them in a glass or stainless steel soap pump. If you don't have one of those soap pumps, the plastics that should be okay to use are the HDPE, #1, and #2 plastics.
I also added rosemary and lavender oils to the recipe for their awesome germ-killing abilities. They are both antibacterial and anti-fungal. Lavender is also amazing for the skin.
So, find yourself a cute container and let's make some DIY hand soap!
Materials
14 oz. filtered water (I used my filtered water pitcher)
1 tbsp. Castile soap – I used the lavender scented one for this one, but the almond one is also fantastic. There is also an unscented variety available.
4 drops rosemary essential oil
5 drops lemon essential oil
6 drops orange or tangerine essential oil
3 drops lavender essential oil
Small funnel and measuring cup and spoons
Directions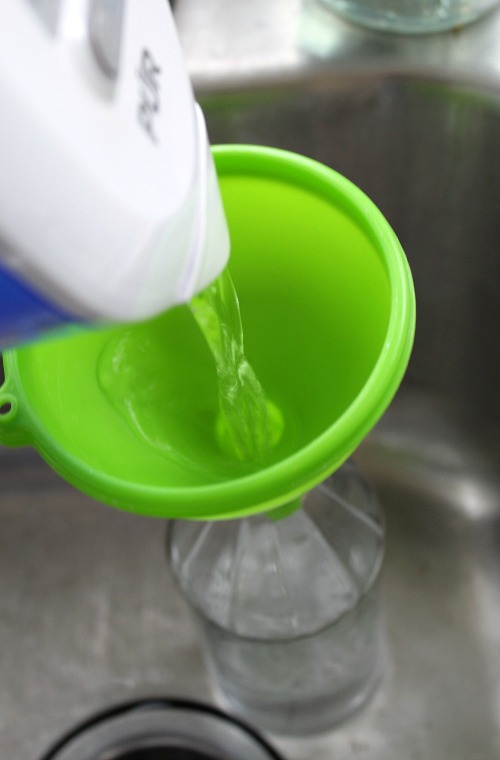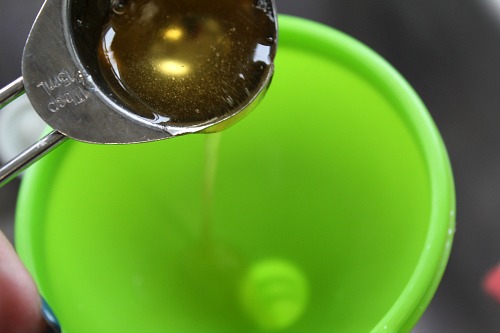 1. I measured my ingredients right into the container for this, as there isn't anything that needs real mixing. Shaking it up well is enough. Begin by measuring the water and adding it to the container, using a funnel if the neck of the container is very small. Then, measure out your Castile soap and add that to the water.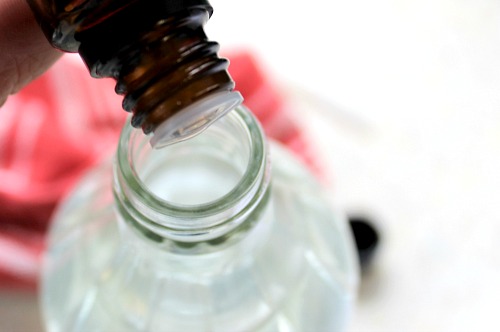 2. Next, carefully add in each of the essential oils, one at a time. All of these oils are thin in consistency, so go slowly when adding the drops. It is very easy to over-pour if you aren't cautious.
3. Once you have all the drops in the mixture, place the lid on nice and tight and then shake the soap well.
You are now ready to use your soap!
To use – Wet  your hands first and then pump a small squirt of the soap out on them, lather, scrub, and rinse. Did you know that the CDC recommends scrubbing your hands for at least 20 seconds? That may be longer than you're used to!
If you notice the oils have separated any in the time the soap was sitting still between uses, just give the bottle a good shake before using.
Disclaimer: While rosemary and lavender essential oils are supposed to have anti-bacterial properties, there is no guarantee that their addition to their DIY hand soap gives the soap enough anti-bacterial properties to be significantly important. So if someone in your home is sick (like with the flu, etc.), it would be best to use a commercial antibacterial hand soap to keep everyone else healthy while they recover. This homemade hand soap is not intended to help prevent any diseases.
What all-natural products do you like to DIY?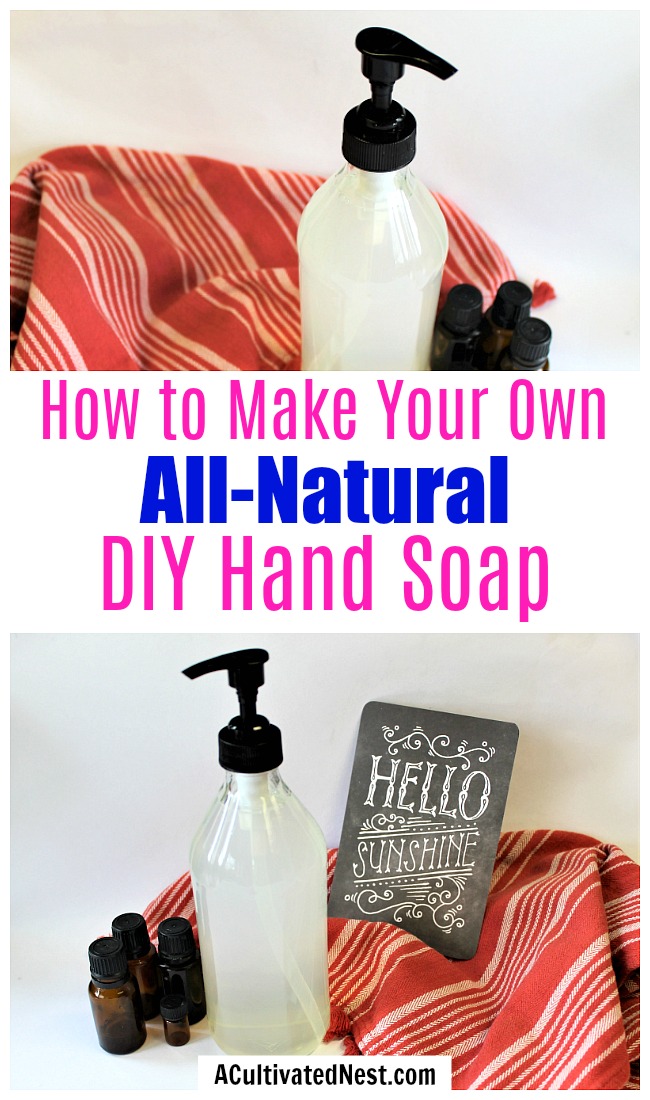 You might also be interested in: DIY Liquid Dish Soap