How to Keep Chipmunks Out of Your Garden.
Planting spring or fall bulbs can be a frustrating experience. You spend all this money on bulbs, and the next thing you know a chipmunk has dug them up and is nibbling on them for lunch! Planting bulbs can feel like a losing battle, but the good news is there are ways to keep those chipmunks at bay and experience success. Take a look at my 7 Tips for Keeping Chipmunks Out of Your Bulbs, and see how easy it can be to protect your bulbs and enjoy beautiful blooms each spring!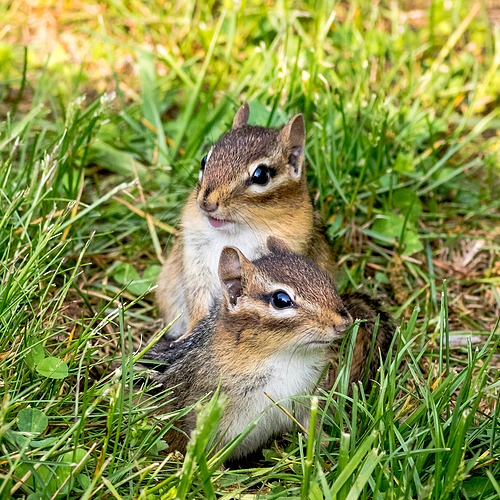 Disclosure: This post may contain affiliate links to Amazon and/or Etsy, which means that I may earn a small commission from some of the links in this post. Please see our Disclosure Page for more information.
Since we have a dog, all of these tips for keeping chipmunks out of your bulbs are pet-friendly. Even if you don't have pets, I wouldn't recommend using poisons or mothballs as they could be ingested by a neighborhood cat, loose dog, or some other non-chipmunk animal.
7 Tips for Keeping Chipmunks Out of Your Bulbs
1. Try soap shavings.
Many gardeners swear that shavings of Irish Spring soap keeps pests out of the garden. Try placing chunks or shavings around your newly planted flower bed and see if this helps. You may need to replace the soap after heavy rains. This is an easy and cheap way to try keeping the chipmunks away, and a great first option. I only do this with the bulbs I plant outside of my fence, so my nosy dog won't feel inclined to eat the shavings. According to Just Answer Veterinary, if a dog ate the soap, they'd most likely just have have an upset stomach. The same seems to be true for cats that eat soap. In fact, Irish Spring original scent may also act as a type of cat deterrent to keep neighborhood cats away.
2. Hair clippings might help.
Some say that chipmunks don't like the smell of humans, dogs, and cats of course. Try placing some hair clippings (simply brush your pet and remove the hair from the brush) and place it around the newly planted bulbs. The smell may be enough to keep the chipmunks from digging.
3. Make sure you bury the bulbs to the correct depth.
Sometimes, gardeners don't bury their bulbs deep enough. Make sure you are planting according to package directions. While each bulb will vary, most will be in the 2 inch category. By making sure you bury deep enough you can be sure the chipmunks don't catch a whiff of the bulbs below.
4. Temporary netting can help.
A temporary solution you can try is placing garden netting over the bulbs. Secure the netting with stakes so the chipmunks can't dig. This is smart to try while the bulbs are young. As soon as they start sprouting you can remove the netting and allow them to grow.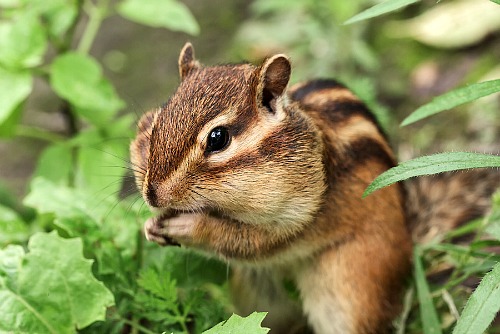 5. Over the counter critter repellents are a possibility.
Home and garden stores sell all sorts of chemical sprays and granules that can be used to keep chipmunks out of your bulbs. Use these with caution as many contain harsh chemicals that may keep beneficial creatures such as bees, birds, and butterflies out of your yard too. Some may also not be safe to spray/spread where children or pets play. Look for natural and organic solutions that are kid/pet safe and opt for those should you decide to go this route.
6. Try hot spices.
Some gardeners believe that placing hot spices around planted bulbs can help. This might mean hot sauce or cayenne pepper. The smell and of course the taste will keep chipmunks from digging. If you experience a heavy rain, you may need to reapply the hot spices in order for them to keep working. Hot sauce/cayenne pepper are also safe to use around cats and dogs and act as cat/dog repellents as well.
7. Hang shiny objects.
You may be able to scare chipmunks from the area if you hang shiny objects around the planting beds. Windchimes may also work. When they see these items flicker in the light or make noise, they may wish to run! If you are looking for a non-chemical and gentle way to keep chipmunks out of your bubls, this may be a great idea. You can also consider any lawn ornaments that make noise or motion when they blow in the wind. Even the dollar store has simple alternatives such as pinwheels and other decorative yard stakes that could work. But be aware that shiny things may also scare away birds, so be strategic in your placement of your shiny objects.
Are you ready to win the war against chipmunks? Then try some of these tips for keeping chipmunks out of your garden. They might just help you enjoy some springtime bulb success after all!
What have you done to try to deter chipmunks so far?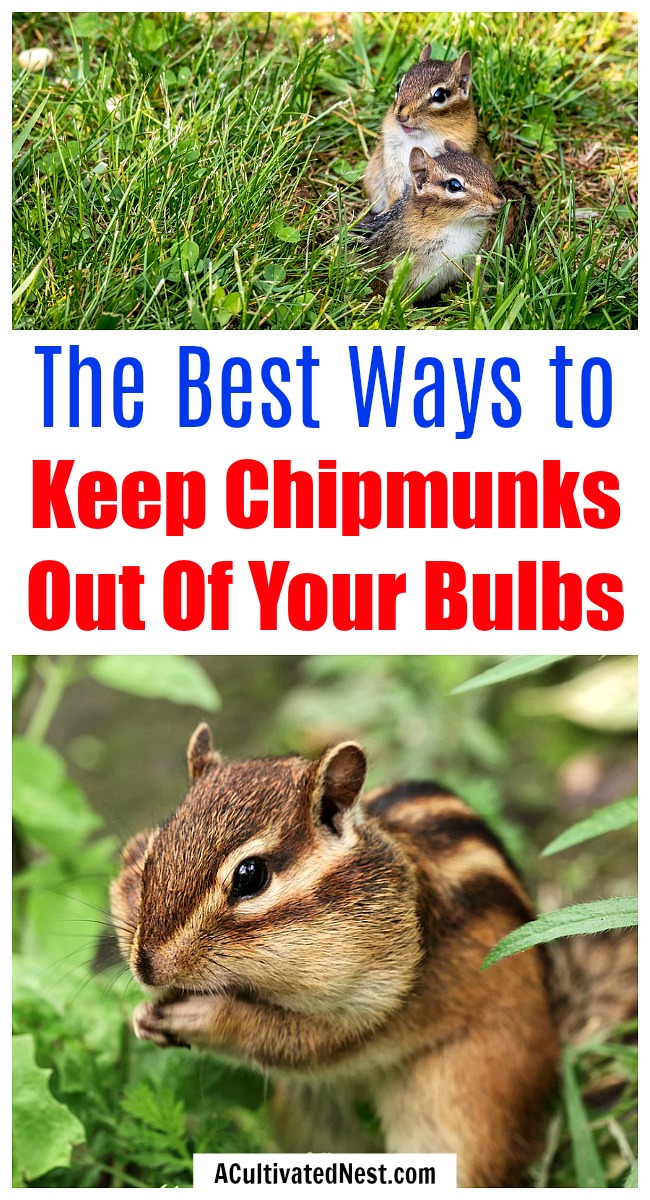 You might also be interested in: 6 Ways to Use Pine Cones in Your Garden