Happy weekend everyone! Back in December I mentioned that I would be starting a new weekend DIY series featuring ideas that I find while roaming the internet that I think are great, easy to do and helpful in some way. Either an upcycle idea, or a homemade cooking or cleaning idea, a frugal remodeling project, or a get the look for less project, you get the idea! My intent has always been to encourage you to make the most of what you have and to cultivate beauty in your home & garden through frugal means.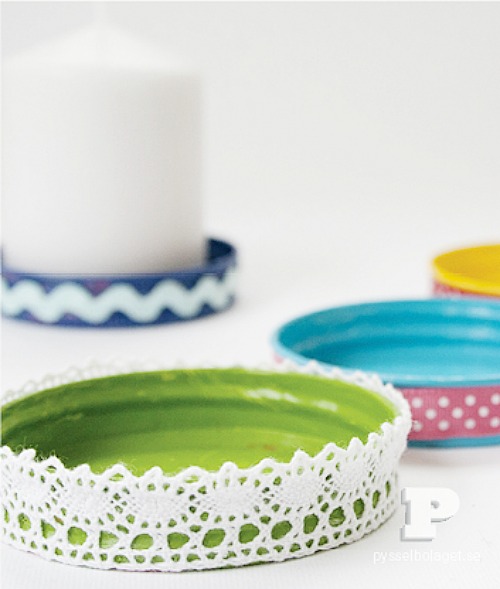 I think this Saturday DIY series will help you and me accomplish this while featuring some fantastic ideas from other bloggers! One request, please go to their blog to pin their photos and projects. It's only right that they should get credit for their projects.
Make Candle Plates From Old Lids
Disclosure: This post may contain affiliate links to Amazon and/or Etsy, which means that I may earn a small commission from some of the links in this post. Please see our Disclosure Page for more information.
I just think this is an adorable project and I'll be saving my old lids to to make my own candle plates. This project comes from a Swedish Blog Pysselbolaget. She has wonderful self-explanatory photos for her tutorial and although the accompanying instructions are in Swedish, she did add some in English at the very end of her post.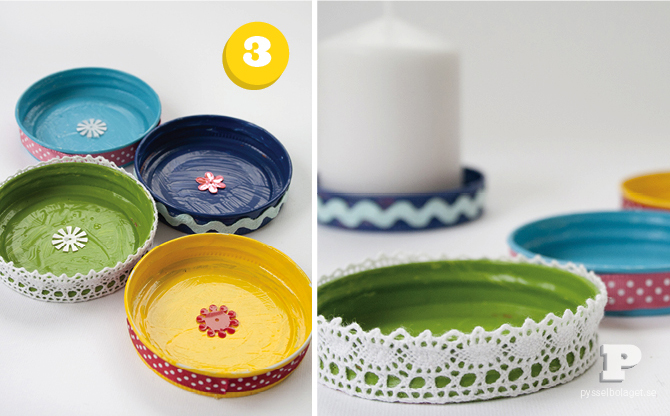 Supplies:
Jar lids
Craft paint & paint brush
Ribbons & lace
hot glue gun
Directions:
See the tutorial at the Pysselbolaget site here: How to Make Candle Plates From Old Lids