What's one of the first things you see when you drive up to someone's home? The mailbox garden! I have a pretty small island around my mailbox but I'm going to make it a bit bigger this year so it can be a little self-contained cottage garden.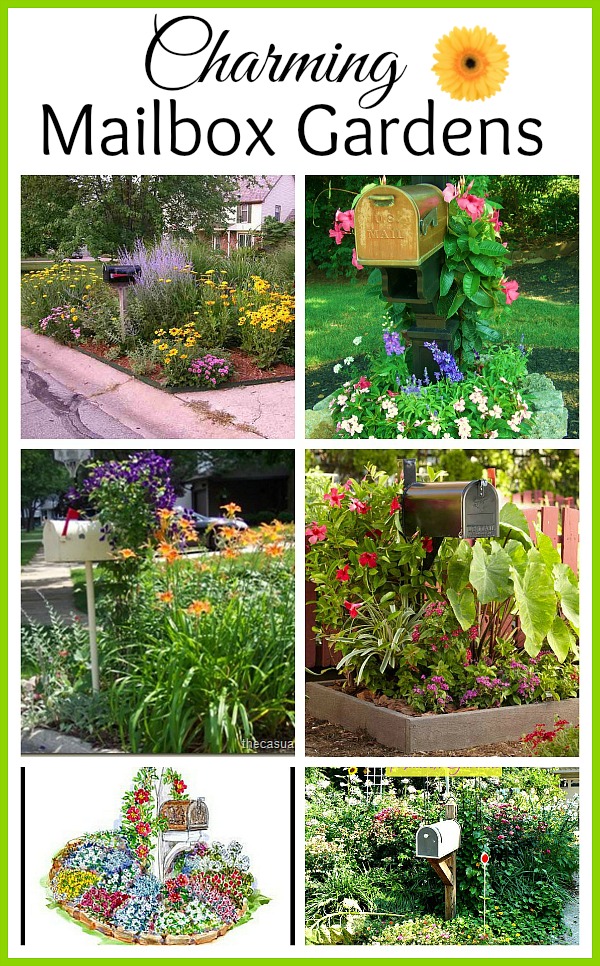 Here are some  pretty mailbox gardens for inspiration because I'm in denial that we're having freeze warnings every day! In my head it's spring!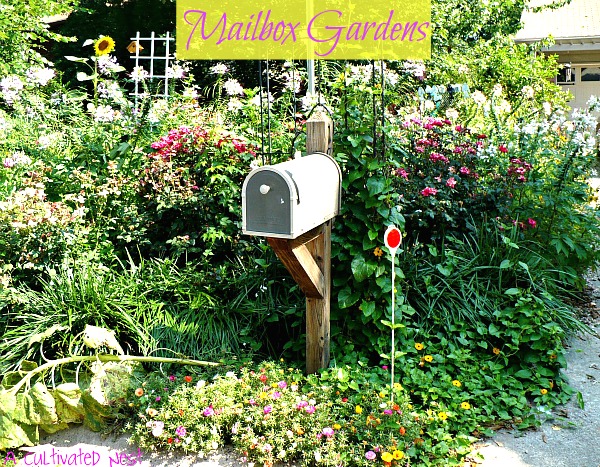 Disclosure: This post may contain affiliate links to Amazon and/or Etsy, which means that I may earn a small commission from some of the links in this post. Please see our Disclosure Page for more information.
This is the cottage mailbox garden of my favorite neighbors (they have 7 dogs – all rescues!).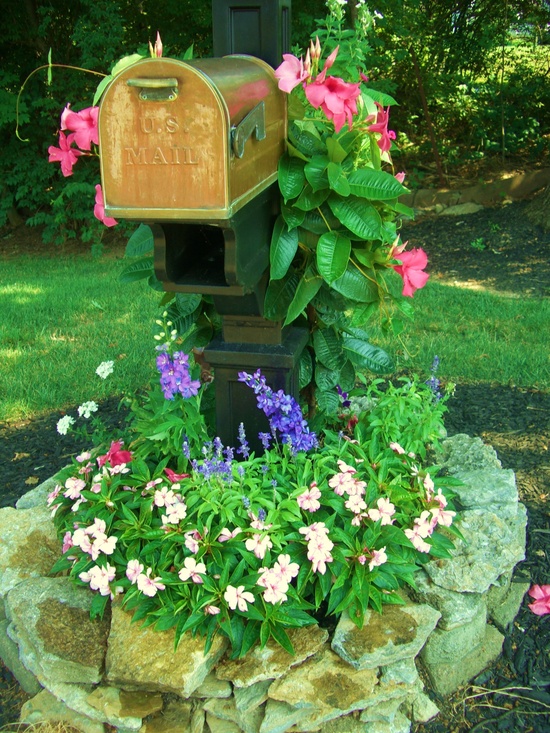 Although I love the look of a mailbox surrounded by climbing vines, I don't like having to dodge the bees while trying to get my mail out! I'm sure the mail carrier doesn't want to have to do that either. Also, you have to keep your flag clear so I think vines should be set back like this one. source: Pinterest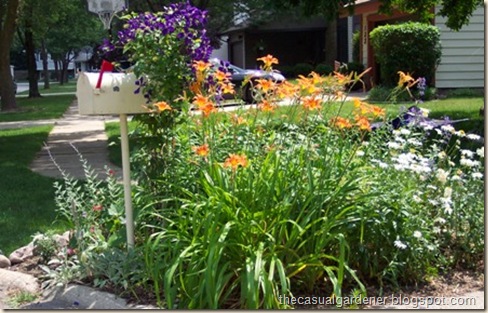 I like this idea of using daylillies via Shauna Coronado. I have so many of them they would be easy to divide and they're drought tolerant.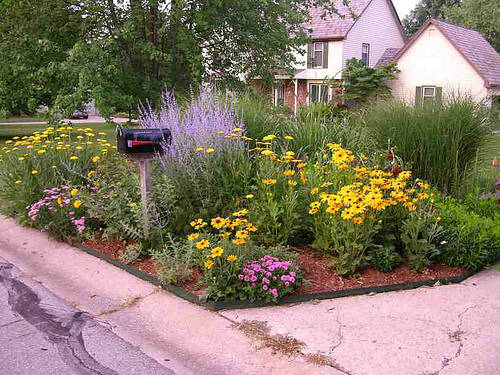 My mailbox is as close to the road as this one. I have very little planting space in front of it so my mailbox garden would have to also be more behind and to the side. I like this idea but on a smaller scale for me.  via About.Com Flowers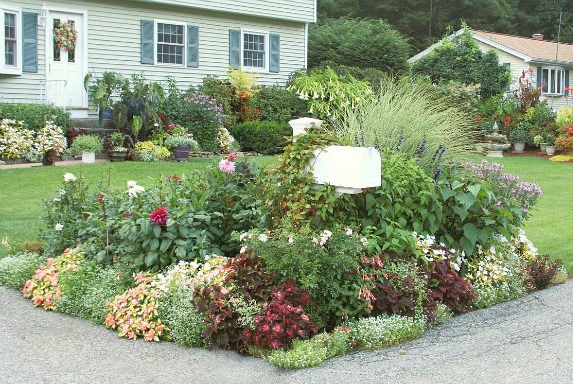 This street side mailbox garden is pretty amazing! Although I don't know how you get in there to actually get your mail. via Fine Gardening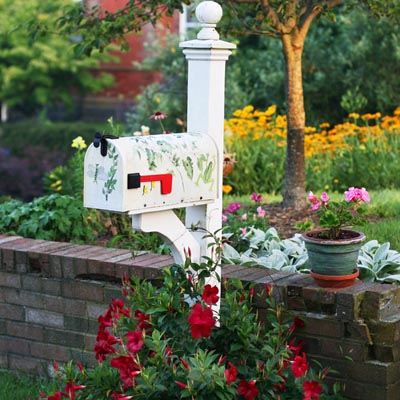 I always enjoy it when people have interesting mailboxes. via Gardening With Bulbs We have a school bus driver in the neighborhood and she has a school bus shaped mailbox!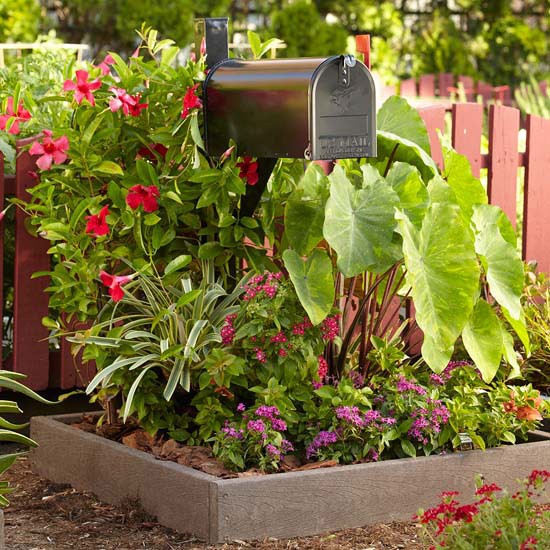 I like this one as it looks likes it's in a raised bed. Maybe it would keep the dogs out! via BHG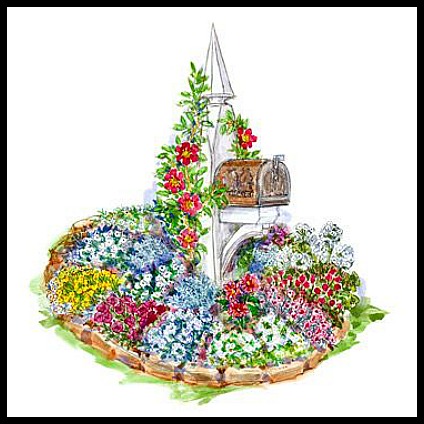 Above is a detailed plan from BHG that you can download at the site.
Of course, mailbox gardens can be more formal & structured (shrubs,ground covers, be conservative with flower colors).
I just like a cottage garden look.
I think a little something around your mailbox, even if it's a flat of begonias, can add lots of curb appeal to your home. Just remember to choose plants that can withstand whatever road side conditions  you have and keep the mail carrier in mind.  I often see mailboxes covered with climbing roses around them and wonder about the thorns!