This is such a pretty idea! It's much nicer looking than a regular umbrella stand and seems very sturdy. Here's how to make a DIY Planter Umbrella Stand!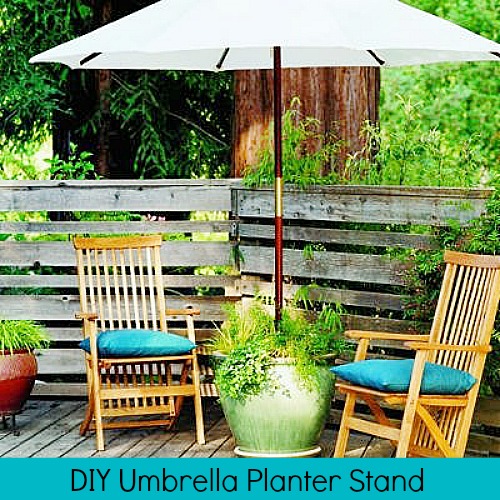 People in the comments say they made theirs for anywhere from $30-50. It depends on the size pot you use.
DIY Umbrella Planter Stand
Materials:
Flowerpot (at least 15 in. tall, with drainage)
3-ft. length 1 1/2-in. ABS pipe
1 square ft. nylon or aluminum screen
1 cubic ft. crushed lava stone
1 50-lb. bag fence-post concrete
3-ft. length 3/4-in. dowel
Planting mix and plants
Patio umbrella
Tools:
Measuring tape
Saw
Shovel and hoe
Garden hose
Wheelbarrow
2 levels
Dolly
Directions:
Disclosure: This post may contain affiliate links to Amazon and/or Etsy, which means that I may earn a small commission from some of the links in this post. Please see our Disclosure Page for more information.
For the complete tutorial on how to make a planter umbrella stand go to Sunset.Com
You may also be interested in: How To Make A Raised Bed From Concrete Blocks