A few months ago I moved the furniture around in my living room which left the bottom of my china cabinet (where I store some china) exposed. I'd always had the furniture arranged so that something like a chair was in front of that cabinet to hide the mess at the bottom since it doesn't have doors. So,  in order to hide my messy cabinet bottom, I made a little red toile skirt to cover that area of my china cabinet.  Love it!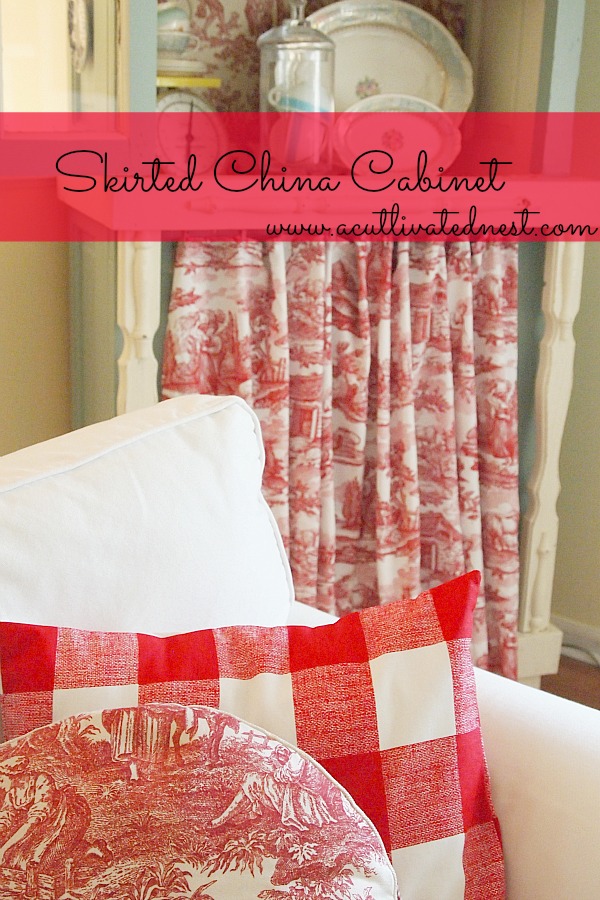 Disclosure: This post may contain affiliate links to Amazon and/or Etsy, which means that I may earn a small commission from some of the links in this post. Please see our Disclosure Page for more information.
Most of you know that red toile is my very favorite pattern and color so I'm sure it comes as no surprise that I used it for the skirt! The fabric is actually an old toile tablecloth that I got somewhere (TJMaxx probably) that was way too big for our dining room table. I had always planned to cut it to make it fit but never got around to it. So I figured why not cut it up and use it to skirt my china cabinet!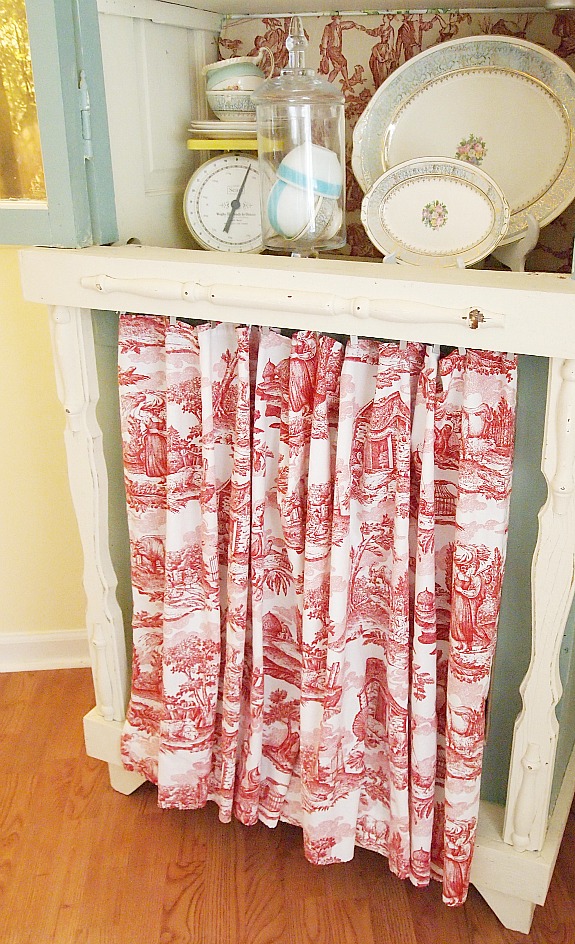 Here's how I did it. This is a no sew project!
It's hung from a little skinny  rod that you can get at Target/Home Depot etc.
The curtain rod is attached to the cabinet.  A tension rod wouldn't work with the way my cabinet is built but that's another way to do it .
The material is hung from the rod with small curtain rod clips.
I didn't even hem the bottom. I just cut it with my pinking shears (which is the only cutting I did). One day when the mood strikes me, I may hem it and add a little trim.
I had the little curtain rod and clip rings from when I had skirted a bookcase about 5 years ago. So the whole project didn't cost me anything and solves my problem!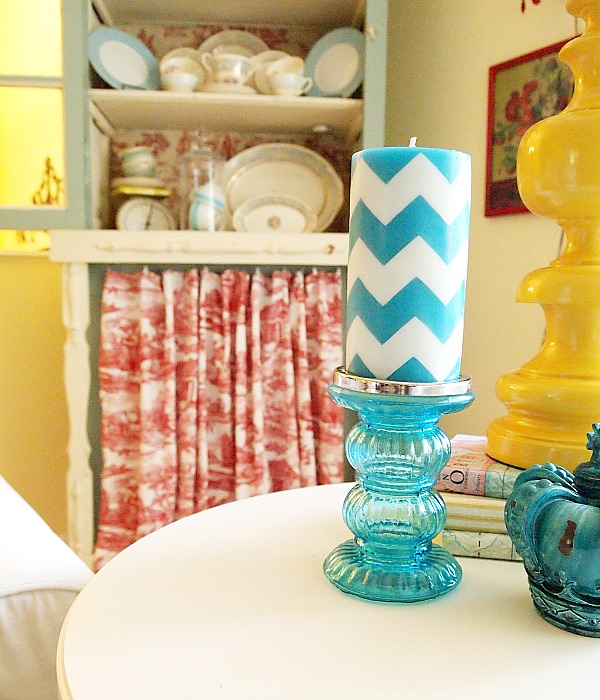 Not only was this project no sew, but it was thrifty and really quick!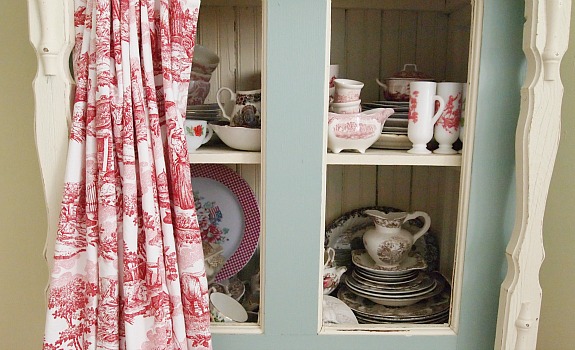 Here's a peak behind the skirt!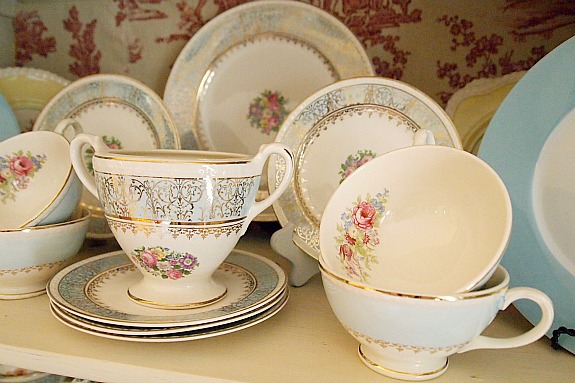 I'm still loving my pretty blue and floral  Homer Laughlin china I put in the top of the cabinet at the beginning of the summer.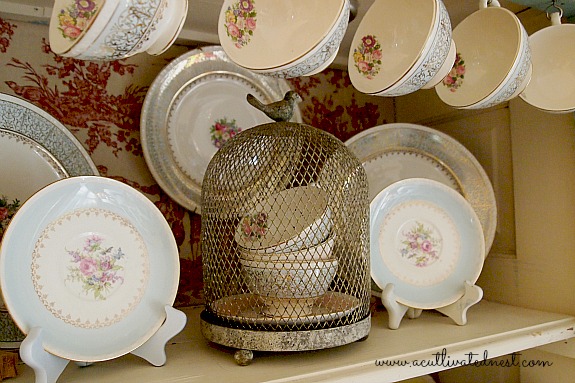 You can see a bit of red toile in the back of the china cabinet. In another month it'll be time to bring out the brown transferware for fall!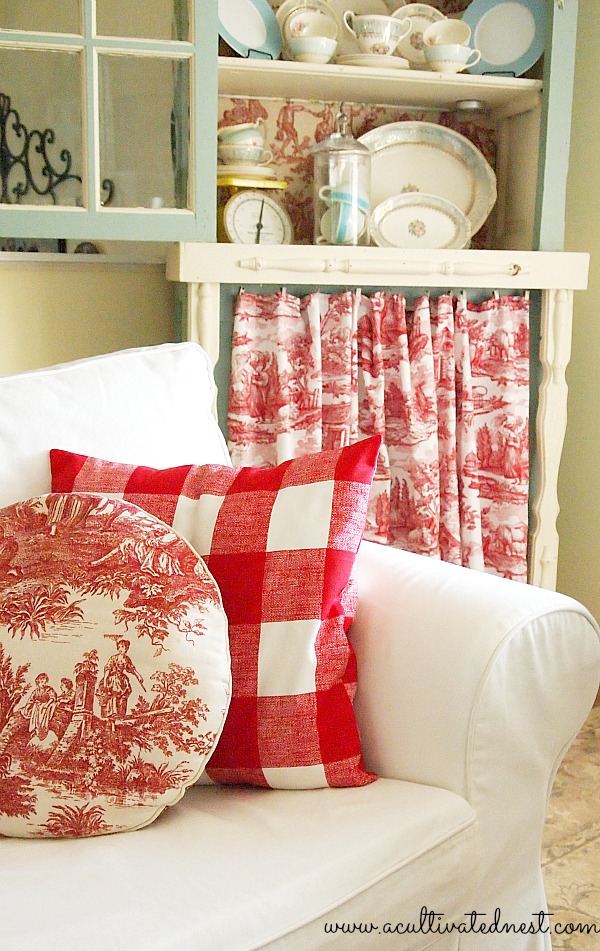 Now you can't see the messy bottom of that cabinet plus it ties in with all the red I have in my living room. I'm happy I found a thrifty way to solve my problem!