Every month I share some of the frugal things I've done around the house in my Home Sweet Frugal Home Series. This month I want to give my 7 Tips for Successful Thrifting and share some thrift store finds and how I've used them to decorate my home.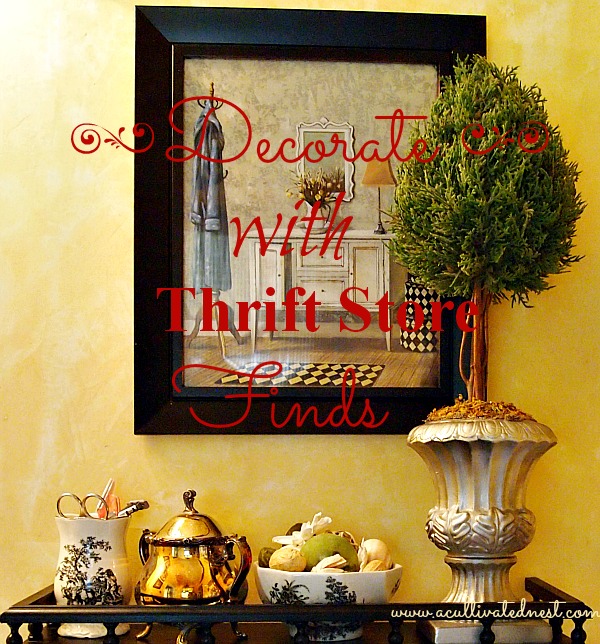 Disclosure: This post may contain affiliate links to Amazon and/or Etsy, which means that I may earn a small commission from some of the links in this post. Please see our Disclosure Page for more information.
I'm not really much of a garage sale person because you have to get up too early for those. I'll go to them if I'm passing one by but I don't make any effort to go to garage sales. I do however go to thrift stores regularly.  It's really just more convenient for me with my family's schedule. Some people are die hard yard salers – what ever works for you!  Here's what works for me.
 7 Tips For  Thrifting (or how to find the good stuff at thrift stores):
Go often! We are a one car family and yet I still manage to go to the thrift store at least twice a month. Usually I make it once a week.
It's usually better to go to a thrift store in either a nice part of town or one that's near a lot of large retailers (they get donations from those retailers).
Definitely try to go often in January. People are in a decluttering mood and will donate stuff instead of holding on to it for months in order to have a yard sale.
Think outside the box! Look at clothes if you need fabric or buttons or trim for a project. Spray paint will transform just about any home decor item. So

if it's not exactly the way you want it you can change it

. Think about how you can repurpose/upcycle  it.  I do posts on repurposing different items a few times a month. Be sure to catch those if you're not good about seeing the potential in items.
Don't just grab everything you see. Be choosy. Only bring home something you love or something you can use. You don't want your house just filled with cheap  junk. You want things that speak to you.
Look high and low and circle back and look again! I always walk through the aisles at least twice.
Check out thrift stores in other areas. We like to go to thrift stores when we're on vacation (we're weird like that) or if we're passing through different towns.
Now for some thrifty finds and how I've used them in my home:

I collect white soup tureens. So I was very happy to find this large white soup tureen to add to my collection.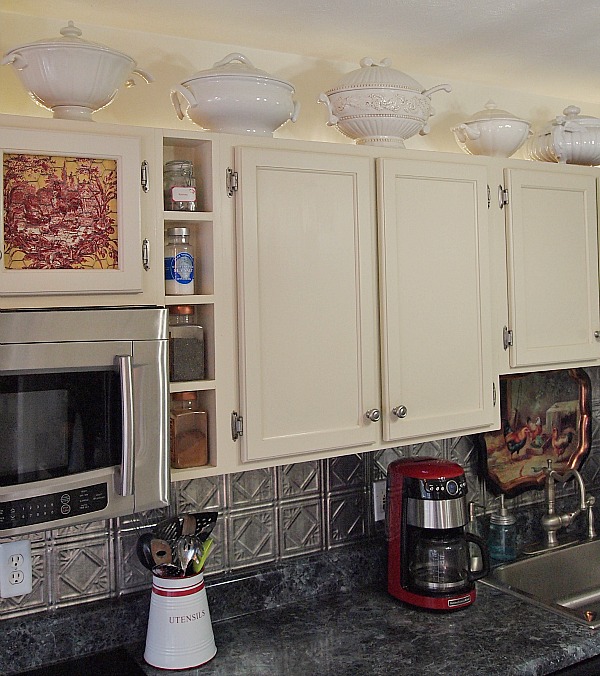 That's it up there with the rest of my soup tureens. Most of which have been thrifted.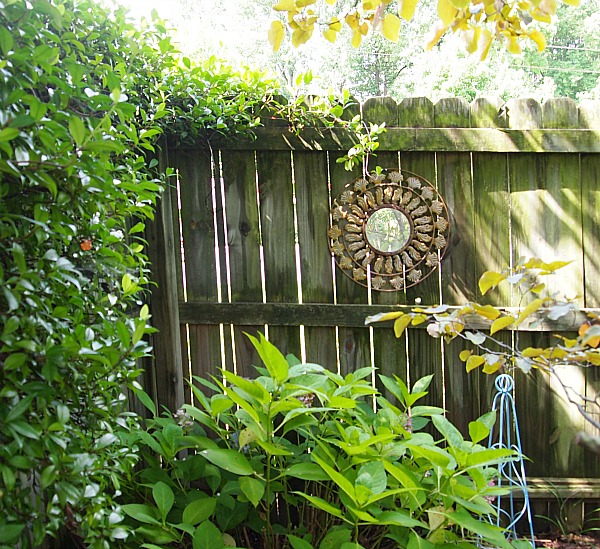 This mirror is not really my style as far as being used inside my house. But I like to use mirrors in my garden so I thought this tin one would be perfect for that. I'm still debating whether I'll paint it.  It was from Goodwill & under $3!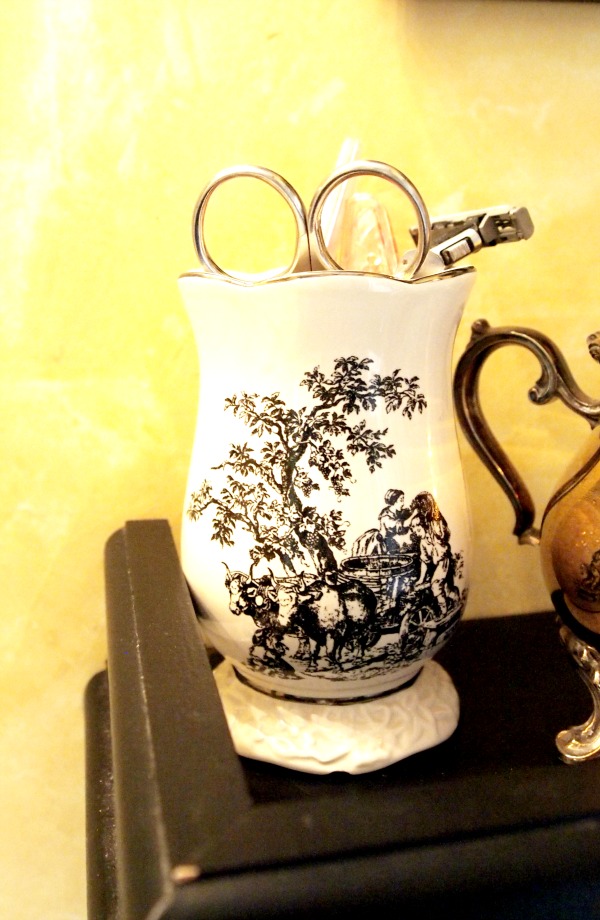 Our master bedroom & bath are done in black and white toile so I knew I had a place for this little  99 cent  toothbrush holder.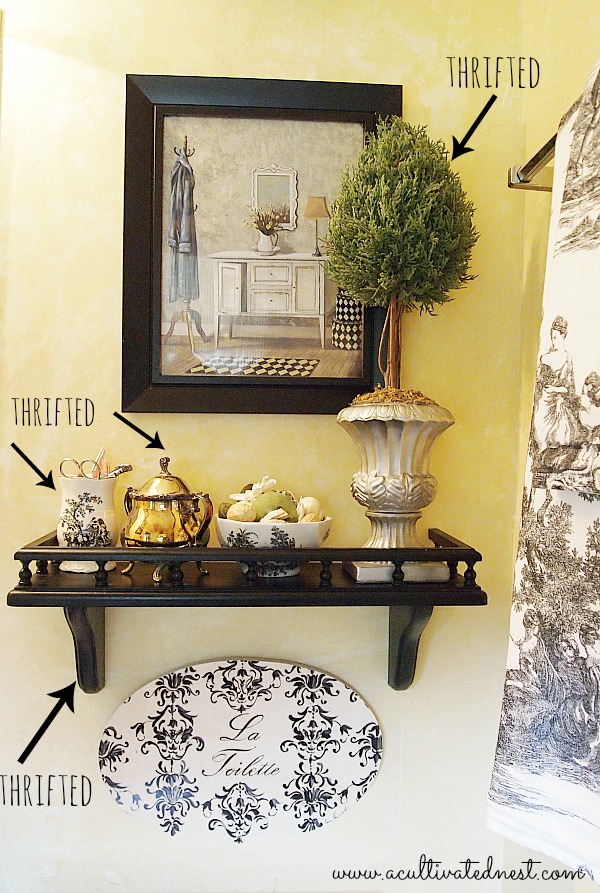 As a matter of fact, most everything on this shelf (including the shelf is from the thrift store).  The shelf was brown and I painted it black. The topiary had a beige base and I spray painted that silver.  The transferware bowl that I use to hold  potpourri was a gift from a reader, the towels are from Target and the art work is from TJMaxx.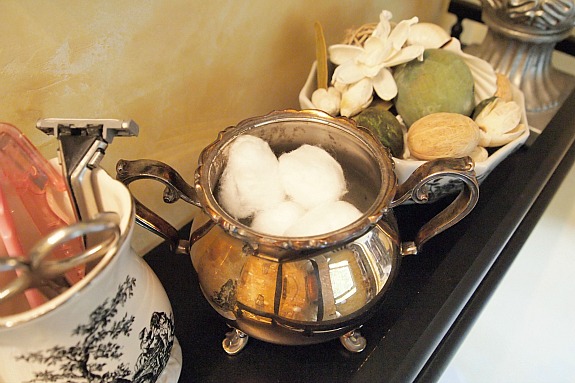 The silver plate sugar bowl (which was thrifted)  is being used as a cotton ball holder at the moment.
People always say "I wish my Goodwill was as good as yours" or "I never find anything at the thrift store but junk".  Well I usually don't find anything at the thrift store but junk about 80% percent of the time. The key to finding stuff that you can use is basically to be consistent about going and follow the 7 tips I shared.
Thrifting isn't for everybody. Some people do much better with garage sales or getting clearance deals at stores.But try my tips if you enjoy going to thrift stores!
Do you have any tips to add?