Designer Style DIY Home Decor with Dollar Store Frames.
What makes your home special? It's the beautiful tray on your coffee table, the creative art on the walls, the frame full of memories on the bookshelf. It's all the little things that express you and your style. The great news is you can use dollar store frames to craft designer-style decor at a fraction of the cost. Decorating on a budget doesn't mean you have to compromise taste and style and the dollar store makes that possible. Check out all of the things you can make with dollar store frames below and start adding some new beauty to your home. Here are 15 DIY Home Decor Projects with Dollar Store Frames!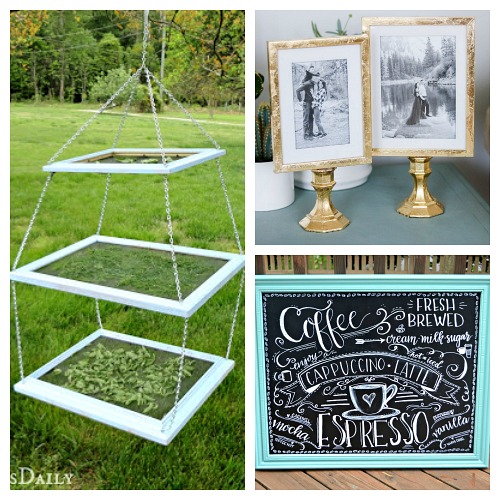 15 DIY Home Decor Projects with Dollar Store Frames
Disclosure: This post may contain affiliate links to Amazon and/or Etsy, which means that I may earn a small commission from some of the links in this post. Please see our Disclosure Page for more information.
Here are some tips to help you make the most of your dollar store frames:
From the bathroom to the kitchen and every room in between. Dollar store frames can be used to create beautiful décor and useful organizers for your home. You could also use these as inspiration for upcycle projects for old frames you already have.
Photo frames and art frames. Dollar store frames of any type/size can be used to make beautiful décor!
Grab a bunch on clearance. You don't have to just use dollar store frames. Be on the lookout for frames that are on clearance at other stores. Even thrift shops will have frames to upcycle!
1. DIY Key Organizer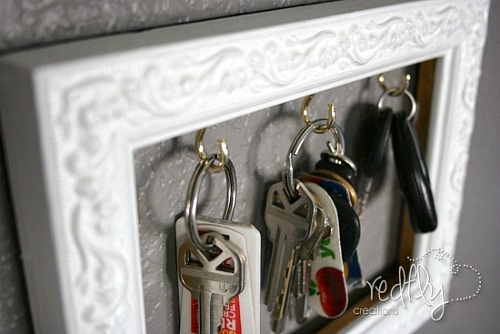 Home organization starts the moment you walk in the door. Give your keys a place to land by using dollar store frames to create this beautiful key caddy from Redfly Creations.
2. DIY Dollar Store Vertical Succulent Garden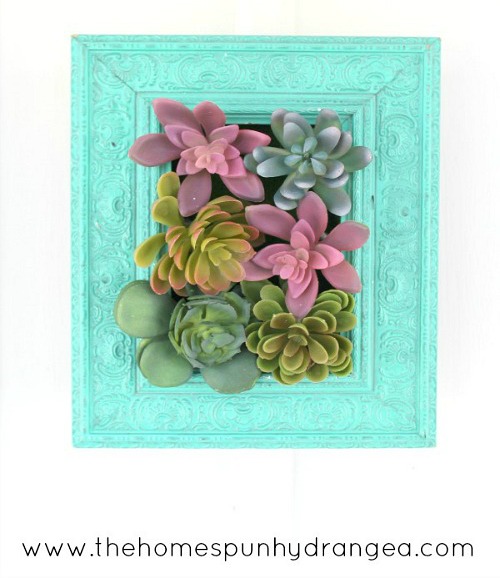 Succulents are all the rage because they are not only beautiful but relatively easy to care for. Make it even easier and use faux succulents, and you never have to worry about killing them! This dollar store frame succulent garden from The Homespun Hydrangea is so beautiful you will want to make several of them.
3. Rustic Glam Wedding Decor
Weddings are expensive and crafting your own decor is a great way to save money. Follow The Country Chic Cottage's tutorial and turn a dollar store frame into a glittery base for a rustic wedding-themed vignette.
4. Dollar Store Frame Earring Holder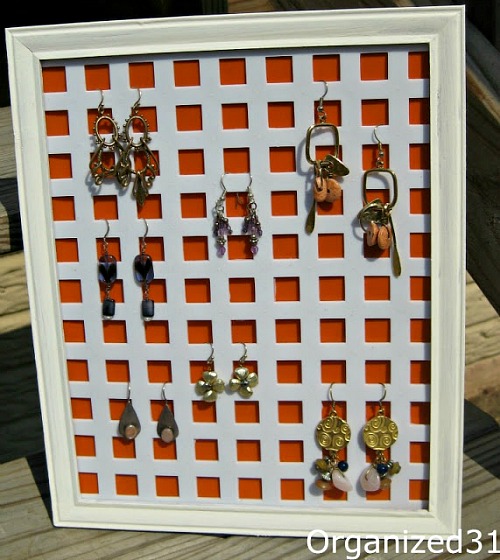 Who would have thought an inexpensive frame could be used to make something so useful? This DIY earring holder from Organized 31 will help you keep your dresser tidy.
5. Table Top Frame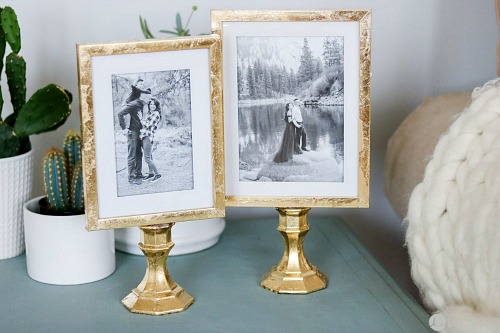 Turn a wall frame into a beautiful tabletop frame with just a few supplies and Lily Ardor's tutorial. These look like they stepped straight out of a high-end home decor store!
6. How to Distress a Dollar Store Frame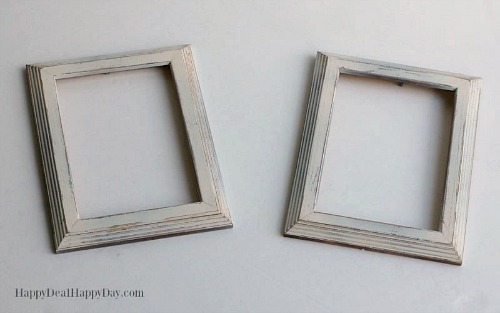 The price point of dollar store frames is perfect, but sometimes the color and style are all wrong. This Happy Deal Happy Day's tutorial for distressing a dollar store frame will have you transition from classic oak to shabby chic in no time.
7. DIY Meal Planning Command Center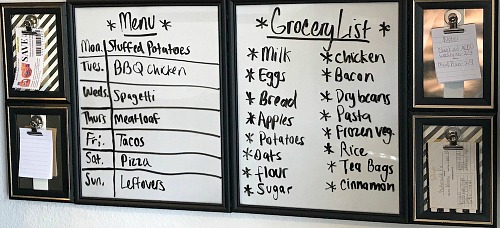 You've got one kid going to soccer, another to ballet, a book club meeting on Tuesday, dentist appointments for the whole family on Wednesday, and you are trying to remember which meat needs to be defrosted for Thursday. That's a lot to keep up with, so the Prudent Penny Pincher's DIY meal planning command center will be a lifesaver. Use dollar store frames, and it will also be a money saver!
8. DIY Picture Frame Terrarium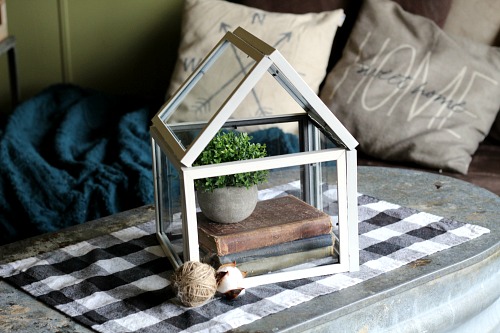 Want to create a beautiful focal point or highlight some pretty decor? You need to make this DIY terrarium. It's made completely out of dollar store frames!
9. Picture Frame Luminaries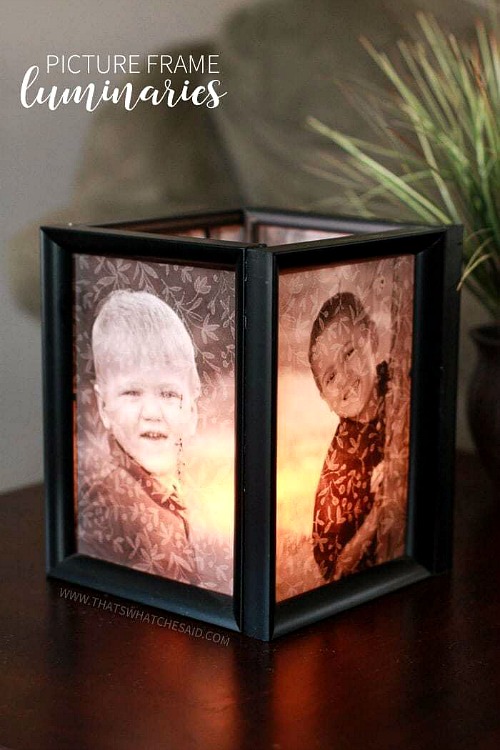 With a few dollar store supplies, you can create a beautiful photo luminary like this pretty one from That's What Che Said. These make lovely gifts and would also be perfect decorations for a shower or wedding reception.
10. Framed Coffee Art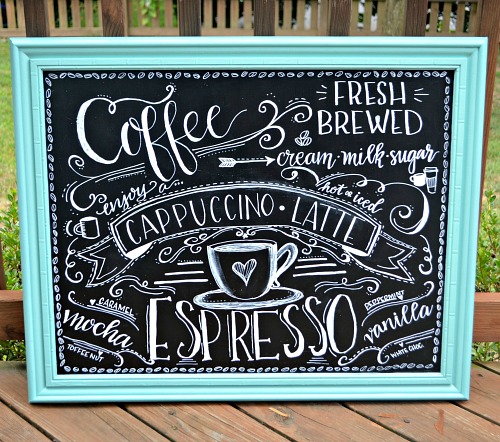 This framed coffee art from Amy Latta Creations uses a dollar store frame combined with the fun art of hand lettering. The result is a beautiful piece of art for your kitchen, coffee bar, or office. And of course, you don't have to be great at hand lettering or drawing to make one of these. You can make something just as pretty with stencils!
11. Frame Desk Organizer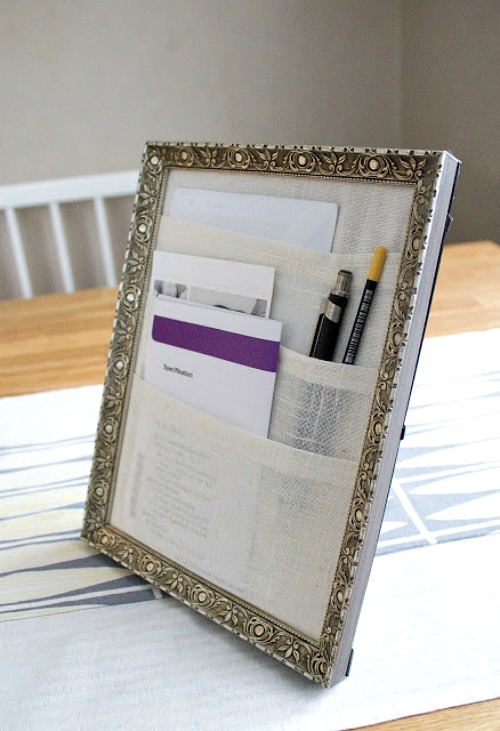 We all like to be organized. The Wishful Tinker combined fabric and a frame to create a cute desk organizer with several handy pockets!
12. Interchangeable Picture Frame
Grab a clearance picture frame and some scrapbook paper and make this interchangeable picture frame. Create Craft Love created this picture frame that can work all year long with a little update.
13. How to Distress Wood Frames
Running With Sisters has a post about how to distress wood frames. A couple of coats of paints and a little work and you have some adorable frames for your walls.
14. Framed Magnetic Board
This framed magnetic board is a great addition to a kitchen or central gathering area. I am thinking of keeping important info here for all to see. Lovely Etc. shows you how to make this fun decor item.
15. Coastal Lantern
Create this coastal-inspired lantern from Craft Bits with dollar store frames and some glue. This lantern is super cute and so easy to make.
Beautiful home decor doesn't have to be expensive, and designer-style looks can be achieved at a fraction of the cost with dollar store frames and some creativity!
Which project will you be taking on first? Tell us in the comments!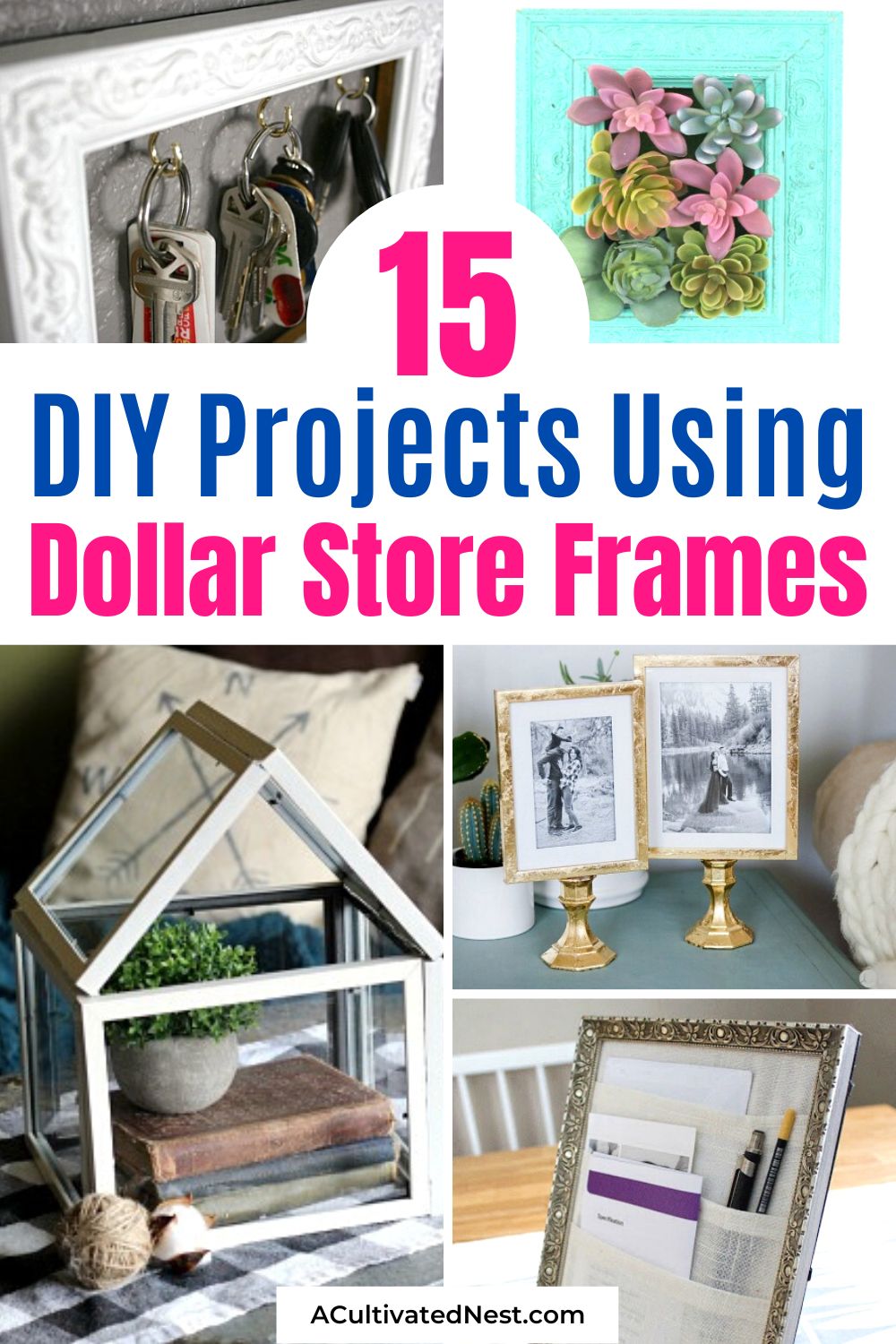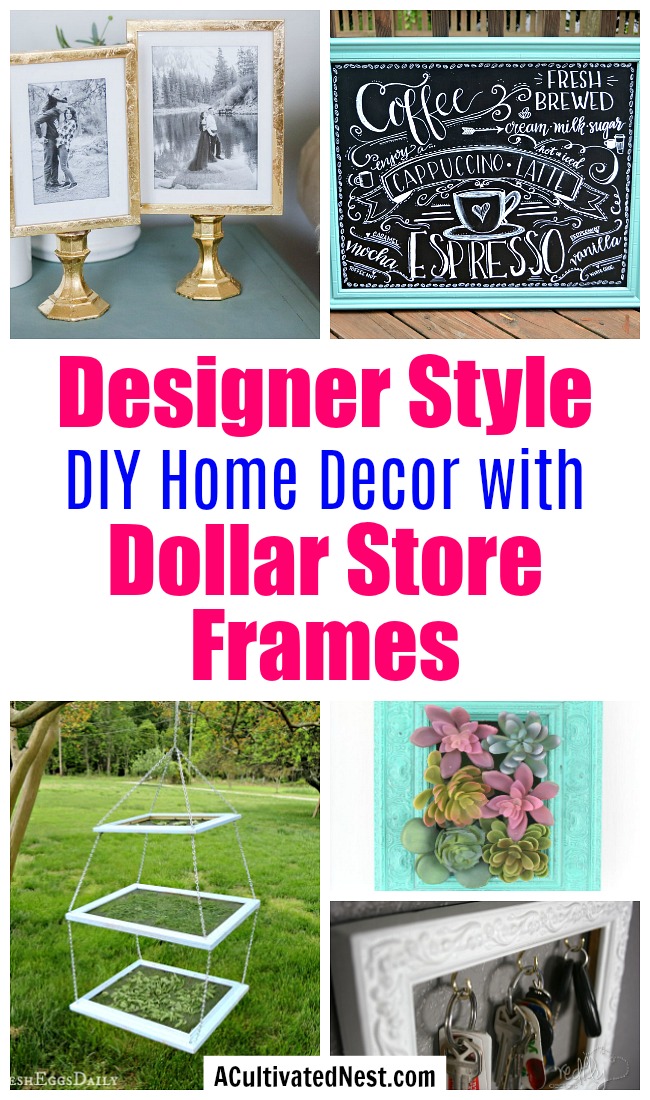 You might also be interested in: 10 Ways To Organize Your Entire Home From The Dollar Store