So for a week or so I've had this idea in my head that I wanted to make a combination chalkboard and coffee filter wreath. A chalkboard coffee filter wreath. Now, I have my share of chalkboards but I don't use them very often. So I thought it would be fun to combine a chalkboard with a wreath because I use wreaths all the time. What could be more fun than a wreath you can leave up all the time that you can still make seasonal by writing or drawing on it.
So to test out my idea I made a little Valentine Chalkboard Wreath.  It's really easy and all you need to make it is:
Disclosure: This post may contain affiliate links to Amazon and/or Etsy, which means that I may earn a small commission from some of the links in this post. Please see our Disclosure Page for more information.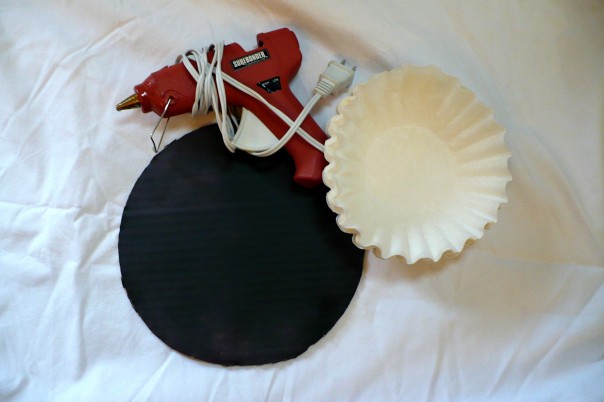 Cardboard
Coffee filters – They come in natural (brown) and white. The fun thing about coffee filters is that you can dye them any color you want. Buy them at the dollar store and you'll have tons for lots of projects.
Glue Gun
Chalkboard spray paint which will last you for several projects
…and of course some chalk
Chalkboard Wreath Tutorial
You can chalkboard paint anything! I've done a mirror (see here),  on glass, metal,  plates (see here) you name it & I've probably sprayed it with chalkboard paint.  So yes, I used a piece of cardboard for this project because that's what I had on hand.
Step 1
Spray a piece of cardboard with some chalkboard paint. I did several coats.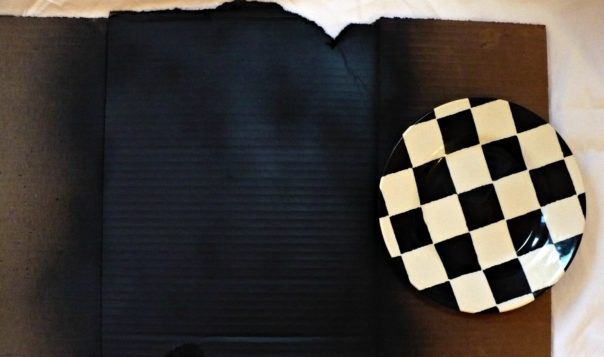 Step 2
You are going to cut a shape out of your cardboard so choose something as your template. I chose a small circle, you may want a rectangle or oblong – whatever. Trace your object (I used my fav checkerboard plate)  and cut out your shape. Then  decide how much chalkboard you want versus how much wreath area. I used a bowl to make my inside circle.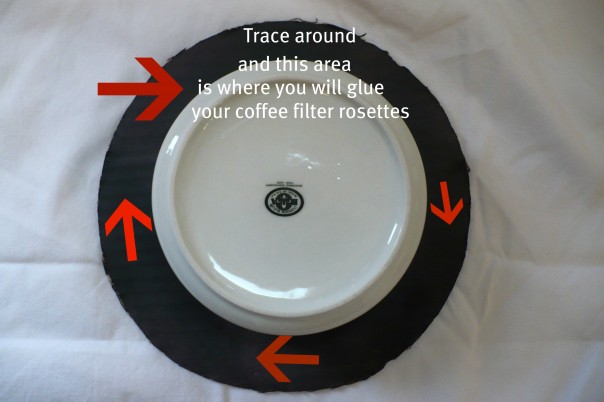 The area in between the edge of the cardboard and the line of  your inside circle is where you are going to glue the coffee filters. That's the wreath part.
Step 3
Now you're going to make a rosette by scrunching the filter from the center and then you hot glue it all around your form.  Be careful not to burn your fingers. Those filters are thin! I used a popsicle stick and am happy to report that for once I did not burn myself!  Start on the inside with the scrunched up end pointing away from the center.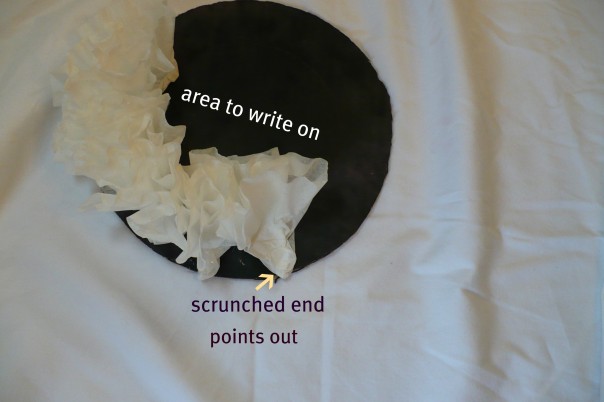 Step 4
Because my wreath only needed two rows of filter rosettes – I glued my second row in the opposite direction. With the scrunched end facing in.  My second row then  fell in between my first row. If  you're doing a larger wreath, just keep adding rows.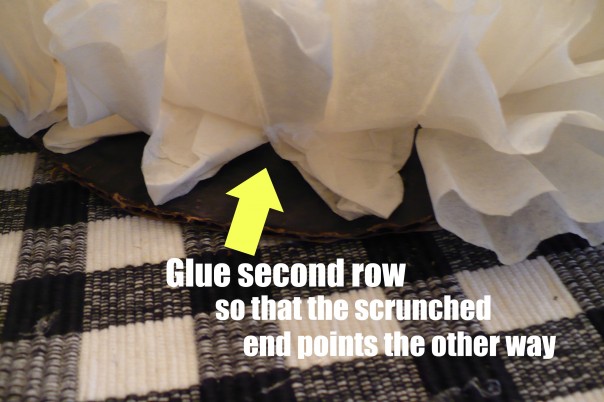 Step 5
Glue a ribbon onto the back, use your chalk and write/draw  something and then hang.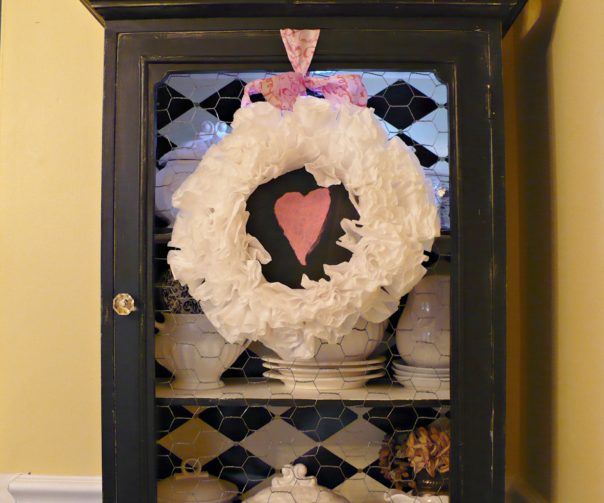 Step back and admire your pretty decorative chalkboard coffee filter wreath!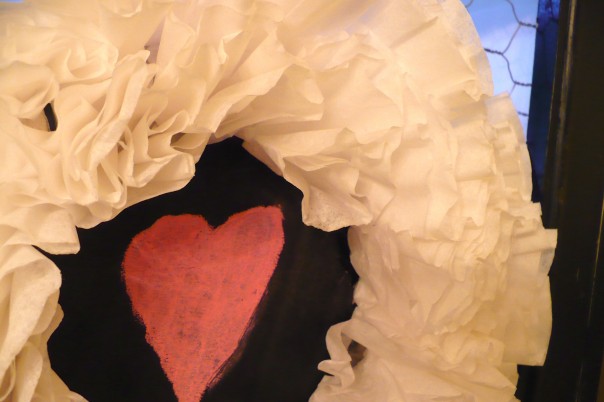 This was such a quick and easy project and used inexpensive materials.  I'm very happy with my little test wreath and will definitely make a larger one!