I found inspiration for a dining room project! So what happened was….My husband gave me a globe to add to my globe collection for Christmas. You can see it in this post – it's the altered one. After living with it for a few weeks, we all agreed that it just didn't fit in with the other globes that I have.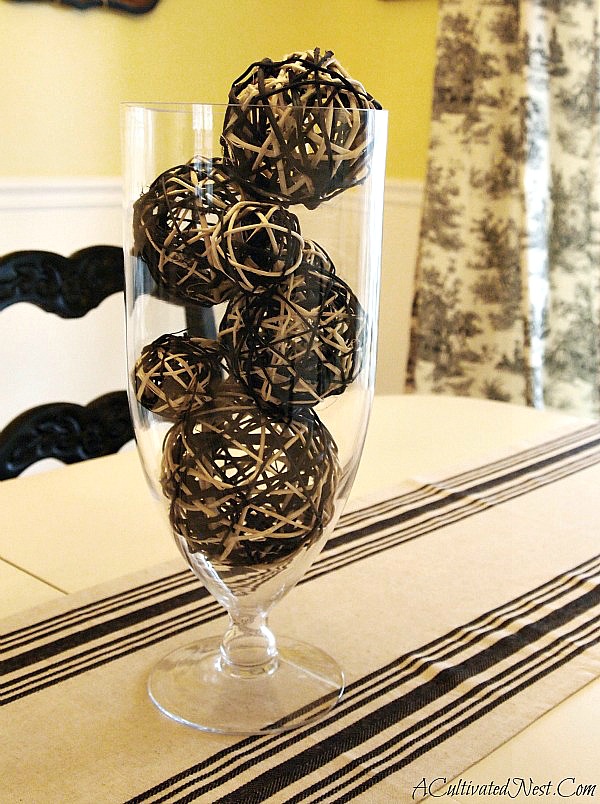 Disclosure: This post may contain affiliate links to Amazon and/or Etsy, which means that I may earn a small commission from some of the links in this post. Please see our Disclosure Page for more information.
So back to TJMaxx it went and instead I brought home this pretty black French grain sack table runner. It  has a beautiful natural oatmeal background with black stripes instead of the usual red or blue that we think of when we think of French grain sack material.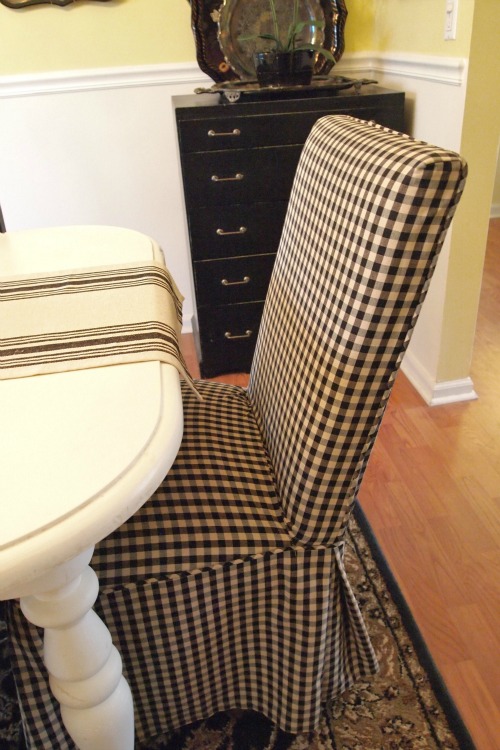 It goes perfectly with my slipcovered parsons chairs which usually have the black & cream checkered slips on.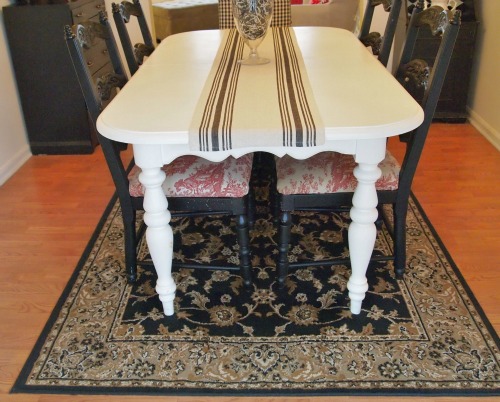 It also goes really well with my rug that's under the dining room table. It's primarily black with various shades of brown and beige in it.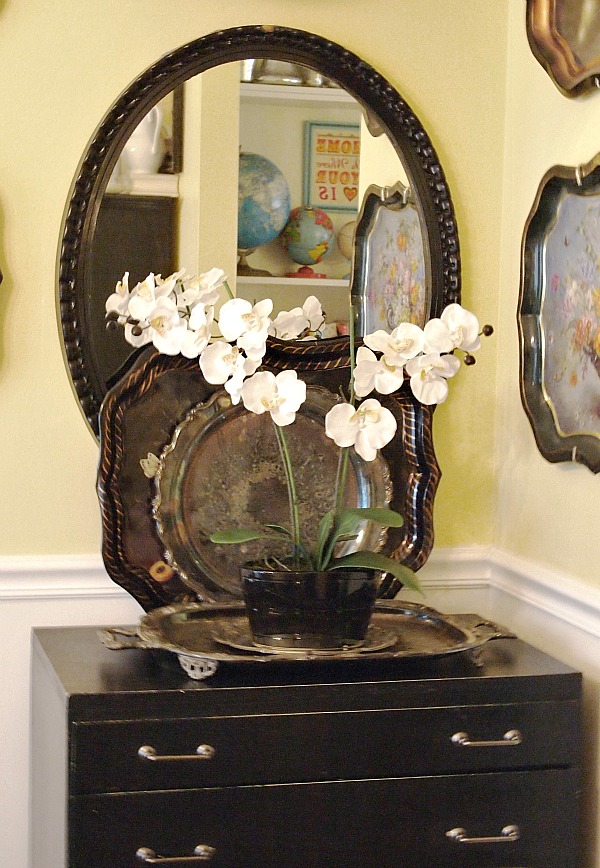 This pretty new runner inspired me to straighten up my dining  room! We've been done with our latest puzzle for a while now and it's just been sitting on the end of the dining room table and that now really needed to be put away 😀 And you know how that goes, once you clean up one thing you start fluffing other things!
Here are a few more photos of my dining room.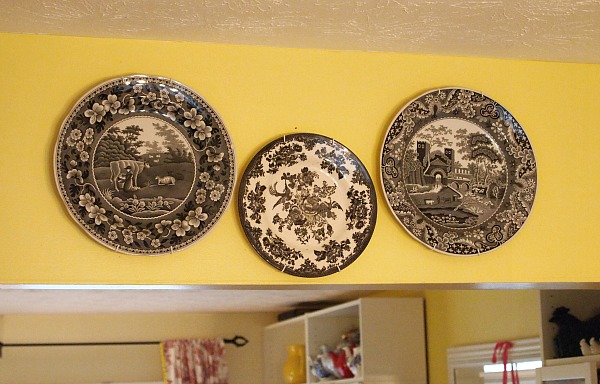 Thrifted black transferware plates.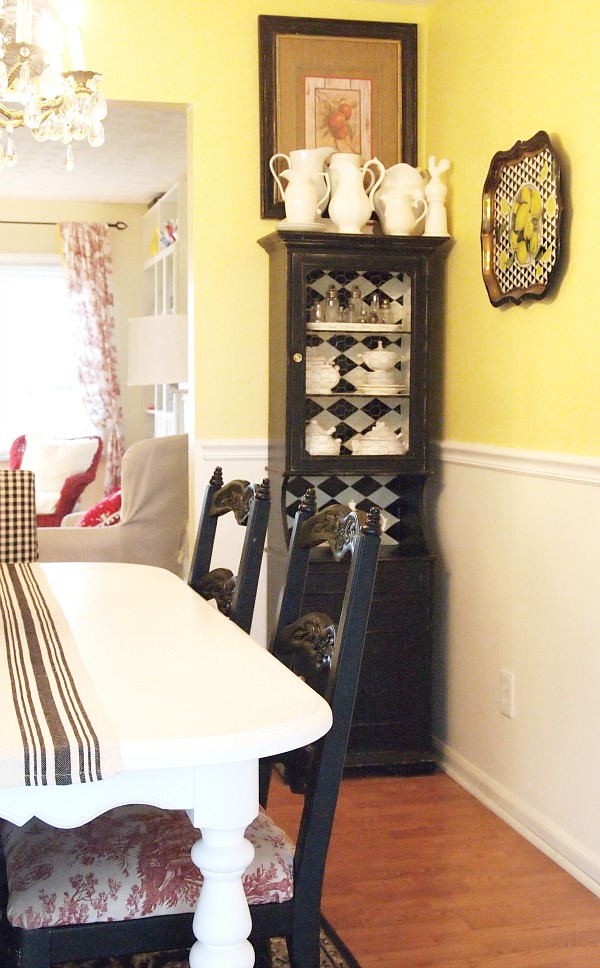 I've been wanting to lighten up my dining room but wasn't exactly sure how to go about it without changing everything.  I didn't want to take the lithographed trays I have hanging on the walls down (they're pretty dark and have black rims). But I don't want all of that solid black furniture either.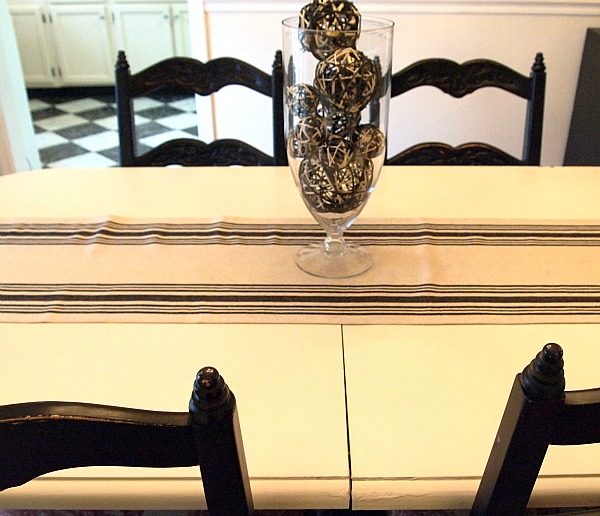 Looking at that table runner plus a project I pinned has given me an idea of what to do! I'm so excited to have found a solution.
So this table runner inspired me to doing some new fluffing AND inspired a new project. You never know where you'll find inspiration!