Aren't you ready to bake and eat all things pumpkin! I know I am! I have been on the search for a healthy pumpkin oatmeal cookie recipe for the past few months.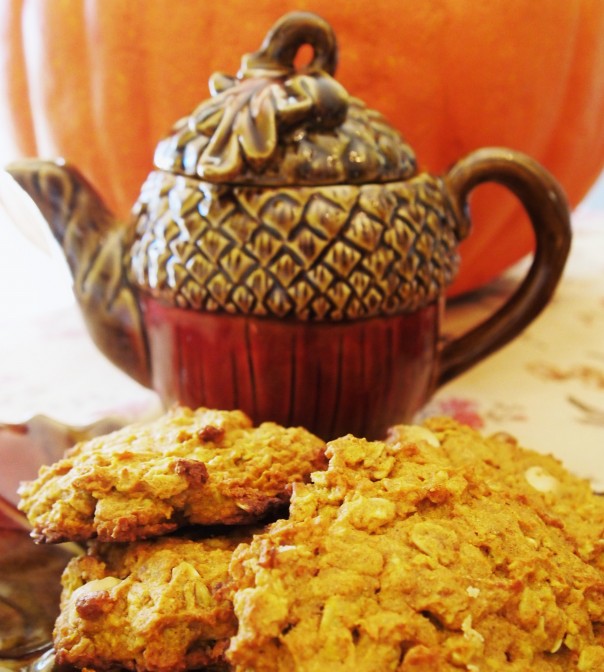 Disclosure: This post may contain affiliate links to Amazon and/or Etsy, which means that I may earn a small commission from some of the links in this post. Please see our Disclosure Page for more information.
In my search for the perfect healthy pumpkin oatmeal cookie, I"ve eaten some really dry cookies and some cookies that were flavorless. Let just say 2 tablespoons of sugar isn't going to cut it. At least not at this point. Maybe I can work my way to that healthy lifestyle where 2 tablespoons of sugar in a batch of cookies will taste delicious. I'm not there yet.
Most recipes use 2 sticks of butter and 2 cups of sugar. Those are the two things I wanted to cut back on. Finally I just decided to use my old recipe and make some healthy substitutions and start there. Every time I make them I'm going to cut the fat and sugar back a bit. I think that's a good way to ease into it.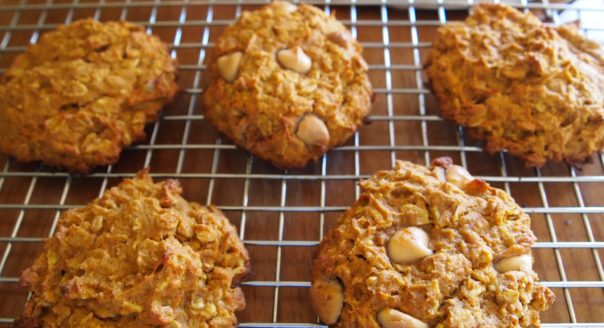 The smell of pumpkin and cinnamon is so wonderful. It just says fall is here doesn't it?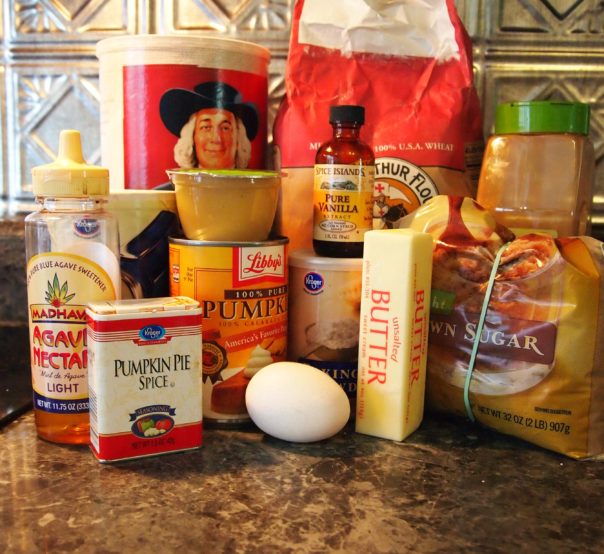 So here's my recipe for "somewhat healthy" pumpkin oatmeal cookies.
Pumpkin Oatmeal Cookies
2 cups of old-fashioned oats
1 cup of all purpose whole wheat flour
1 teaspoon pumpkin pie spice
1 teaspoon cinnamon
1 teaspoon baking powder
1/2 teaspoon salt
1 stick of un-salted butter softened
1/2 cup brown sugar
1/3 cup Agave Nectar or honey
1/2 cup un-sweetened applesauce
1 cup of pumpkin
1 egg
1 teaspoon vanilla extract
Preheat oven to 375 F.  Prepare your baking sheet – parchment paper/silicone mat/cooking spray
-Stir together the dry ingredients, oats, flour, spices, baking powder & salt. In another bowl beat the butter & brown sugar together, then add the Agave, applesauce, pumpkin, egg and vanilla extract.  Add the oat mixture and stir until combined.
-These cookies will not spread. Drop by rounded tablespoons & press into shape if you like. Bake 10-15 min until lightly browned.
NOTES: Add white chocolate chips, chopped nut or chopped cranberries (my fav) for added flavor and texture.
I prefer these cookies on the small side even though I show larger ones in the photos. I find the flavor and texture are better. But it's up to you.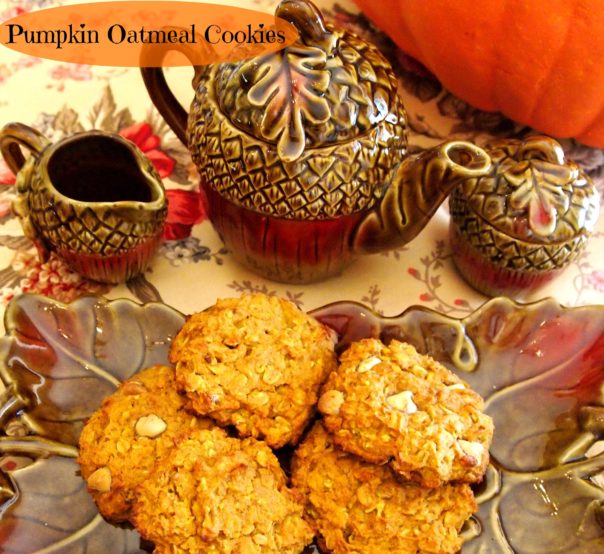 This is a great fall comfort cookie to have with some hot tea or coffee!
Have you altered a favorite recipe to make it healthier?