Now that the little makeover I was doing on my kitchen is done I'm concentrating on adding some farmhouse style to my kitchen by using accessories.  I started by adding a cute rooster clock   to one wall and now I've added this amazing hand-painted  " Farmstead" sign.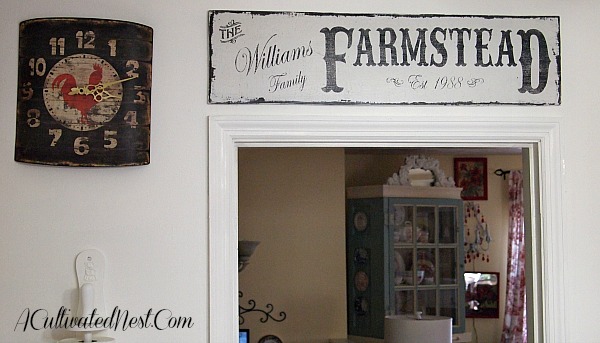 Disclosure: This post may contain affiliate links to Amazon and/or Etsy, which means that I may earn a small commission from some of the links in this post. Please see our Disclosure Page for more information.
Isn't great! I  love it! I got it from Etsy Seller Castle and Cottage Hand Painted Vintage Designs.  The "1988" date is the year we got married and this was a anniversary present from my husband (our anniversary was last month) that I picked out (sometimes the best kind of present 🙂 )! Anyway, she did a marvelous job on the sign – it's nicely distressed to look old which I just love.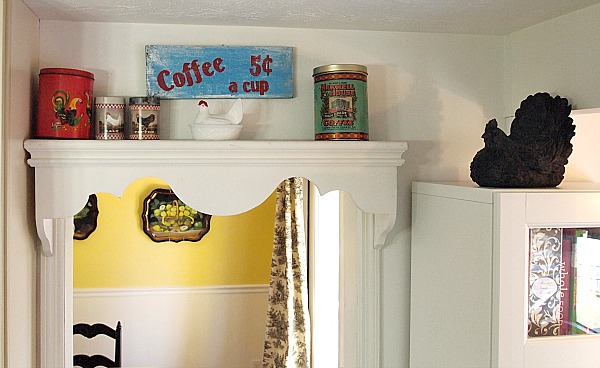 I also did a little re-styling of the shelf that's over my doorway that leads from the kitchen into the dining room. I added the rustic farmhouse  coffee sign which I made. Maybe I'll make another one that says "Fresh Eggs" or "Farm Fresh" just to be able to change it out now and then.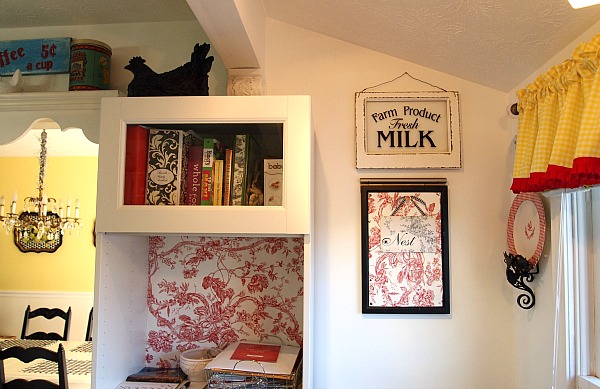 I decided to keep my yellow gingham curtains for the time being instead of making the red buffalo check ones that I talked about last time. I really do love them – they are so me! I showed you the Fresh Milk sign  when I showed you that new kitchen storage piece from Ikea.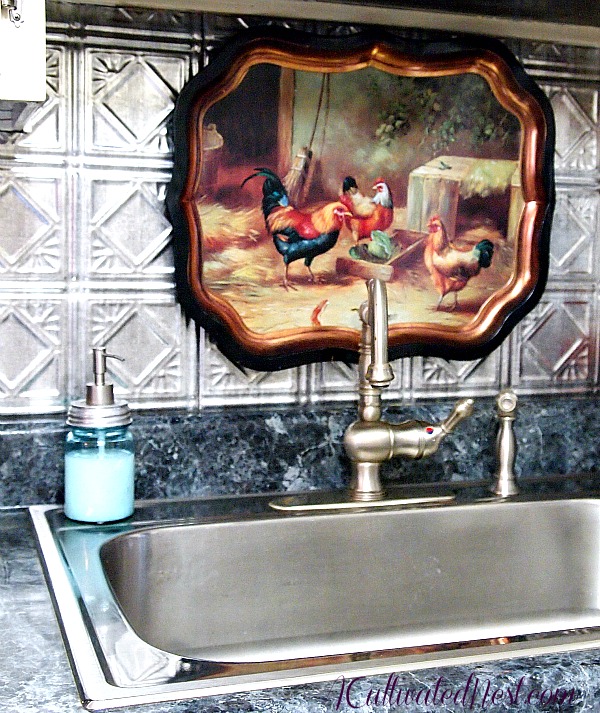 I think the faux ceiling tin backsplash that I already had, the lithographed chicken tray and the ball jar turned soap dispenser give my sink  area a farmhouse feel even though I don't have one of those fabulous old apron sinks! I wish!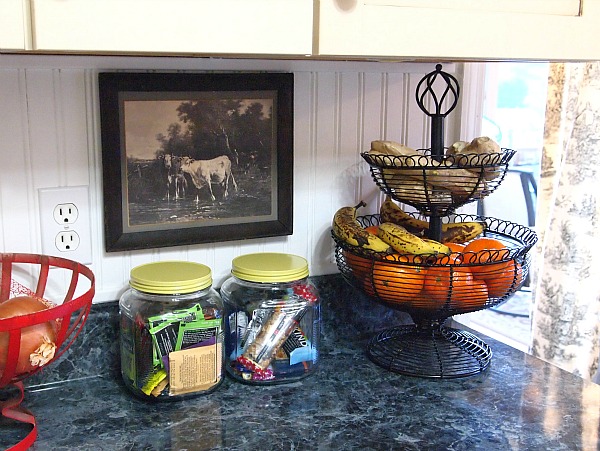 I also added a little vintage pastoral scene on the beadboard backsplash that's on the other side of the kitchen.
This all started back in November with this post  about what was bothering me about my kitchen and what I planned to do about. I did everything except 2 things:
1. I didn't get the schoolhouse ceiling fan because I put a different type of light bulb in the ceiling fan we already have and I'm happy with it now!! We had been using " soft"  lightbulbs  (I think that's what they were called) and changed to "daylight". What a difference!
2. I was going to paint the Ikea Besta unit red like in my inspiration photo but so far I like it white but I may paint it red IF I decide to re-paint my kitchen cabinets white this summer (yes, I'm crazeee like that).
So that's it – new paint, one new storage piece, some new lighting and few new farmhouse style accessories and my kitchen has a whole new fresh farmhouse feel without doing a total remodel OR spending a fortune!
Now I just need to organize it better! I did  reorganized my spice cabinet which I'll show you next week!
Have a great weekend!