I think a lot of us are trying to better utilize the space that we have and I know that organizing your spices is a challenge! I showed you some great spice organization tips in this post 10 Ways to Organize Your Spices  .  So I had plenty of inspiration for how to tackle my own spice cabinet organization.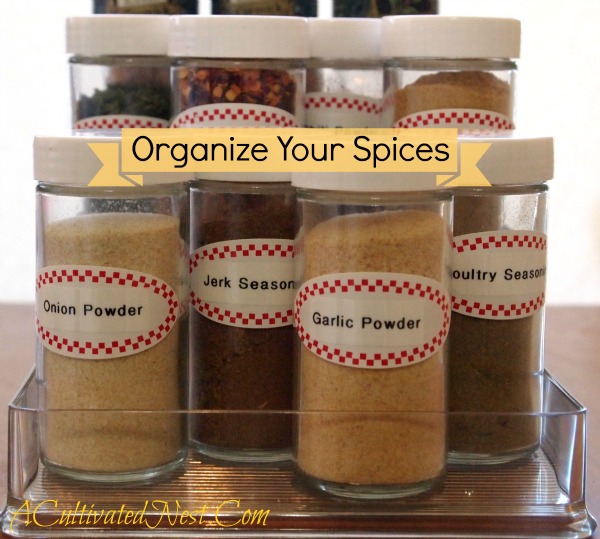 My house was built in the late 1960's and this cabinet close to the stove is pretty typical for houses of that era and basically where everyone that I know keeps their spices. Old house, old kitchen.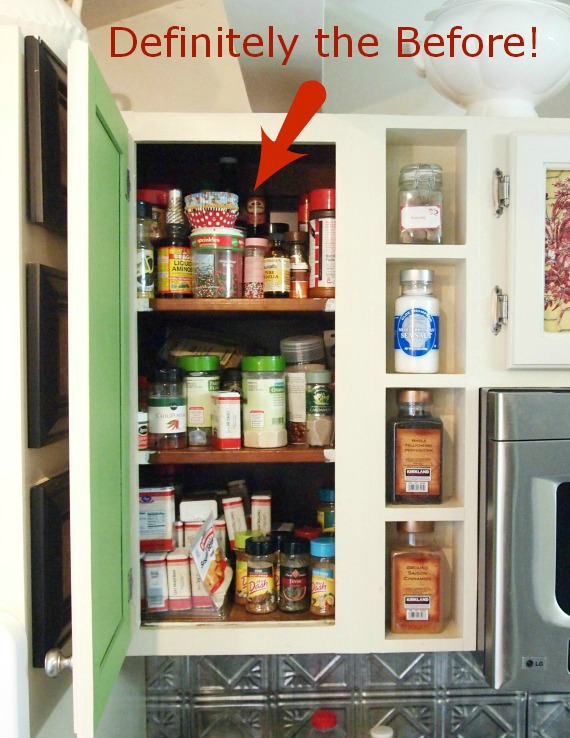 This is the cabinet organized – the after!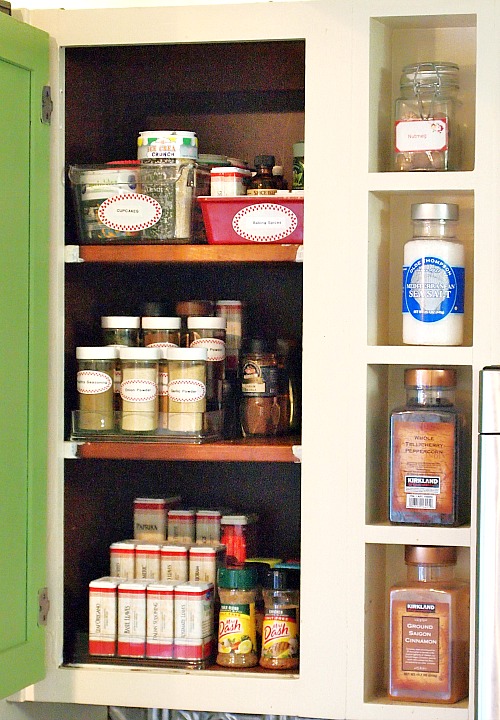 How I Organized My Spice Cabinet
Disclosure: This post may contain affiliate links to Amazon and/or Etsy, which means that I may earn a small commission from some of the links in this post. Please see our Disclosure Page for more information.
#1. I took everything out! I discovered that I had duplicates (sometimes even triples) of spices. I also discovered I was almost (or totally) out of certain spices that I thought I had. So this is a great way to do an inventory of what you have and it's a good time to wipe down those shelves.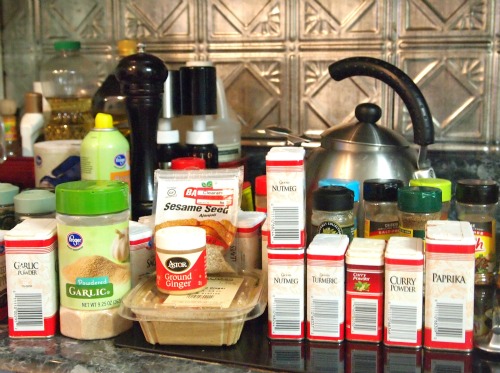 #2. I realized that some of my problem was from having different sized spices & herb containers. I had big containers of garlic powder, onion powder, red pepper flakes, I had some bulk spices from from Whole Foods  etc. I transferred these into smaller glass spice jars (which you can purchase at the Dollar Stores, Container Store, Cost Plus World Market, Ikea etc). Or you can recycle other glass jars you may already have.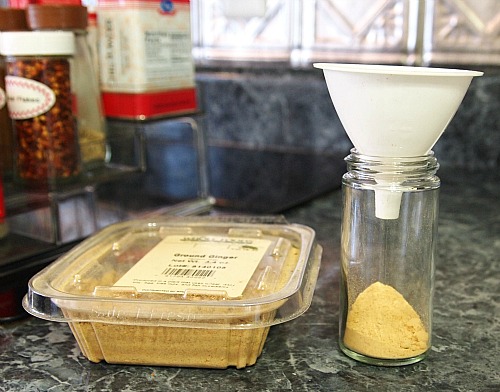 #3. I already had two acrylic tiered shelf organizers.  I had purchased a tiered shelf  organizer from Big Lots (which I returned) which didn't work for me since the shelves weren't solid and my spices wouldn't sit straight. Something to think about if you are considering buying one of these shelves.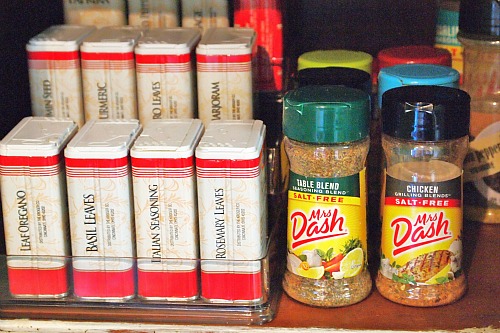 I put my tin spices on one of those shelf organizers in order of most used. You might like your spices in alphabetical order – whatever works for you! The new spice jars are on the other tiered shelf on the shelf above.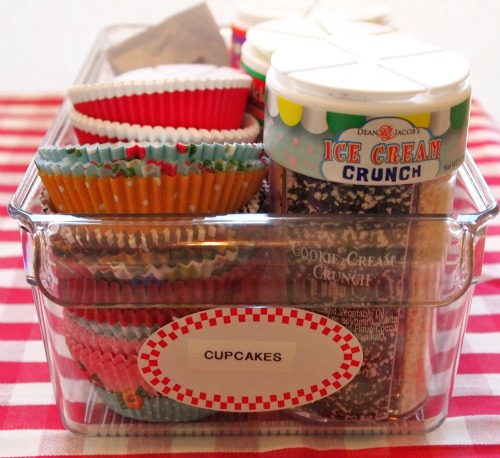 #4. I made the top shelf for baking spices/extracts which I compartmentalized in the red tray  and since we make cupcakes at least once a week, I put our cupcake liners and toppings in another tray (which is very easy to pull out when needed).
#5. I keep my vinegars, oils (other liquids) in a tray under that cabinet, in the fridge and in my pantry.
In the cubbies around the stove is where I keep my most used larger containers of  sea salt, peppercorns, cinnamon etc.  Yes I know, cool and dark is how to store spices. But we use a container of cinnamon about every month or so. We put it in our morning smoothies and we like to sprinkle a little cinnamon on our coffee grounds before brewing.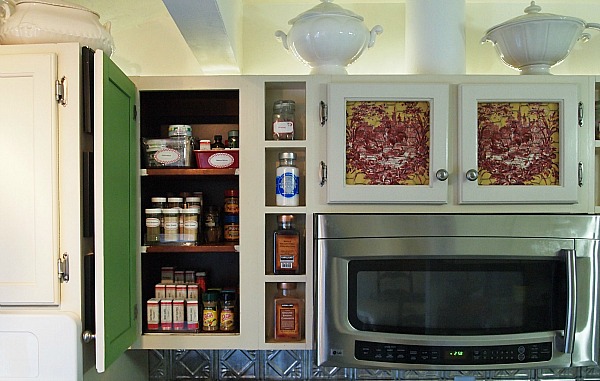 I do like things to be pretty but it really needs to be functional and save me time.  So I could transfer these larger spices into more attractive containers so the whole thing would be "blog pretty". But what for? The containers fit the cubbies perfectly!
This has been on my to-do list since forever! It did take me a while to get around to organizing these spices but I'm so glad I did. It"s so much easier working in the kitchen when everything has a place and you know what you have and where it is! A little organization goes a long way!