Alternatives To Cable TV
A lot of people nowadays are talking about "cutting the cord" and getting rid of their cable TV service. And it makes a lot of sense! Cable costs a lot, and a lot of what you're paying for are channels you don't even watch. Luckily there are alternatives out there that cost a lot less, but still let you watch your favorite shows and movies. If you're considering cutting the cord and living without cable, check out The 8 Best Alternatives to Cable TV (in my opinion)!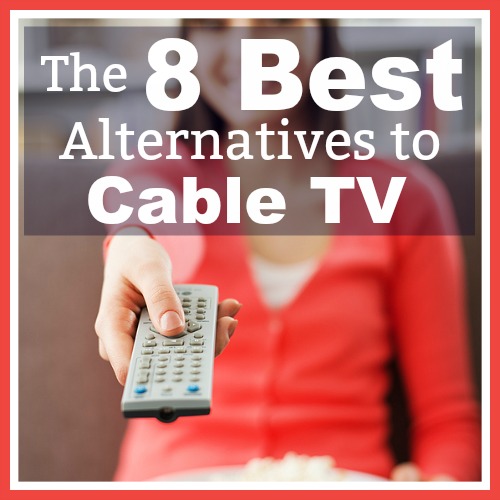 Disclosure: This post may contain affiliate links to Amazon and/or Etsy, which means that I may earn a small commission from some of the links in this post. Please see our Disclosure Page for more information.
What's great about these alternatives to cable TV is that you can chose the perfect fit for your viewing habits. Some people only watch sitcoms, others only watch sports, and some watch a little of everything. With these alternatives you can find a service that has what you like to watch, and not feel like you're paying extra for things you'd never even consider viewing!
The 8 Best Alternatives to Cable TV
1. Netflix
You knew Netflix had to be on this list of alternatives to cable TV! Netflix is possibly still considered the #1 cable TV alternative because it has such a large selection of movies and shows, plus a lot of original content that you can't view elsewhere. And the catalog is constantly growing (though some shows and movies are lost as deals expire). Still, if you're going to get any of these alternatives to cable TV, you should definitely consider Netflix. There are different plans available, ranging from $8-$14 a month.
2. Hulu
Hulu certainly has changed over the years! I remember when it was a smallish site where you could find some shows after they had aired. It now is a major contender in the TV alternative market! I read just the other day that some shows that left Netflix are now on Hulu. That's pretty big! You can now even get HBO, Showtime, or Cinemax as add-ons to your Hulu subscription. And Hulu now has a commercial-free option, though it does cost more than the limited commercial option. But still, for $8-$12 a month (not counting add-ons), Hulu is a wonderful alternative to cable.
3. Amazon Prime Video
While you could just pick and choose your films for movie night with Amazon Instant Video, if you watch a lot of movies and shows, you can save big by getting Prime and searching through the Amazon Prime videos. There is a big selection, incuding Amazon originals. Some of the choices do overlap with what Netflix has, but for the most part Amazon Prime has movies/shows you can't get on Netflix or Hulu. It also has a big selection of indie films. At $119 a year, Prime will only cost you about $10 a month. And of course, you'll also get all the other benefits of Prime, like fast shipping, the Prime Reading library, etc. You can add extra channels like HBO and Showtime to your Amazon video service for an extra amount each month (these other channels are part of Amazon's Channel Subscriptions program).
4. Sling TV
Sling TV markets itself as "a la carte TV" and claims to be the #1 live TV streaming service. That's a major difference between Sling TV and other providers- you can use it to watch TV live, like you would with a traditional cable package. So while you may have to wait 6 months for Netflix to get the last season of your favorite show, with Sling you can watch it the same day as everyone else. It's not 100% a la carte, as the two packages (Sling Orange and Sling Blue) come with many set channels, but you can personalize your channel lineup with $5 per month extras. You can also get a cloud DVR for an extra $5 per month, though you may not be able to record shows from all channels due to licensing restrictions. With a minimum price of $20 a month, Sling TV is more costly than some of the other choices in this list, though still much cheaper than cable TV. And if you value being able to watch your shows live, it may be the perfect alternative for you!
5. Online Cable Channels
While the rest of these alternatives to cable TV cost at least a little every month, this option is free! All you have to do is go to the websites for your favorite channels and see if episodes of your favorite shows are available for free. Usually the last 5 or so episodes are available, so you can't binge-watch a full season like you could with Netflix. And the episodes are usually uploaded on a delay (like a few days or a week later). The episodes usually also include ads. But for free, all of that doesn't really matter! Of course, not every channel provides this. Some (like AMC) may require you to have a certain cable provider like XFinity, Dish, DirecTV, etc., which obviously won't work if you have no cable service. But many channels don't have this requirement, so it's worth searching for your favorite shows!
6. HBO Now
If you're a big fan of HBO shows, you'll love this cable alternative! HBO Now lets you watch your favorite HBO shows for $15 a month, commercial free. It also includes movies, both old and new. If you're an HBO fan without cable, this may be your best way to see the shows while their seasons are running. But remember that HBO is available as an add-on to some of these other cable TV alternatives, so keep that in mind when comparing prices and services.
7. Showtime Online
Showtime Online runs in a similar way to HBO Now and has both TV shows and movies. If you want to get the most bang for your buck, you need to be a Showtime fan. It costs $11 a month, though you could add it to your Amazon Prime subscription for just $9 a month. So if you have already have Prime, that could be a better deal.
8. YouTube TV
A relative newcomer to the world of alternatives to cable TV is YouTube TV. With YouTube TV you can watch live TV from more than 40 channels and store recorded shows in a cloud DVR. It costs $35 a month, so out of the box it costs the most of any of these alternatives. You can also add on additional channels and services like Showtime for an additional cost every month. So it's the costliest of these alternatives, but the benefits of YouTube TV are that you're given 6 accounts for your household, each with their own DVR library and login. So each user gets a more personalized experience (something that you can't find in many of the other alternatives). Also, there's not limit to your cloud DVR space, so you can record as many episodes as you want to watch later, or just hold on to your favorites for as long as you like!
You technically can watch all of these cable TV alternatives on your computer. You can also watch them on your smartphone or tablet. But if you're looking for cable TV substitutes, then you're probably hoping to use your television! To see these alternatives on your TV you either need a smart TV of certain brands (like Samsung and LG), a compatible TV device (like the Roku, Chromecast, or Amazon FireTV), or a compatible gaming console (like an Xbox One). The compatible devices vary by service, so make sure to check that you have what the service needs to run, or add in the cost of an additional device to your TV budget.
With these great alternatives, the days of paying $60+ a month for cable can soon be behind you, but you won't be missing out on your favorite shows!
Do you already use any of these alternatives? If you were to cut the cord, which one(s) do you think you'd use?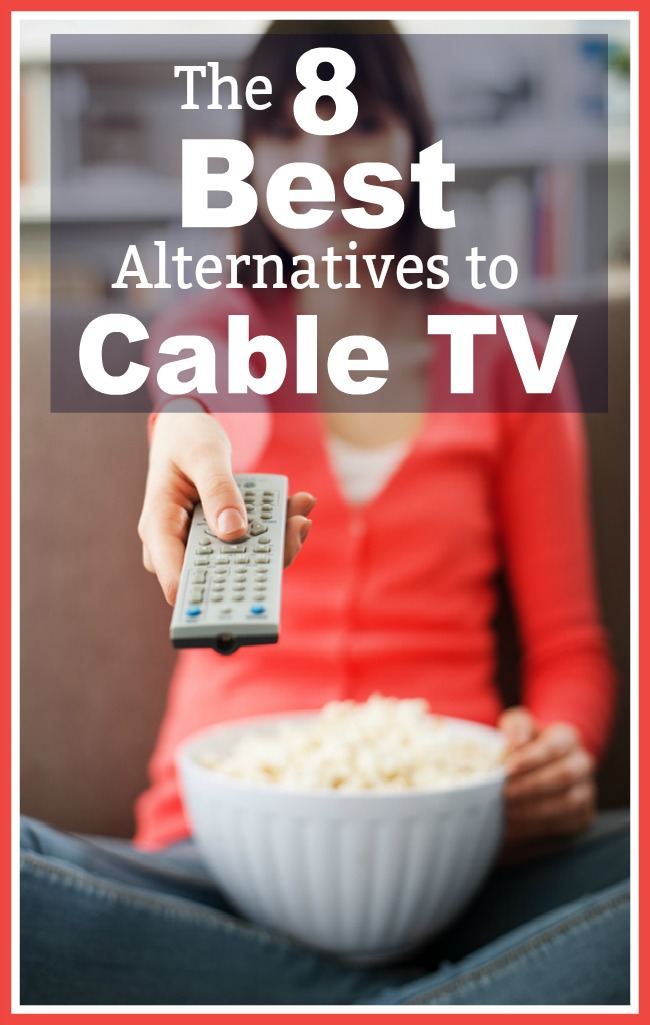 This post contains affiliate links to Amazon, which means that I may earn a small commission from some of the links in this post. Please see our Disclosure Page for more information.
You might also like: Disposable Products You Can Replace with Reusable Ones